9 Eco-Friendly Christmas Crackers Popping Into Your Sustainable Celebrations
We're all for celebrating the holiday season, but those pops shouldn't come at the cost of the planet.
Along with zero waste gift wrapping, choosing eco-friendly Christmas crackers is an easy sustainable swap to help your holidays bring good tidings to more than just your loved ones.
Besides, tiny plastic crackers that contribute to the surge of holiday waste are anything but jolly.
So how do you make Christmas crackers environmentally friendly?
Everything we recommend to you on Sustainable Jungle is independently researched and we ask all brands to confirm their claims. To avoid waste, we test products on an as needed basis. This post contains affiliate links. If you buy something through our links, we may earn a small commission. Learn more about why we do this here.
Get The Biggest Bang With The Best Sustainable Christmas Crackers
Stay off the naughty list this year with the eco-friendly alternatives to Christmas crackers by The Little Green Cracker Company.
Or bring a bang of sustainability and color into your home with those created by Altered State Studio.
While Keep This Cracker gives the gift of adorable (and pet friendly) reusable Christmas crackers.
Make like these sustainable christmas crackers and pop down to the end of the list to see why these brands bring us good cheer.
The Full List of Eco-Friendly Christmas Crackers
---
1. Altered State Studio
Altered State Studio's Sustainable Christmas Crackers UK
Price Range: $13
Altered State Studio has some of the best eco-friendly Christmas crackers on offer.
Their reusable Xmas crackers come in a variety of colors and patterns from falling snow to mistletoe—so if you live in a warmer climate that doesn't see much of winter, you can still pop into the holiday spirit.
About Altered State Studio
Cooler than their wintery designs, however, are what they're made of.
Instead of paper, their fabric reusable crackers are crafted with weight cotton meant to last for many Christmases to come.
All deliveries are packaged in a cardboard box that can be used for storing them when not in use.
As the product is fabric and fully repairable if damaged, there isn't even the need to recycle after use, meaning you can stay zero waste for many Christmases to come!
---
2. The Little Green Cracker Company
The Little Green Cracker Company's Eco Alternative to Crackers
Price Range: $45–$57
The Little Green Cracker Company offers eco-friendly crackers online that will make you happier than a glass of spiked eggnog.
They fill their crackers with items like scented tea lights, shampoo bars, and plastic-free tea bags.
About The Little Green Cracker Company
Shortlisted for the People. Environment. Achievement. (P.E.A) Award, The Little Green Cracker Company will help make your Christmas greener than the tree in your living room.
Each cracker is handmade with 100% recycled and recyclable cardstock.
The colorful ribbons are made of mindful materials like recycled plastic bottles, TENCEL, linen, biodegradable recycled sari silk, and biodegradable wood pulp acetate.
The goodies inside are sourced from small ethical companies that are committed to being as ethical and plastic-free as possible—like the sustainable tea maker Bird & Blend.
---
3. Keep This Cracker
Keep This Cracker's Reusable Christmas Crackers
Price Range: $28–$54
Keep This Cracker wants to help you find your favorite festive favors by creating some of the best Etsy reusable Christmas crackers, all out of UK-based materials.
Because they can be used again and again, you can save space on next year's Christmas list.
Plus, they fold flat so they can double as fill for your own eco crackers and the ecosnap® promises a pet-friendly pop.
About Keep This Cracker
Handcrafted and made with materials local to the UK, Keep This Cracker's plastic-free reusable Christmas crackers are recyclable and compostable.
They're made in the UK with either plain or printed FSC-certified kraft paper and recycled satin ribbons.
Worried about keeping your pullable reusable Christmas crackers safe until next year?
Keep This Cracker ships your purchase with a Reusable Card Wallet to safely store them until the next festive season rolls around.
---
4. Ms Claus Workshop Co
Ms Claus Workshop Co's Plastic-Free Christmas Crackers UK
Price Range: $5–$48
Tired of the classic red and green for Christmas?
Ms Claus Workshop Co sells elegant black eco Christmas Crackers on Etsy that give Santa's helper a bit of an edge.
These eco crackers are perfect for those who want to change up the standard Christmas color palette, as they come in white, red, kraft, grey, green, blue, black, and purple.
Made with recyclable, compostable, and biodegradable materials, they're perfect for anyone like Buddy the Elf hoping to be on the nice list this year.
About Ms Claus Workshop Co
Creating sustainable Christmas Crackers is already pretty neat, but MsClausWorkshopCo goes the extra mile by making their entire company plastic-free.
The UK made eco crackers, for instance, are made of recycled paper, cotton cord, and twine. Just remove the charm before tossing in your indoor compost bin.
They also sell place cards, gift tags and party favors to keep the sustainable gifts coming.
---
5. Cardboard Hunters
Cardboard Hunters' Luxurious Christmas Crackers
Price Range: $5–$9
How about a pre-Christmas project for the kids (i.e. DIY crackers)?
Cardboard Hunters sells eco-friendly alternatives to Christmas crackers made out of, well…cardboard.
Not sure what you want to fill your crackers with?
CardboardHunters offers plenty of options, like handmade chocolate, natural playdough, Christmas stickers, and tea bags.
If you (or your kids) don't have the time, don't worry because they also offer pre-filled cardboard crackers that will sit stylishly next to your finest Christmas cutlery.
About Cardboard Hunters
The cardboard container for each cracker is compostable but the satin string is not, so be sure to remove this (and try to reuse next time you're wrapping gifts!).
Everything is handmade by the shop's owner in Australia.
---
6. Little Doris Designs
Little Doris Designs' Eco-Friendly Christmas Crackers UK
Price Range: $20–$46
But what about Easter, you say?
Leave it to Little Doris Designs who covers all bases (err…seasons).This Etsy shop sells UK made eco crackers in both Christmas and sustainable easter themes.
Each plain recycled kraft paper tube is filled with compostable paper hats (or optional ethical UK chocolate) and tied with either recyclable paper ribbon or silk organza.
They also come with a hand stamped copper or aluminium wine charm.
About Little Doris Designs
Little Doris Designs is all about sustainability – both in their products and packaging.
Each item is packaged using recyclable or biodegradable materials, so you can still get your online shopping fix without sacrificing on sustainability.
---
7. Paper And Style Co.
Paper and Style Co.'s Plastic-Free Christmas Crackers
Price Range: $30
If you want an easy talking point around the Christmas table, Paper and Style Co's eco luxury Christmas cracker will provide just that.
Each cracker has delicate Australian floral designs that are hand-painted in watercolor.
Even your most picky aunt is sure to compliment..
Each eco cracker comes with seed packets that not only match the cracker packaging, but can be planted using the kraft tubes found inside the cracker.
About Paper and Style Co.
This Australian company offers more than just sustainable Christmas crackers.
They have a variety of eco-friendly wedding invitations, calendars and more.
Paper and Style Co. prioritizes the safety and health of both animals and the planet, so their products arrive in recycled boxes meant to be reusable, recyclable and gentler on Mother Earth.
---
8. Nancy & Betty
Nancy & Betty's Luxury Eco-Friendly Christmas Crackers
Price Range: $34–$46
Want to up your conscious Christmas game?
Nancy & Betty can help with their adorable printed packaging and child-themed crackers (complete with sweet animal designs).
About Nancy & Betty
Nancy and Betty's eco Christmas crackers aren't just cute but eco-cute.
They're made from sustainable paper stock and printed with vegetable ink.
The shop also plants a tree for every box of eco Xmas crackers sold, so buy a box and give back to the planet at the same time.
---
9. The Conscious Cracker Co.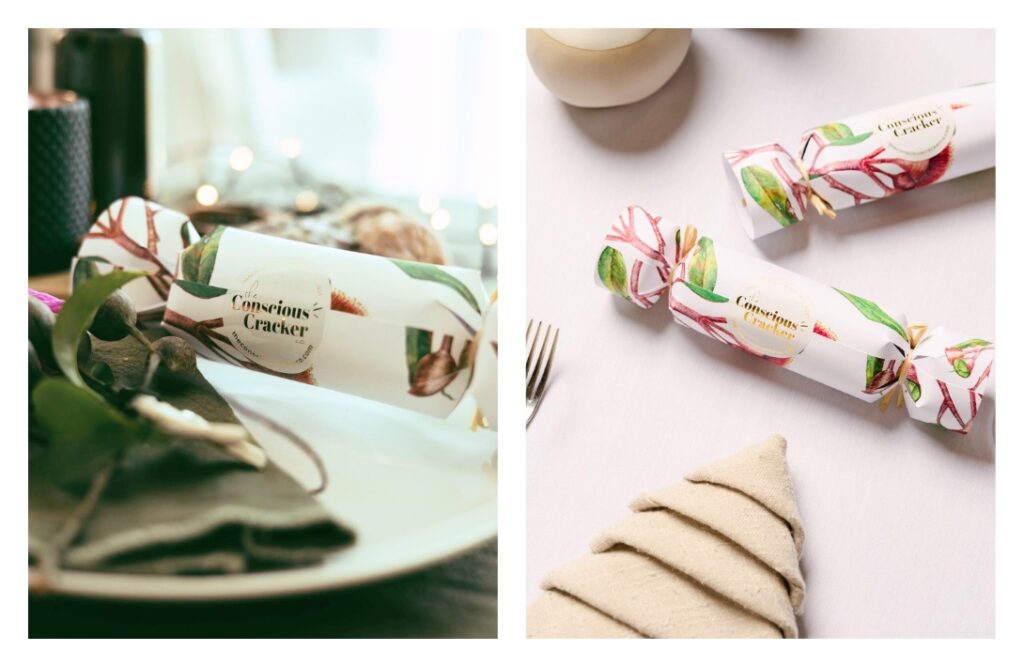 The Conscious Cracker Co's Plastic-Free Christmas Crackers Australia
Price Range: $35–$90 AUD
The Conscious Cracker Co. embodies a uniquely Australian Christmas spirit.
With a Silver Princess Eucalyptus design, this sustainable cracker represents Australia's sunnier side during their festive summer season.
For some of the best eco-friendly Christmas crackers in Australia, they have all the good stuff, as you would expect.
They're made from post-consumer material, printed with sustainable ink, and still come filled with Christmas jokes and paper hats.
About Conscious Cracker Co
The Conscious Cracker Co. creates all their products on Australia's Sunshine Coast.
Made of 100% post-consumer paper printed with eco inks, these luxury Christmas crackers are plastic-free and palm oil free.
For each box you buy, they plant a tree with One Tree Planted.
A pretty crackin' idea if we do say so ourselves.
---
10. Make Your Own DIY Christmas Cracker
Not into shelling out money this Christmas for crackers?
Totally understandable.
Christmas costs can rack up, so if you're budget-conscious and wondering., "What can I use instead of crackers at Christmas?", know you don't necessarily need to forgo them altogether.
Instead, try making a DIY Christmas cracker, which are also some of the most sustainable alternatives to Christmas crackers.
Happily, most of what you need can be found around the house, think: empty eco-friendly toilet paper rolls. For each cracker you'll need:
To fill your own eco crackers, zero waste gifts can greenify the surprise.
By wrapping the paper around your old toilet rolls, snapping in the bon bon clips, and tying it up nice and neat, your DIY Christmas decorations will be ready to roll (or pull).
---
Did you know we Have a Newsletter?
We cover the latest in sustainable living, fashion, zero waste, beauty, travel, finance and more…
How We Chose The Best Eco-Friendly Christmas Crackers
Are Christmas crackers eco-friendly?
Unfortunately, no. The plastic-made Christmas crackers we grew up with are a festive downer.
Which is why we put together a list of eco Xmas crackers that will hopefully pop the holiday cheer back into your life this year.
But what makes a Christmas cracker sustainable?
Reusability:
Much like reusable advent calendars, the best eco-friendly Christmas crackers are the ones that you can use for years to come.
Many of these crackers have reusable components in their construction: whether it's recycled paper that can double as wrapping for your gifts, to ribbons ready to decorate your tree.
Even those that are not fully reusable crackers can still have long lives ahead of them.
Materials:
Striving for a zero waste lifestyle is a good way to ensure you're on the planet's nice list.
That's why the best Christmas crackers at your dinner table should feature materials that can be safely recycled and/or composted, like kraft paper and natural fabric.
For components that aren't natural and biodegradable, we look for those that are recyclable, like ribbons made from recycled plastic bottles.
Ethical & sustainable business practices:
How things are made is as important as what they are made of.
Fortunately, all of these eco-friendly Christmas crackers are handmade by small shops and studios, rather than being mass produced in sweatshop-esque factories.
We also look for other ways brands reduce their carbon footprint, like offering zero or low waste packaging, sourcing materials locally, and supporting carbon offset programs or planting trees.
For Etsy eco Christmas crackers, the latter is a given since Etsy sponsors carbon neutral shipping for every box.
---
Final Thoughts On Sustainable Christmas Crackers
While these eco-friendly Christmas crackers can help greenify your holiday, it's important to be Earth-conscious beyond the festive season.
Sustainable living is a holistic practice.
Starting with small changes adds up and soon you'll have your whole household celebrating a plastic-free, eco holiday.
And since holidays encourage the spirit of giving (eco-friendly gifts, preferably) consider sharing this article, so we can all sleigh sustainability this Christmas.
Pin these: