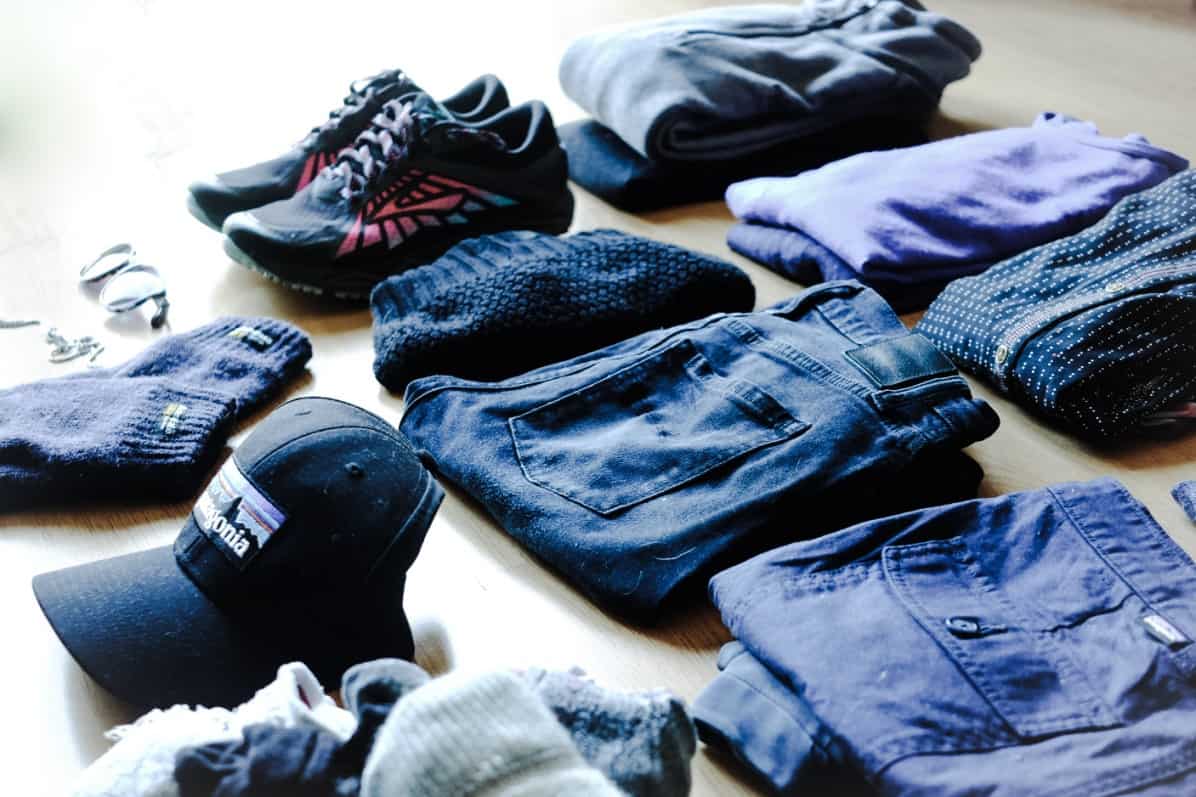 Our Minimalist Travel Wardrobe: Packing For 6 Months Around The World
We're on an epic around-the-world adventure showcasing stories of people doing incredible work in sustainability and conservation.
That means we'll be traveling for 6 months through 4 continents including Europe, North America, South America and Africa.
If this isn't (or is!) your first time visiting Sustainable Jungle, then it goes without saying that we're clearly passionate about living more sustainably!
And a major part of trying to live more sustainably is being aware of what we own, which for us, often feels like too much.
Thankfully, there's no time like long term travel to put one's minimalist travel wardrobe under a microscope and pack only the essentials!
MINIMALIST TRAVEL PACKING: INSPIRATION FROM KEY FASHION MOVEMENTS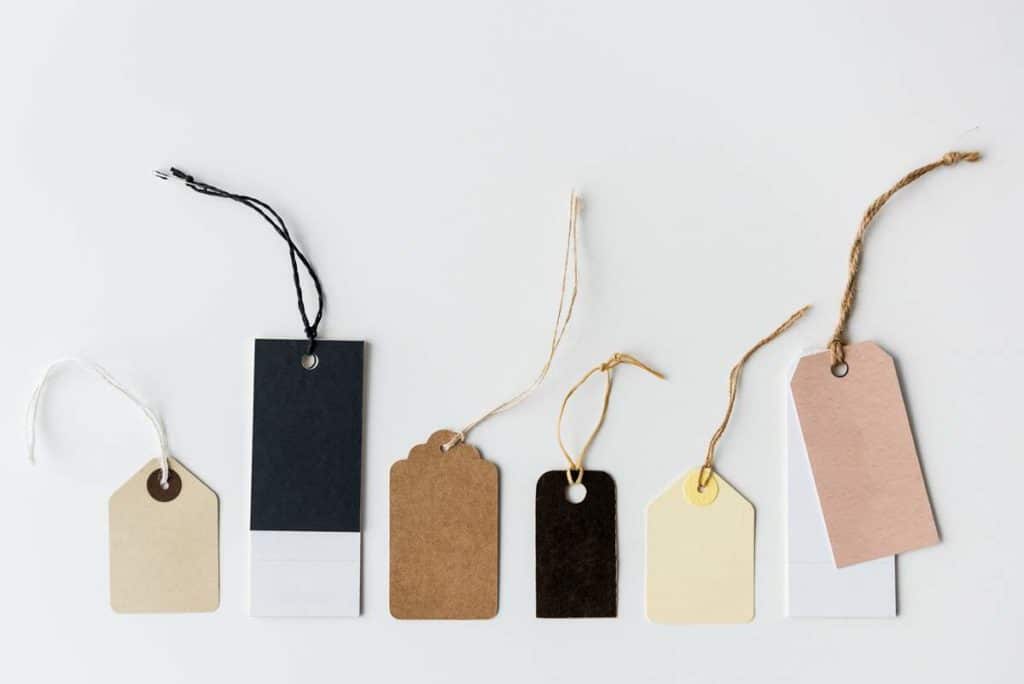 We've previously discussed the perils of the fashion industry, which has been called out as one of the most environmentally damaging industries. And we've also discussed the need for sustainable travel.
With that in mind, we're now super aware of our own fashion consumption and travel habits. In 2017, we bought only what was necessary, which amounted to:
a single pair of warm boots for me
3 work shirts, 1 pair of jeans and 3 pairs of underwear for Lyall
2018 however, has brought new and exciting adventures which means we've had to think carefully about what travel gear we actually need for life on the road.
We've taken inspiration from the following movements to help guide our minimalist travel essentials and reduce our impact.
A movement coined by designer Kate Fletcher as a response to 'Fast Fashion'.
The idea is super simple and unbelievably logical: Focus on quality over quantity and buy fashion that will stand the test of time and see out all the various trends and crazes the fashion industry conjures up.
For us, this means repurposing classic items we already own and where we do have to buy, choosing quality items from sustainable and ethical brands that go the distance for years to come.
On the flip side, to sell used clothes online is another means of recycling your old clothes diverting further waste from the landfill.
Many of you changemakers have seen the environmental film "Minimalism" on Netflix.
If you haven't, its ethos is centered on priority, owning what you really want, what is really important to you and scrap the rest. By doing so, you'll be freer, happier and a whole lot lighter.
This idea was really brought to the mainstream by Marie Kondo's book, The Life-Changing Magic of Tidying Up: The Japanese Art of Decluttering and Organizing.
While this lifestyle may be a tall order for the general consumer public, there's been a real groundswell towards minimalist everything (including travel)!
As with all movements though, there's always a bit of a backlash, however, we think the underlying premise for minimalism is a good one – much like slow fashion and Project 333.
From a travel perspective, there's a ton of inspiring travelers out there who are combining the minimalist traveller ethos with globe trotting.
Very much complementary to the slow fashion and minimalist movements, Project 333 is a unique idea, based on the premise that you don't need more than 33 items of clothing and accessories at any given moment.
This includes clothing, accessories, jewelry, outerwear and sustainable shoes BUT (thankfully) excludes underwear, sleepwear, in-home lounge wear and workout clothing.
While some say 33 items is a bit arbitrary, we love that this movement is practical, draws a line in the sand and provides a clear structure which enables us to contribute to 'slow fashion' and 'minimalism'.
Complex and subjective but generally, the goal is to buy items that have been ethically and sustainably made and supplied.
This includes: visibility and transparency over supply chains to gain comfort that the person who made our clothes has been treated fairly and that negative environmental impacts have been properly and responsibly managed.
Ideally, the items we buy should first be repaired and re-used or recycled before we purchase any more clothing .
---
MINIMALIST TRAVEL GEAR / PROJECT 333 CHALLENGE
While we'd love to be ultra minimalist travelers with a single, cool duffel bag while still looking (read: trying to look) great, the reality is we're travelling for 6 months so we need to pack a little more than a couple of t-shirts, a pair of jeans and a toothbrush.
However, we have challenged ourselves to do Project 333: Minimalist Travel Wardrobe Edition! Project 333's rules have enabled us to meet our slow fashion objectives along with helping us to be somewhat minimalist in our packing.
While we've prioritized packing clothing and accessories that we already own, we've had to buy a few bits and pieces to suit the trip. We've set pretty tough ethical and sustainable (and as it turns out idealistic) criteria for these purchases and honestly, this has been a REAL CHALLENGE.
As many of you know, it's really difficult to find sustainable and ethical activewear / clothing / accessories that you'll love and will stand the test of time. Even in London, supposedly one of the shopping meccas which sounds absolutely crazy.
We often found that most ethical brands are small, only available online (sometimes based overseas) and generally are not suitable for traveling.
Our answer to this has mostly been Patagonia.
We've also had some failures too which has inspired us to write a lot more about fashion going forward!
---
OUR MINIMALIST TRAVEL PACKING CONSTRAINTS
We have a four major constraints which considerably limit our ability to pack super minimalist light. We're hoping to (somewhat) overcome these by being creative and ruthless:
Weather
We'll be finishing up winter in the northern hemisphere which will mean warm jackets, jerseys, sustainable beanies and ethical gloves.
We'll also be heading south, most likely to tropical, humid areas so we'll also need the opposite: swimwear, shorts and sandals.
Activities
We'll be doing a huge range of activities, all of which have different demands, for example:
hiking in snow (warm clothes, hiking boots)
swimming / diving in the ocean (towel, swimsuit, hat)
wild interactions / safari (lightweight comfy clothes)
long-haul travel (comfy but warm clothes)
working (track pants / smart attire)
Zero waste
We're also trying to generate as little waste as possible so we need to pack some zero waste travel essentials (e.g. water bottles, napkins, tote bags and separators), which is so worth it as it will go a long way to reducing excess waste.
Mindset
Lyall is naturally a light traveler, usually on the road for 5+ days with a tiny minimalist men's wardrobe but I'm not quite that confident – I tend to pack for most eventualities (plan for the worst hope for the best sort of approach!). I hate being uncomfortable!
We're also going to be filming / taking pictures of ourselves a bit more on this trip (trying to build the personal brand ) which presents the vanity issue….how are we going to attempt to look sort of cool?
Or at least passable for 6 months with < 33 items… yet to be determined…
---
MINIMALIST TRAVEL PACKING LISTS: HIS AND HER'S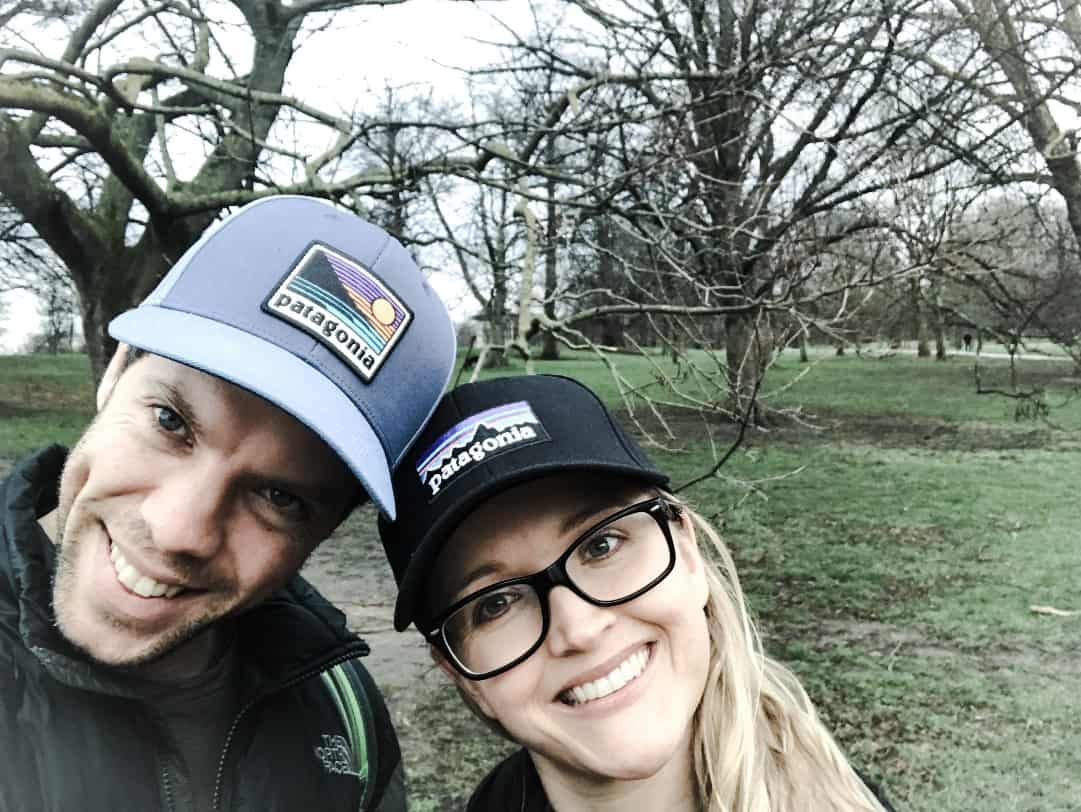 Taking into consideration the inspiration we've got from all the fashion movements, considering the challenge we've set ourselves and our constraints, here's what you'll find in our backpacks (excluding equipment / kit and eco-friendly toiletries).
No doubt, we'll have to tweak this along the way!
HER MINIMALIST TRAVEL GEAR
33 Project 333 items, 39 including workout / sport gear
Bottoms (6 items)
1 x jeans (old, Nobody)
1 x comfy track (old, Puma)
1 x swim / sleep shorts (new, Patagonia)
1 x day shorts (new, Patagonia)
1 x skirt (old, no name)
1 x black ¾ tights (really old, Uniqlo and doubling up as sleepwear)
Tops (11 items)
3 x t-shirts (2 old, Icebreaker, Gap and 1 new, Patagonia)
4 x vests (old, 1 Icebreaker, 3 no name)
2 x long sleeve (really old, Uniqlo, Trenery)
1 x casual shirt (really old, belonged to grandmother)
1 x smart shirt (old, 2nd hand store)
Jackets and knits (5 items)
1 x fleece (old, North Face)
1 x smart knit (really old, Uniqlo)
1 x chunky knit (old, 2nd hand store)
1 x warm jacket (old, North Face)
1 x raincoat (old, North Face)
Shoes (3 items)
Accessories (8 items)
1 x cap (new, Patagonia)
1 x beanie (old, Icebreaker)
1 x gloves (really old, Thinsulate)
1 x scarf (old, 2nd hand store)
1 x neck warmer (new, Icebreaker)
1 x swimwear (new, Patagonia)
1 x silver necklace (really old, belonged to grandmother)
1 x Sunglasses (old, Bailey Nelson prescription)
Workout gear *not included in Project 333*
1 x warm black tights (new, Patagonia)
1 x running shorts (really old, Nike)
1 x running top (old, Adidas)
1 x hiking thermal (really old, Icebreaker)
1 x trail running shoes (new, Brooks)
1 x headband (really old, Kathmandu)
Essentials *not included in Project 333*
7 x ethical underwear (all old, various)
4 x bras (all old, incl. 1 sports)
8 x socks (2 warm, 2 sport, 2 light, 1 travel, 1 tights – all old, various bands)
2 x eyeglasses (old, 1 for sport)
HIS MINIMALIST TRAVEL GEAR
21 Project 333 items, 26 including workout / sport gear
Bottoms (4 items)
1 x ethical jeans (old, Levis)
1 x comfy track (old, Nike)
1 x cinos (old, Lee)
1 x day short (old, Autonomy)
Tops (7 items)
5 x sustainable t-shirts (4 old no name brand, 1 new Patagonia)
1 x long sleeve (old, Uniqlo)
1 x smart shirt (old, TM Lewin)
Jackets and knits (4 items)
1 x fleece (old, North Face)
1 x smart knit (still to be purchased)
1 x warm jacket (old, North Face)
1 x raincoat (old, North Face)
Shoes (2 items)
1 x day shoes (old, Nike)
1 x flip flops (old, Havianas)
Accessories (4 items)
1 x cap (new, Patagonia)
1 x beanie (old, North Face)
1 x gloves (old, unclear)
1 x Sunglasses (old, Ray Ban)
Workout gear *not included in Project 333*
2 x running / swimming shorts (old, Lululemon and Nike)
1 x running top (old, Nike)
1 x hiking thermal (old, Icebreaker)
1 x trail running shoes (new, Salomon)
Essentials *not included in Project 333*
7 x underwear (all old, various)
7 x socks (all old, various)
ZERO WASTE TRAVEL ESSENTIALS
A bunch of sustainable travel products as follows:
Sustainable cutlery set (old, received as a gift)
2 x coffee / water flasks (Zojirushi and Hydro Flask)
2 x hankerchiefs (to act as serviettes)
Washable cloth (for removing makeup)
Shopper tote and produce bags (doubling as clean clothes separators)
---
FINAL THOUGHTS ON A MINIMALIST TRAVEL WARDROBE
As you can tell, the above is by no means perfect, I'm sure we're going to find ourselves with surplus items as well as without some much needed clothing and will have to adjust along the way.
There's a lot to learn about living and traveling with a minimalist mindset and taking just your essentials (just about!) so look out for updates. To follow along, find us on any of the socials and sign up with us for regular updates.
As always, if you have any tips, thoughts or ideas, we'd love to hear them! Please get in touch or leave a comment.
---