7 Natural & Organic Eyeshadow Brands For Those Sultry Sustainable Shades
They say beauty comes at a price. Heavy metals? Parabens? Formaldehyde?!
We hope you're joining us and Mother Earth with a collective eye roll.
Let's face it: eyeshadow is one of the most creative forms of makeup.
From smokey eyes to cut crease colors, it can make us feel fun and fierce… so why shouldn't it make us feel eco friendly, too?
It's high-time we take our natural makeup remover to those synthetic-based powders, and stick with natural ingredients that are better for us and the planet.
For more on why we should opt for organic natural eyeshadow and how we found these brands, go ahead and blink down to the bottom for a minute.
For a quick taste, we're especially fluttering our lashes at the food-grade and organic ingredients from Dab Herb Makeup, the traceable supply chain from Dirty Hippie Cosmetics, and the natural shades and bamboo palettes of Elate.
*This post contains affilate links
QUICK LINKS FOR THE BEST ORGANIC EYESHADOW
---
1. ELATE COSMETICS
Elate Cosmetics' Natural Eyeshadow
With a range of vegan and cruelty-free nude and subdued color shades, Elate Cosmetics allows us to embody all aspects of the natural look.
Elate's natural color eyeshadow does contain ethical mica, but it's sourced fair trade from members of the Responsible Mica Initiative.
Not only are their Pressed EyeColors made with natural ingredients like bamboo stem extract and jojoba oil, but they also come minimally packaged in plantable wildflower seed paper.
They also sell reusable bamboo palettes for easy storage too.
The non-chemically treated bamboo comes from a fair trade, FSC, and green certified manufacturer in China.
For a minimalist beauty ritual, you can even use the eyeshadow as a lip color. Just mix with a clear gloss or balm. This is a beauty trend we can definitely get behind.
About Elate Cosmetics
Canadian cosmetics company Elate has become a leader in affordable organic makeup. They're committed to helping us all use the most natural and effective products for our daily rituals.
How?
By creating an impressive range of vegan, cruelty-free, gluten-free, and synthetic chemical-free line of foundations, zero waste mascaras, eyeshadows, and organic lipsticks.
They're well on their way to going completely organic (they're about 75% now) and have ethical sourcing practices to match (no animal testing tolerated). They only use 100% recyclable / compostable packaging and partner with Bullfrog Power to offset all of their emissions.
To further bat your eyelashes, Elate is a certified B-Corp and they sponsor the preservation and care of three elephants. Organic Cruelty free eyeshadow never looked so kind.
As one of the most inclusive clean beauty brands, they support beauty for everyone through their conscious products and ethical marketing.
Available: EarthHero | Flora & Fauna (AU)
---
2. 100% PURE
100% Pure's Natural Eyeshadow
Whether you're after a palette or a single Fruit Pigmented eyeshadow, 100% Pure can help with your morning makeup routine.
In their natural eyeshadow palette, you'll find 100% pure (gee imagine that!) and natural ingredients like vitamin E, rice starch, red wine resveratrol, cocoa butter, and avocado butter.
The color comes from some of our favorite foods—carrot, coffee, pomegranate, and raspberry.
The only mineral-based ingredient is responsibly sourced mica for a little shimmer.
Their natural, vegan, cruelty-free, gluten-free, and made-in-USA products are suitable for all eyes, all occasions, and all styles whether you like to keep it casual with the Pretty Naked Palette or make a splash with a Mermaid Palette.
Don't forget to add one of their cruelty-free makeup brushes (if you need one).
About 100% Pure
Change and responsibility are the main motivators behind the 100% Pure brand.
Not only do they use the best natural ingredients, but they're also committed to being environmentally sustainable and supporting the healthy lives of people and animals alike.
They have strict standards to ensure their products are free of toxic ingredients, colorants, and heavy metal dyes. They are also completely cruelty free, neither their products nor ingredients are tested on animals.
Giving back to our furry friends in another way, they have a philanthropic program where every natural vegan eyeshadow (or any other product) allows them to donate a bowl of vegan dog food to an animal shelter in China.
Why dog food?
By using eco friendly dog food, 100% Pure saves the lives of at least two livestock animals, preserves 60 square feet of rainforest, and supports a hungry dog.
Right now, they're donating a bottle of hand sanitizer for every purchase.
Available: 100% Pure
---
3. DAB HERB MAKEUP
Dab Herb's Organic Eyeshadow
When it comes to the best organic eyeshadow palettes, it's hard to beat Dab Herb Makeup.
Why?
Because it's almost natural enough to eat.
No really.
Made with ingredients like food-grade organic avocado and olive oil, turmeric, rice powder, and rosehips, we've never felt so good about applying makeup.
As if we even needed another reason to try this eyeshadow, it also has anti-aging properties and an intoxicating non-synthetic jasmine scent.
If you want to mix and match different shades to make your own palette, Dab Herb Makeup also has organic matte eyeshadow in several different colors.
Made from organic petals, roots, leaves, and seeds, you'll flatter your eyes with earthy shades, natural ingredients, and a healthy splash of color.
It comes in either reusable glass or tin containers. You can also send them back to Dab Herb Makeup to be sanitized and refilled.
About Dab Herb Makeup
Dab Herb Makeup is one of our favorite zero waste makeup brands—and they really tick all of the boxes. Their makeup line is cruelty free, vegan, free of palm oil, and composed of mostly organic and food-grade ingredients.
With a "Nature to Nurture" mentality, Dab Herb Makeup was essentially born when founder Crissy wanted some natural alternatives for her own personal makeup routine.
The love of clean beauty and wellness continued to grow and now Dab Herb products are enjoyed the world over.
Giving is just as important as clean beauty, and the brand regularly contributes to Made In A Free World, which helps save and support victims of human trafficking.
Available: Etsy
---
4. VYANA PLANT BEAUTY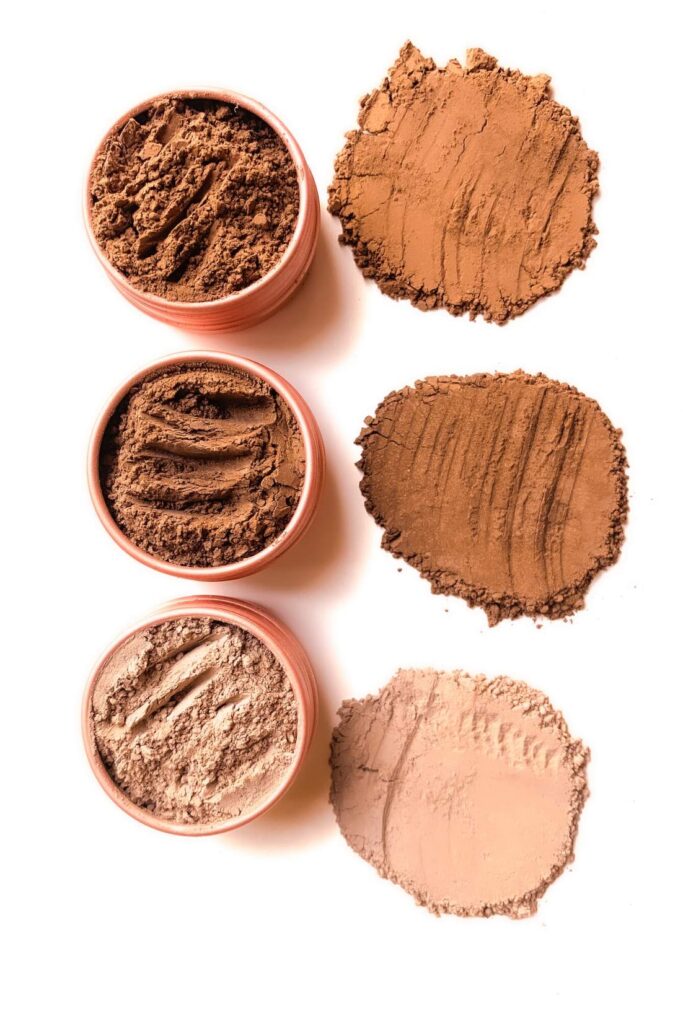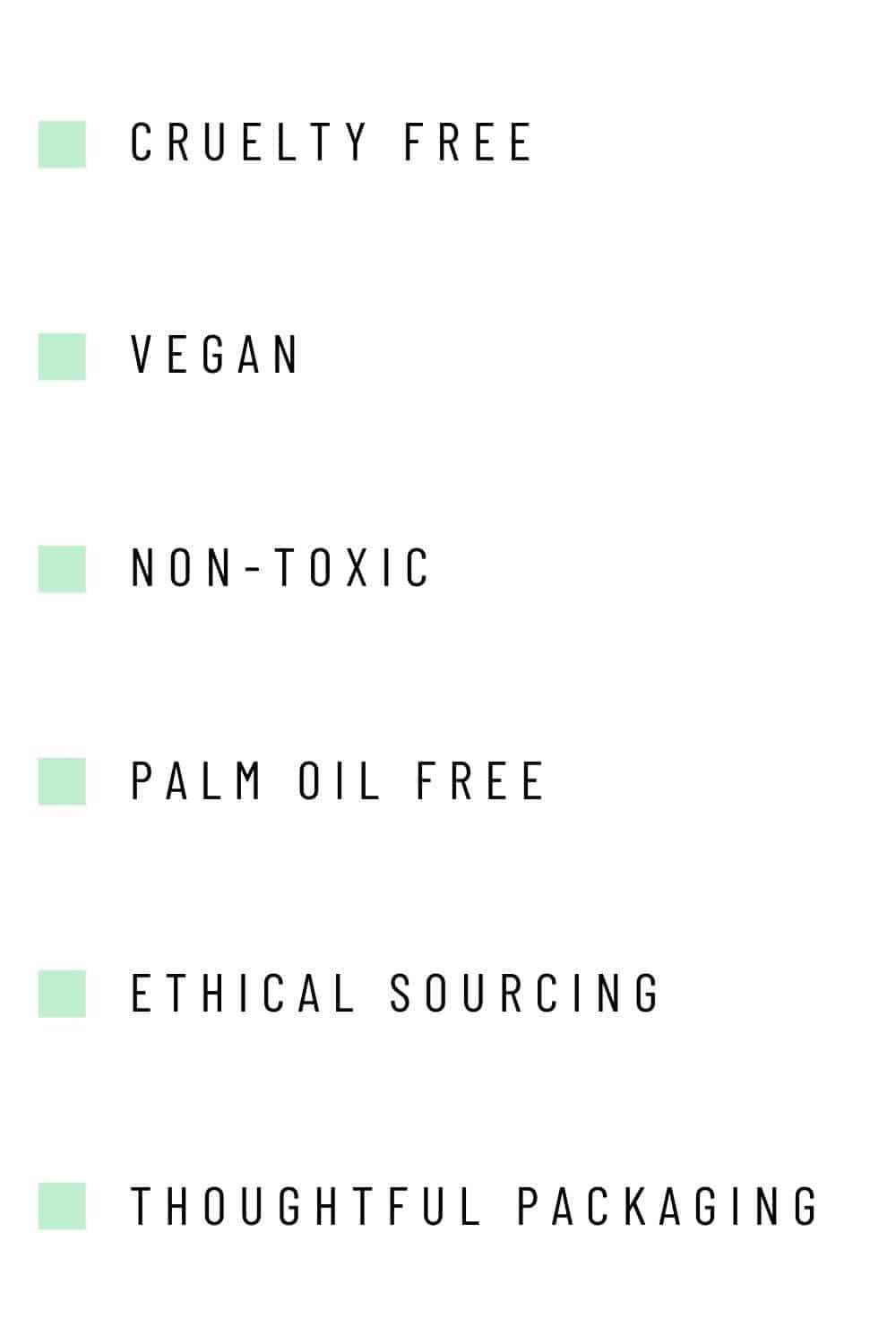 Vyana Plant Beauty's Natural Eyeshadow
Before we talk about what Vyana Plant Beauty's plastic free eyeshadow is, we'll talk about what it isn't.
It isn't a formulation of toxins, plastic, titanium dioxide, waste, and harsh chemicals.
Instead, you'll find zero waste eyeshadow made of organic kaolin clay, vitamin E oil, and roasted coffee oil—which provides a jolt of caffeine to sleepy or screen strained eyes.
With different colors offered, you'll also find tinting ingredients like organic cornstarch, organic rosehip powder, and non-nano zinc oxide.
About Vyana Plant Beauty
This Swedish zero waste beauty brand "believes in celebrating natural beauty, instead of covering up behind layers of chemical, toxic makeup."
Doing makeup in the plant power way, Vyana offers a large range of products that are all 100% vegan, natural, and cruelty-free. From vegan concealer to zero waste lipstick, they've got you covered—literally.
Simple, sustainable ingredients define this makeup brand. If you look at the ingredient lists for most of their range, you won't find more than 5-8, plant-based ingredients.
After having eliminated magnesium stearate from their products, they are now palm oil free.
For conscious consumers, she even said that she'd be willing to alter recipes upon request. In a world tarnished by greenwashing, you can imagine our excitement to have received transparency and such an accommodating seller.
We could go on about how much we love this natural and sustainable eyeshadow brand, but we'll leave it with their packaging.
They use kraft paper boxes and crinkle cut paper shred filler (unbleached, chemical free) for inside the boxes.
Occasionally, they use kraft paper envelopes lined with eco bubbles when it doesn't make sense form an emissions standpoint to ship in larger boxes.
They no longer used recycled plastic bottles as they once did, but have switched to rose gold aluminum jars and some glass dropper bottles.
Some products are available for refill too.
---
5. DIRTY HIPPIE COSMETICS
*Note: Dirty Hippie has announced that one of their suppliers no longer guarantees certain ingredients to be palm oil free. This does not apply to the ingredients in their eyeshadows.
Dirty Hippie Cosmetics' Cruelty-Free Eyeshadow
Open your eyes to the organic mineral eyeshadow from Dirty Hippie Cosmetics.
With fun names like Indigo Child, Antique Silver, and Starlight, you'll feel both spiritual and unstoppable by adding this to your eco friendly makeup routine.
Containing 100% natural and mineral-based ingredients, these sustainable eyeshadows contain clay-derived colors instead of synthetic dyes; and organic arrowroot powder, and raw cacao powder instead of harmful fillers and titanium dioxide.
As mineral powders, they do contain micas and oxides.
Their organic makeup eyeshadow, like the rest of their line, is all handmade to order and is sent in an aluminum tin that can be reused (or sent back for refills, if in Australia).
About Dirty Hippie Cosmetics
Dirty Hippie is consistently one of our go-to's for vegan hair products, zero waste skin care (like their organic face moisturizers) and even an out of the box eco friendly gift from etsy.
For Conscious Beauty Creations™, there's no better brand.
Based in Australia (in a zero-waste community, obviously), Dirty Hippie Cosmetics prioritizes local, fair trade, and organic ingredients.
They even grow some of their own raw ingredients—with captured rainwater, of course.
Everything is vegan friendly, cruelty-free, and all-natural.
Most are palm oil free but a small handful (namely their moisturizing creams, cream concealers, mascaras, and eyeliners) contain ingredients the supplier no longer guarantees as palm oil-free. Dirty Hippie is searching for a replacement supplier.
They're on their way to a new and improved headquarters, which will be powered with solar though they still currently offset 50% of their carbon emissions.
They use recycled, refillable, or compostable packaging for all products..
They donate to a variety of charities and projects, including animal rescue, cancer patient support, and awareness for suicide prevention.
Available: Etsy⼁ Flora & Fauna (AU)
---
6. BEE YOU ORGANICS
Bee You Organics' Organic Eyeshadow
Bee You Organics' range of bright and affordable organic eyeshadow will have you pretending to be a princess once again.
If you're more tom-boy than princess, not to worry, they have neutral colors too.
Regardless of what catches your eye, you'll enjoy the crease-free, smudge-proof, and water-resistant color all day (or night) long.
Their organic eyeshadow is cruelty-free, zero waste, palm oil-free, gluten-free, and made with natural ingredients like kaolin clay, mica, and iron oxides.
No questionable ingredients or things like sulfates, parabens, synthetic dyes, phthalates, or petro-chemicals. We'll be reaching out for info about their sourcing of the mineral ingredients.
Choose between a tin or glass container—and for you zero waste and conscious makeup artists out there, choose not to receive the plastic sifter.
About Bee You Organics
Bee You Organics comes to us from the lush forests of the US's Pacific Northwest.
Combining her passion for holistic healing with sustainable ingredients, founder Larissa creates some of the world's most natural skincare and cosmetic products (including essentials like sustainable sunscreen).
All makeup options are made with natural (and mostly organic) ingredients that are ethically sourced and are free of GMOs, animal testing, alcohol, preservatives, and palm oil.
While some products contain animal-sourced ingredients (like beeswax), the majority are vegan. They're also happy to adapt their ingredients / packaging where possible to suit all zero waste and ethical lifestyles.
Even if beeswax isn't vegan, theirs is responsibly sourced, and they support ethical beekeeping through regular contributions to Washington State University's bee research.
Bee You Organics also supports other local charities and is working on employing more economically disadvantaged women.
Available: Etsy
---
7. FAT AND THE MOON
Fat and the Moon's Organic Eyeshadow
Fat and the Moon's Eye Coal is where eyeliner meets eyeshadow meets mascara.
The dense and rich color is due to organic sunflower oil and beeswax (therefore not vegan-friendly). Their beeswax is sustainable sourced from a small family owned beekeeping business in the US.
Similar to an organic cream eyeshadow, this liquid-y eyeshadow provides long-lasting color with ingredients like kaolin clay, organic arrowroot powder, and elderberry extract.
It is absent synthetic dyes, palm oil, and ingredients that were tested on animals except the human one.
It also comes in an adorable (and reusable) glass jar with a tin lid.
About Fat and the Moon
From raving about their sustainable deodorant to commenting on their cruelty free moisturizers, it's safe to say we're over the moon with Fat and the Moon.
Woman-owned, this ethical beauty brand is all about "hand crafted herbal body care where the message is in the medium."
The message is this: "Healing is reflected in our wholehearted support of Self Care and Self Love which stands in opposition to the pervasive message that something is inherently wrong with us, and that we need a product to fix it."
Ironically, after reading this we've never felt more inclined to buy from a beauty brand.
The source locally from a handful of local farms near their headquarters in in Northern California. Not to mention they're palm oil free; even the Cetyl alcohol has a sustainable coconut derivative rather than a palm one.
We love the indulgent play of herbs, intentionally made potions, handcrafted products, compostable or refillable packaging, and heart centered, justice-seeking, skill reclaiming work that Fat and the Moon is doing.
When founder Rachel Budde isn't creating conscious products, she's busy supporting organizations like blacktranswomen.org, The Okra Project, Orenda Tribe, and The Nap Ministry.
And because they "care deeply about the native land we reside on", they work with the CALIFORNIA HERITAGE: INDIGENOUS RESEARCH PROJECT to support and sustain indigenous Nisenan land.
Available: Fat and the Moon
---
WHY CHOOSE NON TOXIC ORGANIC EYESHADOW?
We're going to tell you something that might make your eyes pop.
Eye shadow is actually really bad for you. Traditional eye shadow, that is.
Why?
Simply because it is typically formulated with a plethora of toxic and unsafe ingredients like: parabens, aluminum powder, thimerosal, talc, formaldehyde, acetate, benzalkonium chloride, heavy metals, the list goes on.
They make you feel flirty and risqué on date night, but they're also risky in terms of cancer (some suggest the equivalent to the risk of smoking a pack of cigarettes a day), eye disease, reproductive problems, and more.
That should make you want to make the switch to non toxic organic eyeshadow in the blink of an eye.
---
HOW WE FOUND THE BEST NATURAL EYESHADOW
Sustainable and ethical beauty can mean a lot of different things. For us, this is what we looked for when it came to the natural organic eyeshadow:
Non-toxic & organic ingredients (i.e. no junk from the section above and pregnancy safe)
Vegan (organic and responsibly sourced beeswax being one of the few exceptions we make)
Palm oil free
Ethical ingredient sourcing policies
Thoughtful packaging (recyclable, at the very least) 
It takes a lot of zero waste makeup remover to get through layers of toxic ingredients and irresponsibly sourced minerals—much like the time it takes in finding products that meet each of those criteria. It's easier said than done.
And while we do our best to hit all the tick-boxes, we don't always get that perfect color blend.
Which is why we focused on natural and organic ingredients for this list. Fortunately, most brands here ticked a whole lot more.
---
FINAL THOUGHTS ON NATURAL ORGANIC EYESHADOW
Cheap fillers, petrochemicals, questionable additives, and synthetic ingredients—we'd love to wipe our eyes clear of all of that junk.
And we're not the only ones.
Until recently, natural organic eyeshadow wasn't even a thing. Now, thanks to these brands, their products are popping up (and popping eyes) all over the place.
Before you get too excited and line your bathroom cabinet with all the best natural organic eyeshadows, remember natural beauty (sans makeup) is the most sustainable beauty.
But if you do need to spice up the monotony of your make-up kit for those zoom based meetings, we don't blame you. In that case, show some of these natural eyeshadow brands some love.
Speaking of love, spread some in the comments below. Share your fave natural eyeshadow brand that you think deserves a look.
---