Who Gives A Crap Toilet Paper: A Review Of Their Recycled TP
We love standing up (or in this case sitting down) for sustainable brands we believe in and that believe in a less wasteful lifestyle.
Today, we're reviewing an Australian eco-friendly toilet paper company that's changing the way we wipe. We started using Who Gives A Crap toilet paper a couple of years ago, and we haven't looked back.
While not exactly ­zero waste, they do provide a tree-free way to be less wasteful about your wiping.
Zero-waste living, remember, aims use only that which can be reused or composted, rather than sent to landfills or incinerated.
Believe it or not, you can apply these principles to the toilet; in fact, there's such a thing as zero waste toilet paper (bidet, anyone?).
If going totally zero-waste is a little too much for your toosh, then switching to Who Gives a Crap recycled toilet paper is the next best thing. Which is to say the Who Gives a Crap Review went pretty swell.
*Note, this is not a sponsored post however we do now have an affiliate relationship with Who Gives a Crap. Learn more here.
WHO GIVES A CRAP TP -RECYCLED TOILET PAPER OR BAMBOO TOILET PAPER
"Recycled" meaning it is made, not from used toilet paper, but from 100% post-consumer recycled content (i.e. newspaper, textbooks, office paper, etc.).
Traditional TP, on the other hand, is made directly from virgin tree pulp, creating a vicious tree to toilet pipeline. According to Better Planet, one tree only yields 810 rolls!
In the words of Who Gives a Crap, "A tree's only purpose should not be wiping our bums! They have so much more to offer!".
We couldn't have said it better ourselves.
Who Gives a Crap has some of the best bamboo toilet paper which also comes in "tree-free" Premium 3-ply Rolls. While not as eco as recycled toilet paper (and a little more expensive), it's stronger and softer: "like wiping with clouds".
While we have tried both, this review will focus on their recycled toilet paper version. Let us know in the comments if you'd like the view on bamboo.
---
WHO GIVES A CRAP REVIEW
Some recycled TPs honestly feel recycled (and not in a good way). We can honestly say Who Gives a Crap toilet paper is quality.
First, it's 3-ply (most are only 2-ply), meaning it's strong and rip-resistant, or in the company's words has a low "poke-through-rate".
It's also free of dyes and perfumes so if you (like us) have adjusted to a less fragranced world, this will suit you just fine… honestly, who needs toilet paper that smells sort of like roses?
As for softness, no scratching or cringing going on here, we would never have known it was recycled in a blind feel test.
While we're not sure if it's quite "as soft as unicorn kisses and as strong as 1000 ponies" like they claim (mostly because we're not sure how soft and strong those things are), we're confident in saying it's absolutely soft enough and very strong.
We've experience no poke throughs and no sore bums…
The great thing is they don't sacrifice softness for flushability like many luxury-soft traditional TPs. Because they pulp clean the fibers at high temperatures, their rolls are entirely biodegradable and septic safe.
The premium Who Gives a Crap bamboo toilet paper is definitely softer, although the difference to us was not enough to switch to bamboo. Worth knowing that Who Gives a Crap ethically sources their bamboo from localized family farms in the Sichuan Province.
Still the Who Gives a Crap recycled TP is overall better environmentally since it repurposes waste already in existence.
As far as other Who Gives a Crap reviews go it seems as if ours is pretty bang-on. Just about everyone loves the stuff.
---
WHO GIVES A CRAP BULK ORDERS ARE ECO FOR SH*TTING AND SHIPPING
Other than their sample packs, Who Gives a Crap bulk orders are standard. In fact, the smallest batch you can get is 24 rolls.
For those of you who live in small apartments, we get this may not be ideal, but with the pretty wrapping, you can even use your supply as decoration!
Plus just think how many CO2 emissions are avoided by fewer shipments.
They come without fillers in a basic compostable cardboard box. The only plastic involved is two strips of tape to close the box.
Plus, since their recent expansion to North America, they've established two distributor locations on each coast to which they sea freight rolls.
No flying orders overseas.
---
WHO GIVES A CRAP CHARITY WORK
Who Gives A Crap are seriously charitable, so much so that they donate 50% of their profits to fund sanitation projects in the developing world.
They work with an impressive list of impact partners, including WaterAid, Sanergy, Lwala Community Alliance, Shofco, and WaterSHED to build toilets for the 2.3 billion people (40% of the world!) without proper bathroom access.
To date, they've donated almost $11 million since their launch 10 years ago.
As a certified B Corp (meaning they are a "for benefit" company, which lies somewhere between nonprofit and for-profit), these claims are externally assessed against rigorous criteria and verified as accurate.
---
WHO GIVES A CRAP TOILET PAPER COST
Part of the core company philosophy is to provide an affordable yet sustainable eco-friendly product.
While more expensive than basic TP, they're still cheaper than luxury rolls and definitely cheaper than other bamboo and recycled TPs.
Budget breakdown: We buy the 48-roll boxes, which breaks down to $1 per roll. Since each roll has 400 sheets, that $1 lasts a while.
If you aren't sold, they'll even give you ​free shipping. These smaller sample packs are probably the most irresponsible thing about their sustainability standards, but if it helps turn more people toward recycled TP, it's better in the long run.
---
WHO GIVES A CRAP CONTROVERSY
There's been a bit of storm in a tea cup recently following the 'revelation' of Who Gives a Crap's choice to manufacture their product in China.
But before you stop reading and flush any plans to support this company, check out their super transparent explanation of their choice to base production in China.
Basically, it actually allows them to operate more sustainably than if they were based in Australia (no Australian producer would allow them to operate plastic-free).
China also provides direct access to raw materials (post-consumer waste paper and bamboo), eliminating the need to import overseas.
They also work closely with manufacturers to uphold strict standards for work conditions to ensure Who Gives a Crap ethical toilet paper is the only toilet paper they make.
---
IS WHO GIVES A CRAP SUSTAINABLE?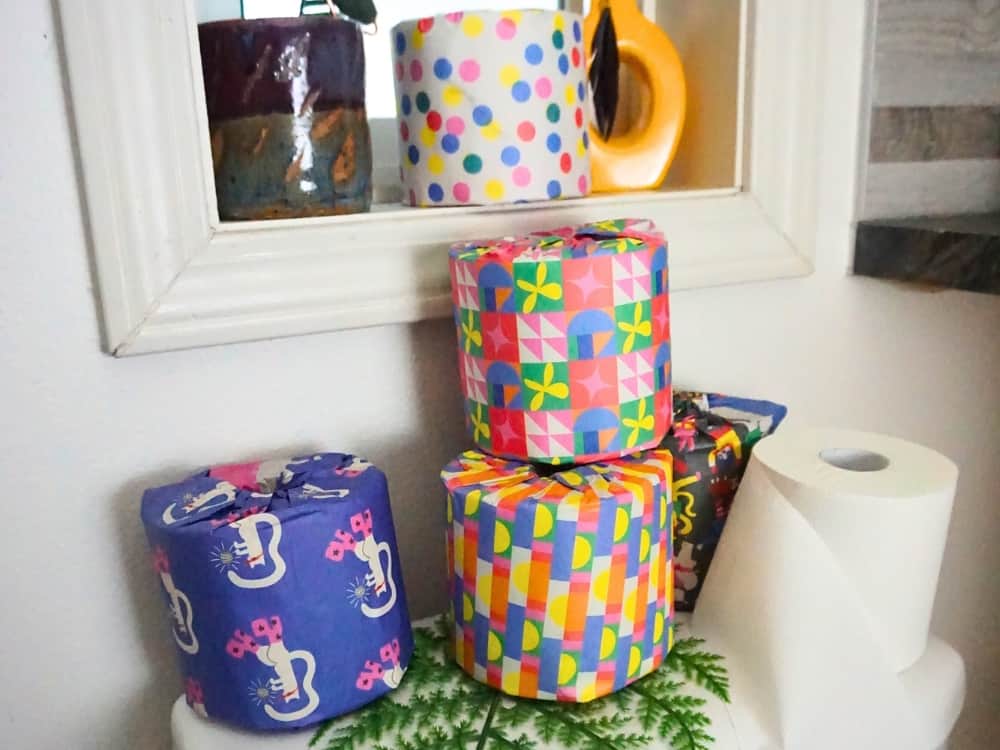 Well, each roll comes wrapped in snazzy patterned paper. That might seem excessively wasteful, but each wrapping, while not yet made of recycled materials, is 100% compostable.
For those who don't have composters, the colorful paper can still be reused in tons of ways, like kids crafts, zero waste gift wrapping, or even dog doo bags (which is what we do with them).
For a bit of a laugh, each wrapper even comes with some ideas for reuse printed on it, and plenty of YouTubers have come up with their own creative repurposing suggestions.
All that is to say it Who Gives a Crap TP and wrapping is a whole lot more sustainable than your average plastic covered store-bought version.
---
FINAL THOUGHTS ON WHO GIVES A CRAP TOILET PAPER
Remember, sustainability is a gradual path best accomplished by small steps, like being conscious about the brands we choose to back.
For us, Who Gives a Crap is one of them, the kind that care enough about doing good (for you and the earth) to do it extremely well. They perfectly represent our philosophy that small things make a big difference.
Together, we can change the world, one plastic free toilet paper roll at a time.
---