7 Eco Friendly Dog Toys That Aren't Ruff On The Planet
We don't know if there's anyone out there who hasn't had a dog tug at their heartstrings.
Unfortunately, dogs can also tug a bit on the planet, too, and not in a good way.
So, in an effort to reduce our foot prints, or in Taavi's case, paw prints, we set out to achieve a zero waste dog. And let's just say the last two years of #sustainablepuppygoals have been, well…a journey.
Of course, you can't complete the pawfect picture without your best friend's playthings. So we think it's time to fetch the most eco friendly dog toys for all the responsible pet parents out there.
And fortunately, brands like Ware of the Dog keep us feeling good (and amused) about replacing a chew toy with their line of fair trade organic dog toys.
The Good Dog Company gets some ear-scritches for their natural hemp dog toys and Purrfect Play is perfect in our eyes because of their annual donations to dog shelters.
Before you start drooling too much, be sure to bark your way to the end of the article to see how we found these sustainable dog toy brands.
So sit, stay, and let's play with the best eco friendly dog toys that Gretchen Weinerdog would totally call "so fetch".
*This post contains affilate links
QUICK LINKS FOR SUSTAINABLE DOG TOYS
---
1. WARE OF THE DOG
Ware of the Dog's Eco Friendly Dog Toys
Ware of the Dog's hand-crocheted dog toys are adorable.
So adorable, in fact, that it might be difficult watching these toys get destroyed by your pup (although it would be totally safe if they do).
If you've got a "good dog" eyeing your cheeseburger or bagel and cream cheese, now you can give them one of their own.
Even if their toy doesn't last long, you can feel good about cleaning up its remnants.
All of Ware of the Dog's eco friendly natural dog toys are made with either 100% recycled cotton t-shirt yarn, 100% organic cotton, or lambswool. That means they're swallow-safe and fully compostable, down to the OEKO-TEX Certified non-toxic natural Swiss dyes.
About Ware of the Dog
Ware of the Dog is a luxury dog brand started by NYC-based Jackie Rosenthal. In addition to toys, they've got clothing, bowls, and leashes and collars.
For the most conscious of canines, their toys all come from fair trade artisans and craftspeople in countries like Turkey and Nepal.
Ware's wares are all shipped in packaging made from recycled and recyclable content.
---
2. THE GOOD DOG COMPANY
The Good Dog Company's Eco Friendly Dog Toys
If your hound is always hounding you to play tug-of-war, you'll want to lap up the hemp dog toys from The Good Dog Company.
Their tug rope toys (available in either double or triple knot designs) are made with all natural hemp (which has a smell that dogs go crazy for) blended with 45% certified organic cotton.
The hemp is grown without herbicides and pesticides and the toys are stuffed with raw industrial hemp (which is not harmful if / when swallowed).
They're also durable enough for even the most vicious game of tug-of-war and they're an easy and all-natural way for your pup to clean their chompers.
About The Good Dog Company
The Good Dog Company is all about products that are good for your pet and the planet.
Started by the Schuchart family, The Good Dog Family is based on a love for animals (dogs especially) and gratitude for Earth—which is why they're a Green America certified business.
Hemp fabric is one of the strongest and most sustainable natural materials available, which is why it made it into most of the brand's toys, collars, and leashes.
Their commitment to sustainability is also why they've chosen to produce all of their products in the USA, in Hendersonville, North Carolina. They treat their workers as well as their furry friends, and their team benefits from high labor standards and fair wages.
They ship in recyclable (though only through specialty plastic film collections) poly film envelopes.
---
3. HONEST PET PRODUCTS
Honest Pet Products' Eco Friendly Dog Toys
Even if you've got the pickiest of pups, you're sure to find something from Honest Pet Products that gets their tail wagging.
From sticks to tuggable frisbees, these durable eco friendly dog toys make for some tough competition as "dog's best friend."
When you find out what these sustainable dog toys are made of, you'll realize that they're Earth's best friend too. Each toy is primarily organic hemp c
About Honest Pet Products
This eco-fetch company started in an unusual way—with a drink coaster. Honest Pet Products founder Mary Wolff was surprised to find that her Yorkshire Terriers enjoyed playing with a drink coaster more than they did their plastic and polyester toys.
Recognizing that perhaps sustainable and non-toxic materials aren't only preferred by humans, she set out to make planet-friendly animal products. More than a decade ago, the products became available for cats and dogs all over the world.
Since then, Honest Pet Products has kept their ethos simple:
"True to our PETS. True to our PLANET. True to our PEOPLE."
Speaking of people, not only are all HPP products made in the USA, but their hemp products are handmade by disabled adults and their wool products by impoverished women.
---
4. BECO PETS
Beco Pets' Eco Friendly Dog Toys
Sometimes it's hard to find sustainable dog toys for tough chewers, but you won't be chasing your tail for long, because Beco Pets can make any dog bark for joy.
They've got a range of non-toxic eco friendly dog toys that will satisfy any pooch (and their caring human).
Like their sustainable rubber dog toys which are made with sustainably tapped natural rubber – designed to withstand the strongest of jaws.
If recycled rubber dog toys are more of your dog's jam, they've got those, too. They're rough and tough and made from recycled cloth and recycled plastic bottles. There's nothing like cleaning up ocean pollution, one game of fetch at a time.
Then, for those games of tug-of-war, they've also got sustainably-sourced hemp ropes.
Oh and then there's the fact that playtime is puncture-proof. Your dog will sigh a relief (and you might have recurring nightmares) to find that their plush squeaky toys made from recycled polyester will last a long, long time.
Each of these eco friendly squeaky toys contains 15 recycled single-use plastic bottles amounting to 1.8 million plastic bottles recycled by Beco thus far.
About Beco Pets
We thought that Honest Pet Products had an unusual start… until we found out about UK-based Beco Pets. Animal-lovers and friends Toby and George got the urge to create eco friendly dog toys by thinking about… bamboo chopstick waste!
Wait, what?
Beco started out to reduce chopstick waste by making dog bowls from byproducts of the bamboo chopstick industry.
Over the years, they've expanded their range to make accessories, eco friendly dog food, toys, and bowls, all made from non-toxic and BPA-free materials like cotton, bamboo, rice husk, food-grade silicone, and recycled plastic bottles.
Then, the Sustainable Pet Coalition continued begging for more and so they started to regularly contribute funds to animal and environment-focused charity groups like Dogs on the Street and the Marine Conservation Society.
---
5. WAGGING GREEN PET SHOP
Wagging Green Pet Shop's Eco Friendly Dog Toys
Wagging Green Pet Shop might not have the biggest range of eco friendly dog toys but they've definitely got enough to keep your furry friend occupied for hours.
We'll sit, stay, and roll over any day for their eco friendly bamboo squeak toy.
Made with organic, environmentally-friendly bamboo, it comes in several different styles and makes use of bamboo's natural breathability and odor resistance. Just be sure to remove the squeaker before composting if it gets destroyed.
They've also got a fleece bone squeak toy, but as we're not 100% sure what kind of materials it's made with, we may run away from that one (have a look at our deep dive into the sustainability of fleece).
About Wagging Green Pet Shop
This is one of our favorite eco friendly dog toy companies on Etsy.
The company started years ago when founder Sonya Sargent took her background in fashion design and used her knowledge to create a stylish toy for her new puppy.
Bamboo quickly became her material of choice for collars, harnesses, toys, and leashes. She loved the fact that as a hypoallergenic material, it would be fine for sensitive pups; and as a washable and odor-resistant material, it would be great for owners with a strong sense of smell.
Wagging Green Pet Shop is obviously committed to being "green" so they have a recycling program where old collars and leashes (any brand) can be sent to Wagging Green to be recycled / reused. You even get a discount for being a responsible pet parent.
They also make all of their eco friendly pet products in the USA and donate 5% of proceeds to organizations designed to improve the lives of pets and pet owners.
Available: Etsy
---
6. PURRFECT PLAY
Purrfect Play's Eco Friendly Dog Toys
As their name might suggest, Purrfect Play prioritizes purrfectly natural toys for cats, but that doesn't mean that they don't have any eco friendly dog chew toys suitable for their canine counterparts! 
Their eco friendly soft dog toys include "wooftastic" large and small squeaky toys made from natural hemp canvas.
The toys are stuffed with organic cotton and, fortunately for some owners, the squeaky bit is optional (it's also made with plastic too).
As a healthier alternative to tennis balls (which are treated with fungicide – beware), they also sell natural wool dog balls that are durable and washable, as well as compostable in the end.
About Purrfect Play
Purrfect Play founder Pam decided that she wasn't a big fan of plastic play toys that came from China. After all, don't animals have a preference for natural textures and scents?
To try out her theory she started producing toys made from natural hemp, wool, and organic cotton in an Indiana workshop. She hasn't stopped since.
If you take a look at some of the shop's reviews, you'll find that these are some of the most durable eco friendly dog toys out there.
And they're some of the most sustainable, too.
Materials aside, Purrfect Play offsets their carbon footprint through a local land preservation fund, are proud members of Green America and American Made Matters, and they're members of their local environmental council.
As the proverbial cherry on top (that squeaks, of course), they also donate 5% of all sales to no-kill animal rescue organizations.
Available: Etsy
---
7. KONG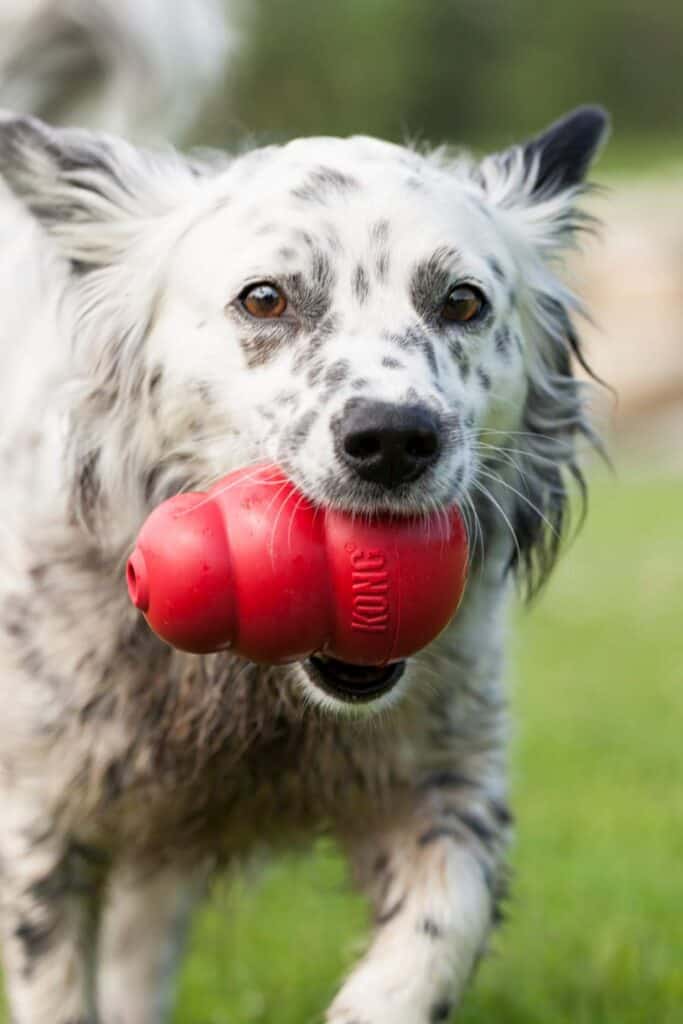 KONG's Eco Friendly Dog Toys
KONG is king of dog toys. They've got nearly any toy you could imagine—ropes, bones, puppy toys, and the Classic KONG, a tough-to-destroy rubber chew toy which can be stuffed with treats.
When you head to KONG's website, you can search for a toy to meet specific criteria, like type of play, features, age of dog, and material. We like the last function because KONG has both durable sustainable dog toys as well as those that aren't as Earth-friendly.
The best is their Classic KONG, made from natural rubber in the USA.
For those that want to give their doggos toys in the form of time-consuming treats, they sell wild Grade-A elk antlers. Rest assured, these antlers have been naturally shed and no elk are harmed in the obtaining of them.
They also have plush polyester toys, tennis balls covered in a scratchy felt fabric, and some PolyTuff toys that are made from undisclosed materials.
We would steer clear of these as far as "good boy toys" go.
About KONG
The origins of KONG take us way back, like 40 years back.
Founder Joe Markham had a deep love for his furry friend Fritz, but wasn't a fan of his destructive ways. When Fritz turned to destroying sticks and rocks, Joe wanted to find something that was better for him and his teeth.
In a strange turn of events, he noticed that Fritz enjoyed chewing a rubber part from his Volkswagen Bus (it was the 70s, of course). So, he tried to replicate the part and, voila, the Classic KONG was born.
The brand has continued growing and the Classic Kong is now sold in 80 countries. While it appears their goal is not to be the most eco friendly dog toy brand out there, the durability of some of their items helps. Your Fido could spend years chewing without a replacement.
---
HOW WE FOUND THESE ECO FRIENDLY DOG COMPANIES
We haven't gone barking mad or anything, but we have spent a considerable amount of time digging through the dirt.
By which we mean, the dirty world of plastic plushies and toxic tug toys to make our way towards zero waste dog care—and this includes everything from sustainable dog beds to bamboo dog collars to planet-friendly dog toys.
Here are a few things we look for when looking at eco friendly pet products:
Materials:
You might not think that dog toys and sustainable fashion have a lot in common, but to us they do. By this, we mean that the materials a product is made from is one of the quickest ways to make or break it in terms of sustainability.
That said, we looked for the same sustainable materials we like to wear. If we don't want toxic plastic in our wardrobes we certainly don't want it in our best friend's mouth.
First and foremost, we like playing fetch with natural materials like wool, organic cotton, hemp, bamboo, recycled plastic, and natural rubber. Second to those are recycled plastics, as long as they're BPA-free.
Supply chain and labor practices:
We might not always associate a dog toy with the social issues that enumerate product manufacturing these days, but that doesn't mean they're not there Finding toys that are not just sustainable but ethical was important, too.
These brands are getting the ball rolling for other companies to follow suit by keeping their manufacturing local (many in the USA) and supporting their workers with fair work conditions and fair pay.
Green business practices:
Aside from consciously choosing materials, there weren't too many additional efforts to be sustainable (not yet anyway). However, we were happy to see that some brands offset their carbon emissions and have a recycling program for old toys.
Notice, however, that we tended to select brands that sell on either Etsy or EarthHero. That's because both these platforms offset all shipping emissions from anything purchased.
Community & charitable giving:
Our precious pup might not always give that rope back when playing fetch, but we're happy to see that many brands are giving back to their local communities.
Finding shreds of hemp toys scattered around the house is a much better experience when you know that your new purchase will help support an animal, social, or environmental organization.
---
FINAL THOUGHTS ON THE BEST ECO FRIENDLY DOG TOYS
We hope we got some tails wagging for this list of eco friendly dog toys.
Just remember, owning a pooch is an exercise in responsibility, so it's important to consider your best friend's impact, especially considering their carbon footprint is similar to that of a large SUV.
We're by no means trying to dissuade you from welcoming a furry friend into your house. Getting Taavi has been one of our best decisions ever. But we realize pet ownership comes with an environmental cost, so we try to mitigate this as best we can.
We hope we're barking up the right tree here, so please let us know what you think. Any environmentally friendly dog toys you'd recommend and is there a favorite in your house right now? Let us know in the comments.
---