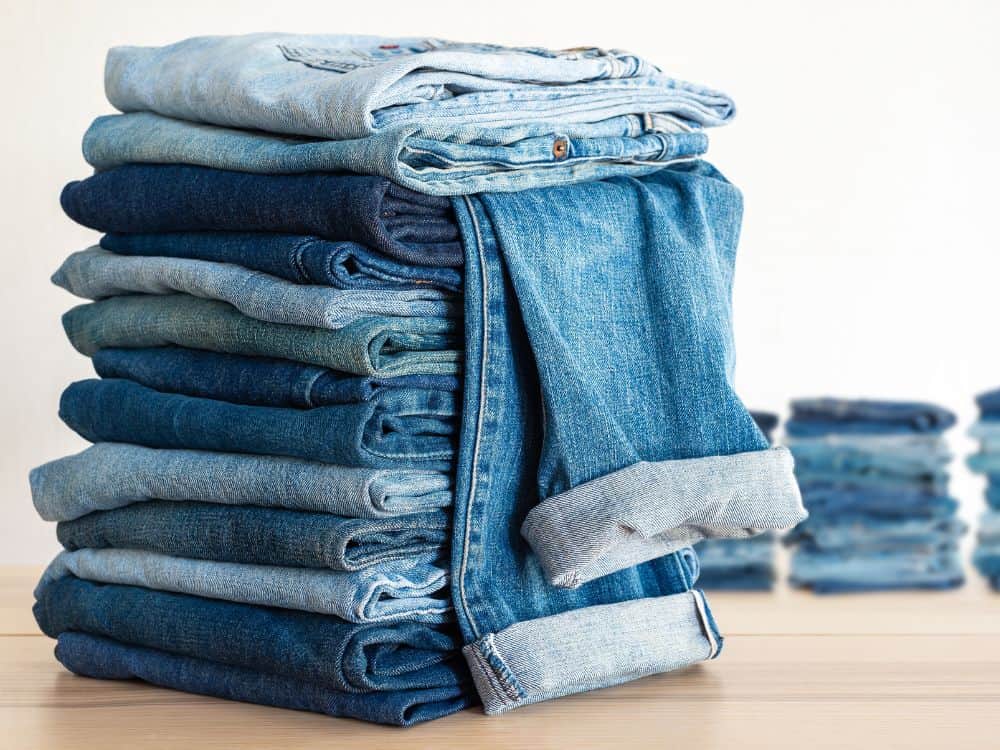 What To Do With Old Jeans: 7 Denim Recycling Ideas To Make Old Blue Jeans Green
Perhaps the best way to avoid the environmental crisis created by fast fashion is to choose garments that will last through fads while keeping you free from fashion faux pas.
Denim delivers.
While fashionable cuts have shifted back and forth, jeans have stayed in style for over a century. A good pair of denim jeans is a near-must for any minimalist wardrobe.
But, like anything, jeans have a lifespan and whether it ends prematurely by simply not fitting anymore or after a well–lived life with a massive hole in the crotch, you want to avoid tossing your old denim jeans in the trash.
That's because textile waste already takes up 5% of all landfill space and humans are throwing away about twice as many clothes as we were 20 years ago.
If you're wondering, "What can I do with jeans I don't want anymore?", you've come to the right place.
We'll indi-go into everything you can do with denim fabric, from finding a new wearer for your old pair of jeans to finding the proper channel for denim recycling.
Upcycling To Recycling: What To Do With Old Denim Jeans That Don't Fit
---
1. Mend Or Repair Old Jeans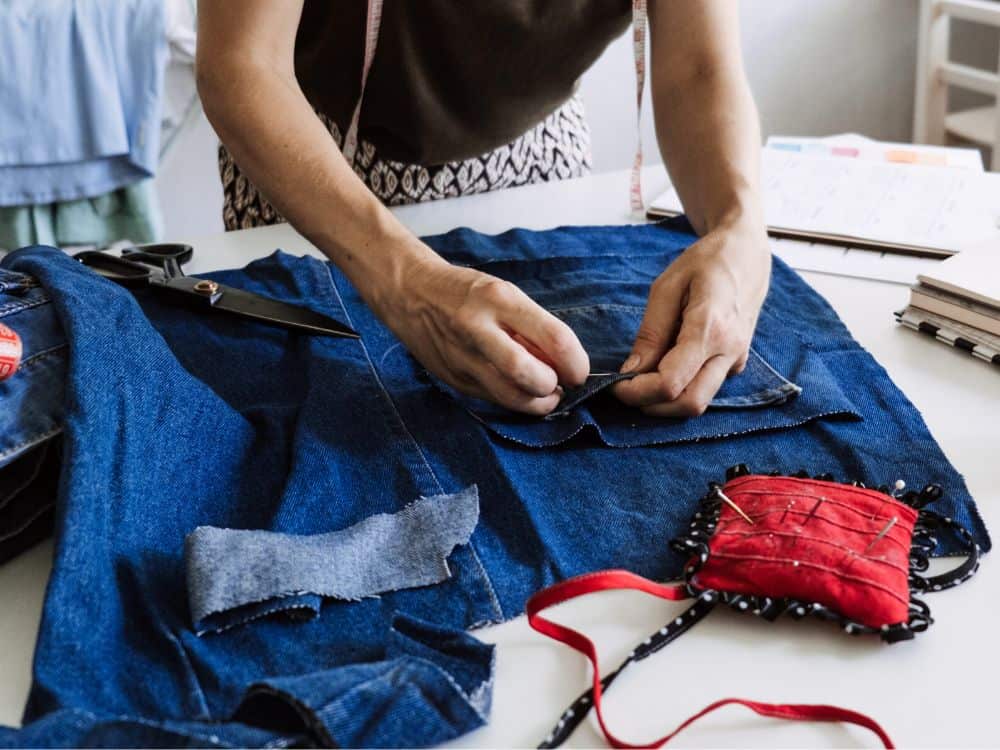 Jeans are timeless and usually made from sturdy fabric, so they're worth holding onto.
If you're thinking of parting with an old pair of jeans because of a specific problem—like a tear in the bum—try your hand at home repair first. Darning or applying a patch are simple solutions that require nothing more than a needle, thread, and maybe some scrap fabric.
Not really a seamstress?
If you're looking for a no-sew solution for old jeans, no sweat. Start by checking with the company that made your pair of jeans. Some offer repair services for their own brand of jeans:
If your jeans didn't come from a company that offers denim repair, check with local tailors before finally resorting to online clothes repair services.
These companies can mend torn belt loops, close up a hole in your jeans' pockets, patch tears in the knee of your jeans' leg, and more. Some can make them better than new by adding some upcycled flair to those flares.
In any case, if you're thinking of parting with your pants because of an issue that could be repaired, think again.
Fixing the problem is probably cheaper—and definitely more eco-friendly—than buying a new pair.
---
2. Sell Old Blue Jeans To Earn Some Green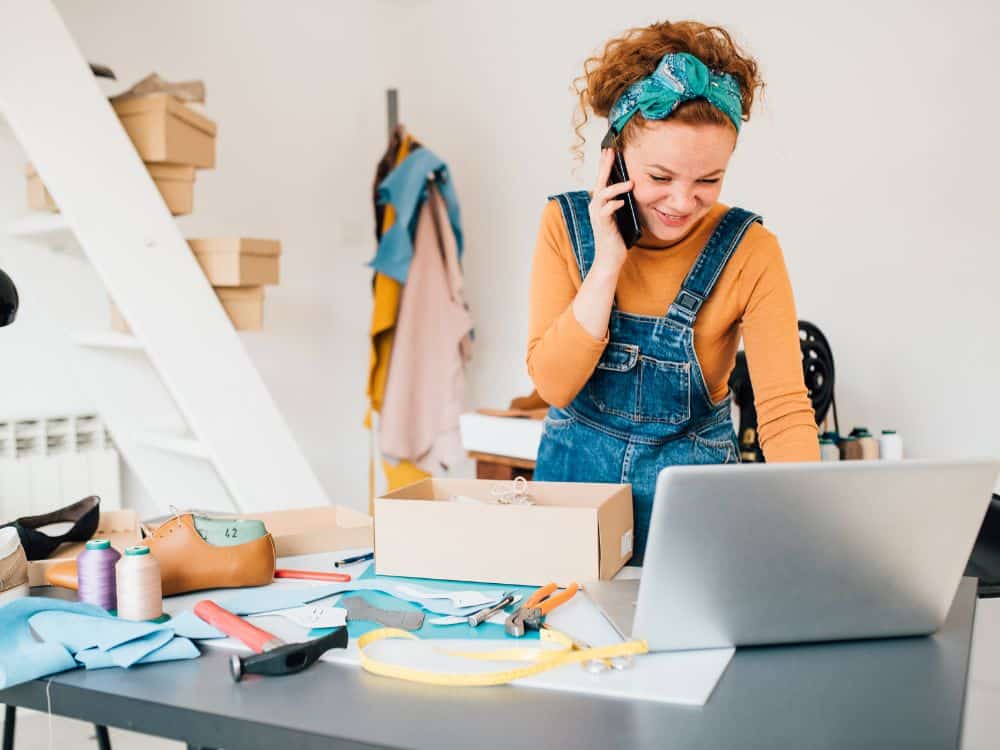 Have you ever found yourself looking at a really nice old pair of jeans that don't fit anymore but cost you hundreds of dollars?
Or maybe you've just decided you have too many. We all have our favorite, go-to blues–the ones we've broken in perfectly and fit just right—while others sit folded in our closet for months at a time.
If so, you've probably wondered, "How can I get money for my old jeans?" Is there a market for old jeans?
You bet your denim-clad butt, they are!
If your jeans are still in good shape and from a relatively nice brand, you might be able to pocket a few bucks by reselling them. Because jeans are long-lasting but often expensive to buy new, the resale market for denim is booming.
Check your local consignment options first to avoid the carbon footprint associated with shipping, but if there aren't options near you, there are plenty of platforms to sell clothes online offering answers for where to sell old jeans:
---
3. Donate Old Jeans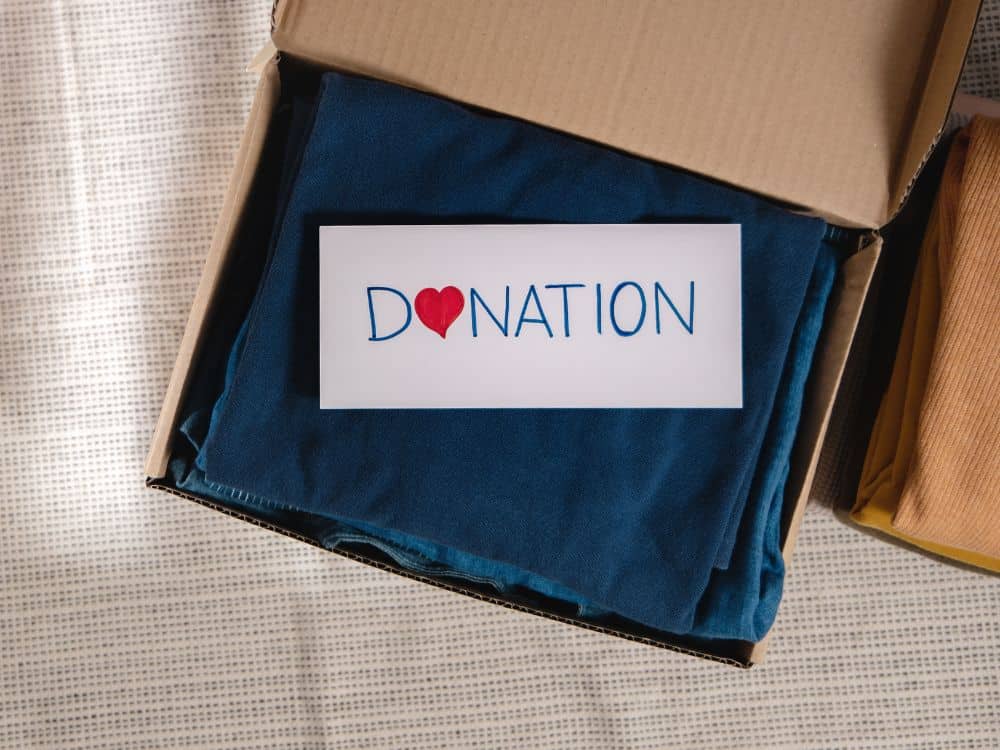 Another option for what to do with old jeans that don't fit but are still in wearable condition—and maybe aren't from a nice enough brand to resell—is to donate old jeans to a local thrift store or charity clothing drive.
If you don't have a clothing drive new you but would rather see them go to someone in need, companies like Pact offer a charitable-focused means to recycle old clothes.
Either way, wash your wearable jeans before you hand them over. Most thrift stores and charities don't have the bandwidth to launder items, so passing them off clean ensures they actually have a chance for resale or reuse.
But what about jeans that aren't really in the condition to be reworn? What are your options for what to do with old jeans with holes in them?
---
4. Denim Recycling Drop-Off Programs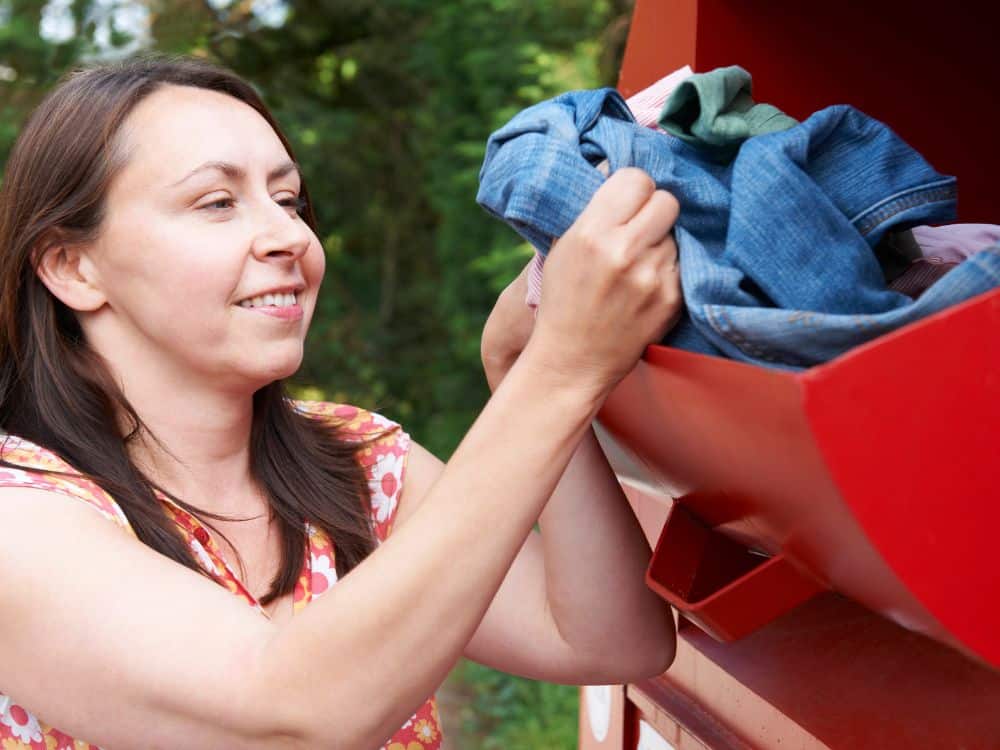 Can old jeans be recycled?
You betcha.
In fact, recycling denim has never been easier
For starters, if you're already used to dropping off your clothes at a drop box like the ones from American Textile Recycling Service, just add your denim duds to the next batch.
Beyond that, plenty of clothing manufacturers now have denim recycling projects.
By choosing one of these denim recycling drop-off programs, you're getting your jeans back into the hands of people who know how to use each component of that specific pair of jeans. As a result, this can help to get the denim fabric recycled most efficiently.
So, where to donate old jeans?
Some stores that offer drop-off denim recycling at their retail locations include:
---
5. Recycle Old Jeans By Mail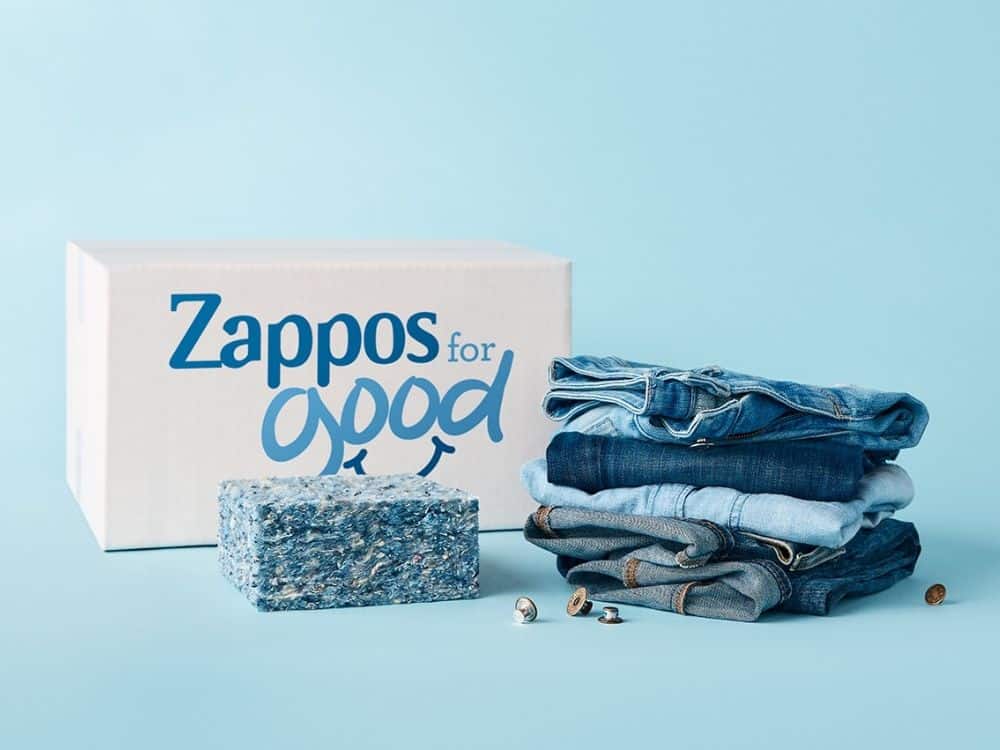 If you don't have a drop-off point near you, no need to be blue. Mail-in recycling services make it so that anyone has options for how to recycle old jeans.
This is largely thanks to Cotton Incorporated, a nonprofit founded in the early 70s to support the cotton industry. If you've seen those commercials for "the fabric of our lives", you know them.
Cotton Incorporated is behind the Blue Jeans Go Green™ denim recycling initiative—which has already transformed over 130,000 jeans into building insulation, saving 66 tons of waste.
A lot of the store drop-off options outlined above are powered by Blue Jeans Go Green™. Similarly, some brands—like Just Black Denim and Industry Standard—use its offshoot partnership Zappos for Good to offer mail-in denim recycling programs.
The only caveat to Zappos' denim recycling program is that your jeans need to be at least 90% cotton, so check the tag before you send them off.
Other brands that offer independent mail-in programs for recycling denim:
Wondering what these places to donate old jeans do with them?
In some cases, it gets reused in new products or redesigned as part of upcycled clothing collections.
Increasingly, though, we're finding new uses for old denim. Blue Jeans Go Green often uses it as insulation for meal delivery packaging, housing insulation, or padding for kraft paper mailers.
Not only is this stopping textile waste, but providing a more eco-friendly alternative to things like fiberglass, styrofoam, and bubble wrap.
---
6. Downcycle or Upcycle Old Jeans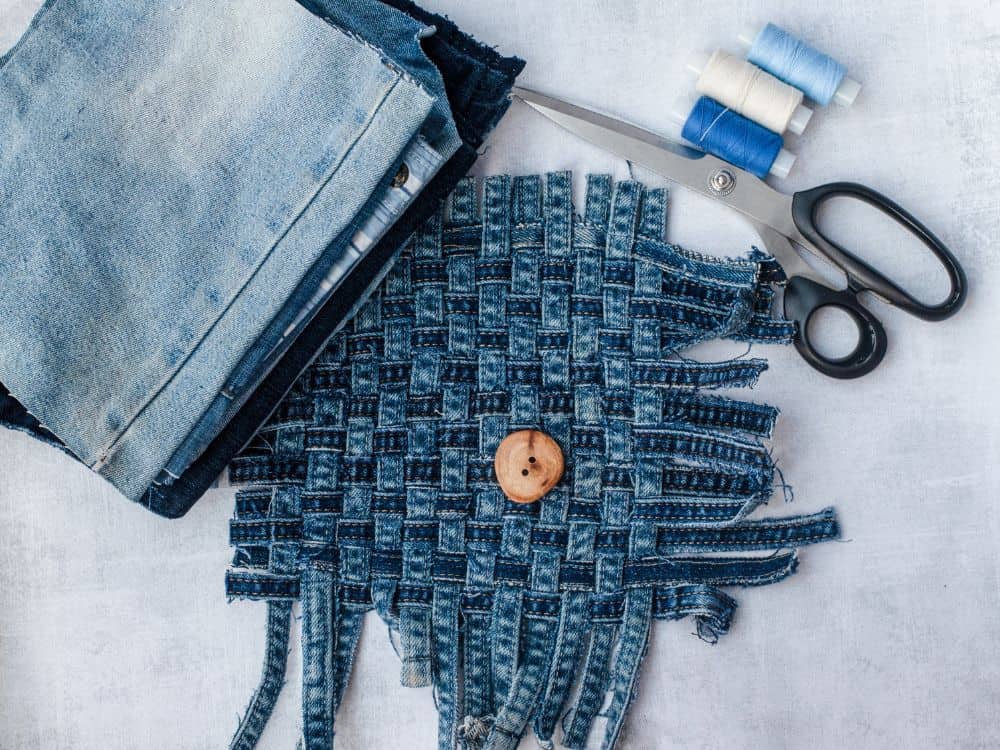 You don't necessarily need to send them away to give them a new life. You might be surprised just how far those denim scraps can go in your own hands.
Here are a denim recycling projects to get your wheels turning:
Armchair caddy: If you're always losing the remote or your chapstick, whip up this creation to keep small items in order as you lounge.
Denim skirt: Upcycle old jeans to skirts via a simple process.
Denim jacket: You can learn how to make a denim jacket out of old jeans in this video.
Denim quilt: If you're handy with a sewing machine, follow some simple steps to make denim quilt. Plus, you can upcycle other clothes at the same time (like using old graphic t-shirts for the front squares and old socks for the batting).
Denim rugs: Because denim is so durable, it can be the perfect material for some ground covering. This guide gives you several different ways to upcycle denim into a rug, including a tutorial on how to make a jean rug without sewing.
Storage solutions: If you're having trouble keeping things organized at home, you can upcycle denim into baskets (by either sewing or weaving, for those who want no-sew projects for old jeans) to corral odds and ends.
Denim apron: Whether you want a place to stash your craft supplies or your cooking utensils while you're on the move, this sturdy apron could be just the thing.
Whale toy: The blues and grays of most denim lend themselves to the biggest marine animal for use as an organic baby toy.
Make a draft door stopper by sewing one leg of your skinny jeans closed into a long tube and stuffing it with the remaining fabric scraps.
Make a coin purse out of small fabric scraps
Add jean pockets to bags: Cut out the pack pockets and sew them into your reusable grocery bags or canvas totes for a little extra on-the-go organization.
Ways To Downcycle Old Jeans
If none of those denim crafts provide the right solution for how to upcycle old jeans, downcycle your denim into craft supplies for the future—like use as sturdy backing fabric, quilt filling, or scraps for future denim repair jobs.
Bigger scraps can also become rags to add to your eco-friendly cleaning kit. In fact, the stitching from back jeans' pockets might help to add a little abrasion for your next clean-up project.
Or you can shred the unwanted denim and use it as insulation. If you have a ton of denim scrap on hand, you might even be able to insulate your house with it.
---
7. Compost Old Jeans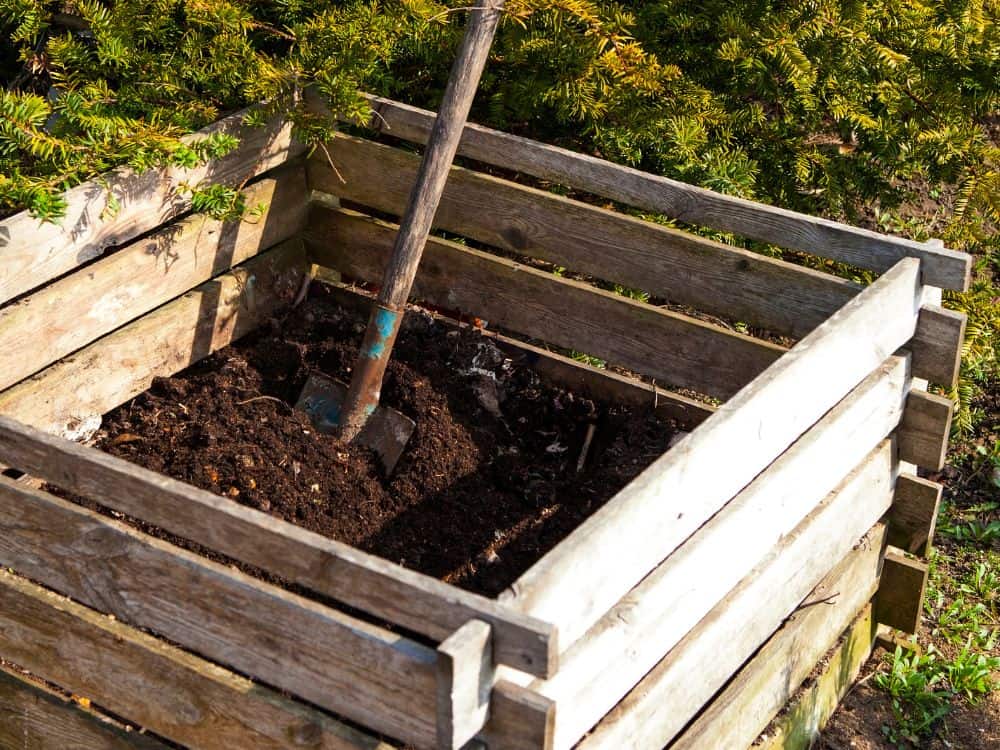 This is the last option for how to dispose of old jeans, but that doesn't make it any less sustainable.
If your denim is 100% cotton, hemp, bamboo, or TENCEL™ lyocell fabric, it's likely compostable.
For bamboo and cotton that isn't organic cotton, Check with the manufacturer to make sure it wasn't treated with anything that could compromise its ability to break down.
A lot of thread and fabric glue isn't compostable, so you may need to deconstruct your pair by cutting out components that are not compostable:
Zippers, buttons, and rivets
All thread
Tags and leather brand patches
Before you throw it in your outdoor or indoor compost bin, shred it into small pieces to ensure it breaks down quickly.
---
Did you know we Have a Newsletter?
We cover the latest in sustainable living, fashion, zero waste, beauty, travel, finance and more…
Why Learn What To Do With Old Blue Jeans?
For being such a wardrobe staple, denim is one of the least sustainable garments around.
Most pairs begin with conventional cotton—which is heavily consumptive of land, water, and chemical inputs.
Once manufacturing starts, the cotton is bleached then repeatedly dyed to get that dark blue denim color. This has serious environmental impact and utilizes a ton of water (about 3781 liters per pair!).
Finally, it employs sandblasting and stone washing finishing techniques to provide that coveted "worn-in" look. This impacts on the lung health of textile workers and is associated with huge amounts of carbon emissions.
While buying sustainable jeans from the start can help mitigate some of this, it doesn't make up for the fact that we consume 1.2 billion pairs per year or that about 85% of clothes end up in the landfill.
That's a crying shame in general, but it's especially sad with denim because this durable, mostly-natural fabric has so many reusable possibilities—and easily accessible alternatives.
---
Final Thoughts On How To Dispose Of Old Jeans
You have lots of options for what to do with old jeans that don't fit or can't be worn, and to give it to you straight (leg), there's just no reason for them to end up in the garbage bin.
Denim is one of the most recyclable and reusable fabrics around. With plenty of repair options— plus denim recycling, upcycling, and downcycling choices—you can easily keep your jeans out of the landfill.
You don't have to stop with old denim, either. Learning how to responsibly part with your jeans is an easy place to start since there are so many denim-focused options, but you can also explore the best options for getting rid of other old clothes, like old wedding dresses, old underwear and old shoes, too.
Do you know anyone with too many jeans? How about someone who's starting to look like a 2000s Scene kid with all the holes in theirs?
Share this list with them to let them know their options.
Pin these: