8 Ethical & Organic Hoodies For Those Sustainable Snuggles
Hoodies are one of those ubiquitous clothing pieces. We all own one. Ok maybe two. Fine. We all own a few of these.
From high school or college memorabilia to that fast fashion gift you got for Christmas last year, hoodies are everywhere.
But there's a good reason for that.
They're admittedly one of the coziest articles of clothing around. The problem is though, most of them are made from synthetic and petroleum based fibers, which means they'll be hanging around for hundreds of years to come.
So in the spirit of supporting a sustainable fashion industry (and planet), opt for an ethical and organic hoodie that puts the eco in eco-conscious clothing.
Colorful Standard's hoodies are so fun and colorful, you'd never guess they're made with just 100% organic cotton.
We were also excited to find unique sustainable buttons on the organic athletic hoodies from Outerknown, and weren't surprised to find tentree's organic materials are so natural you could almost eat them!
There's more where that came from. Read on, and be sure to take a look at the end of the article to see how we picked this huddle of hoodies.
*This post contains affiliate links
QUICK LINKS FOR SUSTAINABLE AND ETHICAL HOODIES
---
1. TENTREE
About tentree
Canadian B-Corp tentree calls their hoodies: "The second-layer you never want to take off. Equal parts comfortable and sustainable, rehabilitating our earth one chilly evening at a time."
If their ethical hoody range were a tree, it would be a redwood; that's how big and diverse it is. Shop for men, women, and even sapplings (by which we mean kiddos).
While their hoodies are super warm on their own, add a little extra warmth with tentree's sustainable gloves and fair trade scarves.
tentree's Ethical and Sustainability Practices
Materials:
With so many different hoodies, there are a few different fabric combos, but surprisingly few fabrics comprising them. These hoodies contain only organic cotton, recycled polyester, TENCEL™ Lyocell, and minimal spandex in just a couple designs.
Supply chain & labor practices:
tentree manufactures globally but tells you in which country each product comes from. 
All hoodies are "ethically made in China". 
While that may be a cause for concern for some, their ultra transparent factory ledger and code of conduct assure us these factories are all certified by one or more entities and held to strict labor standards.
Thanks to these efforts, tentree ranks in B-Corp's top 1% for manufacturing ethics.
Green business practices:
Each product description also bears an Eco Log. Essentially a negative impact counter compiled with the help of GreenStep, these logs display the CO2 emissions, water, and waste savings associated with every product.
Inclusivity:
Available in XS-XL, tentree's hoodies are designed for most bodies, though some even larger sizes would be nice to see.
Community & charitable giving:
As you may have guessed, tentree likes trees. So much so that they plant TEN TREES for every purchase made.
Thus far, they've planted 50 million trees across the world (in areas specifically in need of reforestation or biodiversity support) and hope to reach 1 billion by 2030.
---
2. OUTERKNOWN
About Outerknown
Surf-legend Kelly Slater turned his passion for ocean conservation into one of our favorite sustainable brands: Outerknown.
In addition to their range of year-round-wearable men's and women's tees, jeans, and activewear, Outerknown can also handle all your winter needs.
That includes ethical winter coats for your top, sustainable socks for your toes, and for some of the best organic hoodies for "laid-back comfort and style wherever you wander" in between.
Don't forget a pair of eco friendly sweatpants to match.
Outerknown's Ethical and Sustainability Practices
Materials:
OK is okay with organic cotton—which is the main material found in their hoodies. They're blended with just 1% polyester, a small enough percentage so the garment is still fully recyclable.
Runner-up materials include hemp, recycled polyester made from plastic bottles, and conventionally-grown cotton (which we do recommend hiding from in your hoodie if you can).
Some styles come with corozo buttons (definitely not a material you see every day). These are made from nuts of the tagua palm tree. The fallen nuts are gathered by locals and carved into buttons. This practice helps safeguard South American rainforests from deforestation and they're biodegradable.
Supply chain & labor practices:
OK partners with a range of manufacturers and suppliers across the globe (namely in Peru, Mexico, and China).
They all abide by a strict code of conduct and many of them are Fair Trade Certified. In fact, they were the first brand to bear a certification by the Fair Labor Association.
Green business practices:
For some light reading in one of OK's lightweight organic hoodies, we recommend checking out their 2030 Sustainability Strategy.
Aware that sustainability is a never-ending journey and not an endpoint, OK is focusing on areas that need improvement, which is why they have goals to adopt circular models by 2025 and make 100% of products circular by 2030.
That's just one of their many goals. Others include helping their supply chain partners transition to renewable energy systems, getting more involved in climate-focused social and political movements, and more.
Inclusivity:
We saw XS-XL for most hoodies. That's good, but we'd love to see a slightly larger range and some models that don't look like they're about to hit the surf.
Community & charitable giving:
It's not surprising that OK is an advocate for Earth's oceans. They regularly partner with Ocean Conservancy to take part in beach cleanups and donate financial resources from product campaigns.
---
3. COLORFUL STANDARD
About Colorful Standard
Comfort comes standard with Colorful Standard.
While this applies to their whole product line (organic cotton tees, socks, sweats, and shorts), it's especially true of their ultra cozy hoodies and crew sweatshirts, complete with super soft brushed interior.
Trust us, we know first hand! We were given some to try and were really impressed with how thick and warm these hoodies are.
Colorful Standard's Ethical and Sustainability Practices
Materials:
100% organic cotton dyed with OEKO-Tex® certified dyes is all you'll find in these PETA-approved organic hoodies.
Supply chain & labor practices:
Groceries Apparel is so confident in the ethical practices of their Protugese factory, they invite you to stop in for a visit at any time.
Green business practices:
Here's a brand that "love[s] simplicity" and we do too because simple styles are the most sustainable. They design their clothing to pair with any outfit and remain in style indefinitely.
They're pre-washed and anti-pilling so there's no reason these hoodies won't be a staple in your minimalist wardrobe for years.
They also keep their supply chain small by shipping directly from the factory to you, no warehouses needed.
Inclusivity:
From some gender neutral clothing (and the rest that just as easily could be) to XS-2XL sizes, Colorful Standard is one of the more body-inclusive organic fashion brands.
Community & charitable giving:
Some years ago around the time of their founding, Colorful Standard pulled together the funds to build and equip a football club in the Democratic Republic of Congo.
Today 5% of sales still go toward running what has become an activity center and a safe place for youth to congregate.
---
4. PACT
About Pact
Pact considers themselves producers of "Earth's Favorite Clothing"—so much so that it's their trademark.
And we've gotta say: we agree with the Boulder-based brand.
If you've scrolled around on our site before, there's a good chance you would have come across them for their range of sustainable socks, bedding, robes, organic underwear and much, much more.
They've also got other affordable ethical clothing designed to keep everyone comfy and cozy—like their fair trade organic hoodies for the whole family (including little ones).
Pact's Ethical and Sustainability Practices
Materials:
If you know anything about Pact, you know that they reduce their imPACT by using only Fair Trade and GOTS certified organic cotton that also happens to be Fair Trade Certified.
Whether you're checking out their organic zip up hoodies, or a pullover hoodie for men, women, or babies, you'll only see organic cotton in their list of materials.
Supply chain & labor practices:
Pact sources most of their organic cotton from India, which is also where they have their Fair Trade USA certified factories. Hello localized supply chains, bye bye child labor and sweatshops.
Green business practices:
Pact offers the option to offset the carbon footprint of the delivery of your order. They also use a "Magic Box," which is made from 98% post-consumer recycled materials and includes a biodegradable plastic bag to keep your clothing safe.
Inclusivity:
Men's sizes run from S-XXL and some women's styles run from XS-XXL—A+ for size inclusivity.
Community & charitable giving:
Through Pact's Give Back. Wear Forward, you can turn your Magic Box into a Give Back Box. Just return the packaging from your order filled with gently used clothing. Then, Pact sends it to non-profits.
This reduces the footprint of the packaging materials, keeps clothes out of landfills, and helps those in need for a truly ethical trifecta.
Available: Pact
---
5. BECKONS
About Beckons
Beckons was founded by a Denver, Colorado-based designer and yoga coach.
Her line of organic and sustainable yoga clothes is designed to be comfortable and versatile—all while prioritizing the planet and people as much as profits.
Besides being one of our favorite organic hoodie brands—actually, we love all of their ethical activewear.
Their women's zippered hoodies join the rest of their organic yoga clothing for men and women (although, no hoodies for men yet), making them cozy duo for that Bikram sesh on your eco friendly yoga mat.
They've all been "made to love, to last, to speak… and to give back."
Beckons' Ethical and Sustainability Practices
Materials:
Organic cotton is the main material found in most of their products (certified by the USDA and Organic Trade Association, of course). Aside from being softer and stronger than other fabrics, organic cotton is produced without harsh chemicals and grown without requiring tremendous amounts of pesticides and water.
In the case of Beckons' organic cotton hoodies, it's blended with a bit of Lycra (polyurethane) for some added stretch. Which adds durability but does mean it can't be composted at the end of life.
Supply chain & labor practices:
Certified by Control IMO (the Institute for Marketecology), their factory partners in India, China, Turkey, and the US (specifically in Denver, CO) all adhere to strict environmental and social standards.
Green business practices:
Beckons is an official member of both the Organic Trade Association (OTA) and the Green Business Network. Their sustainability efforts start with their choice to source organic cotton, and extend to their shipping practices—they only use recycled boxes and avoid polybags.
Inclusivity:
Beckons includes a small intention tag that comes with each of their products. This will include a simple message in the form of a word, like grace, wisdom, integrity, courage, or balance. They want all bodies to embrace these words and the comfy clothes they're connected to.
While most products have a relatively narrow size range (XS-L), they do have an impressive plus size range, too.
Community & charitable giving:
It should come as no surprise that Beckons regularly gives back to the yoga community by supporting YogaSlackers, an inspirational group of yogis who want to teach and make yoga, acroyoga, and slacklining accessible.
They also donate their unsold end-of-season merchandise to charity organizations like the Women's Resource Network and the Samburu Tribe of Africa.
---
6. IRON ROOTS
About Iron Roots
Iron Roots is a small brand and their hoodie selection is small to match.
In fact, it includes just one item: the Unisex Hemp Performance Hoodie.
The fact that one organic hoodie is enough to earn them a spot on this list should tell you about how highly we regard this brand.
Iron Roots may make basic activewear, but their ethos is anything but.
Founded by three friends who found it absurd that 90% of sportswear contains microplastic-releasing polyester fibers, this brand brings fitness back to its roots in nature. All products are totally natural, without any synthetic fabrics (even recycled ones).
Iron Roots' Ethical and Sustainability Practices
Materials:
These hoodies are a blend of 30% hemp and 70% organic cotton, two of the most sustainable fabrics around. That combo makes them super soft, antibacterial, warm yet breathable, and of course, fully biodegradable.
Plus, no microplastics! Each hoodie prevents about 15.000 microplastics per wash.
Supply chain & labor practices:
From their GOTS and FSC-certified raw material suppliers to their ISO-certified and regularly audited factories in either Greece (where the hoodies are made) or Portugal, Iron Roots can trace their entire supply chain.
Green business practices:
Iron Roots goes beyond green materials to promote a clean cuddle sesh. They use minimalist and plastic-free packaging and more sustainable (i.e. slightly slower) shipping options.
Additionally, they also give people a discount to send back their old Iron Roots apparel so that it can be recycled into new clothes. A mark of a truly sustainable brand.
Inclusivity:
These unisex sustainable hoodies run in sizes S-XL, which would love to see expanded some day.
Community & charitable giving:
Iron Roots promotes sustainable fashion outside their own business model. By giving lectures at events and universities, they're helping to spread awareness about the necessity of sustainable fashion. These talks focus on practical advice for avoiding fast fashion and recognizing greenwashing.
---
7. WVN
About WVN
We're all threads that together can make the world a better place. WVN hopes to be the means that ties us all together.
The Certified B-Corp and California-based brand began with Synergy Organic Clothing and founder Kate Fisher's mission to empower global artisans while using practices to minimize environmental impact.
Their women's organic hoodies consist of two styles: the Warm Up Hoodie and Live In Sweatshirt (no hood).
WVN's Ethical and Sustainability Practices
Materials:
The Live In Sweatshirt is made of Luxe fleece, a blend of 70% modal, 26% organic cotton, and 4% spandex.
For something purer, the Warm Up Hoodie is just 100% GOTS organic cotton, with genuine silver hardware on the drawstring.
Both are colored with non-toxic "dyes that won't kill you" or the planet.
Supply chain & labor practices:
WVN's garment line is produced in a Fair Trade certified factory in India and all cotton is sourced from co-op style family-run farms.
That way, "everyone from the farmers to the factory producing our clothing has a seat at the table."
Green business practices:
"WVN is not a trend", an ethos they reinforce through 100% handcrafting and timeless, tiny capsule collections.
Some products, including the Warm Up Hoodie, are certified Carbon Neutral. You can even see what climate-positive projects they support and what the actual impact of the garment is on each product page.
Once that hoodie reaches the end of its life, it can be composted due to the lack of or minimal amount of spandex.
Inclusivity:
XS-XL sizing for all hoodies and a loose fit yet elegantly draped patterning that's flattering on all shapes.
The WVN Circle is a loyalty program that gives you rewards for shopping, birthdays, and more, making their products a little more accessible to those of us on budget.
Community & charitable giving:
What does "girl power" mean to you?For this female-run company, it means ensuring young girls get the opportunities they deserve, which they do by giving monthly to She's the First.
Available: WVN
---
8. ARMS OF ANDES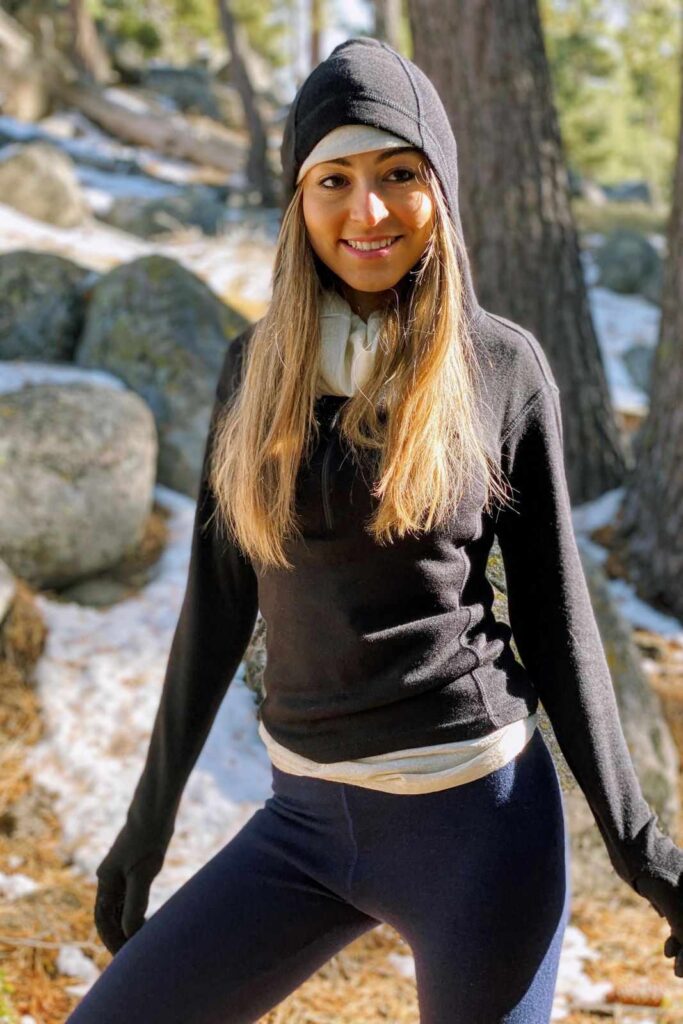 About Arms of Andes
Sibling-operated Arms of Andes was created to combine the best of both worlds: a Peruvian background and a millennial, Californian lifestyle.
Arms of Andes makes use of one of the world's most unique materials to produce some of our favorite outdoor essentials like shirts, socks, underwear, leggings, and, you guessed it, hoodies.
And there's a good chance these are one of the best sustainable hoodies around, considering the blend of Peruvian Andes warmth and the sweet stylings of Cali. Have a look at the men's and women's half-zip and full-zip hoodies, and you'll see what we mean.
Arms of Andes' Ethical and Sustainability Practices
Materials:
100% alpaca wool, 100% of the time. Fun fact: alpaca wool is (almost) as soft and fine as cashmere, but it's a lot more eco friendly.
Not only is wool a great way to stay warm and dry, but it's also breathable, anti-bacterial, sweat-wicking, and odor-resistant.
Supply chain & labor practices:
Arms of Andes sources yarn from local suppliers that purchase raw fleece directly from the alpaca herders; families who have kept some of the traditional farming techniques alive, including having an intimate and respectful relationship with the alpacas.
The rest of the supply chain is located in Peru, too. Thus Arms of Andes has been able to support the local economy by hiring Peruvian people to fill their brand's many needs—from shearing and fiber sorting to driving the finished products.
Green business practices:
At first glance, Alpaca wool might not sound like one of our go-to sustainable fabrics, but it is. These animals are naturally adapted to the Peruvian mountains and have become a necessary component of healthy ecosystems there.
Unlike other animals who produce wool, alpacas support a healthy environment (instead of destroying it). They're light grazers and help to encourage regrowth while keeping the soil healthy and intact.
And, once the wool has been ethically gathered, it's processed in Peru, which keeps transport emissions minimal.
Inclusivity:
Men's hoodies run from S-XL, women's from XS-L. We wool-d like to see a bit more size inclusivity.
---
HOW WE FOUND THE BEST ORGANIC HOODIES
To find the best ethical hoodies out there, we had to lift the hoodie from over our eyes and separate the loose threads. And our sustainable and ethical fashion guide helped us do exactly that.
Materials:
A while back, we came up with a list of 29 of the most sustainable and ethical fabrics. This was our go-to reference for finding the best ethical and organic hoodies.
While fabrics like polyester and rayon are the most common ingredients in a comfy, feel-good hoodie, we steered clear of them because they're made of petroleum and aren't biodegradable.
Instead, we like to throw on a hoodie made with organic cotton or hemp. Instead of cashmere or sheep's wool, we opted for alpaca (the most eco-friendly wool we've found to date).
If we are going to wear a plastic-based fabric, it's got to be recycled. And if we found a natural hoodie with some polyester or lycra blended in, we wanted to keep it minimal to maintain the garments recyclability.
Certifications: GOTS, Organic Trade Association (OTA), USDA
Supply chain and labor practices:
After we vouched for the sustainability of the materials, we turned towards the supply chain. Transparency is one of our favorite things to see—so we'll peruse a Code of Conduct to ensure a brand is doing their best to protect their workers' rights.
The more that the brand can share about how they're ensuring fair wages, protection from harassment, safe work environments, and sweatshop-free and child-labor-free factories, the better.
To top it all off, a B-Corp or Fair Trade certification never hurts.
Green business practices:
We like it when brands design hoodies to last a long time. After all, once you find a favorite hoodie, you'll pretty much wear it no matter the condition. All the better though if it doesn't look ratty after a few months.
Beyond that, we're also a big fan of carbon offsets, conscious packaging, and localized supply chains.
Community & charitable giving:
Putting on a hoodie always feels good. But it feels even better when you know that hoodie helped someone or something.
While some brands are too small to give back (just yet), we were excited to find most on this list were either contributing funds, time, or awareness to bring about positive social and environmental change.
Information on the industry and why buying ethical is the way to go…
---
FINAL THOUGHTS ON ECO FRIENDLY HOODIES
"Winter is coming" (if you're bingeing GoT anyway).
And, I think we all know what that means… hoodies are about to become a regular part of our cold-weather uniform (along with sustainable rain jackets). 
Which is a bit 'glass half empty' because: being cold.
But on the glass half full side, it does mean warming up with a sustainable and organic hoodie all the while knowing you're wearing a garment that puts people and planet first.
So, if you're in need of a new-new hoodie, support one of these brands. Or opt for a new-to-you hoodie by scouring an online thrift store.
Now over to you – since everyone has a hoodie, we would love to know what your favorite ethical hoodie is. Give your favorite brand a shout out in the comments below.
---