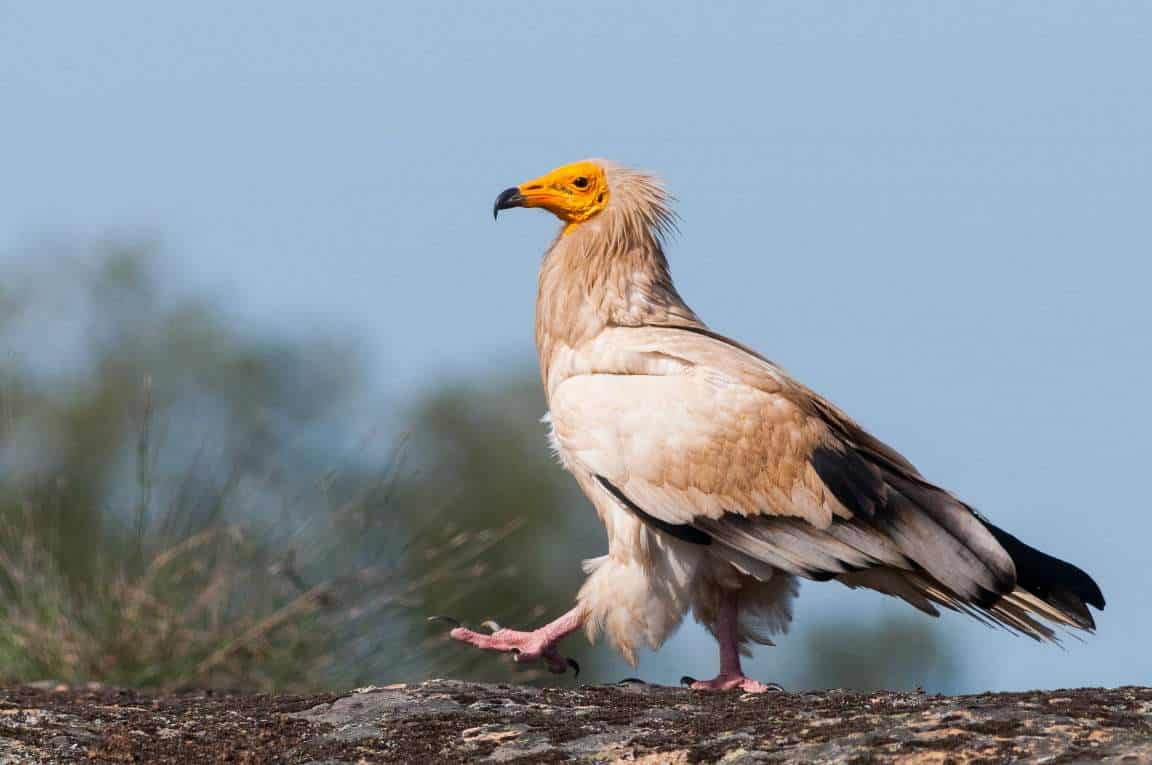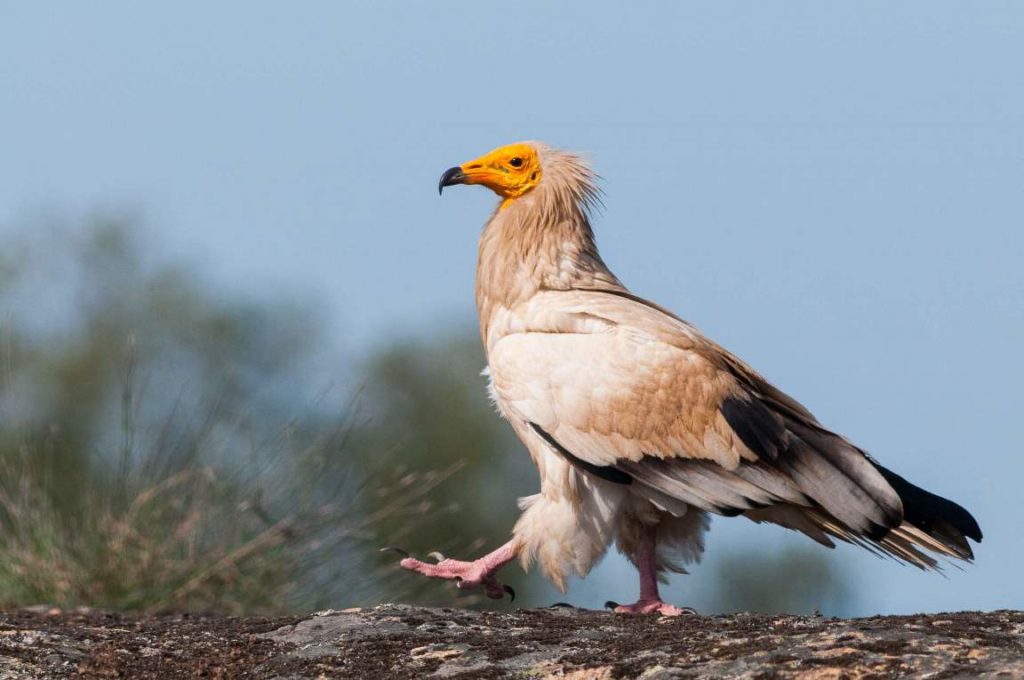 Fernando Romão is the founder of Wildlife Portugal, a specialist nature and eco-tourism business offering various activities in Portugal's National Network of protected areas.
We were lucky enough to spend an entire day with Fernando bird watching from his hide, hiking the Faia Brava Nature Reserve, and learning all about the history of the region and the wildlife that can be found there.
We recently visited the Côa Valley in North Eastern Portugal, one of the most unique regions we've seen in Europe. It was recommended to us by Simon Collier, the founder of The European Safari Company (which offers a number of nature-based experiences throughout Europe to support rewilding efforts).
We spent time with a superb group of local entrepreneurs and visionaries working in and around the Faia Brava Nature Reserve, a private reserve, owned and managed by the not-for-profit organization, the ATN.
Read more about the full experience here and listen to our full Sustainable Jungle Podcast interview with the ATN President, Ana Berliner here. 
HOW WILDLIFE PORTUGAL CAME TO BE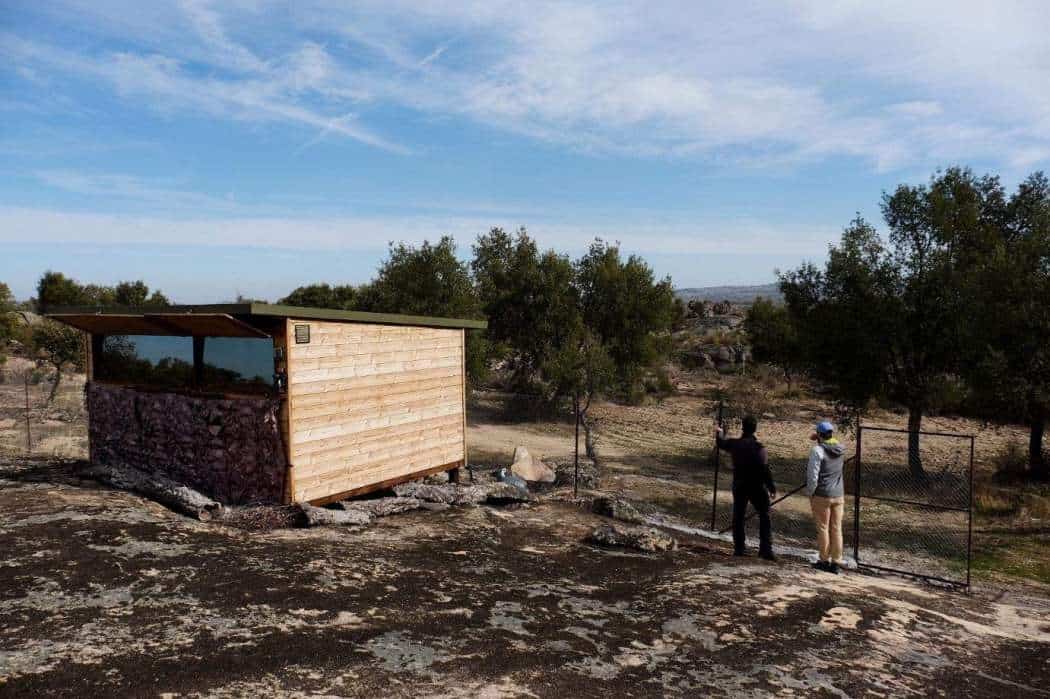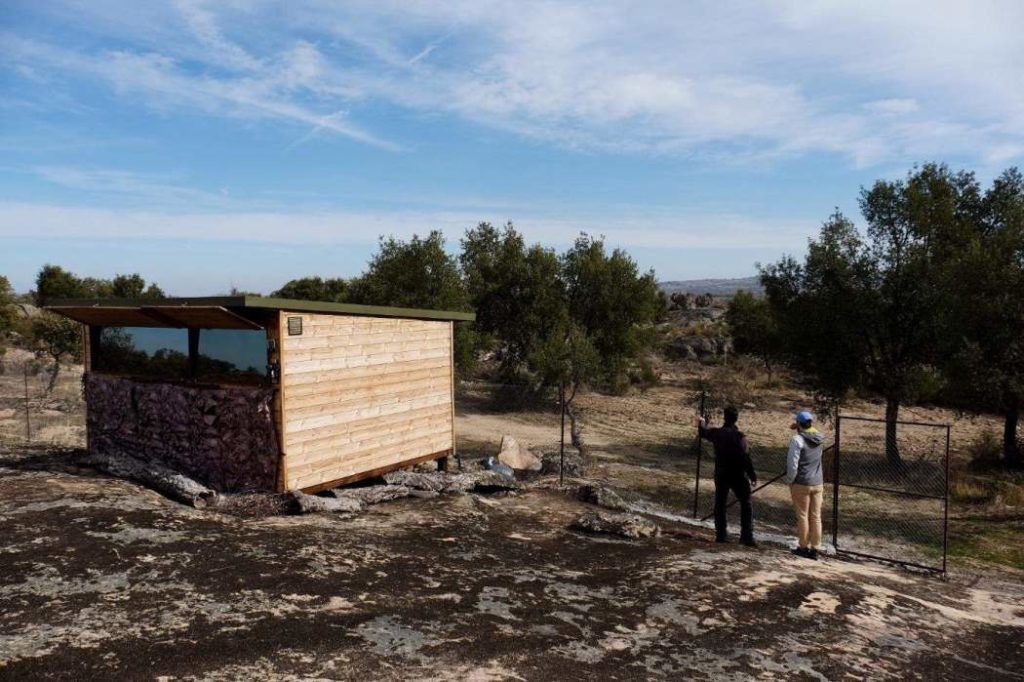 Fernando wasn't always based in rural Portugal. Growing up as a city slicker in Lisbon (the capital of Portugal), he developed an interest in nature (and particularly birds) during his youth.
Over the years he couldn't help but spend more and more time reading and learning about wildlife and nature. He's spent the last 20+ years honing his skill as a nature educator and guide throughout the country. 
In 2017, Fernando decided to take his passion to the next level. He founded Wildlife Portugal and together with the ATN and as part of the Rewilding Program, invested in wildlife watching hides, specially set up for vulture watching.
Fernando now offers guided visits to his perfectly positioned hides. They are undoubtedly Portugal's best seats to view the beautiful and endangered birdlife in the area.
The hides are made out of locally sourced wood, can fit up to 6 people and are fitted with a one-way glass mirror to ensure the big (and small) birds are none the wiser. They're also ultra comfortable: designed specifically for photographers with cushioned straight-back chairs (great lumbar support for a full day of spectating!), individual camera ports and photographic glass.
As part of the partnership with the ATN, Fernando contributes a portion of his earnings to the continuing conservation of wildlife in the Faia Brava Nature Reserve.
In addition to the hides, Wildlife Portugal offers a range of other activities, including guided hikes, photography tours and 4×4 safari tours. Fernando has made it his personal mission to build awareness of the Portuguese wildlife for the purpose of conserving it for future generations
OUR VISIT TO THE HIDE AND THE FAIA BRAVA NATURE RESERVE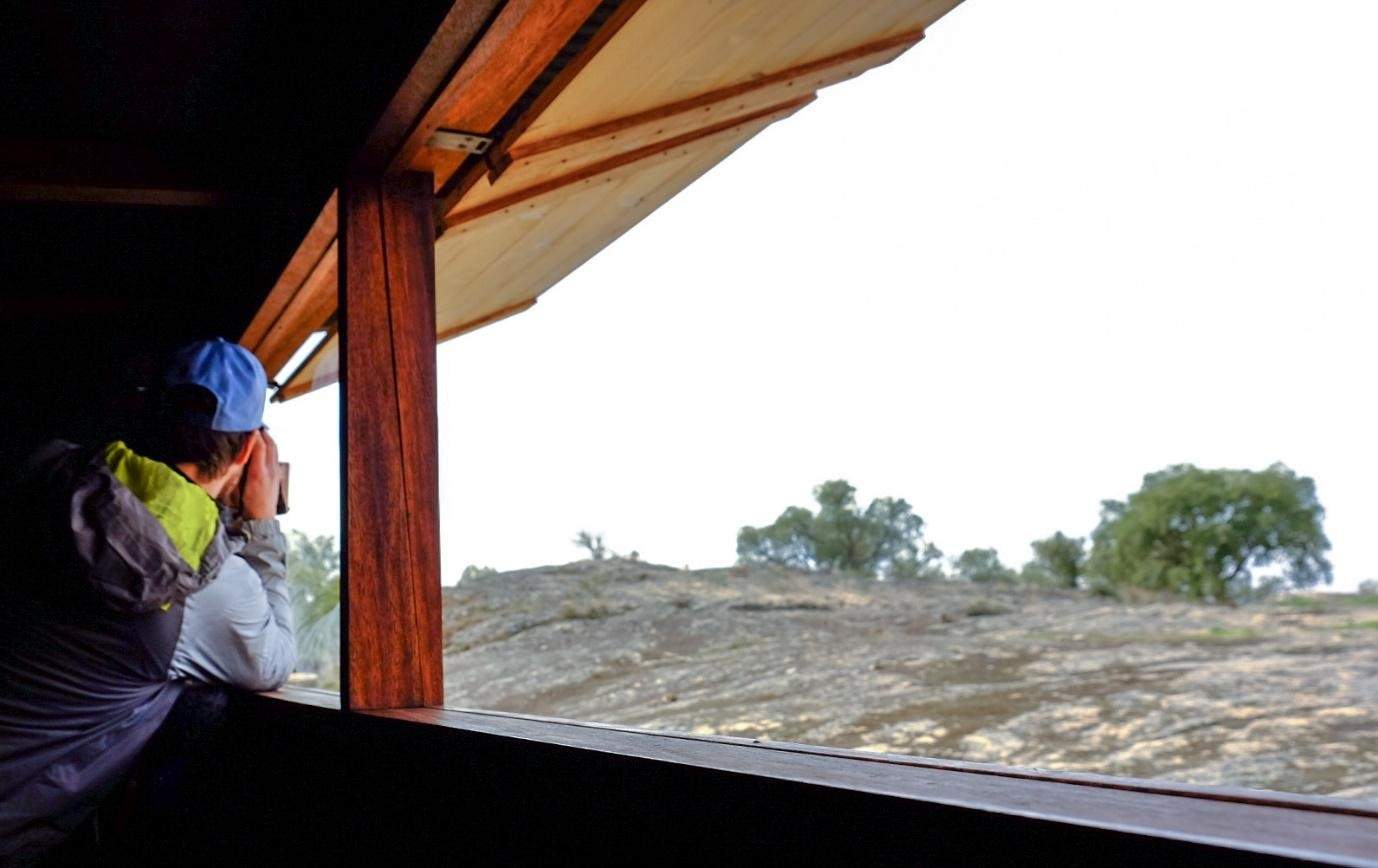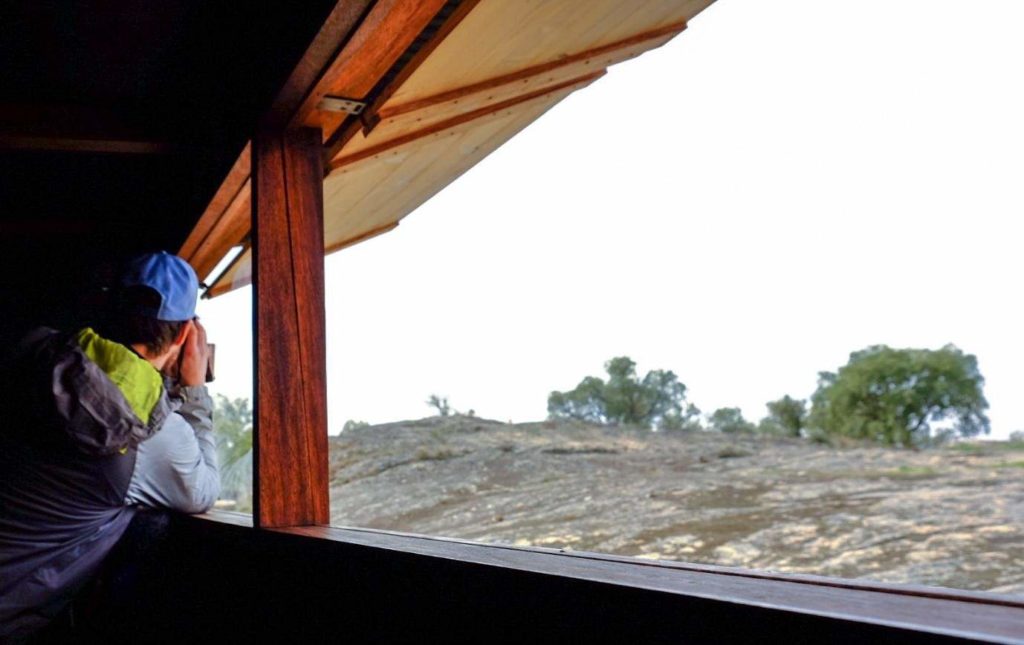 Our day started early with Fernando picking us up at Casa de Cisterna (read more about this fabulous guesthouse here).
We drove out to Faia Brava in Fernando's hardy 4×4, learning more about what brought him to the region. It soon became obvious. 
The Faia Brava Reserve is magnificent: craggy rock faces, sweeping valleys and uninhabited views for miles!
After a short drive through the wilderness, we arrived at the hide. As Fernando served vulture breakfast at the feeding station (offcuts of meat from local butcheries that would otherwise be wasted) he explained that the surrounding land has been abandoned and is no longer used for agriculture as it once was.
While this provides more opportunity for rewilding it has ironically had the opposite effect on the vulture population by removing a vital food source that they've depended on for many hundreds of years (dead cattle).
The good news is, feeding stations have helped increase the number of vultures in the area significantly (before the Faia Brava project, there were only 16 Griffon vulture couples and 3 Egyptian couples and at the time of writing, there are 50 and 5 couples respectively).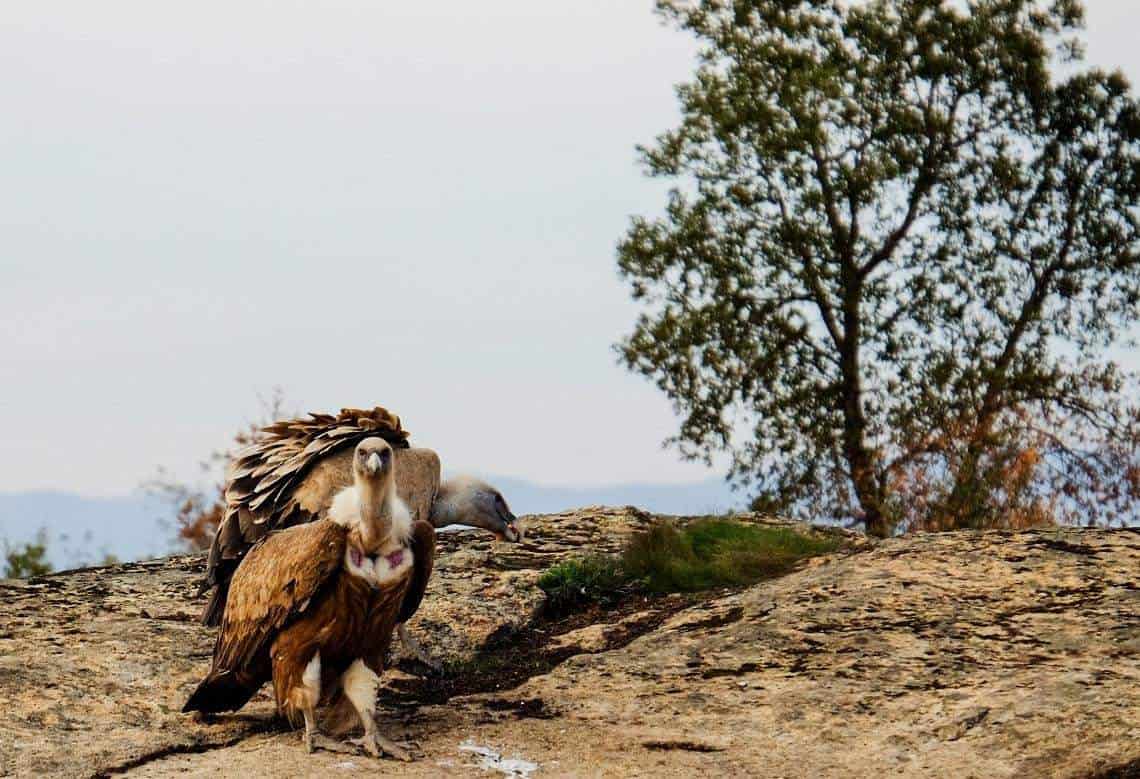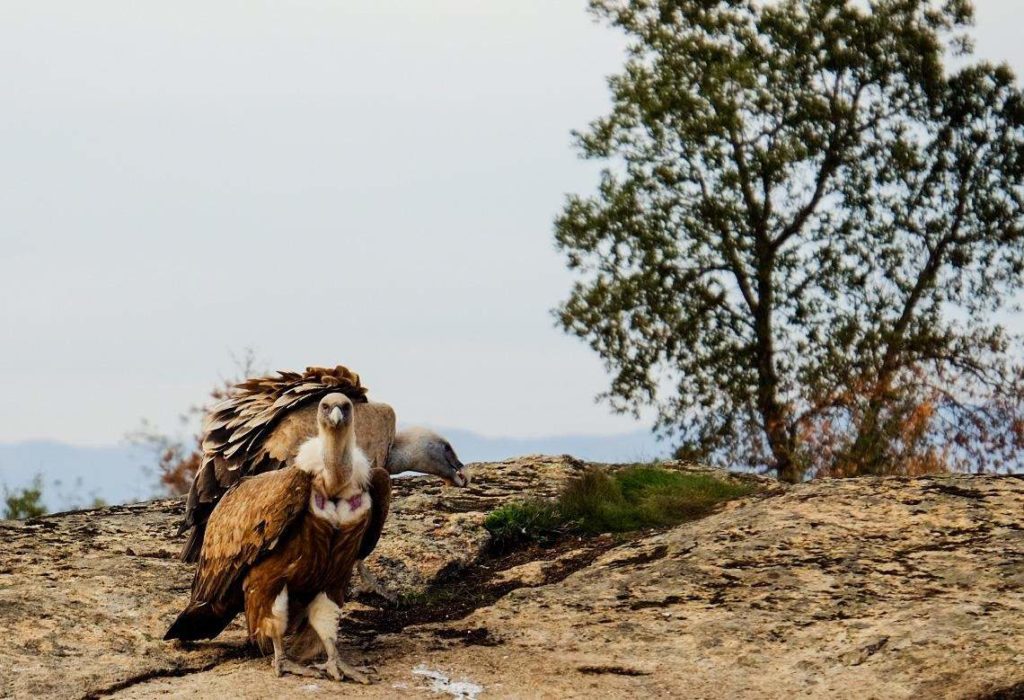 Once the table was laid out, we set ourselves up in the hide, complete with refreshments and a perfect view of the feeding station.
Though, as it turns out, enticing vultures to eat is not so straightforward. Fernando explained that these feathered friends are naturally suspicious and will even forgo a beautifully presented breakfast if they think there are birders lurking in the hide.
Luckily, they can't count so Fernando left the hide and moved a short distance away tricking the vultures into believing the hide was vacant.
And it worked! Almost immediately, two huge Griffon Vultures landed at speed at the feeding station and gorged themselves on the delights of the day. We were able to get some great snaps of them before they spread their impressive wings (wingspan of 2.6m!) and took off.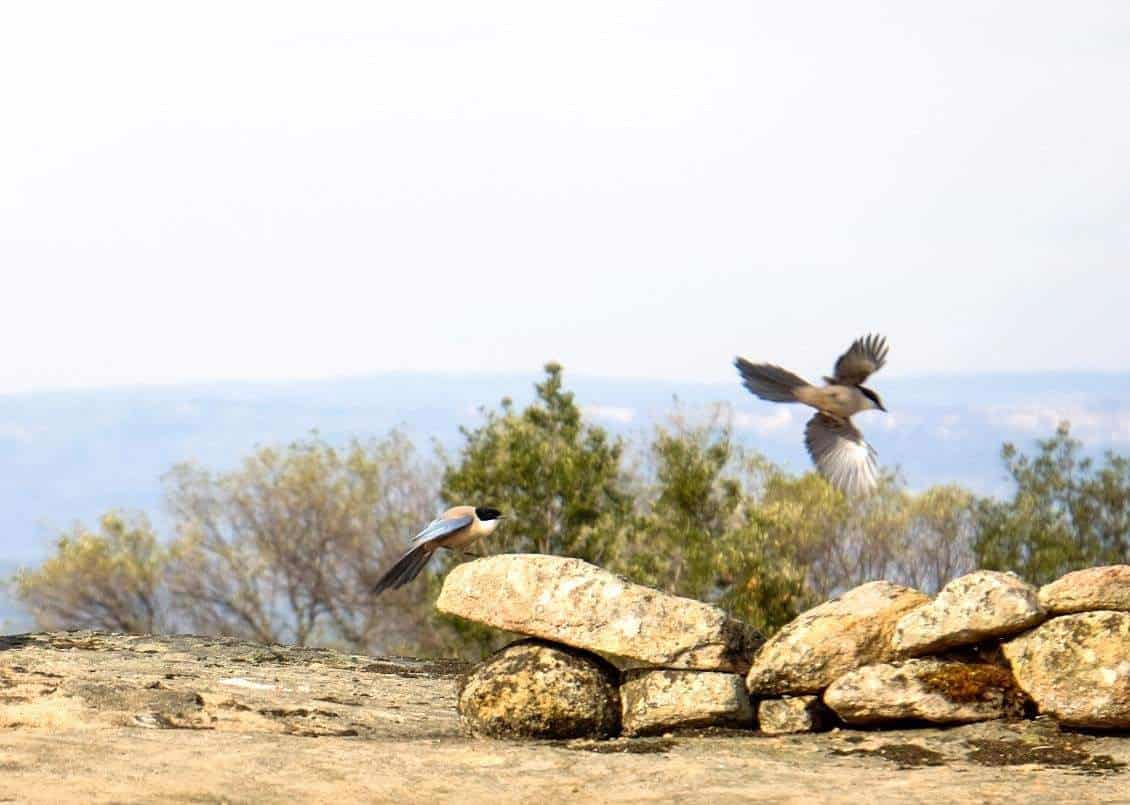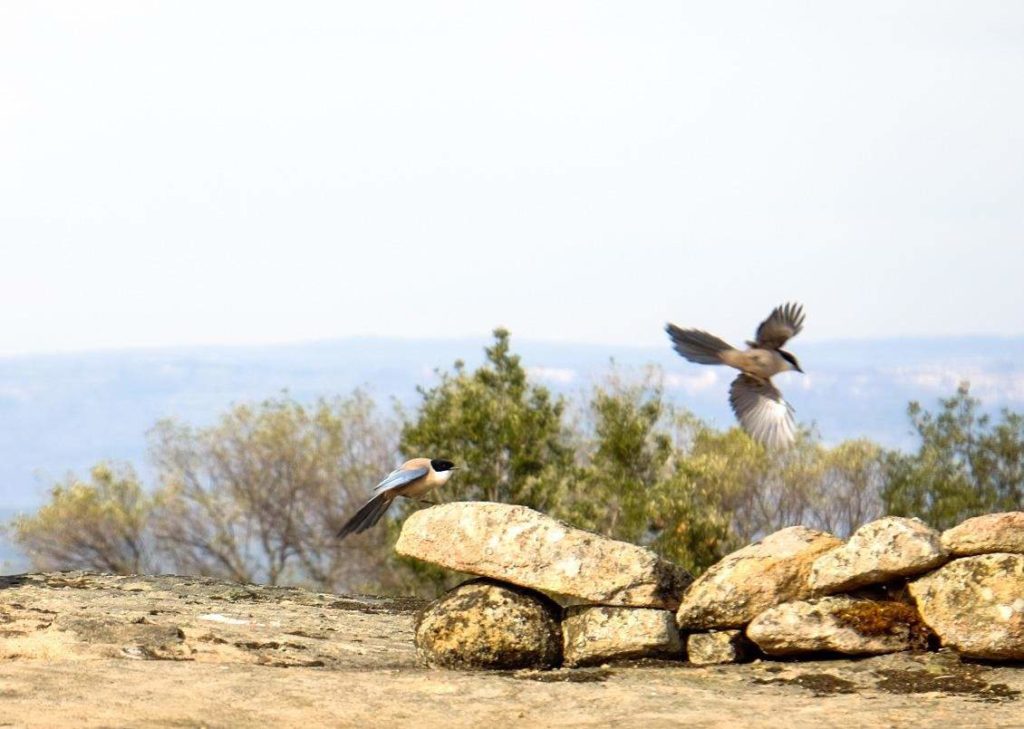 Fernando rejoined us in the hide and helped us spot a dozen other bird species. We were especially spoilt by the presence of a large number of Iberian Magpies which are spectacular and unusual to see in such numbers.
Fernando left the hide again, hoping to convince the 30+ circling vultures to come down and feed together as they often do. But they'd already been fooled once and were not taking the bait.
Instead, we enjoyed watching them swirl overhead while Fernando's shared his birding stories including his account of the incredible sound these majestic animals make when they simultaneously descend on the feeding station at speed.
Fernando explained that there are 3 types of vultures that can typically be found in the region, living in the rocky cliffs:
Black Vulture: The largest bird of prey (with a wingspan up to 3.1m) and extremely rare
Griffon Vulture: The most common in the area and also a very big bird (~2.6M wing span). The Griffons can be migratory but the Faia Brava population stays put
Egyptian Vulture: The smallest and "prettiest" of the lot.  The Egyptians are migratory birds and it's been very difficult to increase their populations as they are often pushed out of the feeding stations by the big Griffons.
Vultures have historically been misunderstood and misrepresented because of their "good" looks and their choice of diet but, Fernando says, they have a vital function in any healthy ecosystem as the cleansers of carrion and decay. 
Rural populations involved in agriculture understood their purpose and before the ban on leaving dead animals out in the fields, vultures were considered tremendously valuable.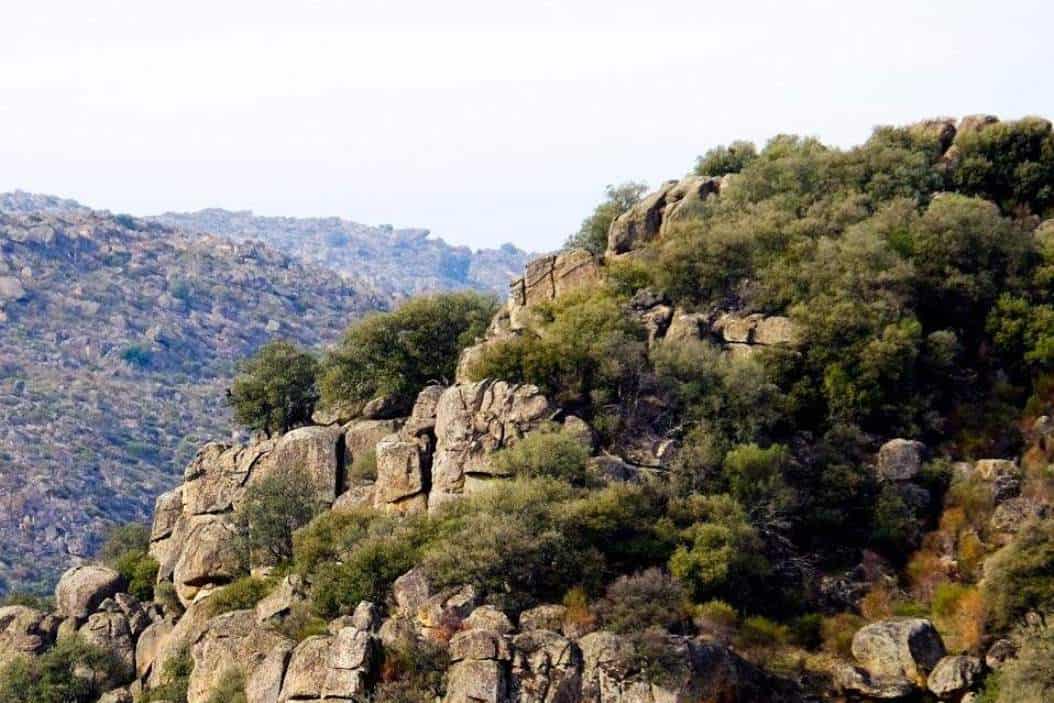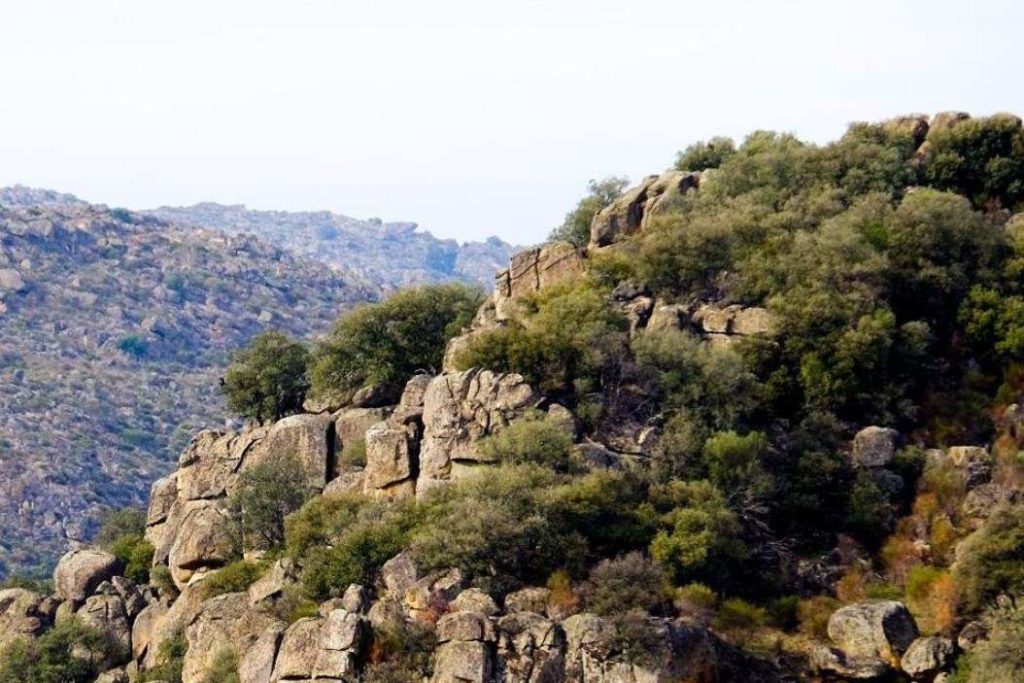 When it was clear that the vultures would not be making a team appearance, we jumped back in Fernando's 4×4 and made our way to the location of the Star Camp (read more about this wild accommodation here). From there, we went on a hike through a small part of the expansive Faia Brava region.
Along the way, Fernando showed us a couple of ancient drawings painted on a rock in the valley which also happens to be a Unesco Heritage site. In fact, the Côa Valley Archeological Park has thousands of ancient rock drawings of animals and humans, dated from 22,000 to 10,000 B.C. 
He also pointed out the naturally growing wild herbs and almond trees dotted along our path and found a resident wild horse herd helping to restore the ecosystem. Thrilling for us, we also saw a Golden Eagle soaring gracefully through the valley.
After a day filled with excitement and total immersion in nature, Fernando kindly dropped us off back at Casa de Cisterna and we said our goodbyes.
Little did we know that all of the videos I had taken during the day had recorded zero audio thanks to a technical fault. I was absolutely devastated but Fernando, being the great guy he is, agreed to meet us again the next day to re-record a few of his answers.
We had such a fantastic experience with Fernando and so enjoyed spending time with a passionate individual and learning all about the birds and this special area.
WHAT'S NEXT FOR WILDLIFE PORTUGAL AND HOW TO GET IN TOUCH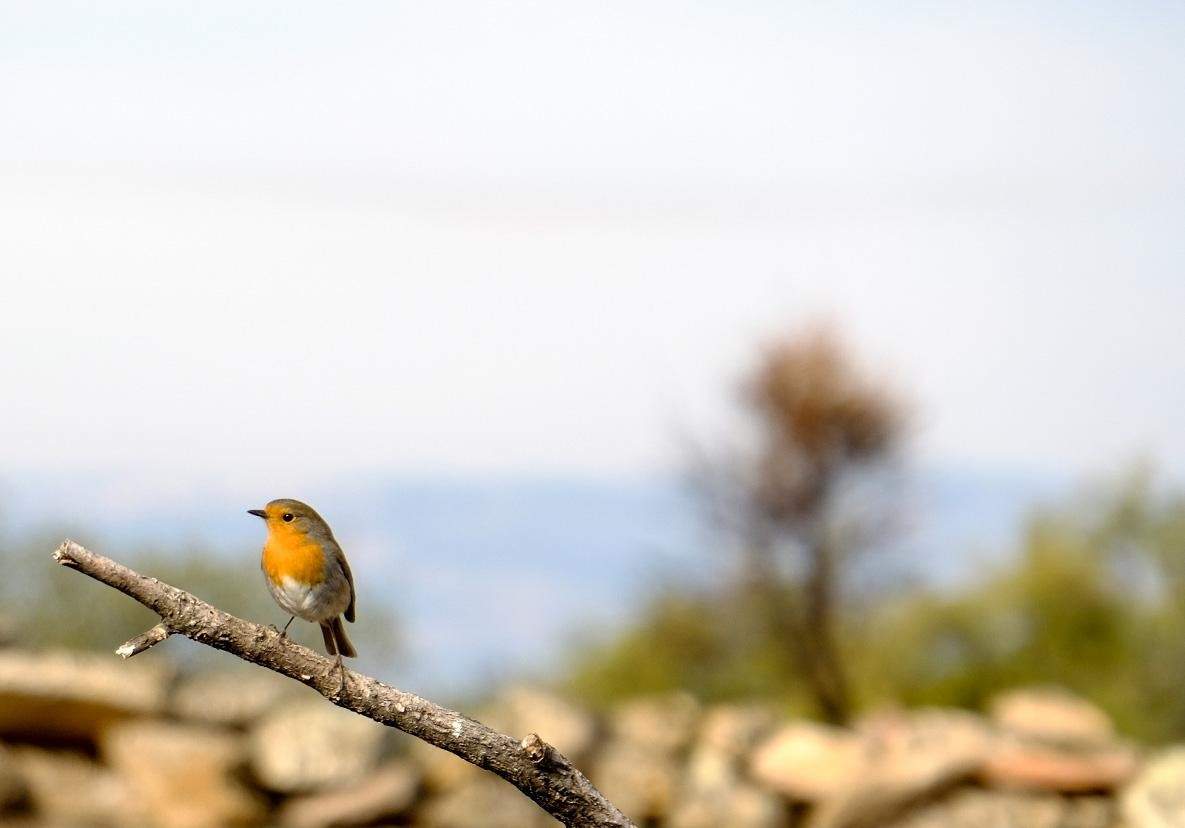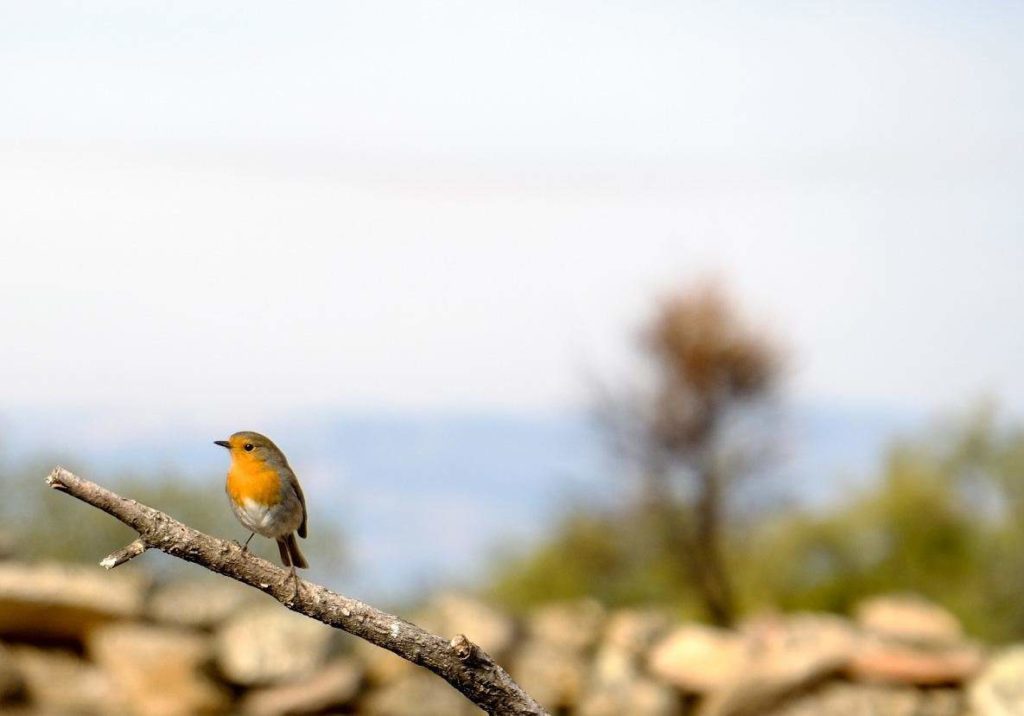 Fernando plans to continue expanding his bird hide offerings and is looking forward to showing the world Portugal's seriously impressive bird and animal life.
We absolutely couldn't recommend Fernando highly enough and encourage anyone with an interest in birds (and in nature) to get out there and experience it for themselves – by supporting Fernando, you can also conserve a variety of endangered species at the same time!
*Note: this is NOT a sponsored post. We were not paid to write this post, visit Faia Brava Nature Reserve nor were we paid to enjoy any of these experiences. This was entirely voluntary and driven by our curiosity and desire to support conservation outcomes!*
Other episodes you might like …