Plus Size Lingerie: 11 Ethical Brands for Inclusive Intimates
Inclusivity is sexy.
Everybody deserves to show off and every body deserves to be shown off.
Especially when you're doing it in planet and people friendly skivvies.
And these sustainable plus size lingerie brands have the goods to make ALL women feel amazing (without making the planet feel less-than).
Uye Surana has us saying "ooh la la," and not just because their manufacturing partner keeps local waterways clean—but because they offer 70 lingerie sizes.
They're in good company with Carbon Neutral Lara Intimates, the UK brand that caters to 100 different sizes and uses recycled and deadstock materials to do so.
While chemical-free bamboo rayon is MARY YOUNG's material of choice. As luxurious as their bodysuits look, their Self Love Club and donations to uplift individuals are what make our hearts truly flutter.
There's more baring-all and blushing where that came from!
Keep peeling off the layers and read on for the rest of these feel-good, look-good lingerie brands.
For lacy see-through transparent practices that leave nothing to the imagination, see what we considered (other than size) at the end of the article.
*This post contains affiliate links
QUICK LINKS FOR PLUS SIZE LINGERIE
---
1. UYE SURANA
About Uye Surana
Uye Surana is an ethical lingerie brand that's designed with your body in mind.
Yes, You!
They're based out of a studio in NYC, and their lingerie range is simply dreamy.
From floral to flowy to fierce, they have bras, stockings, undies, nightwear, and garters that will have you stripping down in no time.
Uye Surana's Ethical and Sustainability Practices
Materials:
For the most sustainable options, check out their soft and supportive Pima Cotton collection.
Many of their mesh pieces are made with nylon and spandex.
Supply chain & labor practices:
Uye Surana partners with a Colombian factory that's family-owned and operated. They guarantee fair wages and safe working conditions.
Green business practices:
Waterway pollution from this factory is minimal, thanks to hand-printing techniques. They also use a method that reduces the amount of dye and water required.
Speaking of reducing, they use 100% recycled shipping materials.
Durable, anti-rip materials will allow you to show off your lingerie for longer – especially useful when things get heated…
Inclusivity:
Uye Surana is female founded (by Monica Wesley).
Their designs are extensively fit-tested across an inclusive size range, XS-3XL, with models to match so you can see how a piece will actually fit.
Their styles are designed to provide the best fit for petite, curvy, and plus size folks.
The bralettes, for example, have patented technology that offers a precisely tailored band and cup fit, along with an ultra-adjustable easy fit detail to accommodate more than 70 bra sizes.
---
2. MARY YOUNG
About MARY YOUNG
MARY YOUNG is one of the best plus size sexy lingerie brands in Canada.
Unlike many North American brands, they don't do mass production. Instead, they want to be a fast fashion alternative.
They channel slow fashion in their ethically and sustainably produced bras, panties, bodysuits, loungewear, and boxer briefs.
MARY YOUNG's Ethical and Sustainability Practices
Materials:
OEKO-Tex certified bamboo rayon is the brand's fave fabric.
While bamboo fabric can sometimes come with a gamut of sustainability concerns, theirs isn't treated with chlorine bleach or carcinogenic dyes.
Supply chain & labor practices:
The lingerie is produced in Montreal, Canada, where living wages and safe working conditions are provided.
Everything is packed and shipped by hand.
Green business practices:
Individual garments are sent without poly bags and with compostable tissue paper, all part of their effort to eliminate single-use plastics.
The mailers are made from 100% recycled material and are fully recyclable too. They even have a second adhesive strip, so you can use them again.
Inclusivity:
MARY YOUNG founded this namesake brand to "fill the gap in the intimates market and empower women with different body types."
Sizes XS – 2X are available.
Community & charitable giving:
The Self Love Club is a movement centered around self-love and acceptance. It's a safe space where women can share stories, poems, songs, recipes, and more.
MARY YOUNG also regularly makes donations to non-profit organizations focused on uplifting others through resources and opportunities.
---
3. COSABELLA
About Cosabella
Next on our list of lingerie brands with a plus size Extended Collection we have classy Cosabella.
Their garments are feminine and timeless, which makes sense given 'Cosabella' means 'beautiful thing' in Italian.
You'll find camisoles, bodysuits, teddys, lingerie sets, bras, panties, and loungewear—available in at least 100 colors.
Cosabella's Ethical and Sustainability Practices
Materials:
Cotton or a cotton blend are used in the body of some garments, but most are made with synthetic fabrics, such as polyamide and elastane/spandex.
These are however, colored with natural dyes.
Supply chain & labor practices:
The family-owned company partners with family-operated workshops in Italy.
These workshops use slow fashion manufacturing practices—some of which date back to the Renaissance period. Something as barely-there as a thong might take around 10 hours to make.
Inclusivity:
Cosabella's lingerie is designed for all fits—from classic to curvy, extended to petite, and everything in between.
Their Extended Plus Size collection starts at 38-40" torso bands, DD – F cups, and bottom sizes 1X – 3X.
---
4. PARADE
About Parade
Parade makes ultra-soft expressive basics.
The brand was founded to rewrite the American underwear story and what it means to be sexy.
They're one of the top lingerie brands for plus size women in the US for their seamless underwear and bralettes that provide "unreal comfort".
Parade's Ethical and Sustainability Practices
Materials:
We dig recycled and upcycled clothing, so Parade is marching right up our alley.
Aside from the 100% cotton gusset, all of their fabric is largely recycled.
This includes Re:Play fabric made from 85% recycled nylon and 15% spandex, Silky Mesh made from 95% recycled nylon and 5% elastane, and Universal fabric made from carbon-neutral recycled nylon (80%).
Supply chain & labor practices:
The lingerie is made in a Chinese factory that is both OEKO-Tex and Sedex certified.
Green business practices:
Parade is sustainable, but they aim to be even greener over the next few years.
They'll use exclusively recyclable or biodegradable packaging and have a take-back program by 2022, have 100% responsibly sourced cotton by 2023, use 100% certified recycled/bio-based materials by 2025, and be carbon positive by 2025.
Talk about plus size lingerie goals…
Inclusivity:
Basics are available from sizes XS – 3XL.
By 2022, they have plans to expand their size range even more.
Community & charitable giving:
1% of sales get donated to rotating pro-women organizations. Currently, the recipients are Planned Parenthood and the Yellowhammer Fund.
---
5. KNICKEY
About Knickey
Wearing lingerie is supposed to feel good.
With Knickey, it does good, by helping to curb rates of vaginal yeast, and bladder infections that more than 300 million of us suffer from every year.
Breathable fabrics are better and that's what you'll find in Knickey's organic underwear and bralettes.
Being no-frills, all-function, they're also one of the best affordable plus size lingerie brands.
Knickey's Ethical and Sustainability Practices
Materials:
To comfortably cover your bum, 5% elastane provides some stretch. But(t) that's the only synthetic fabric you'll find.
The other 95% is GOTS-certified organic cotton dyed with OEKO-TEX approved dyes.
Supply chain & labor practices:
NYC-based Knickey bares all about the making of their undergarments.
An organic farm, spinner, and factory in India handle everything after the design stage. The factory is Fair Trade certified, so living wages are provided, along with safe working conditions, reasonable hours, and the option to unionize.
Green business practices:
Practices to reduce water consumption and recycle it are used in Knickey's partner farm/factory.
You can even send back old intimates to be recycled. As if providing a solution for what to do with old underwear isn't enough, you get a free pair of undies for using their recycling service.
The packaging is made from recycled materials printed with low-impact inks.
Inclusivity:
Sizes run from XXS – XXXL with an equally representative cast of models.
Use their size guide to find the perfect fit.
---
6. SMARTGLAMOUR
About SmartGlamour
SmartGlamour is one of the best plus size lingerie brands.
Why?
Their representative imagery, accessibility, and ethical practices make them "an example of what the fashion industry could be and should be".
SmartGlamour's Ethical and Sustainability Practices
Materials:
The fabrics are mostly cotton-based with spandex for comfort.
Supply chain & labor practices:
Everything is ethically made in Brooklyn, NY, which is also where most of the fabrics are purchased.
Because they keep things local (no middlemen), their prices are low—kind of like that cheeky pair of low-rise undies.
In fact, they explicitly tell customers they mark up 250-300X the cost of labor and materials, whereas most traditional brands mark up at least double that.
Green business practices:
This lingerie isn't just made-to-ooh-la-a; it's also made-to-order, so there is never unsold product waste.
Inclusivity:
Every design is available in size XXS to 15X and beyond.
Yes, you read that right!
This woman-founded plus size sexy lingerie brand provides the option to customize every item to fit.
They prioritize "accurate and representative imagery". Meaning their models are real people and their photos are never photoshopped or airbrushed.
In fact, anyone can be a SmartGlamour model! They hold two open castings a year.
---
7. WAMA
About WAMA
WAMA makes our bodies feel great, thanks to their organic bras and sustainable underwear.
Starter packs equal big savings but undies and bras are available individually, too.
The LA-based brand uses hemp for all of its products. It's comfortable, anti-bacterial, breathable, and will have you feeling pretty high about yourself.
In fact, everyone should (h)emphatically embrace this material.
WAMA's Ethical and Sustainability Practices
Materials:
Materials:
Organic hemp is blended with GOTS-certified organic cotton, and a teeny tiny bit of spandex keeps that bra covering what it's supposed to.
Supply chain & labor practices:
The hemp is sourced from family farms in China before it's processed in BSCI-certified factories. That certification means workers are supported with safe work environments and fair wages.
WAMA also has a team member on-site to ensure that their Code of Conduct is adhered to.
Green business practices:
WAMA is a Green America Certified Business Member and uses 100% recycled and recyclable (or compostable) shipping materials.
Inclusivity:
Women's sizes XS – 3XL are offered, but they also offer men's plus sizes up to 4XL.
Available: WAMA
---
8. IMPISH LEE
About Impish Lee
What's a tell-tale sign of a top plus size lingerie brand?
The use of custom sizing to ensure a perfect fit—which is exactly what Impish Lee does.
The sister-owned shop started on Etsy, but has rapidly exploded into a fully customizable intimate plus size apparel brand. They make panties, bralettes, garter belts, and bras.
You can even design your own!
Impish Lee's Ethical and Sustainability Practices
Materials:
Most materials in their mesh, lace, velvet, and foil are synthetic-based (nylon and spandex).
However, they do use modal fabric in some pieces, so shop for these specifically where you can.
Supply chain & labor practices:
Manufacturing happens in-house in New York, adhering to ethical labor practices and supporting the US economy and job market.
Green business practices:
By custom-creating a product that is already purchased, Impish Lee minimizes waste and excess fabric.
Inclusivity:
Lingerie sizes 0 – 30 are available and fully custom sizing fills any gaps that an extensive range might miss.
Community & charitable giving:
Want to join their community of empowered and confident women?
Join their brand ambassador program and spread body positivity by hosting a lingerie party.
---
9. MODIBODI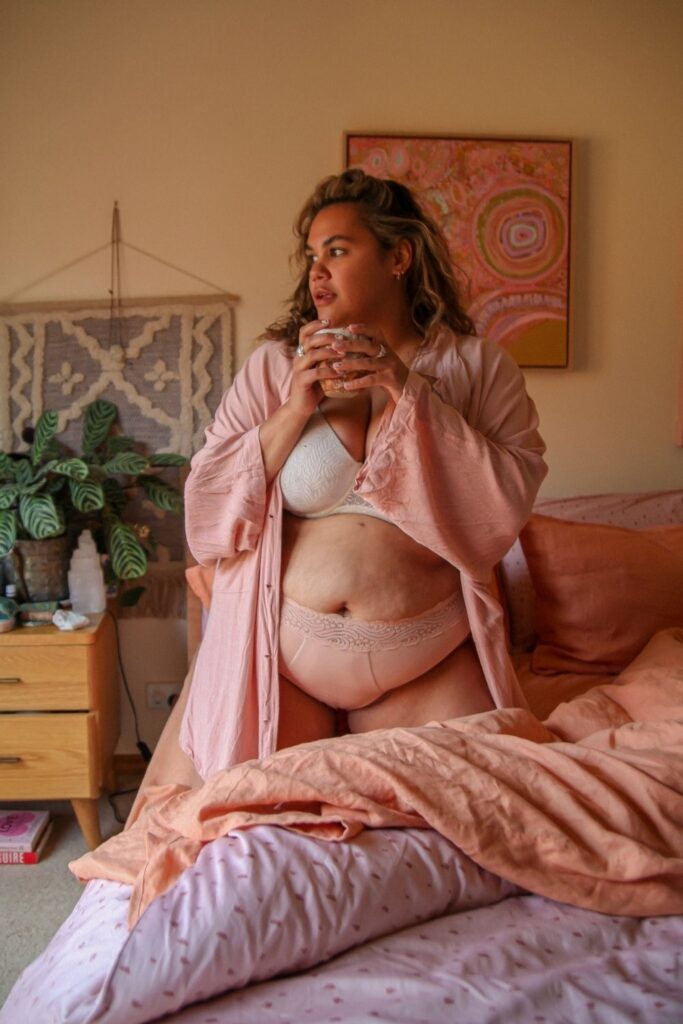 About Modibodi
Modibodi was created for different bodies and different flows.
In other words, they're a sustainable period underwear brand for that time of the month.
That time of the month may not leave you feeling super sexy, but Modibodi can help by making it a little more bearable (and sustainable because you can say goodbye to single-use pads).
Different styles, colors, and flow levels are available.
Modibodi's Ethical and Sustainability Practices
Materials:
They primarily use organic cotton, Australian-farmed Merino wool, bamboo viscose, and pre-consumer recycled nylon.
Their bamboo viscose is stain and odor-resistant and produced in a way that reprocesses wastewater before it's released.
Merino wool is also naturally antimicrobial, which is why this goes into the gusset lining.
Synthetics like spandex, polyamide, and polyester are also blended in.
Supply chain & labor practices:
Their supply chain partners are audited under BSCI standards, which ensures fair working pay, reasonable hours, and safe working conditions.
Going forward, they'll also be OEKO-Tex certified.
Green business practices:
Modibodi uses comPOST parcel bags, which are made from plant-based materials.
They're looking for more environmentally-friendly fabrics to further reduce their manufacturing impact.
Even so, their reusable zero waste menstruation products mean that pads and tampons aren't clogging drains or sent to landfills.
Inclusivity:
The woman and mother-founded brand offers sizes up to 6XL.
They also have a Curvy Collection and Maternity & Postpartum Collection for underneath your ethical & organic maternity clothes.
Size and shape isn't the only way this brand is breaking body barriers. They create adaptive underwear with hook & loop tape fastening designed specifically for those with disabilities.
Community & charitable giving:
Through the Give A Pair program, every dollar donated goes towards providing someone with a pack of five pairs of leak-proof undies. So far, they've donated more than $1,500,000 worth of underwear.
---
10. LARA INTIMATES
About Lara Intimates
Lara Intimates keeps it simple, sustainable, and sexy with their plus size lingerie from the UK.
Don't let the (relative) size of the country fool you. They have the widest size range of non-wired, sustainable bras in the world.
They also have matching briefs.
Lara Intimates' Ethical and Sustainability Practices
Materials:
Lara Intimates uses 100% UK-made recycled fabrics and deadstock material.
Because they aren't into lacey or frilly intimates, they use far fewer synthetics than other lingerie brands.
Supply chain & labor practices:
Their garments are made in a small, 700 sq. ft. studio in England by an all-female team.
Green business practices:
That little studio handles all designs, samples, manufacturing, and shipping, keeping the footprint super small.
They also offset their environmental impact with Carbon Neutral Britain, recycle fabric scraps into carpet and stuffing via First Mile, and use plastic-free packaging.
Inclusivity:
ANYONE can wear Lara Intimate pieces. Really, they have a size range that includes 26-40 bands, A-J cups, and 6-22 panty sizes.
Combinations of these ranges mean 100 different sizes are catered to.
We love seeing all of these sizes represented by their models, too.
---
11. JBC UNDERWEAR
About JBC Lingerie
JBC Lingerie is a go-to for plus size lingerie from Australia.
From the brand themselves, "no matter your shape, race, age, gender, sexuality; you deserve to feel sexy and like a total goddamn babe."
Hear, hear!
The body-positive label handmakes flattering garments in styles for all body types.
Their range includes bras, underwear, garter belts, and leotards, as well as "outerwear lingerie" for daring days or nights out.
JBC Lingerie's Ethical and Sustainability Practices
Materials:
There are many pieces and materials to choose from.
Synthetic materials include velvet and French lace, while bamboo keeps things soft and anti-bacterial. Elastic is used for stretch and crotch gussets are made from cotton.
Supply chain & labor practices:
All pieces are handmade to order.
Inclusivity:
Band sizes from 6-20, lingerie sizes up to XXL, and cup sizes up to H means almost all sizes are catered for.
For those that aren't, custom fittings are available, because "size does not dictate sex appeal".
The imagery used by this brand is also inspiring, as they clearly have women (and trans women) from all walks of life modeling their clothing.
Community & charitable giving:
The Just Babes Club is a celebration of talented, intelligent, and beautiful babes.
---
HOW WE FOUND THE BEST PLUS SIZE LINGERIE BRANDS
Where would ethical fashion be without body-positive brands offering ethical plus size clothing like these ones?!
We believe truly ethical fashion must make more of an effort to include groups historically left off the runway.
Fortunately, inclusivity is just a baseline for these conscious companies.
Materials:
Sustainable fabrics have yet to really make their way into most lingerie materials thanks to hard-to-replace materials like lace, mesh, and velvet.
That said, while not perfect, most of these brands are at least trying to choose more eco friendly options when possible.
Nylon, spandex/elastane, polyamide, and other synthetics are also common lingerie materials, so we're happy to see some brands using recycled or deadstock materials.
Better for bums and better for our planet, natural and semi-synthetics like organic and conventional cotton, sustainably-produced bamboo rayon (viscose), modal, ethical wool, and organic hemp make their way into our delicate cycle.
Supply chain and labor practices:
Fair wages and safe working conditions + stomping around in your garter belt = a fun and pleasurable time for everyone involved.
Green business practices:
Slow fashion techniques keep water, energy, and chemical use down. Take-back programs, carbon neutrality, custom orders, and local supply chains can make your partner and Mother Earth blush.
It's great to wrap up in a new lingerie piece that's been unwrapped from recycled, recyclable, and/or compostable shipping materials, too.
Inclusivity:
Obviously, plus size lingerie was the topic here, but even so, we were impressed by the hundreds of size offerings (up to 15X).
We also LOVE seeing models that look like real people (even better when no photoshopping alters the pictures).
It's only fitting that these women-empowered brands are largely founded and owned by women.
Community & charitable giving:
Donations to organizations that help to uplift individuals and communities make us feel good—even with a wedgie.
---
FINAL THOUGHTS ON PLUS SIZE LINGERIE
Are you getting a little hot after reading about all these plus size lingerie brands?
We certainly are!
It's damn time we reinvent "sexy" because ALL bodies are perfect and we should all have options available to show them off with.
To keep things moving in the (body) positive direction, share this article with friends who could use a little ethical sex appeal. The more we demand from brands, so too will they accommodate the needs of more people.
Most importantly, show yourself some well-deserved self-love.
---