9 Organic Cotton Pajamas: Sustainable Slumber for the Whole Family
Tossing and turning in (in)organic PJs?
You don't have to!
Shut-eye can be safe, simple, and sustainable with one of our favorite sustainable fabrics.
While regular cotton is one of the world's dirtiest crops, organic cotton is one of the cleanest.
It's grown without pesticides, fertilizers, and enormous amounts of water. Which means nightmare-free sleep for the entire family (and our planet).
Snuggle in, because we're about to tell you a bedtime story about some magical organic cotton pajamas…
Once upon a time, there was a brand called Coyuchi that dreamt of bringing fair trade cotton to the land of sleep essentials. Far across the land, MATE the Label was hard at work bringing sustainable PJs to women of all sizes and budgets.
While Burt's Bees Baby was small, sure, but they too wanted to vanquish the evil inorganic cotton king by creating girls and boys organic cotton pajamas, as well as a gender-neutral range for all to enjoy.
One fateful day, the three brands met and realized they weren't alone in their quest. So they set forth with even more brands to create the most eco friendly bedtime.
We know that story has you on the edge of your mattress, so let's get tucked in and hear how these nine noble brands became sleepy-time heroes.
If you'd like to skip straight ahead to the morning, the end of the article tells a different tale on how we hunted for organic cotton pajamas for kids (and organic adult pajamas too, of course).
*This post contains affiliate links
QUICK LINKS FOR ORGANIC COTTON PAJAMAS
---
1. COYUCHI
About Coyuchi
Sleep soundly and sustainably with Coyuchi.
This cool, calm, and collected Californian company keeps us cozy in their range of fair trade blankets, affordable linen sheets, and organic mattress protectors.
To dress yourself though, they carry sustainable robes and organic cotton pajamas for adults.
Between shorts, rompers, organic cotton flannel pajama pants, comfy joggers, nightgowns, shorts, chemises, popover tops, and tunics, you'll find something for any season.
Coyuchi's Ethical and Sustainability Practices
Materials:
Organic cotton is obviously the cream of the crop for Coyuchi. But it gets better. Their organic cotton is certified by GOTS, MADE SAFE, and Fair Trade.
No synthetic fabric nightmares either because only organic cotton is found in Coyuchi's line of pajamas.
Supply chain & labor practices:
Coyuchi sources their organic cotton from Tanzania, Uganda, and India (via the sustainably-minded Chetna Coalition). It's either woven in Portugal or India, the latter of which is Fair Trade certified and recycles 98% of wastewater.
Beyond fair trade, Coyuchi pays additional funds into a Community Development Fund which is managed by their workers and allocated towards their community's needs.
Green business practices:
Many of the pajamas do come in a plastic poly bag, but on a mission to minimize our plastic use, the packaging size has been reduced by up to 59%. Next year, there will be no plastic at all.
Every product shows how much water, emissions, and pesticides are avoided by sleeping soundly in organic cotton.
Coyuchi also has a 2nd Home Take Back program where old linens from the brand can be sent back to be transformed into a new product. While old PJs aren't yet accepted by this program, we're thrilled to see companies reducing any amount of textile waste.
Inclusivity:
Women's sizes run from XS-L and men's from M-XL. We'd get more beauty sleep if the sizes were slightly more inclusive of all sleepers.
Community & charitable giving:
Regenerative agriculture is a big priority for the brand, which is why their 1% for the Planet donations go towards Fibershed (a regenerative fiber partner) and White Buffalo Land (carbon-neutral farming).
You, too, can support these ventures further by purchasing their Climate Beneficial ethical winter gloves and sustainable scarves, made with wool from climate-positive farms.
---
2. NEST DESIGN
About Nest Designs
Perfect for new moms and little ones, Nest Designs creates premium, eco-friendly products for playtime, bedtime, dinnertime, and everything in between.
Instead of fast fashion pieces, this Canadian company creates evergreen products that are designed to stand the test of time.
This includes lightweight breathable sleepwear and sleep bags for babies, kids, and moms.
Nest Designs' Ethical and Sustainability Practices
Materials:
Nest Designs prioritizes environmentally friendly fabrics like bamboo, Pima cotton, and GOTS-certified organic cotton. Bamboo-Pima cotton blends are found in most of their bamboo pajamas.
Everything is third-party tested so that safety concerns for these organic cotton kids pajamas won't keep new parents up at night.
They have the following certifications under their belt: ECOCERT, OEKO, and Anti-Bacterial Activity Testing.
Supply chain & labor practices:
The boys and girls organic cotton pajamas are designed in Vancouver, BC before being manufactured overseas.
Manufacturing partners are chosen based on quality craftsmanship and ethical operations. They only partner with companies that take care of their employees and ensure working environments that are safe, sociable, and enjoyable.
Green business practices:
Nest Designs is currently working on reducing their carbon footprint by eliminating waste and minimizing packaging.
Inclusivity:
Nest Designs was founded by a sleep conscious mom. Their women's sizes run from XS-L. We would love to see a few more Xs here.
Community & charitable giving:
As supporters of the David Suzuki Foundation and the BC Children's Hospital, Nest Designs supports organizations making a difference, whether in the life of one child or all of them by contributing to a more sustainable future.
---
3. CAMP COLLECTION
About Campo Collection
Campo Collection makes luxury nightgowns and stylish pajamas – you'd be forgiven for mistaking these as something other than bedtime attire.
The luxury brand was started by Cinthia Boni Cordioli, who was born in Sao Paulo, Brazil but raised in New York. It's no surprise she developed a passion for fashion and design at an early age.
Throughout her career, she has worked with the likes of Marc Jacobs and Giorgio Armani.
With an additional passion for sustainability, her minimalist sleepwear is designed to be worn at bedtime and beyond. Don them through the day when you feel like "lounging in simple elegance."
See for yourself – organic cotton pajamas reimagined.
Campo Collection's Ethical and Sustainability Practices
Materials:
100% GOTS organic cotton is what you'll find in most of Campo Collection's nightgowns, though they use upcycled deadstock where possible.
All in all, that means a line made entirely from natural, organic, and/or recycled fabrics. Their fabric is dyed with plant-based and chemical-free dyes.
Supply chain & labor practices:
Partnering with small factories and women artisans in their home base of Miami, Campo is able to support locals and keep their supply chain small (and their carbon footprint even smaller).
Green business practices:
The brand was launched last year, but since then they've prioritized ethically-sourced fabrics and small quantities to keep waste at a minimum.
They also use minimal packaging made from recycled and recyclable materials.
Inclusivity:
Sizes are unfortunately what you might expect with a luxury fashion brand: XS-L. We're hoping as the brand expands, so too does their size range.
---
4. PACT
About Pact
If you're looking to have a positive impact on your sleeping habits, let this Boulder, Colorado-based Co help.
Pact the organic clothing brand makes all things conscious, including ethical hoodies, organic bras, organic cotton tees and every layer in-between.
We love their sustainable loungewear, especially their organic cotton baby pajamas—as well as those for everyone who graduates to a big kid bed and beyond.
Pact's Ethical and Sustainability Practices
Materials:
Pact called their wares Earth's Favorite™ Clothing because they use primarily GOTS-certified organic cotton. In some cases, it's blended with a tiny bit of spandex (elastane), although they have a 100% cotton section, too.
Parents can also sleep easy knowing their organic cotton pajamas for toddlers are free of toxic chemicals so won't irritate the skin.
Supply chain & labor practices:
Instead of counting sheep, count the number of people empowered by Pact's fair trade certified factories (985, to be exact). Both their cotton farms and factories are located in India.
Green business practices:
In addition to using only the greenest slumber party materials, Pact gives customers the option to choose carbon offsets for their deliveries.
Which come in recycled/recyclable/biodegradable materials!
Inclusivity:
Men and women, expect to find sizes S-XXL and XS-XXL, respectively. There's also a maternity section and good model representation for all sizes.
Community & charitable giving:
Pact combined reusable packaging with doing good.
All orders come delivered in a dual-use Give Back Box. Simply unpack your PJs and refill the box with gently used clothing from any brand. Send it back to Colorado for redistribution to folks in need.
No packaging waste and no clothing waste?
Let that peaceful thought lull you to sleep.
Available: Pact
---
5. LEENA AND LU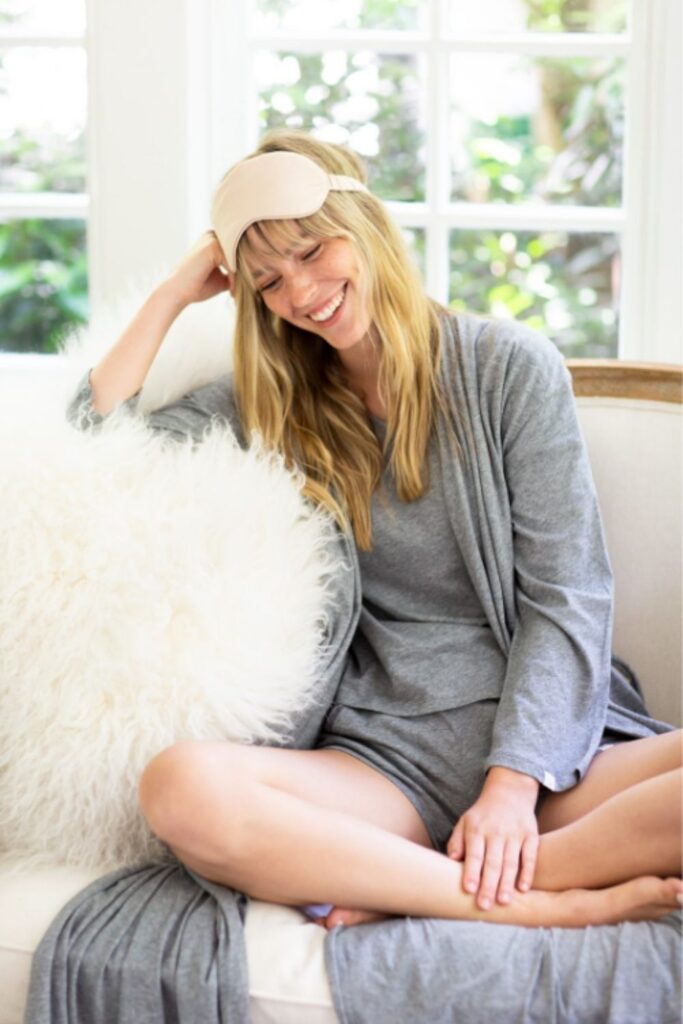 About Leena and Lu
Leena and Lu is changing the way we view sleepwear.
Instead of toxic chemicals, they use plants. Instead of mass-production, they use traditional techniques and small batches. Instead of quantity, they focus on quality.
On top of that, their pajamas are super comfortable: "Don't be surprised if you find yourself not wanting to get dressed in the morning!"
Fortunately for you, they're stylish and subtle enough to be worn during the daytime too.
They create women's organic cotton pajamas (including sets, pants, joggers, shorts, long-sleeved shirts, tanks, and tees) and the sleepiest organic cotton pajamas for kids.
Leena and Lu's Ethical and Sustainability Practices
Materials:
Leena and Lu uses 100% organic Pima cotton in their entire range.
Perfect for new parents with precious little ones, you can get some shut-eye knowing that toxic dyes and chemicals won't make their way into your home (or your baby's skin).
Even the colors come from a combination of Andean plants and flowers.
Supply chain & labor practices:
The brand partners with Peruvian cotton farmers and small factories that are GOTS-certified and use fair trade compliant practices. All garments are handmade.
Green business practices:
Sleep well knowing that Leena and Lu prioritizes small-batch crafting to reduce deadstock waste.
Inclusivity:
Leena and Lu is a woman/sister-owned company with sizes XS-XL for women and 2-8 for kids.
---
6. FINN + EMMA
About Finn + Emma
Sustainable Jungle + Finn + Emma = a match made in zero waste baby heaven.
We've fallen hard for this organic baby brand because they're one of the best female-founded companies who keep parents happy, little ones happy, and our planet happy.
As a new parent, the last thing you want is to have to spend time searching through product descriptions, researching confusing materials, and weeding out any greenwashing.
With Finn + Emma, you don't have to.
Whether you're perusing for an upcoming baby shower, looking for an organic baby blanket to swaddle your little one, or on the hunt for organic cotton baby pajamas, Finn + Emma will put your search to a fin.
Finn + Emma's Ethical and Sustainability Practices
Materials:
100% GOTS certified, heirloom-quality organic cotton. Those are the buttery soft fabrics you'll find in their range of baby and toddler girls and boys organic cotton pajamas.
They feature designs created using non-toxic and eco-friendly dyes.
Supply chain & labor practices:
This brand gets even better when you realize their pajama sets and singles are ethically produced in India. The farmers and the textile workers benefit from ethical work conditions and fair trade pay.
Finn + Emma prioritizes working with female artisans, because women's empowerment is one of the best ways to advance social challenges and support developing communities.
Green business practices:
Oh baby! This brand loves organic cotton, which means they're better for the planet when your one-month-old grows out of that onesie in no time.
You won't find petrochemicals or other toxins in any of their organic baby toys either.
---
7. MATE THE LABEL
About MATE the Label
DressClean™ and DreamClean with MATE the Label: the sleep-inducing best friend you've always wanted.
In fact, they're also friendly for waking hours, too, especially if you're on a budget.
Their affordable ethical clothing (jumpsuits, sweatshirts, bottoms, tees, thermals, and more) will leave you dreaming about how else you can spend your hard-earned money (a carbon offset vacation, maybe?).
Do all that while dozing off in their minimalistic sleep shirts and pants that are so soft, it'll feel like you're sleeping au naturel.
MATE the Label's Ethical and Sustainability Practices
Materials:
Small disclaimer: MATE the Label's pajamas aren't made exclusively with organic cotton.
The good news?
They're crafted with a blend of 30% organic cotton and 70% Tencel, which is almost as sustainable as organic cotton.
Their PJs come in several colors from low impact dyes.
Supply chain & labor practices:
Speaking of travel, the organic cotton is grown in India, the lyocell comes from Austria's Lenzing brand, and all stitching and sewing takes place in a factory in Los Angeles.
MATE the Label doesn't sleep on the job. They adhere to strict California labor laws and some of the highest international standards, including fair trade criteria (but uncertified) in support of their workers.
Green business practices:
Plastic-free pajamas are the way to go—which is why 100% of MATE's packaging materials are single-use plastic-free.
Check out their Impact Report for their other green efforts, like their developing program to recycle gently used clothes into new garments.
Inclusivity:
All organic cotton pajamas women's sizes run from XS to XXXL (for extended sizes)! They also do an excellent job at strutting their sleepwear with an inclusive range of models.
Community & charitable giving:
Essential worker discounts are offered for first responders, teachers, and medical professionals.
---
8. BURT'S BEES BABY
About Burt's Bees Baby
We just can't keep our lips sealed about the beeswax brand's baby offshoot.
From zero waste lip balm to baby goods, Burt's Bees Baby is curating natural homes and families.
As for naptime, they carry both baby blankets and pajamas, in girls, boys, and gender-neutral styles.
Our only disappointment – no adult sizes, as they only go as big as 7 years.
Burt's Bees Baby's Ethical and Sustainability Practices
Materials:
100% GOTS organic cotton is eco-conscious and comfortable, i.e. breathable to prevent overheating.
The pajamas from Burt's Bees are also designed with safety in mind. Nickel-free snaps, a protective zipper guard, non-slip grips on the feet, and flame retardant-free fabrics.
Supply chain & labor practices:
The pajamas are ethically produced in India in factories covered by both ILO standards and the GOTS certification— the workers are never exposed to hazardous chemicals.
You might be losing sleep because of your newborn, but at least it isn't because of concerns over forced or child labor.
Green business practices:
Not only does the use of organic cotton mean pesticide-free fields which support biodiversity, but Burt's Bees employs water saving practices and minimizes the use of chemicals.
All pajamas are designed with a loose fit for those quickly-growing tots.
Community & charitable giving:
For new parents, a Baby Bee Box starter kit can save parents time and effort. It's equipped with three months of newborn essentials and comes with a built-in donation to Save the Children.
Burt's worker bees occasionally help out with local volunteering days and beach cleanups.
---
9. PEOPLE TREE
About People Tree
This London-based brand has consistently ranked as one of our top ethical fashion brands—not least because they were one of the first.
Recognized by the World Fair Trade Organization, People Tree was the very first brand to receive a certification back in 1991.
Whether you're after a quality pair of sustainable jeans or dream-worthy fair trade dresses, People Tree will help you tree-at yo' self.
We already touched on their ethical pajamas but now we're focusing on their line of women's organic cotton pajamas.
People Tree's Ethical and Sustainability Practices
Materials:
95% of People Tree's entire range is made using a portion of GOTS-certified organic cotton, but the organic cotton womens pajamas are made entirely with 100% organic cotton.
They come in a range of colors achieved through eco-friendly azo-free dyes.
Supply chain & labor practices:
People Tree branches out with their manufacturing Partners in Nepal and Bangladesh, both certified Fair Trade.
Green business practices:
We love supply chain transparency and we're also fans of manufacturing method transparency—especially as it is a crucial cog in our planet's health. We feel better about hitting the snooze button 7 times knowing our pajamas are made using closed-loop practices that minimize waste and reuse water.
While machines are used in some cases, handcrafting is the principal method for People Tree.
Inclusivity:
Sizes run from 8-16 UK (2-14 US).
Community & charitable giving:
If it isn't clear by now, People Tree is passionate about ethical fashion. Thus the People Tree Foundation provides education and encourages awareness about the good side of the fashion industry.
They also support various grassroots non-profit organizations.
---
HOW WE FOUND THE BEST ORGANIC PAJAMAS FOR THE WHOLE FAMILY
Materials:
It's no secret we love organic cotton, and, based on these pajamas, it's clear we aren't the only ones.
While this was the main, and often only, material to cuddle up in, we weren't too bummed about seeing TENCEL lyocell either.
If we have to count sheep, that's one thing.
But we certainly don't want to count toxic chemicals, which is why we also looked for non-toxic (and sometimes plant/flower-based) dyes and sans flame-retardant treated fabrics.
Supply chain and labor practices:
We're happy to see that brands are rising and shining to transparency by sharing where and how their pajamas are crafted.
Going above and beyond simply prohibiting abhorrent practices like child/forced labor, many of these brands use fair trade practices across local supply chains. Some even specifically aim to empower women with employment opportunities.
Green business practices:
A nightgown feels so much comfier knowing it was handcrafted in small batches, using recycled water, and shipped in recycled/recyclable materials.
Even better when it can double for daytime work-from-home wear!
Inclusivity:
We're always happy to see women-owned businesses, extended sizes, inclusive models, and gender-neutral options!
Community & charitable giving:
Organic pajamas make great eco friendly gifts—and even better when they're a gift in and of themselves, providing additional support to environmental or social organizations.
---
FINAL THOUGHTS ON ORGANIC SLEEPWEAR
Sleeping in our birthday suit isn't always practical.
The next best thing?
A good ol' pair of PJs made without synthetic fibers and chemical inputs.
Whether you're in need of a new pair or have a kiddo that just-won't-stop-growing, check out an online thrift store first for new-to-you secondhand sleepwear.
If that's a little too personal (no judgement) support one of these brands supporting peaceful slumber and a happy planet.
The only thing you'll be counting in these women's and men's organic cotton pajamas is the thread count!
---