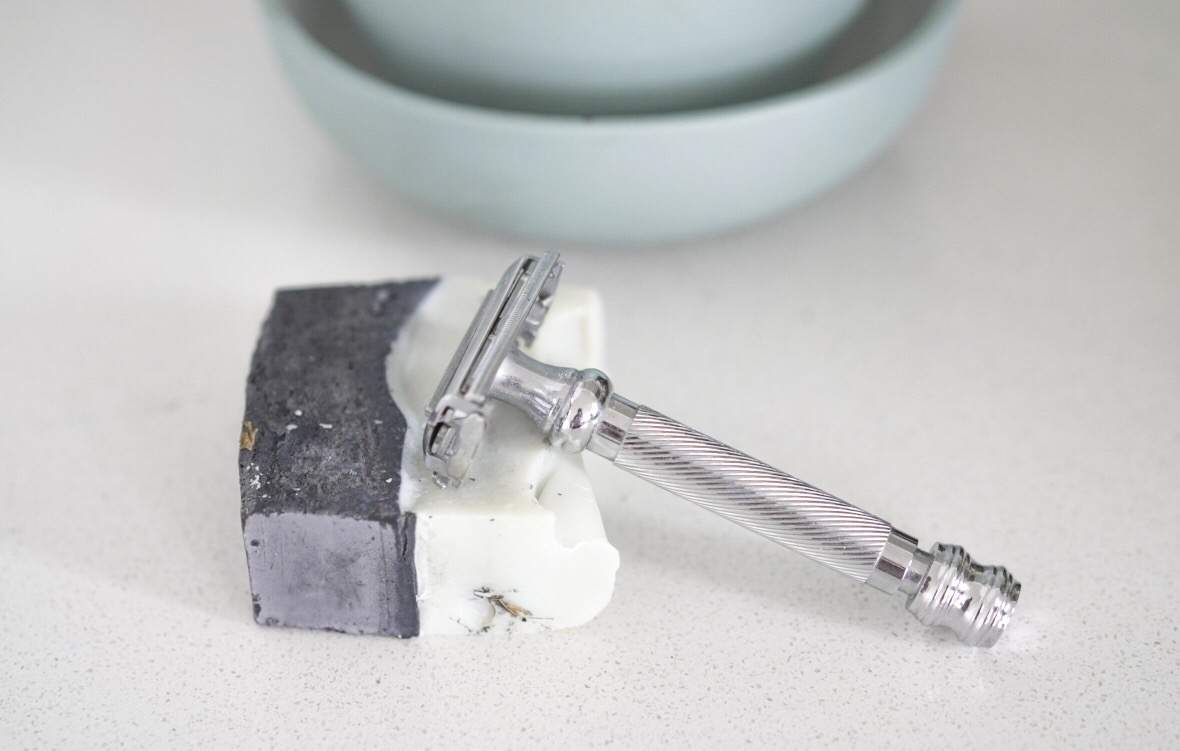 Zero Waste Razor: S(h)Aving The Earth, One Safety Razor At A Time
*This post contains affilate links
The easiest solution to zero waste shaving is, simply, don't!
More power to you!
But for those who us who don't lead lives where fuzzy features are generally acceptable, we need a different solution to reduce waste and unwanted hair.
We recently explored what it means to make your bathroom zero waste, and one often overlooked zero waste swap is the razor.
Not long ago, shaving was always zero waste, done with all-metal straight or safety razors. For some reason, these went out of style in favor of bright colored plastic sticks.
Let's cut to the chase: disposable razors have got to go.
We don't mean to the landfill, where 2 billion of them end up every year (in the US alone). According to the EPA, it takes about a 1000 years for these to degrade.
Razor companies have begun attempting reduce their impact: Schick operates with zero-landfill production and offers a razor recycling program and Gillette razors are now recyclable nationwide in the US. But how many actually get recycled?
PLASTIC FREE RAZORS FOR THE WIN
The ideal zero waste razor (i.e. the safety razor) is a sustainable shaving method, as well as a smart investment. We've been using one for a couple of years and love it.
Don't think of them as geriatric; think of them as tried and true! A classic design with a newfound demand, safety razors are making a comeback so your body hair won't.
And if you're in a rush to make that date clean shaven, check out EcoRoots' classy yet classic safety razor with double edged blades and 5 free stainless steel blades or Imperium's hand crafted open chrome safety razor with a certified sustainable olive wood handle for those who like a little flare.
1. WHAT IS A SAFETY RAZOR?
The Safety Razor Broken Down
'Safety razor' is a bit of a misnomer; they don't look very safe.
With no guards, plastic bumpers, or plastic of any kind, they're actually a bit intimidating. A safety razor is an all-metal no plastic razor (usually stainless steel or chrome) with a durable handle and double-sided blade.
Instead of throwing away the whole head to change the blade, the blade alone is removable and replaceable.
For the most part, they look pretty much the same, with only a few varying features, such as handle length and accent material (like a bamboo grip). There are also two different types of blade access:
Standard, where you screw off the whole head to remove the blade; and
Butterfly, where a simple twist at the bottom of the handle to twist opens the blade compartment (just like a butterfly's wings!).
There are lots of styles to suit your taste and I can at least say my butterfly safety razor is way easier to use and the shave is also superior.
---
2. HOW DO YOU USE A SAFETY RAZOR?
How to Shave With a Safety Razor
Safety razors utilize the now somewhat dying art of wet shaving, which, as the name implies, means water is involved. Disposable razors often bypass this requirement due to the little strips of lubricated gel framing the blades.
Wet shaving, while a little more time consuming, is actually better for your skin. Despite the scary look, there's actually less chance of nicks, razor burns, and ingrown hairs when done properly.
What does "done properly" mean? Let's break it down.
Step 1
Prep your skin with some hot water or a hot towel. If you shave in the shower, then that's already done for you. Follow by applying your shaving soap for a good thorough coverage (we'll get to this in a bit).
Step 2
Press the flat head of your razor against your skin and tilt to a 30° angle until one side of the blade rests against your skin. Maintain this angle; anything more will be too harsh. Then, going with the grain of your hair, just make short, feathering strokes.
While doing this, do not apply any pressure. There's a reason safety razors feel so weighty; their own weight is designed to apply all the pressure the blade needs.
For more wrinkled, contoured areas, keep the skin as taught as possible.
Step 3
After one full pass, re-lather and go again, this time against the grain for the final finishing touches.
Video Tutorials
Gentleman, for visual learning with a laugh, check out this tutorial video and use this handy shave map to learn how to shave your face like a pro.
And ladies, make no mistake: safety razors aren't just for guys. They work on legs, armpits, and more, erm… sensitive areas, too. For an honest lady look at how well they perform on these areas, check out this review video.
Once you get over the slight scare factor, a safety razor actually yields a much better and closer shave to make you feel classy and professional. It just takes a little practice.
---
3. CARING FOR YOUR SAFETY RAZOR
Maintenance of Plastic Free Razors
After shaving, rinse thoroughly with warm water.
Ensure all hair is out from the cracks (you might need to take the blade out). Then just shake out and store in a dry place to avoid rusting.
Don't use paper or cloth because bits can get stuck in the blade.
---
4. SOME CUTTING EDGE OPTIONS FOR BUYING A SAFETY RAZOR
Zero Waste Razors – The Options
This may come as a surprise to many, but they're not hard to find.
In fact, there are tons of options, from budget to rare antiques.
We know not everyone is looking to drop serious dime on de-fuzzing. Here's an array of options that all have great reviews.
Shoreline Shaving Safety Razor Kit: The standard-open stainless-steel razor with a beautiful bamboo handle. It also comes with a zero-waste natural shaving soap, making for a great plastic free shaving kit, either for you or as a

zer

o waste gift or minimalist gift. Shoreline Shaving operates in Manchester, UK and aims to do their part in reducing disposable plastic waste.
Imperium Shaving Safety Razor: This standard-open chrome safety razor has an FSC (Forest Stewardship Council

) certified sustainable olive wood handle for those who want a little flare and a more ergonomic grip. They are

hand crafted in the U.S.

by a small artisan studio that aims to carry on the traditions of their mill town roots. Plus, they have hundreds of great reviews, almost

ALL

of which are 5-star!

Check out the rest of their range – they offer some pretty spectacular razors!
---
5. WHAT'S THE DIFFERENCE BETWEEN SAFETY RAZORS AND STRAIGHT RAZORS?
The Straight Razor
Coming at you straight from the 1800s, straight razors are for those who really want to get into the art of shaving.
These actually operate similar to safety razors (both are wet shave methods that rely on angle of blade for effectiveness).
They're also more suited for male facial hair, as the wide blade wouldn't be very friendly on smaller, contoured areas (like armpits).
Because of the offset grip placement, straight razors have a little bit of a higher learning curve but also give you the closest shave possible. There's also more maintenance involved, like honing the edge and oiling the blade. On the other hand, there's no need for replacement blades, making the generally higher initial cost eventually worth it and you could argue, even more of a zero waste razor.
Plus did we mention the style points you get for using one of these bad boys?
Like our safety razor, Parker also makes a budget-friendly stainless-steel straight razor. For some artisan straight razors Etsy has heaps of cutting edge ideas.
---
6. REPLACE AND RECYCLE YOUR BLADES
Zero waste safety razors
Safety razors need a new blade every 2-4 weeks, depending on how frequently you shave.
We've been using the popular stainless steel double Shark blades and still have a stack to get through but going forward, we'll be buying from a zero waste online store instead, like EcoRoots in the US who sell replacement blades and have a great video on how to change the blades.
Recycling the blade
Remember to recycle your old blade! This is critical to the whole zero waste razor thing actually being zero waste.
They can't be dropped off with the rest of your curbside recycling. Check with your city council to find out where your community collects scrap metal.
In between recycling runs, just collect used blades in a jar or "blade bank".
For American shavers, we know scrap metal recycling can be tricky to find. You can always mail your blades to California-based Albatross Shave Shop. They'll recycle any brand of blade for free.
---
7. THE SECRET TO A SMOOTH SHAVE IS IN THE SOAP
Zero waste shaving soap
Remember how much we love compostable packaging bars?
Well Etsy has a ton of great shaving soap bar options.
Be sure to look for those that are also vegan, cruelty-free, palm-oil free, and organic (we'll put a post up on this soon to make it easier for you!).
Here are some good options, as per our beauty guidelines:
Tip: Don't use pure coconut oil! When it gets cold and solidifies, it can clog both your razor and drain. Instead, use it as an after-shave moisturize, or try this recipe for D.I.Y. zero waste moisturizer.
Vegan applicator brushes
For the more astute shavers, Etsy also has vegan applicator brushes (as opposed to the traditional badger or boar hair) but you can also lather with your hands.
---
8. SAVE WHILE YOU SHAVE! SAFETY RAZORS ARE MORE COST EFFECTIVE
Show me the money
When's the last time you did the math on disposable razors?
They're expensive!
Unless you're buying the $1 6-pack of super cheap guys that rust and chafe after basically one use (to then throw the whole thing away), you're still looking at forking out around $20 for a handle and a few short lived blades.
Subscription shave clubs (which also yield monthly shipping and packing waste) cost an average of $10 per month.
So in two months, you can easily cover the cost of a moderately priced plastic free razor (which will last a lifetime barring any unfortunate misplacements) and a year's supply of blades!
A pack of 100 Shark blades costs a measly $6 and each blade lasts about 2 weeks depending on how often you shave. I'm no mathematician but that's roughly 4 years of blades for $6!
---
9. OTHER ZERO WASTE SHAVING OPTIONS
The Epilator
Electric Razor or Epilator: To differentiate, regular electric razors cut hair while epilators pull them out (so you can go longer between shaves).
Unlike safety razors, these are dry shave methods, so they're a little more convenient.
I actually bought a Braun epilator about 16 years ago and it still works perfectly – I do my armpits with it which makes for silky smooth skin and no scratchy regrowth – though I've done this since puberty so it's hardly painful now, I'm not sure I'd recommend this to anyone who has been shaving their armpits for a long time – ouch!
But if you're just starting your under-arm or leg hair removal journey, consider this as a long term option. Worth noting though that zero waste safety razors are still the most eco-friendly option as electronic products have a more complex supply chain and therefore a much bigger carbon footprint.
Sugar Waxing
Traditional waxing is not exactly eco-friendly (or pleasant) but "sugaring" accomplishes the same thing with just sugar, lemon juice, and water! Just boil it into a thick paste, put on, and peel off.
Here's a more detailed how-to and recipe.
We've not tried this but it looks amazing – if you do try it, please let us know how it goes!
---
FINAL THOUGHTS ON ZERO WASTE SHAVING
Swapping to an eco friendly, zero waste shaving solution is something everyone should do. It saves both money and the planet!
Safety razors especially are on the cutting edge of zero waste personal hygiene (even though our grandparents used them long before we were a dream). It's one of the simplest, longest lasting zero waste swops you can make to cut out (literally) a lot of plastic shaving bathroom waste.
As always, we hope you find this useful. If you have any other ideas, leave a comment, we'd love to hear from you!