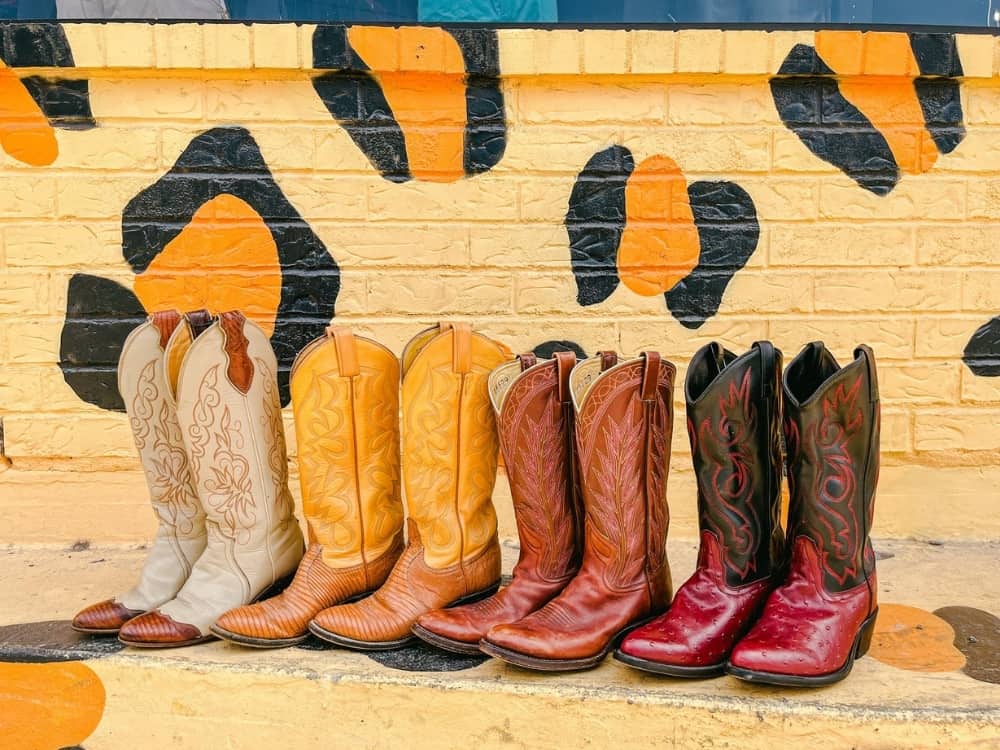 11 Thrift Stores In Houston Boasting True Texan Trends
Sure, you could lose yourself in the largest shopping mall in Texas, or you could get the biggest bang for your hard-hustled dollars by supporting the best thrift stores in Houston.
Space exploration aside, Huston's secondhand shopping scene is out of this world.
With sustainability, social causes, and style at the forefront of these stores' minds, you can look good and feel good about your purchases.
From name-brands to knick-knacks, read our thrift shopping tips to help navigate the eclectic and elegant looks hidden amongst these cool thrift stores in Houston.
Grab a Lonestar beer (the official trade-marked beer of Texas), and head to the end of the article to learn how clothing resale shops in Houston are curbing textile waste and encouraging individuality with one-of-a-kind finds.
1. Out Of The Closet
About Out Of The Closet Houston Thrift Stores
With a sophisticated, black storefront boasting hot pink accents, Out of the Closet stands out amongst the crowd.
Offering vintage clothing (mustard polka dot jacket, anyone?), a wide range of accessories, home décor, books, and more, you could spend a full afternoon devouring all the delicious discounts.
The cherry on top?
For every dollar you spend, $0.96 goes to HIV/AIDS Services Globally and AIDS Healthcare Foundation. And conveniently, the store also has a pharmacy and HIV testing center on site: get tested and get your Houston thrift shopping fix all in one. Play it safe with your sexual health (with fashion, never).
If you're a Dallas local, then lucky for you because they're also one of the best thrift stores in Dallas, too.
---
2. ACG Resale Boutique
About AGC Resale Boutique Thrift Store in Houston
AGC Resale Boutique has a quaint feel with a powerful mission behind it. While only 1000 sq feet top to bottom, this tidy and well-laid-out shop packs in something special for everyone.
Donations to this Houston thrift store are analyzed and sorted to determine what to sell in-store and what their partner charities need. All funds raised support the Amazing Grace Charities.
Between their sensibly priced clothing, handmade jewelry, household items and vintage merchandise, guilt free retail-therapy never felt so good.
They schedule drop offs for donation at a time that's convenient for you, so there's (almost) no excuse not to channel your inner Marie Kando and clear out your closet for their worthy cause.
---
3. The Cottage Shop
About The Cottage Shop High End Thrift Store in Houston
The Cottage Shop is a treasure trove amongst Montrose Houston thrift stores.
Founded in 1971 (a.k.a, peak fashion era), it's no wonder they're a top vintage reseller in Houston.
Showcasing high-end designer brands and vintage clothing, all at an affordable price point, you can find used garments for all genders, handbags, and home décor from the likes of Tiffany
The Cottage Shop goes above and beyond in their support for local community programs.
100% of their proceeds go to The Women's Home which supports women, children, and families to reclaim stability with vocational training, mental health services, and a residential treatment program for those suffering from addictions.
---
4. Couture Blowout
About Couture Blowout Houston Consignment Store
What comes to mind when you think of the word 'couture'?
'Luxury', 'unique' maybe 'high-fashion'?
Couture Blowout provides all that and the beauty of grandeur (but minus the over-the-top, weird pieces that higher-ups deem as 'fashion').
Comprising high-end designer duds at a fraction of their retail cost, this Houston consignment store places a focus on circular economy to keep gently used luxury merchandise out of landfills.
Located in the River Oaks neighborhood, strut down the runway (i.e. sidewalk) to participate in their consignment option, pick out the perfect name-brand dress and then head on over to wine night at the local bar and restaurant, Eloise Nichols with over 600, 5-star reviews.
---
5. The Charity Guild Shop
About The Charity Guild Houston Thrift Shop
The Charity Guild Shop is another Montrose thrift store in Houston combining fashion with a social cause (donating to charities that help the elderly), since 1962.
Consisting of a vast floor layout with divided and categorized rooms, you'll find a monumental amount of goods from antique furniture, art, and estate items to men and women's clothing, jewellery, and shoes.
A business model encompassing modern trends with tradition at heart, spend some time chatting with the enthusiastic volunteers, and find the shop open every day except Sunday.
---
6. The Blue Bird Circle Resale Shop
About The Blue Bird Circle Resale Shop in Houston
Following a recent renovation to better serve their savvy Houston thrift shoppers, Blue Bird Circle Resale Shop now boasts a large, light-filled warehouse with beautiful wood framing throughout the store.
And in that warehouse, you'll find everything from antique chesterfield love-seats to designer clothing to Green Dragon-patterned Bone China and affordable home accents, books and more.
Take your time in discovering all there is on offer, but know they are closed Sunday, Monday, and Friday each week.
If you want to take advantage of their consignment system, 60% goes into your pocket and 40% goes to funding several neurological medical research organizations for children.
---
7. Houston Junior Forum Resale Shop
About Houston Junior Forum Resale Thrift Shop
Houston Forum Resale Shop supports and funds their non-profit organization providing services to women, children, and seniors in Houston.
Consisting of an eclectic array of donations including glassware, clothing, shoes, handbags, home décor, large furniture, musical instruments, and art (*deep inhale*), their Houston Heights thrift store has the pulse on their customer base.
Stop in daily from 10 a.m.-3 p.m. except Sundays.
---
8. Heights Common Market
About Heights Common Market Thrift Shops in Houston
You might think this flea market is one of the best thrift stores in Houston because it's the longest running of its kind.
But here's another reason that justifies its place on this list.
Heights Common Market is home to (not one) but nine Houston thrift stores all housed within an eye-catching, sky-blue building. Open daily from 10 a.m., you could spend a whole day exploring each outlet.
Not all are thrift stores as some are more tailored (get it?) to custom boutique offerings, but you'll find no shortage of vintage and antique gems.
These thrift stores in Houston consist of artisan boutiques, custom tailoring services, gently used toys, and vintage goods. Source a hand-made candle, get an old dress fixed up, and gift a toy to a child in your life all in one stop!
---
9. Leopord Lounge
About Leopord Lounge Houston Resale Store
With a distinctive and undeniably flamboyant storefront, there will be no judgement for your love of leopard prints here.
Leopord Lounge is a vibrant, funky Houston vintage resale store that has accumulated an incredible range of clothes from the 1920's-2000's.
The interior décor matches the aesthetic they sell, with spots to relax around banquette social seating and grand chandeliers lighting up rows upon rows of new-to-you cowboy/girl boots.
Sell your own avant-garde pieces here for cash in hand or simply bask under their pink neon lights as your eyes feast on the curated collection.
It has certainly earned recognition as being one of the best secondhand stores in Houston for clothes and, unsurprisingly, their sister store in Austin stands out amongst the best Austin thrift stores, too.
---
10. Cheeky Vintage
About Cheeky Vintage Houston Resale Store
'Modern couture with a past', is an apt description for this high end thrift store in Houston.
The owner of Cheeky Vintage places a strong emphasis on the stories that get passed down through the items she brings in to sell.
Housing bespoke women's pieces from the 1940's-1990's, their quintessential and boutique vibe showcases curated clothing and accessories, brand names and unlabelled gems.
Allow yourself to be immersed in the history of your purchases and come away with quality heirloom treasures. The doors are open Monday through Friday, closed weekends.
---
11. MAM Resale Store & Boutique
About MAM Resale Thrift Store & Boutique in Houston
Perhaps one of the largest thrift stores in Houston, you'll probably lose yourself in this 14,000 square foot warehouse but you won't leave empty handed, we can assure you.
MAM Resale Store & Boutique shows us the true meaning of having it all with sections exhibiting clothing, shoes, and accessories as well as furniture, novels, artwork, and toys.
With so much on display, they give back to their community in incredible ways by offering services such as employment assistance, financial empowerment, immigration legal advice, literacy help, and mental health plans.
This is an absolute, must-see on your downtown Houston thrift store adventures.
---
Did you know we Have a Newsletter?
We cover the latest in sustainable living, fashion, zero waste, beauty, travel, finance and more…
Why go Thrifting in Houston?
Texas is seeing an influx of migration to cities like Houston and Austin because of job prospects in the fast-growing fashion scene.
Take for example the sustainable start-up, Magpies & Peacocks who collect and upcycle post-consumer textiles. They've managed to divert 220,000 pounds of textile waste from landfill since they began.
But in spite of this, Texas is still disposing over 600,000 tonnes annually of materials that could and should be recycled.
By shopping at the thrift stores Houston has to offer (or if you're in the neighbourhood, the thrift stores San Antonio has to offer), we can avoid fast fashion and contribute to the solution of the ongoing environmental impact the fashion industry is creating. 
Don't have time to spend hours sifting through clothes for the perfect pair of Sisterhood of the Travelling Pants jeans?
Then visit the best online thrift stores from the comfort of your couch to get your thrifting fix so we can all fight climate pollution one stiletto at a time.
---
Final Thoughts On Thrift Stores In Houston, Texas
Considered the most ethnically diverse city in the country, it's no surprise that its fashion scene is a melting pot of influential style.
Combine that with strong community-supporting values and a passion for the circular economy, and what's not to love about thrift stores in Houston.
Besides, Houston is the city of no limits right?
So, round up your friends and dive in to discover your personal secondhand Houston style.
Pin these: