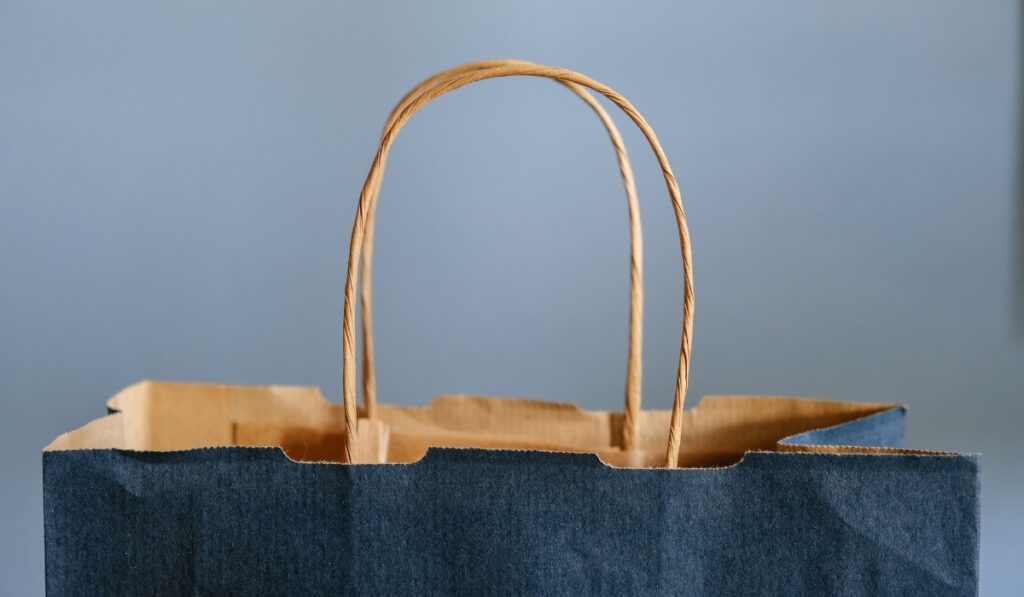 8 Sustainable Shopping Tips To Maximize Your Eco-Efforts
Buckle in for sustainable shopping tips that will satisfy your need for new (or new-to-you) while appeasing that eco-minded angel on your shoulder.
But why is sustainable shopping important, you ask?
Because consumer culture—the buying and selling of goods based on social norms—is responsible for exploitation, waste, and negative environmental impacts reaching every single part of our planet.
The production of goods used in our homes equates to more than 60% of total global emissions, and 50-80% of total water, land, and resource use.
We would need several planets to compensate for US level consumption, where per capita emissions are five times higher than the global average.
If consumption-based impacts continue on their current trajectory, current levels will double by 2050—making it impossible to limit the planet's warming to just 1.5° Celsius.
We need collective action to make a consumptive u-turn.
Put bluntly by The New Republic, "It will require personal sacrifice from our entire society. We will have to fly less, drive less, Uber less… waste less food, and generally buy less crap that we don't need."
So to help you maximize the conscious part of your consumption we've collated some helpful eco friendly shopping tips.
1. Value What You Already Own & Trade Stuff for Experiences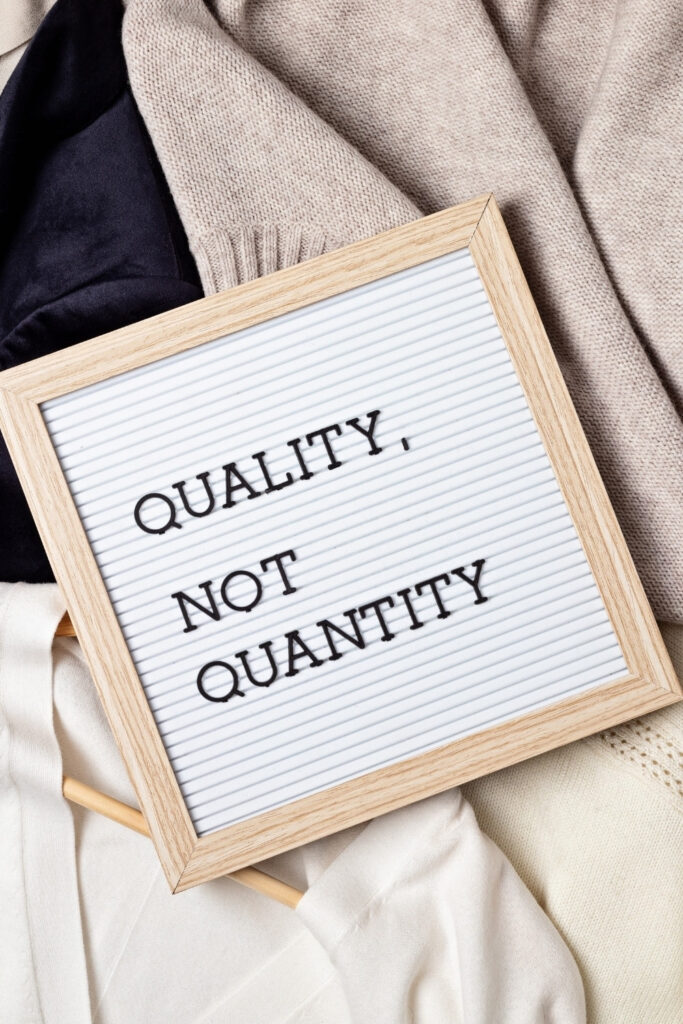 What is the most sustainable way to shop?
The ultimate sustainable shopping tip we can impart is, quite frankly, to not shop.
Using and valuing what you already own is the best thing you can do for our planet.
This starts by extending gratitude to the contents of our homes (which likely contain around 300,000 items) until we realize we don't actually need anything new.
Taking the time to get reacquainted with our belongings may help us realize that we have an old dresser that can be repainted to become "new".
Our closets in particular are regarded with a disposable mindset, thanks in large part to fast fashion.
But we can avoid fast fashion by cultivating a minimalist wardrobe mindset
Wondering what to do with old clothes?
Instead of tossing them in the trash, consider giving them a little TLC through an online clothes repair service. Or try your hand at making upcycled clothing to refresh and revive them.
We get it. It's hard to recognize and get meta on materialism and a disposable mindset.
Because our culture encourages us to buy, buy, buy, it can be helpful to take time to understand our purchasing habits—AKA why we make 3am online shopping purchases or have 17 similar pairs of jeans.
Then, we can cut out the things that nudge us to make purchases, like email ads, Black Friday sales, material subscriptions, and social media influencers.
Experiences outweigh material "stuff"
Spend less money on stuff (and all the stress and clutter that comes with it).
Instead, spend more time with friends and family doing things we love.
When we open ourselves up to experiences, we can benefit from the same endorphin and dopamine release as a "shopper's high"—but it will last longer.
According to researchers, experiential purchases (money spent on doing) produce enduring happiness as compared to material purchases (money spent on having).
Waiting for that upcoming vacation, camping trip, or date night will provide a longer period of happiness than that which comes from buying a new pair of shoes.
It's far better for our planet, too.
---
2. EXPLORE ALTERNATIVES TO SHOPPING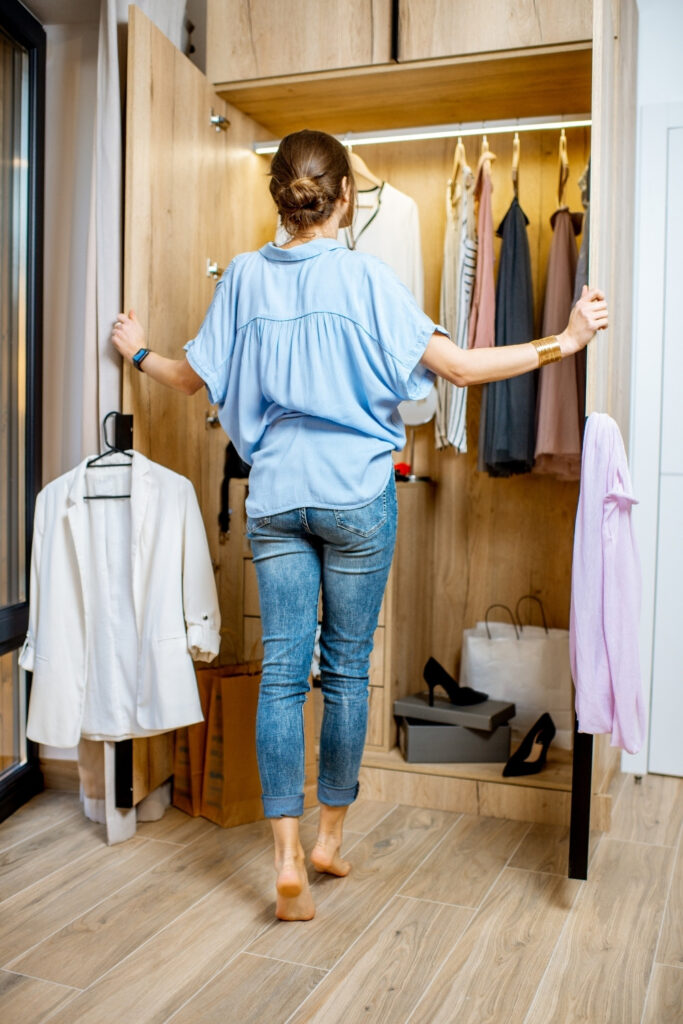 We're not saying never.buy.anything.ever. That's just not realistic.
But if we do need something in our lives, see if you can get it without purchasing.
Borrowing, gifting, and sharing are some of the best tips on eco friendly shopping as they require zero shopping.
If we can keep existing products in use for longer, that's a far better outcome for resources than requiring something new.
Are there local sharing groups in your area? Do you have friends or family who would loan you an item? Can you find what you're looking for on a free reuse platform like Freecycle?
Resources like toy libraries and other "libraries of things" around the globe are revolutionizing what and how people can borrow.
They're a place for eco friendly toys, tools, entertainment essentials, cookware, appliances, games, and much more.
Car sharing platforms help us get behind the wheel without manufacturing a new vehicle, just like clothing rental companies make it easy to prepare for weddings or a refreshed work attire wardrobe—no new clothes required.
Our brains are hardwired to appreciate novelty. Fortunately, borrowing items can reward us with a similar neurotransmitter response all without the environmental cost.
We can get what we need, feel good about it, save money, and maybe connect with locals in our communities.
---
3. BUY LOCAL AND SUPPORT SMALL BUSINESSES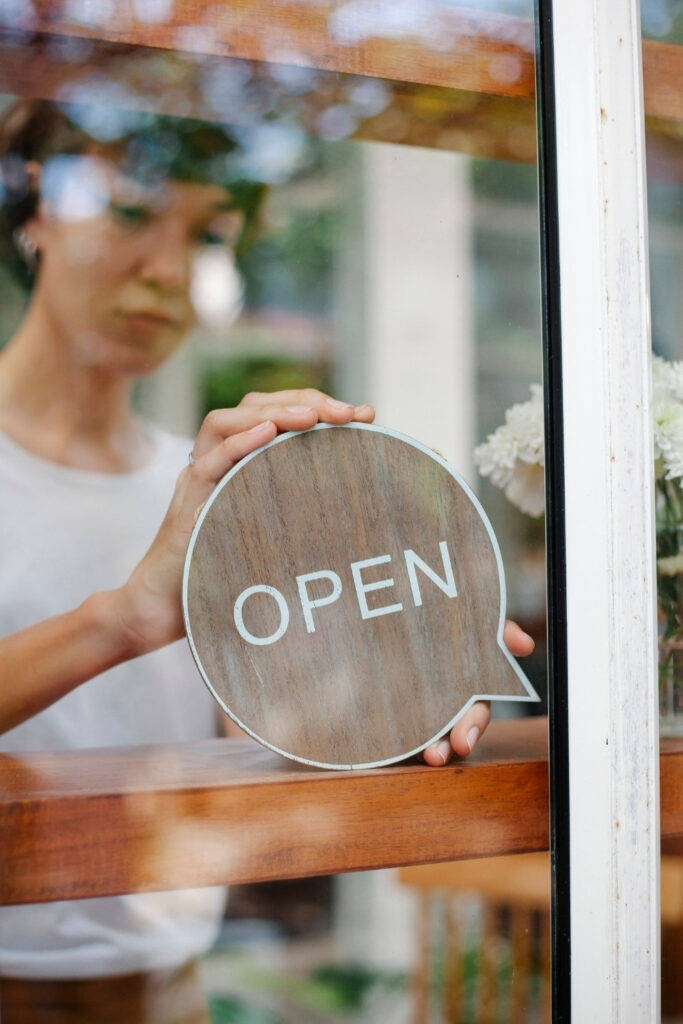 Speaking of local, spending money in your locale is the best way to ensure a sustainable local economy.
For every $100 we spend locally, about $68 to $73 goes back into the community.
It provides jobs, helps local businesses grow, enhances a region's tax base, and ultimately contributes to the unique character and personality of a place.
Small businesses could use our help
Along with support for local businesses, we can funnel money into small, ethical entities—not large, multinational corporations who almost always have a bad rap (here's looking at you, Amazon).
Because our convenience is coming at a cost for small enterprises.
Over the past several years, online shopping obviously experienced an astounding boom. While the e-shopping trend may have been born of necessity, it's stayed out of convenience.
Types of shopping that were once a minor player in online consumption are now a mainstay. For example, online grocery shopping, accounting for 4.3% of total grocery shopping pre-2020, grew a whopping 137%.
As a result of this e-exodus, thousands of small and medium-sized businesses (about 200,000 between 2020 and 2021) had to permanently close their doors, while large corporations have reaped untold profits.
Transnational corporations often use greenwashing tactics as a means of paying lip service to environmental causes, but behind a lot of these pro-environmental actions are profit-driven operations and agendas.
Every time we vote with our dollar by supporting local, small businesses, we're keeping money out of the hands of an increasingly concentrated group of ultra-powerful corporations.
And that's one of the most ethical, sustainable shopping tips we can share.
---
4. BUY IN SEASON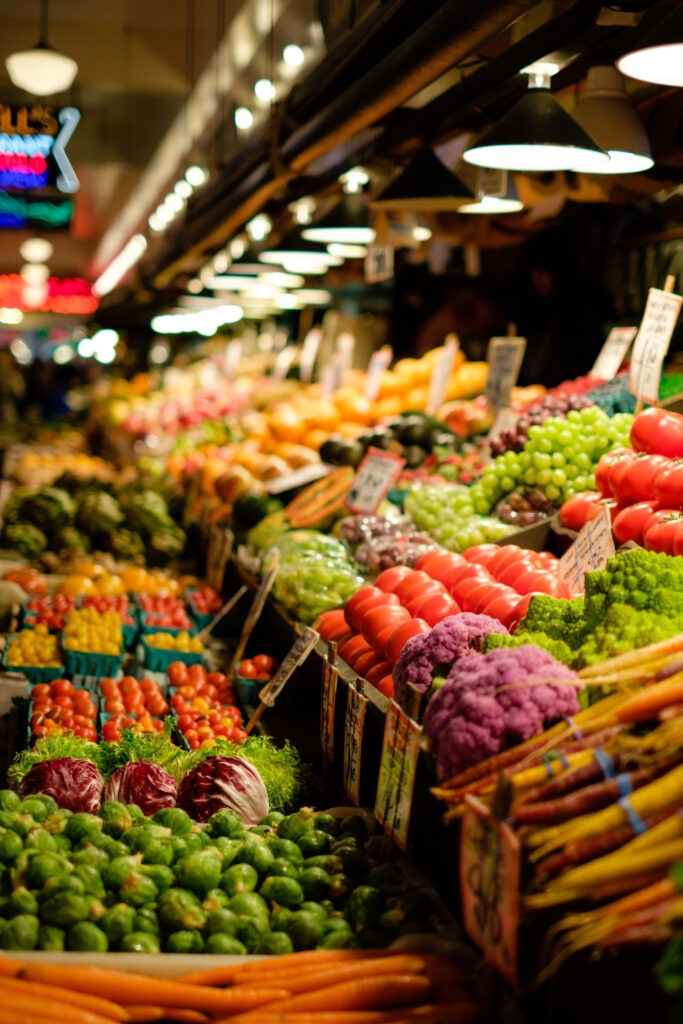 Quite often, employing eco friendly shopping tips benefit us in ways we don't appreciate.
Buying in season is one example. It doesn't just support our planet (and local business), but also provides us with better tasting, more nutritious, and (often) cheaper produce.
When food is grown in a way that respects seasonal weather conditions, less water, and chemical inputs are required.
It also cuts down on emissions associated with refrigeration and postharvest treatments (i.e. ripening agents, irradiation, edible coatings, anti-browning chemicals).
A summer-ripened tomato has a global warming potential that's far less than that of a heated greenhouse, for example.
When you know what fruits and vegetables are in season for you, you can appreciate spring's first bunch of asparagus or enjoy a butternut squash soup when autumn brings chillier weather.
In doing so, you're likely to branch out from some of your regularly-consumed foods to eat a more diverse diet—which is better from a nutritional and planetary perspective.
Research has found that shifting from a homogenous European or Western diet to a Mediterranean one—rich in a diverse range of fruits, vegetables, oils, and less in meat and seafood products—is linked with several environmental benefits:
Reduced pressure on biodiversity
Minimized water use
Lower land use
Reduced greenhouse gas emissions
Lower eutrophication impacts
As one of the best green shopping tips to reduce food mileage, buying seasonal produce and other food products from local farmer's markets or through CSAs can also connect us with local producers, support sustainable food systems, and increase overall food knowledge.
---
5. SHOP SECONDHAND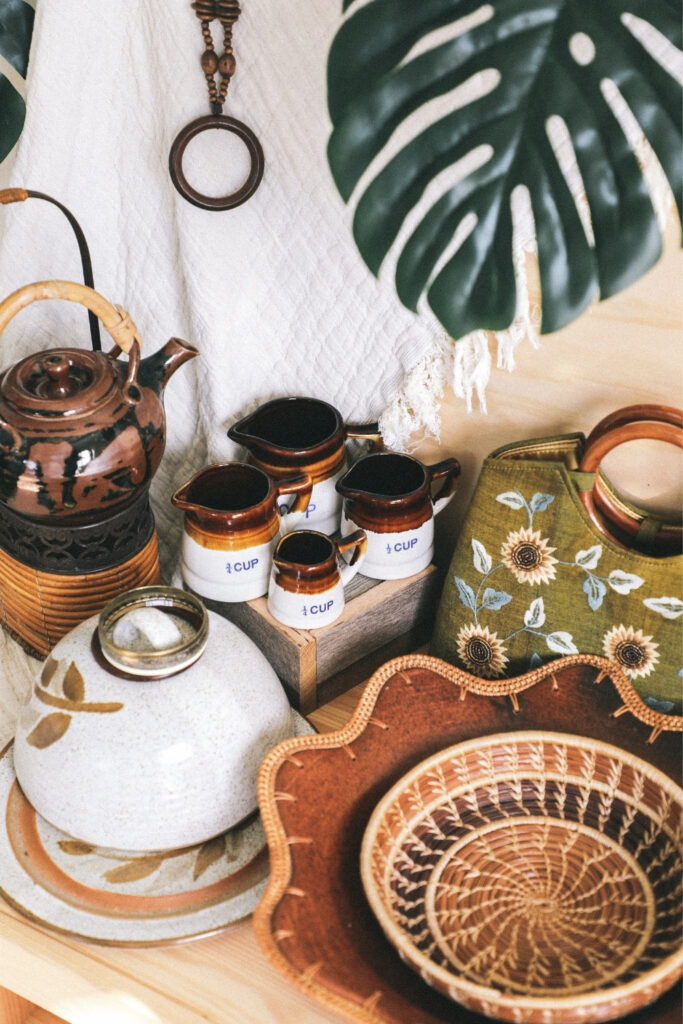 Tips for more sustainable shopping often include recommendations for thrifting and other secondhand options.
Buying used items cuts down on the natural and fossil fuel resources required during manufacturing, diminishes waste and pollution, and conserves energy.
It often provides us with budget-friendly and unique items, too.
Instead of the linear take-make-dispose model that our global economy is based on, secondhand shopping embraces the circular economy where we:
Circulate products and materials by keeping them in use
Eliminate waste and pollution
Regenerate nature
Fortunately, it's never been easier to get involved in the booming secondhand movement.
Online thrift stores allow us to sustainably expand our wardrobes from a vast and diverse audience.
Platforms like Facebook Marketplace and eBay are easy and lucrative places to sell clothes online.
Visiting local thrift stores is an excellent (and affordable) way to score secondhand and vintage clothes, accessories, home decor, furniture, and more—not to mention a fun activity in and of itself!
---
6. BRING YOUR OWN BAGS AND CONTAINERS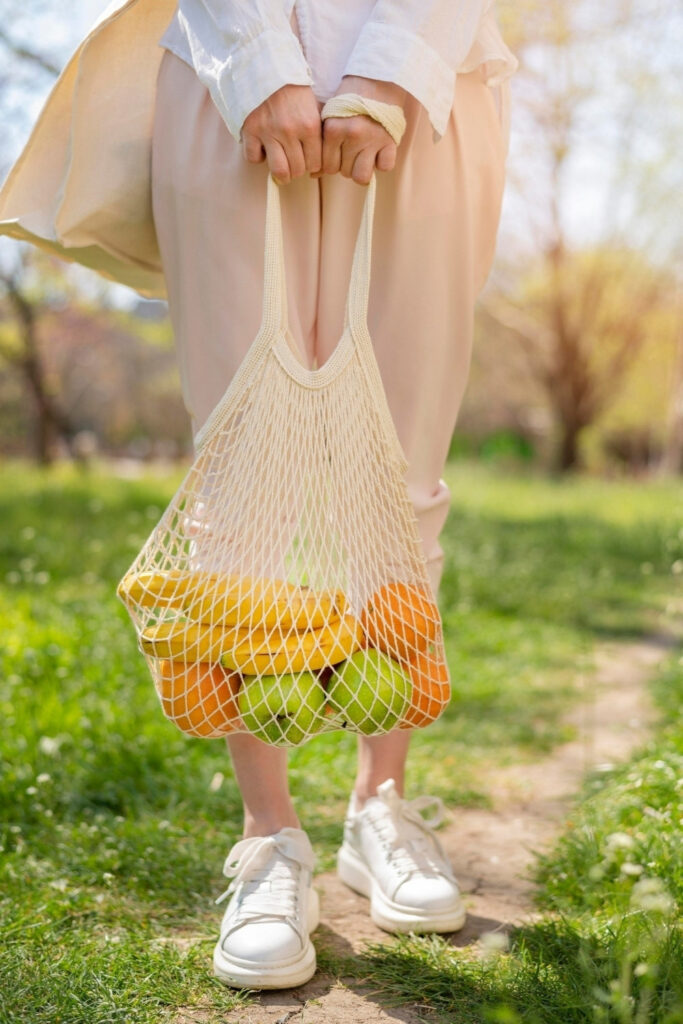 What's the easiest sustainability tip to implement?
BYOB (bring your own bag).
It cuts down on unnecessary single-use plastics and is the one sustainable grocery shopping tip we can all follow.
Globally, more than 5 trillion plastic bags are used every year—amounting to a whopping 160,000 used every second.
An essential part of any zero waste kit, a few reusable bags can be tossed into your purse, backpack, or the backseat of your car for an easy way to cut down your plastic footprint.
Similarly, bring along mesh bags for produce and reusable containers for bulk foods.
If you don't live near a bulk grocery store, bulk stores online can fill your plastic-free pantry.
When you dine out, they can also be used to replace take-out containers—which are often made from non-recyclable styrofoam and other types of plastic.
Not only that but reusable packaging is associated with a 75% lower global warming potential and 95% less solid waste.
They could be the solution to bagging at least one pervasive form of plastic pollution once and for all.
---
7. CHOOSE SUSTAINABLE STORES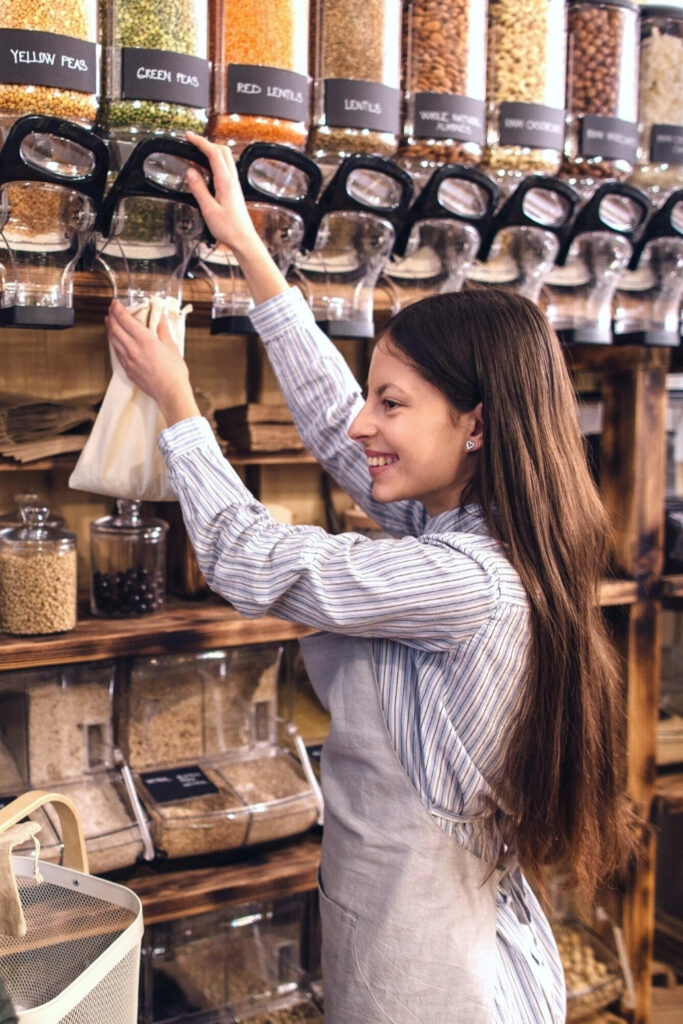 What is the best way to shop sustainably?
Throw on those comfy sustainable sweatpants, grab your laptop, and get ready to hit the "add to cart" button.
Just because online shopping has been associated with all kinds of negative impacts, doesn't mean there isn't a better way to do it.
Between alternatives to Amazon and other ethical online shopping platforms, we don't have to do much to shop with a clear(er) conscience.
Often available at our fingertips, we can get everything from zero waste products and eco friendly cleaning essentials to our favorite sustainable snacks and fashion pieces.
Covering all the bases, these brands and online marketplaces are often associated with:
Durably designed goods
Plastic-free packaging and/or options for refills
Carbon neutral shipping and operations
Prioritization of inclusivity and diversity
Fair trade labor practices
Sustainable sourcing (i.e. produced locally, via regenerative agriculture, etc.)
Donations to environmental or social justice nonprofits
---
8. OPT FOR CREDIBLE ORGANIC & NATURAL BRANDS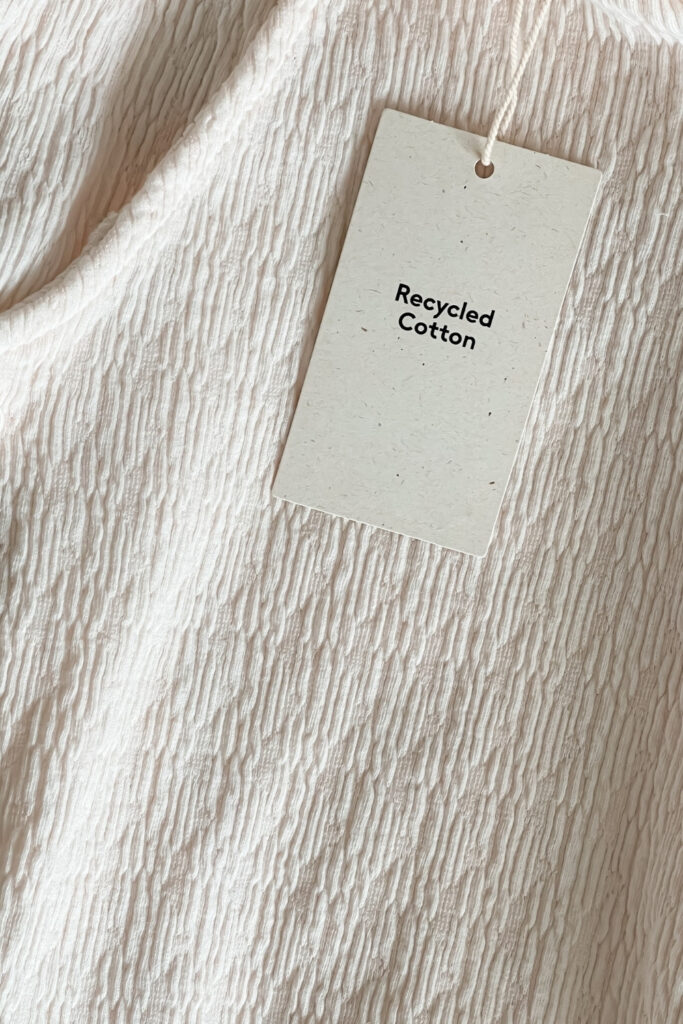 Green shopping tips start with green materials and making use of sustainable fabrics is a green flag for any business.
Organic cotton
The cotton vs organic cotton argument is a poster child for a call to use better materials.
Compared with its conventional counterpart (which uses 1/3 of a pound of synthetic fertilizers per t-shirt) an organic cotton t-shirt uses compost, cover crops, animal manure, and other biological materials instead.
It also requires 88% less water and has fewer chemical requirements as it moves down the supply chain, making it safer for farmers, workers, and future generations.
Because the organic cotton industry is not without its corruption and secrets, recycled cotton is better still.
Hemp
Joining those using organic cotton, hemp clothing brands weed out the competition by using the high-yielding and durable fabric in all of our fashion essentials.
To produce hemp fabric requires very little by way of chemicals and water.
It's also quick-growing and absorbs more carbon dioxide from the environment than trees, making it quite the fashionable carbon sink.
Linen
Linen clothing brands and plus size linen clothing brands are using the small-but-mighty flaxseed to transform the fashion industry for the better.
Durable and sustainable linen has been cherished for millennia because its journey from seed to harvest takes just 100 days (50-75% faster than cotton).
It doesn't require much in the way of fertilizers, water, or pesticides either.
Once harvested, the entire plant can be put to use in food, fabric, and even furniture.
Linen, along with these other natural and animal-based fabrics (ethical cashmere, ethical wool, and peace silk) are almost always compostable, too.
Of course, those are just the textiles.
For sustainable furniture and other non-pliable home goods, it's best to seek reclaimed, biodegradable or ready recyclable (and ideally recycled) materials, like wood sourced from responsibly managed forests and infinitely-recyclable aluminum.
---
FINAL THOUGHTS ON THE BEST WAYS TO SHOP SUSTAINABLY
When you approach your consumption from an environmental, economic, ethical, and spiritual perspective, you realize that less is much, much more.
Adjusting our purchasing practices by following through with a couple (or more) eco friendly shopping tips are a crucial part of the solution.
Shop less and shop better.
We don't need to become ascetic monks or staunch minimalists to save our planet, but we all have improvements to make.
That said, please share this list of tips for more sustainable shopping with friends and family so we can increase the conscious consumer collective.
---