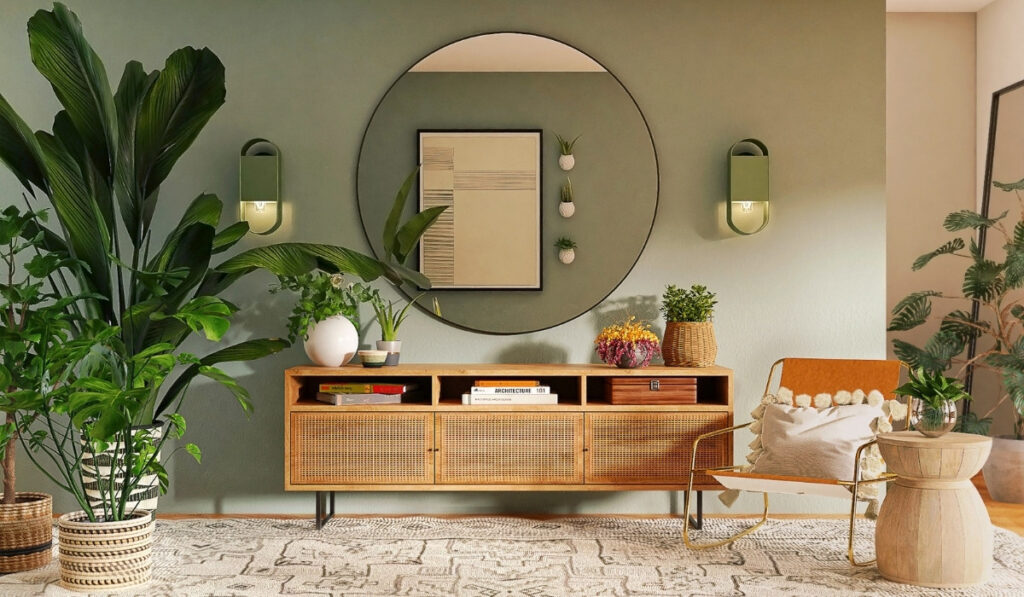 Sustainable Interior Design: Create Your Own Eco-Styled Home
What springs to mind when you hear the words "sustainable interior design"?
Reclaimed wood, minimalist interiors, bamboo furniture, mossy walls?
Sustainable aesthetics, yes, but eco friendly interior design can actually incorporate anything you like.
If simple, uncluttered is your jam, your space fits the minimalist mold.
But if you prefer to decorate it with bold color, an abundance of knick-knacks and sumptuous piles of soft furnishings, you can do that, too.
Sustainable interior design goes beyond looks and layout. It's about the reasons and methods behind each item we bring into our homes and how we treat them after we do.
Our space tells a story and we want it to be a good one.
If you're about to move home or just feeling the need to switch things up, these eco friendly interior design tips will help you spruce up your space the ethical way.
We'll cover some basic eco friendly interior design concepts and simple steps you can take, including how to source value-inspired home decor.
If you're ready to d-eco-rate, grab your mood board and let's dive in.
1. WHAT IS SUSTAINABLE INTERIOR DESIGN?
As conscious consumers, we take the time to consider the impact of our purchases.
Whether it's sustainable clothing and accessories or zero waste beauty products, we look for items that have been consciously created with the people and planet in mind.
What does this mean for sustainable interior design?
Just as we can express our individuality and our values through how we dress, we can also decorate our homes in a way that reflects our values.
Think room foundations like sustainable furniture or the little eco-friendly home decor details, bringing items into our homes which have a low impact is a choice.
Let's look at the main eco-nsiderations.
Sustainable Materials For Interior Design
Choosing sustainable materials for interior design is the most obvious one—and for good reason.
Because materials are directly related to farming, harvesting, and manufacturing methods, they determine the majority of any item's impact.
Wood from endangered forests, for example, isn't a good look for the parlor or planet.
Buying secondhand furniture or pieces made from reclaimed wood and recycled materials, on the other hand, helps us create interiors that are ethical as well as stylish.
Natural materials like wood, bamboo, and cork can add a warm, nature-inspired aesthetic. They're also biodegradable, and provided they've been finished with organic, non-toxic paints and waxes, contribute to a healthy indoor environment.
It's important to choose durable materials that are made to last and can be repurposed, recycled, or upcycled to keep them in use for as long as possible.
Designing For Minimal Waste
A colossal 80% of furniture and furnishing waste ends up in landfills.
Do we really need to buy new, or can we help reduce waste by buying secondhand?
If you've ever been in a thrift store or reuse store, the answer is obvious. There is no shortage of used furniture and decor just waiting for a new lease on life.
Buying less and buying better is something we want to think about when bringing new items into our homes.
Prioritizing secondhand is the best way to "buy better".
When we do choose to buy new, buying better means supporting brands who have consciously created durable, lasting products made of natural, renewable materials that can be easily recycled when they reach the end of their usable life.
Timeless Styles And Spaces
Another way to reduce waste is to design spaces for longevity.
Our tastes change over time as well as our practical needs, so an important sustainable interior design concept is to create spaces that can evolve and adapt with us.
We can do this by choosing:
functional, easy-to-clean, and hard-wearing materials
furniture that can be used for multiple purposes in different rooms
neutral color palettes
open plan living
Try to resist current trends and focus on timeless styles you love and that will last. You can always add smaller trendy accent items that are easier to swap out for quick room updates.
Be Conscious About Social Impact
Ethical manufacturing is another big issue to consider.
Items associated with human rights abuses in the supply chain aren't welcome house guests.
On the flip side, fairtrade textiles handmade by artisans who receive good wages make for feel-good furnishings that we're proud to have on display.
Buying from companies committed to ethical manufacturing and socially responsible business practices is the way forward for ensuring a socially just future.
Energy Efficiency
As well as achieving an ethical aesthetic, sustainable interior design products can help you live more sustainably and reduce your carbon footprint at home.
This includes choosing items like eco-friendly curtains and blinds that maximize natural lighting and provide insulation, energy-efficient lights and appliances that lower our carbon emissions, and water-efficient fixtures like toilets and shower heads.
Your Health And Well-being
Designing a healthy environment is important. Indoor environments that make us sick obviously aren't very sustainable.
Plus, if something isn't good for our own health, it's usually not good for the planet either.
According to the EPA, interior pollution levels are typically 2 to 5 times higher than outside pollution levels.
This is thanks to a higher indoor air concentration of VOCs (volatile organic compounds) found in furniture finishes, paint, waxes, adhesives, and particleboard.
There are plenty of associated health issues arising from indoor air pollution.
From organic rugs to eco friendly cribs, choosing materials with low or no VOC emissions and formaldehyde is an important part of eco friendly interior design.
---
2. REDUCE, REUSE, RECYCLE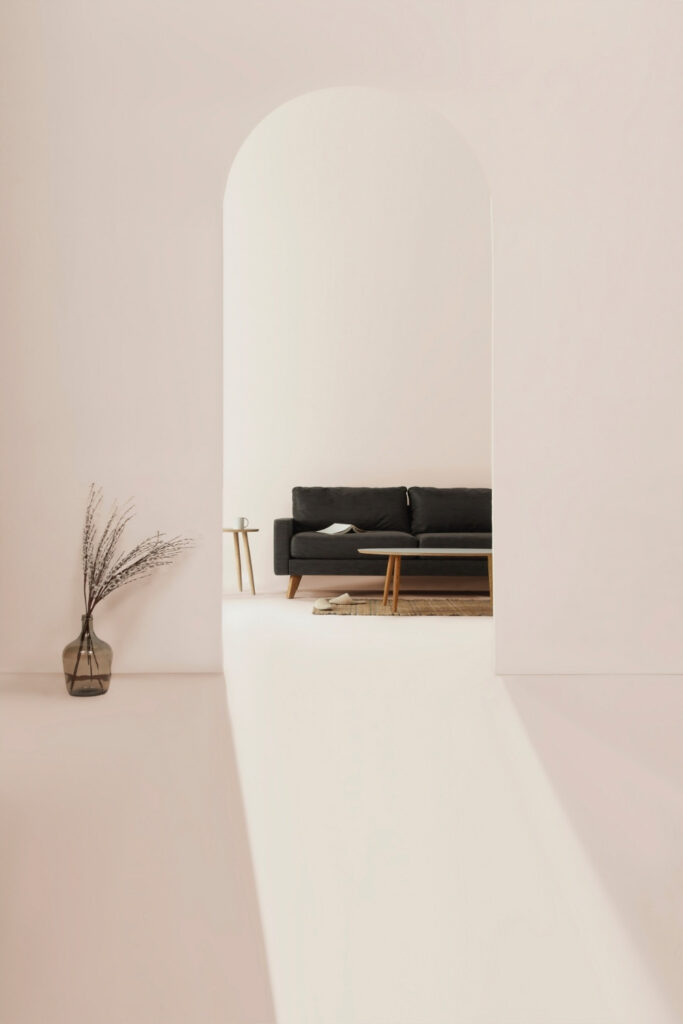 The most sustainable interior design approach is to use what you already have.
Let's embrace the 5 R's of zero and low waste living—refuse, reduce, reuse, recycle, and rot—so we can help keep furniture and furnishings out of landfills for as long as possible.
If that sounds boring, don't worry. It doesn't mean you can't change things up to keep your home feeling fresh and inspiring.
There are lots of easy ways to freshen up a space with existing materials and the simple power of rearranging.
Wondering what to do with old clothes you no longer wear?
Make an upcycle textile collage wall decor or turn old t shirts into new pillow shams.
You can update old pieces of furniture with a fresh coat of paint and new handles, reupholster chairs, and simply swap furniture between rooms.
There are endless ways to get an updated look without having to go out and buy new.
The internet is your friend for ideas about how to upcycle old furniture and other sustainable interior design projects. We've popped a couple of resources at the end of the article.
---
3. BUYING PRELOVED: ECO INTERIOR ACQUISITIONS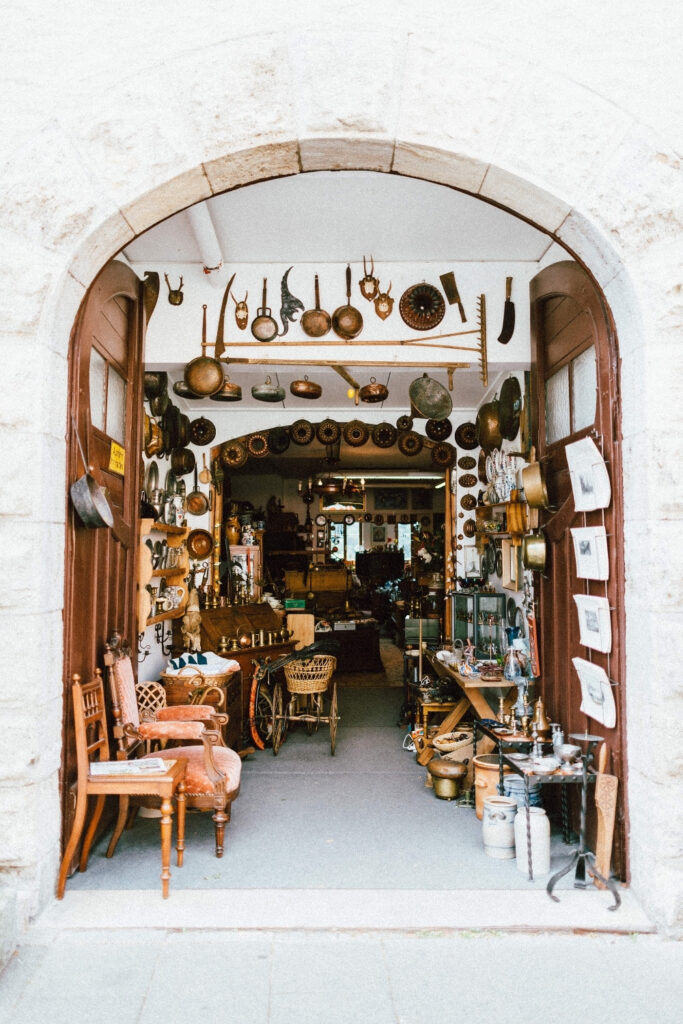 Buying secondhand and vintage clothing is one of the best ways to avoid fast fashion.
The same logic applies to dressing your living space.
It's easy to avoid disposable consumer culture by purchasing secondhand furniture and vintage home decor for our kitchens, living rooms, bedrooms, and offices.
Buying secondhand saves virgin resources and means no new materials need to be mined, cultivated, or processed.
Pre-loved pieces are also generally more durable and repairable (they don't make em' like they used to…)—not to mention more unique than anything you might find at Home Goods.
Raking around your local thrift stores and vintage shops is a fun way to discover new pieces but if you'd rather shop from the comfort of your sustainable sofa, there are plenty of online thrift stores where you can score secondhand and vintage furniture and decor at a steal:
Worldwide:
Etsy is an etsy-llent first port of call for secondhand, vintage, and refurbished furniture. You can find one-of-a-kind pieces while supporting small independent businesses.
eBay old-school, yes, but it remains a great place to hunt for pre-loved goods at stellar bargains (especially on auction listings).
Facebook Marketplace has become one of the most popular places in recent years for buying secondhand goods, connecting you with both local and nonlocal goods.
US:
Kaiyo is an online marketplace that only sells vetted furniture. You can find some high-end pieces at a fraction of their retail prices. The Kaiyo team will also do all of the heavy-lifting including delivering and setting up your new piece.
Chairish is an online marketplace and style emporium. 85% of their inventory is vintage or antique, but you'll find some contemporary pieces too.
Needing no introduction, Craigslist is still one of the easiest platforms to source a huge variety of local secondhand furniture, decor, and household items.
UK:
Selency is an online flea market and community platform with thousands of pre-loved items on offer including vintage and Scandinavian-style pieces.
The Vinterior platform champions independent businesses, bringing together vintage sellers that have been handpicked for their expertise and product range.
Gumtree is a site for free classified ads in the UK. It was around before Facebook Marketplace and is still a popular site for buying and selling used goods locally.
---
4. SUSTAINABLE INTERIOR DESIGN PRODUCTS & BRANDS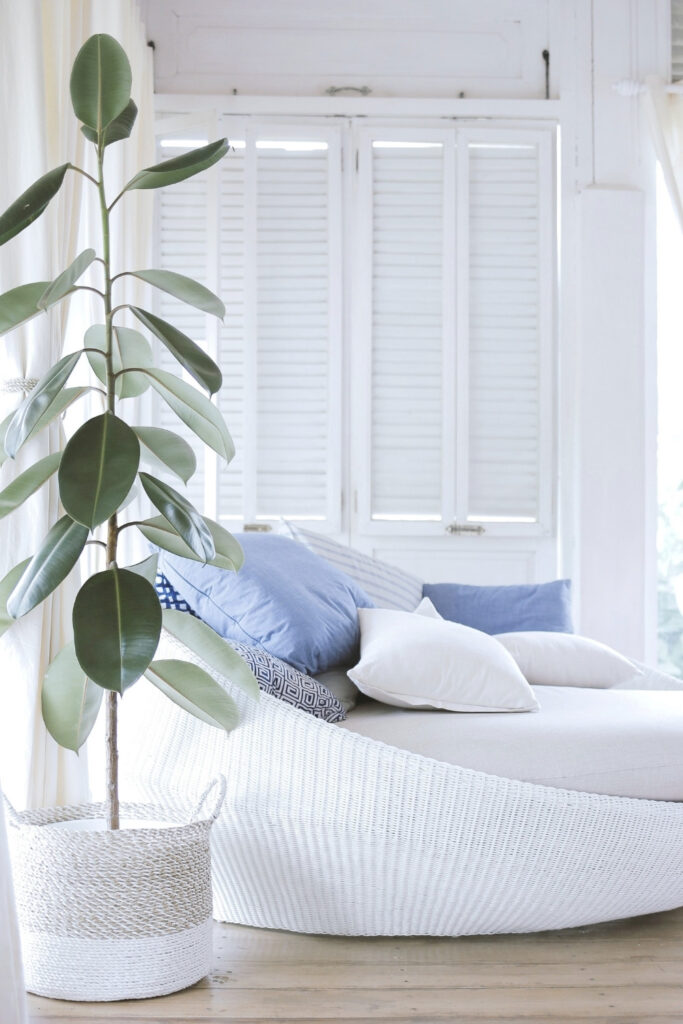 If you're going to buy new, look for ethical furniture and decor brands that put people and the planet first.
Whether it's sustainable bedding or eco friendly bed frames, there are several criteria you can use to make the products you buy match your values.
Materials:
Sustainable materials for interior design are centered around natural, renewable, and recycled materials.
Think reclaimed wood, bamboo, organic cotton, hemp fabric, jute, and ethical wool.
For furniture, wood rules the roost as it's biodegradable. However, we want to make sure that no virgin forests are being destroyed for our eco friendly coffee table or sustainable outdoor furniture.
Reclaimed and recycled wood products are No. 1 in terms of sustainability.
Items made of fast-growing and regenerative plants like bamboo and cork are also a more sustainable choice, followed by certain hardwoods sourced from sustainably managed forests.
Just be sure to look into whether there are any species threats associated with that particular wood.
Zebrawood, for example, is a highly sought-after, beautifully variegated hardwood that is now considered vulnerable after facing a 20% deforestation rate.
We also recommend avoiding particle board and plywood as these aren't as durable, involve the use of toxic adhesives and formaldehyde treatments, and are difficult to recycle.
Other materials we want to show to the door include all types of plastic, whether in the form of hard plastics, foam, or synthetic fabrics.
If your furniture needs some foam cushion, natural and organic latex is ideal for both sofas and sustainable mattresses.
Finishes and glues need to be non-toxic, organic, or low-VOC to avoid indoor air pollution.
Supply chain and labor practices:
Companies that put people before profit are welcome house guests.
We look for brands that make genuine attempts to trace their supply chains and ensure all workers are treated fairly. Ideally, they should have third-party certifications to back up their claims.
Choosing sustainable interior design products also provides us with a chance to support indigenous communities and help keep traditional craft alive.
From eco friendly rugs to sustainable laundry baskets, there are some stunning handmade goods out there.
Using traditional handcrafting methods also typically results in more sustainable practices that often reduces deadstock (unsold product) waste.
Green business practices:
We look for brands going the extra mile with energy and water-efficient practices, carbon offsets, and sustainable packaging.
Community & charitable giving:
This isn't a deal-breaker as some firms are simply too small to manage this, but it does help our interiors glow when brands give back through volunteering, donating money and/or products to worthy causes.
---
5. ENVIRONMENTALLY SUSTAINABLE INTERIOR DESIGN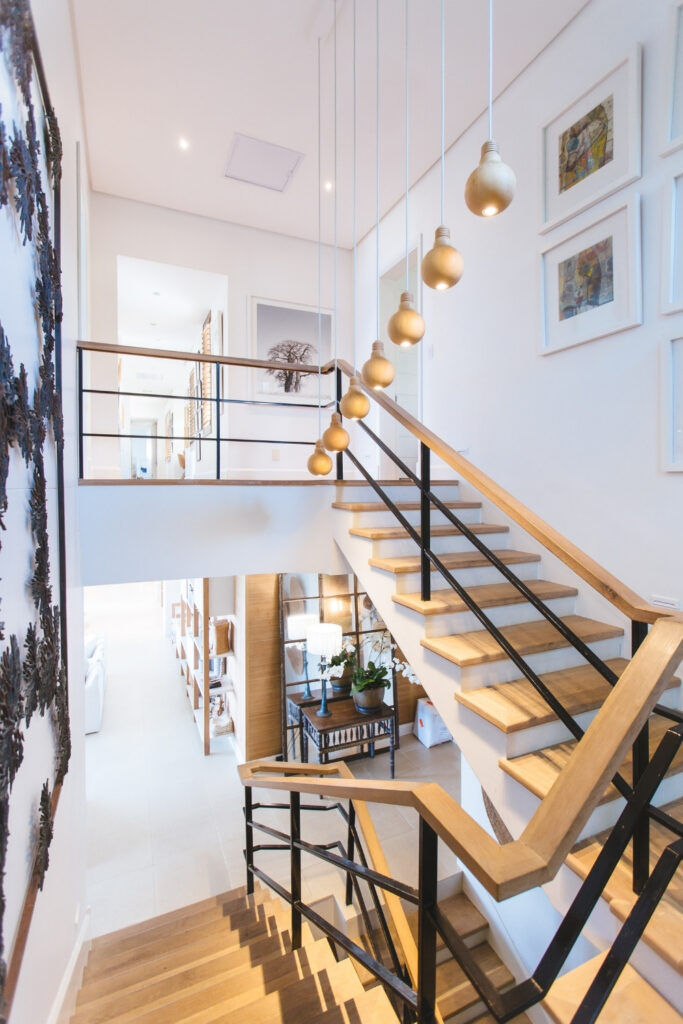 Out of all the eco friendly interior design concepts, reducing energy and water consumption is a biggy.
Choosing resource-saving eco-friendly appliances can drastically reduce your home's energy consumption—not to mention save you money each month.
Water and Energy Efficient Appliances
Choosing energy-efficient appliances like eco kettles is a simple way to lower your energy consumption.
How do you know if appliances are energy efficient?
Look for EPA-approved products that have the ENERGY STAR label.
The EnergyGuide label details an appliance's annual energy consumption and operating costs.
Water-efficient washing machines and dishwashers help conserve this essential resource along with water-saving toilets and shower heads.
Eco Friendly Lighting
Creating a well-lit ambiance that keeps the future of our planet bright is the aim of sustainable lighting.
Maximizing natural lighting is key though. So try to create space that allows the free sunshine to be your main source of lighting.
Beyond that, pay attention to the fixtures themselves and seek eco friendly and recycled materials paired with energy-efficient light bulbs.
LEDs use at least 75% less energy and last up to 25% longer compared to traditional incandescent bulbs.
If you switch all the lightbulbs in your house to LEDs, your annual CO2 emissions could drop by up to 40kg, the equivalent of driving your car about 145 miles.
Thermal Insulation
Thermal insulation boosts energy efficiency by storing heat and lowering heating costs.
Simple, affordable ways to insulate include thermal curtains and blinds, especially since large glass areas—windows and doors—are some of the biggest sources of home heat loss.
Materials that can be used for thermal insulation include cork, a sustainable floor covering that has plenty going for it.
If you're on a budget and wondering what to do with old socks lying around, use them to create door jambs to better insulate your home.
Otherwise, consider investing in insulation in your roof. Admittedly, there's an upfront cost with this one but over time it will pay for itself in the energy cost savings.
---
6. SUSTAINABLE INTERIOR DESIGN IDEAS AND INSPO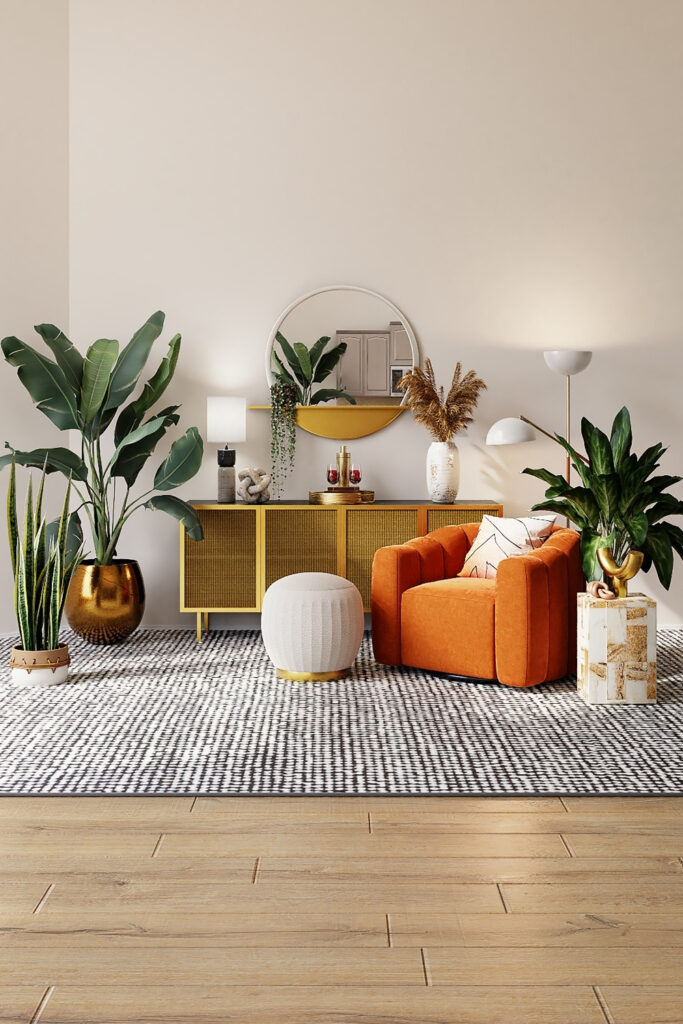 Looking for sustainable interior design examples?
There's a wealth of websites, blogs, Pinterest boards, and Instagram accounts full of eco friendly interior design tips and tricks.
Whether your style is bohemian, eclectic, minimalist, scandi, or vintage-inspired you'll find plenty of inspiration for your own ethically-styled living from eco friendly interior design companies, sustainable home decor brands, upcycled furniture shops, and more.
Here are a few standouts to get you started:
Sustainable Interior Design Blogs & Instagram Accounts:
For English country farmhouse inspo, check out Madelaine Oliver's (@ourcornishcottage) renovation of a Georgian farmhouse in Cornwall using secondhand scores, upcycled pieces, and thrifted vintage.
If an abundance of color and patterns is your jam, BIPOC-owned, sustainable home decor brand Jungalow's (@thejungalow) Instagram feed is full of eclectic bohemian styles for every room.
Lockdown hobby turned full-time job, The Flipped Piece (@theflippedpiece) is a furniture restoration blog and shop run by Shayna Alnwick. You'll find lots of thrifty and creative ideas for upcycling projects, furniture makeovers, and DIY creations.
Sustainable Interior Design Course:
There are a ton of different courses out there but if you're looking for a sustainable interior design course with a difference, have a look at Oliver Heath's industry-leading courses on biophilic design.
Biophilic design is all about creating healthy human spaces by incorporating nature and living processes into indoor environments.
It has a solid foundation in sustainable practices and focuses on the triple bottom line of people, planet, and performance.
If you're interested in exploring ideas for how to bring nature indoors through the use of plants (moss walls, anyone?), natural lighting, natural colors, textures, and materials, this human-centered approach to sustainable interior design might be of interest.
As well as improving your health and well-being, the idea is that by reconnecting you with the natural world, you'll also be more motivated to act in a more sustainable way.
---
FINAL THOUGHTS ON SUSTAINABLE INTERIOR DESIGN
Sustainable interior design is about creating healthy homes and spaces that are both aesthetically and ethically pleasing.
In other words, environments that are good for us and good for the planet.
No need to set style considerations aside.
Whatever your budget, it's possible to create a beautiful home that aligns with your individual taste as well as your values.
Creative repurposing is the name of the game. Whether that's finding ingenious ways to upcycle existing furniture or shopping for the perfect vintage piece to complete your carefully curated collection.
When you do need to buy new, buying from brands that prioritize the same values as you have will help give your room a glow-up to be proud of.
Know someone who loves to style their home?
Forward these eco friendly interior design tips and help spread the word about feel-good furnishing.
---