Are you ready to get sustainably sweaty and swol?!
We love staying fit and active, but like everyone, we hate the use of unsustainable materials and unethical practices in the world of fast fashion. 
So we started searching out ways to stay healthy and keep the earth that way, too. 
We've now found 11 awesome ethical activewear brands that are redefining how we think of ethical fitness. In 'responsible' fitness gear, you'll be extra motivated to hit the gym… if being motivated to hit the gym is actually a thing…
How exciting is that?!  On a scale of one to 80s workout video, it's a solid one! and two! and…
It's time to get moving! Put on your workout playlist and get pumped to learn about the top ethical activewear brands.
QUICK LINKS FOR ETHICAL ACTIVEWEAR CLOTHING BRANDS
And here's more on how we created this list:
About PACT 
A while back, we covered PACT's selection of ethical underwear. This Boulder, CO based company also makes more than just skivvies. They also have a great line of ethical workout clothes which includes leggings, tops, sports bras, hoodies, socks, and more.
With leggings starting at $39 and sports bras at $25, PACT is also an excellent option for affordable ethical activewear without compromising quality or fair business practices.
PACT's Ethical and Sustainability Practices
Materials:

Just about everything is made of

GOTS-certified

organic cotton, though some of their stretchier items (like leggings and sports bras) blend this with a small percentage of elastane for shape retention and durability.
Supply chain & labour practices: 

All PACT factories are Fairtrade and child-labor free. These factories also use conservative water and energy practices.
Inclusivity:

Their products range from XS to XXL but

Pact utilizes models of all shapes and sizes, to show what their products look like on real women. They're actually the founders of the body confidence motto #justwearyou.
Community & charitable giving:

PACT recently started a clothing donation program called

Give Back. Wear Forward.

They accept gently used clothes (of any brand) and give them to non-profits who can use them, both helping those in need and reducing textile waste.
About RubyMoon 
We recently covered this UK not-for-profit business in an article on ethical swimwear. But since RubyMoon makes award-winning versatile GymToSwim wear, we thought we'd also cover the gym side  for those looking for ethical activewear in the UK.
RubyMoon was the first swim & activewear company to use ECONYL, 9+ years ago! Their ethical vegan workout clothes include padded sports bras, crop tops, and leggings. It's "Activewear for Activists!"
RubyMoon's Ethical and Sustainability Practices
Materials:

RubyMoon's

ethical workout clothes are all made with 100% recycled plastics. They come from recycled stretch fabrics they've been donated or ECONYL, made from recycled ocean plastics recovered by HealthySeas.org. Despite their dirty beginnings, this fabric is Oeko-Tex 100 certified and PETA-approved vegan.
Supply chain & labour practices:

They promise everything is manufactured in safe, ethical environments either right in the U.K. or in Spain (which means minimal shipping distance).

All products are distributed through the working mother's support charity,

bagsofsupport.co.uk

.
Guided by the ethos of a circular economy, they are committed to producing as little waste and negative environmental impact as possible. By using recycled fabrics, they have received  certification for producing 42% less carbon emissions. As a registered Community Interest Company, RubyMoon follows 9/17 of the UN's Sustainable Development Goals.
Inclusivity:

Run by an all-female team, Ruby Moon is all about female empowerment and size inclusivity. Their pant sizes run XS-XL and their sports bras are suitable through to a DD cup.
Community & charitable giving:

RubyMoon is a not-for-profit fashion brand, a rare find. This means ALL profits go into loans for female education and entrepreneurial endeavors in developing companies. The goal is to help these women break out of generational cycles of poverty. They have named every garment after a woman they have supported.You can read the stories on their

website

.
About Organic Basics 
We recently covered this sustainable Danish fashion brand in an article on ethical underwear.
This hilariously inspiring Danish company started making men's undies but have since expanded to women's intimates, sleepwear, socks and activewear.
They have any impressive range of sustainability initiatives (worth a read on their website) including making clothing that is actually built to last, a focus on "natural, renewable, recycled, biodegradable and or low-impact textiles only", an impact index where you can get a sense of the true cost of your purchases and they are are a carbon neutral company. 
Organics Basic's Ethical and Sustainability Practices
Materials: Really cool stuff here! To make their garments long-lasting and in need of less frequent washing (washing and drying accounts for 2/3 of clothing's environmental impact), they spin it with real sustainably-sourced silver.
Sounds scary, but this well-tested EPA and Reach Act-compliant and Oeko-Tex 100-certified silver thread is spun in mere trace amounts with USB and GOTS-certified organic cotton to create SilverTech.What's the benefit? Other than the fact that you can say there's silver in your activewear, it's heat-regulating anti-bacterial, and odor-controlling.
Supply chain & labour practices: OB definitely gets the award for workplace transparency. You can check out an exact numerical breakdown (vacation days, hours worked, etc.) for every one of their factories.
They personally visit these factories regularly sit down with workers to ensure job condition satisfaction. Finally, they're BSCI-compliant and a member of Sedex, a non-profit that empowers ethical supply chains.
About Boody
Boody started in 2011 in Sydney, Australia, but they now have  secondary headquarters in San Diego to manage their American branch. What started as an ethical underwear company has now spread to everyday essentials, baby clothing, and activewear so comfortable you can also lounge in it. 
Boody make bodysuits, leggings, shorts, sports bras, tanks, and socks. 
Boody's Ethical and Sustainability Practices
Materials:

All Boody products are made of bamboo fiber viscose, organically grown in China and processed using a closed loop process. This bamboo is certified Oeko-Tex, ECOCERT, and PETA approved vegan.
Note that like pretty much all brands on this list, Boody also uses other synthetic fabrics in their products like nylon and spandex (which are not compostable).
Supply chain & labour practices:

To the best of their abilities, Boody works toward "maximizing positive outputs and minimizing negative ones through the entire supply chain." Their WRAP certification confirms these promises for a fair and humane supply chain.
They're also committed to minimal environmental impact, and hold all their favorites to strict ISO 14001 compliance. Their FSC-certified bamboo is softened via a closed-loop process, meaning the eco-friendly solvents are continuously recycled..
Inclusivity:

Activewear can be a little cost exclusive, but Boody focuses on providing

affordable, ethical activewear

to fit any budget, also offering payment installments.
Plus, with a large range of sizes and the motto "Boody fits who you are, naturally," you know your booty from Boody will fit your bootie (whatever size it may be)!.
Community & charitable giving:

As part of the

1% for the Planet program

, Boody puts a portion of their profits toward fighting malaria in Africa, through the sales of their

Boody Giving Bracelet

. Aside from  money, they donate time and products to various other charities as well.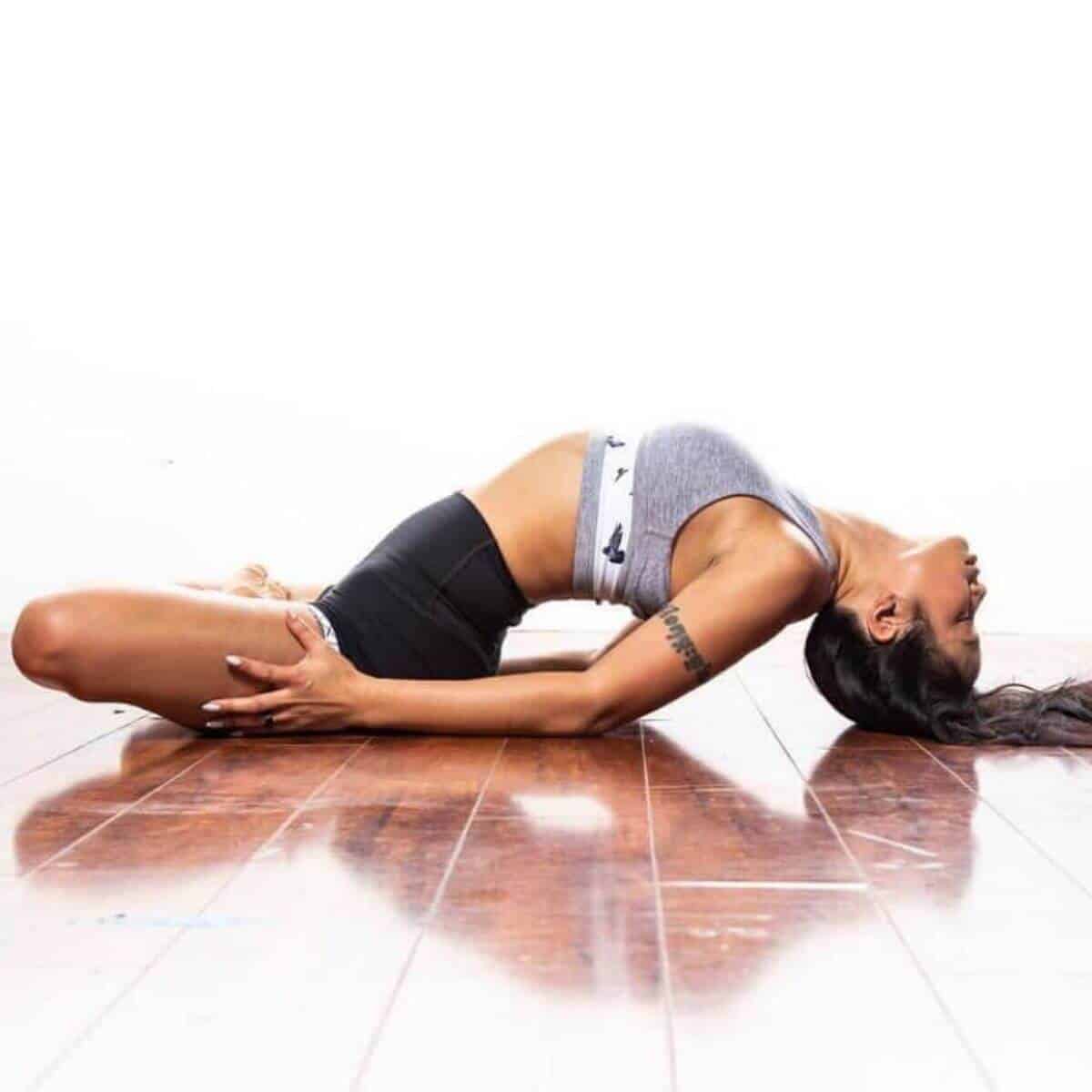 About Yogavated Athletics
Yogavated is a women's ethical activewear brand that has been creating limited edition, one-of-a-kind yoga and athleisure since 2015. And there's more to this matte colored clothing with patterned insets than meets the eye: each of their design lines is made in collaboration with an artist, so it's literally like wearing art in motion. Shop by artist and don't forget to read the motivational mantras that go along with each piece.
Yogavated Athletics' Ethical and Sustainability Practices
Materials:

This company puts a new meaning to recycled fabrics. All their garments are made using deadstock scraps salvaged from USA

big box retail brands. They carefully select  the most high quality, 4-way stretch,and sweat-wicking fabrics available. Everything is then dyed using non-toxic, eco-friendly dyes that are vibrant and will show "no white on stretching."
Supply chain & labour practices:

Fair Trade

-certified Yogavated Athletics makes every single one of their products by hand at their own studio in

Phoenix, AZ. This is after hand-selecting the deadstock fabric scraps themselves too.
They're even on their way to becoming a zero waste company: "We reuse everything possible to reduce our carbon footprint to as little as possible." They even reuse all their  production scraps by turning them into tag strings, headbands, and the like. Read about their approach to sustainability issues and their stance on ethical fashion.
Inclusivity:

Sizes run XS-XL.
Community & charitable giving:

Because all designs are made through artist partnerships, Yogavated Athletics has provided support and drawn attention to  many artists and designers from all over the world.
About Threads 4 Thought
Threads 4 Thought (T4T) has been encouraging people to #wearthoughtfully since 2006. They make women's, children's, and men's ethical activewear from NYC.  Their extensive line includes tees, tanks, sports bras, long-sleeved shirts, sweatshirts, joggers, leggings, and sweatpants. 
T4T's motto is, "Wear the change you want to see." This means "changing the narrative" of the fashion industry and that's a philosophy we can run with.
T4T's Ethical and Sustainability Practices
Materials:

T4T uses three main sustainable fabrics. They are recycled polyester,

Lenzing Modal, and

organic cotton, which is grown using crop rotation methods

. Lenzing Modal is particularly exciting because it comes from a r

enewable beech bark that grows back after harvesting without harming the tree. T4T also reuse 95% of the materials used in production.
Supply chain & labour practices:

They ensure that all their factories have the best working conditions. This is confirmed by a combination of certifications by

Fair Trade

and

Worldwide Responsible Accredited Production

(WRAP). Their main WRAP-certified manufacturer recycles 80% of the water used in production.
Inclusivity:

The majority of T4T clothing ranges from XS to XXL. But, their ReActive line of sports bras and leggings only ranges from XS to XL. 
They're also budget inclusive by not only pricing their affordable ethical workout clothes fairly but letting customers pay in installments.
Community & charitable giving:

T4T partners with the

International Rescue Committee by donating part of their profits towards helping refugees and other in-need communities.
About prAna
A division of major outdoor clothing retailer Columbia Sportswear, prAna started primarily as climbing clothing company but has now expanded to producing more ethical sportswear. 
In addition to climbing clothing, they also make travelware, swimwear, and ethical yoga clothing for both men and women. Their yoga tops with built-in sports bras are unique and fashionable. 
This is also a good place to look for ethical workout gear, namely yoga accessories like mats, blocks, and straps.
prAna knows they have a long way to go, which is why they're all about Progress Not Perfection:
"We're far from the perfect system, but we know a higher standard exists in the fashion and apparel industry, and we strive for that ideal. In the end, we focus on progress and continue to improve with each year."
That said, know that not ALL their products are equally sustainable. When shopping, look for the leaf icon marking sustainable minded products.
prAna's Ethical and Sustainability Practices
Materials:

prAna uses a variety of both natural fibres and recycled synthetics, again in different percentages varying between items. Some yoga tops (and their cozy hoodies) are made of organic cotton. Other yoga tops use recycled polyester and hemp, while their yoga pants blend recycled nylon with Lycra.





For more outdoor specific items, they also use recycled wool and certified traceable down. Be sure to double check the product description of each item to make sure it's a sustainable blend.
Supply chain & labour practices:

Due to large product range and high demand, prAna has too many factories and production partners to detail all their ethics here. But as a

Textile Exchange

member, prAna is meticulous about the t

raceability and Fair Trade practice of its supply chain. Read their full

Transparency in Supply Chain Statement

.
Since 2012, prAna has worked with bluesign®, which double checks all parts of their production line ensuring no harmful substances find their way in. They also work with responsibly managed forests and even brought composting to the town they're headquartered in.
Inclusivity:

prAna sizes range widely from XXS to XXL for women and XS to 3XL for men.
Community & charitable giving:

Every holiday season, prAna gives a percentage of purchases to

Outdoor Outreach

, which connects disenfranchised youth to the outdoors.
They also support their sponsored ambassadors in their own individual outreach projects. For example, pro surfer and prAna ambassador Kelly Pots recently hosted the Maui Surfer Girls Camp to empower young girls..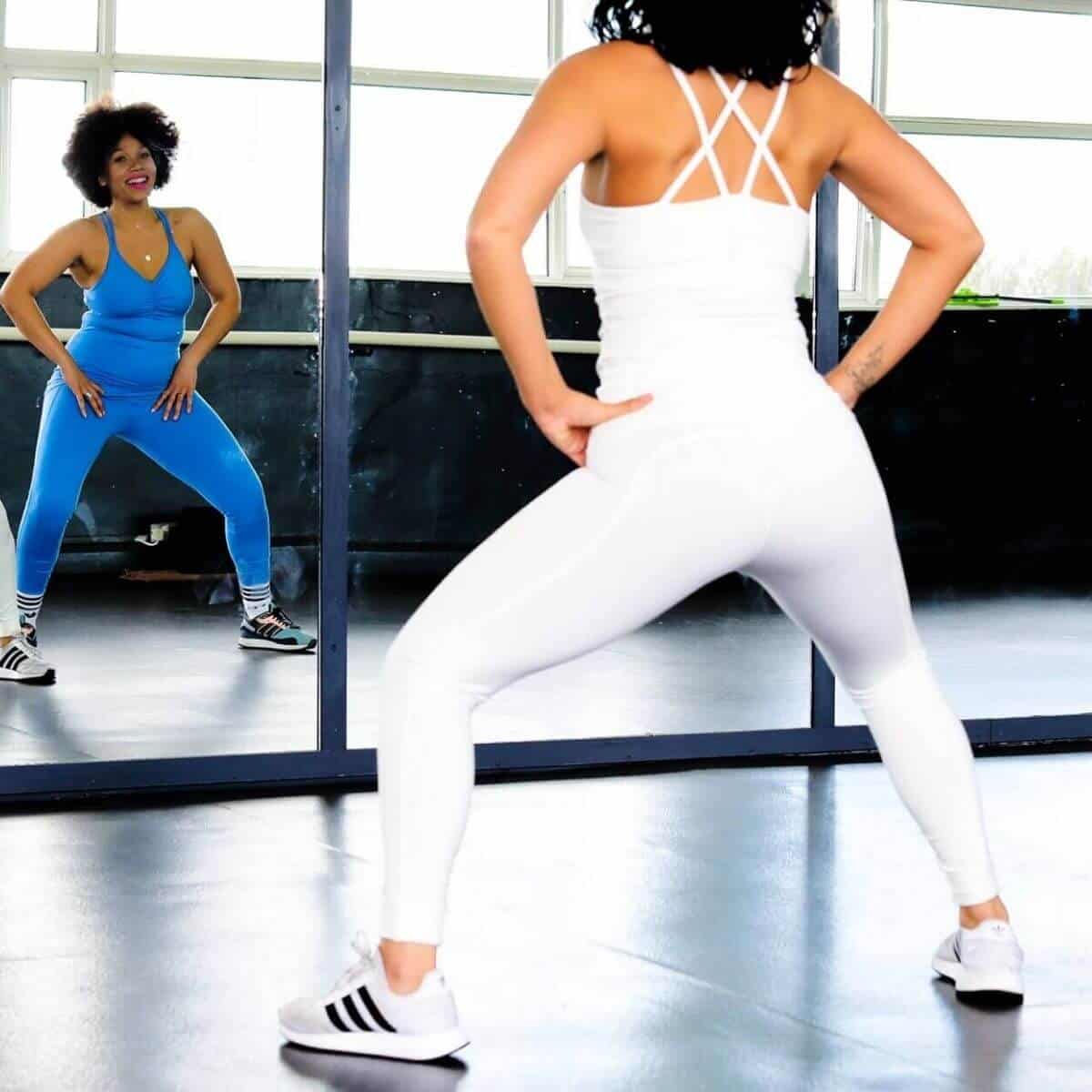 About Asquith
Recycled synthetics are a good alternative to virgin ones, but for those who want all plastic free activewear, check out London's Asquith women's workout wear. All their jumpsuits, bras, vests, tops, leggings, and hoodies, are thoughtfully designed around the motto, "Product. Planet. People. These three things are closest to our hearts."
Asquith's Ethical and Sustainability Practices
Materials:

Asquith's patented

Bambor® fabric is

a unique blend of bamboo viscose (grown in an FSC certified forest in China), organic cotton (grown in Turkey), and a small amount of elastane. While the dyes are not natural, they are totally non-toxic and cruelty-free. Both fabrics and dyes are Oeko-Tex 100 and GOTS-certified.
We are in the process of confirming whether the bamboo processing is performed in a close loop system.
Supply chain & labour practices:

After sourcing the bamboo from China, it gets shipped by sea (they don't ship anything by air) to a Sedex Members Ethic Trade audit approved factory in Turkey for the rest of production.
Most of their 50-member production team has been there between 10 and 25 years. They get paid holidays, weekends off, and flexible working hours.
Inclusivity:

Asquith's sizes range from XS-XXL. They have a

maternity line

and extra supportive, flattering clothes for postpartum bodies looking to get back in shape.
Community & charitable giving:

For every pair of eco friendly leggings sold, Asquith currently donates £2 to

eXXpedition Round the World 2019-2021

. This is an all-female sailing team on a global voyage to fight plastic pollution in the ocean. Their chosen charity changes every month.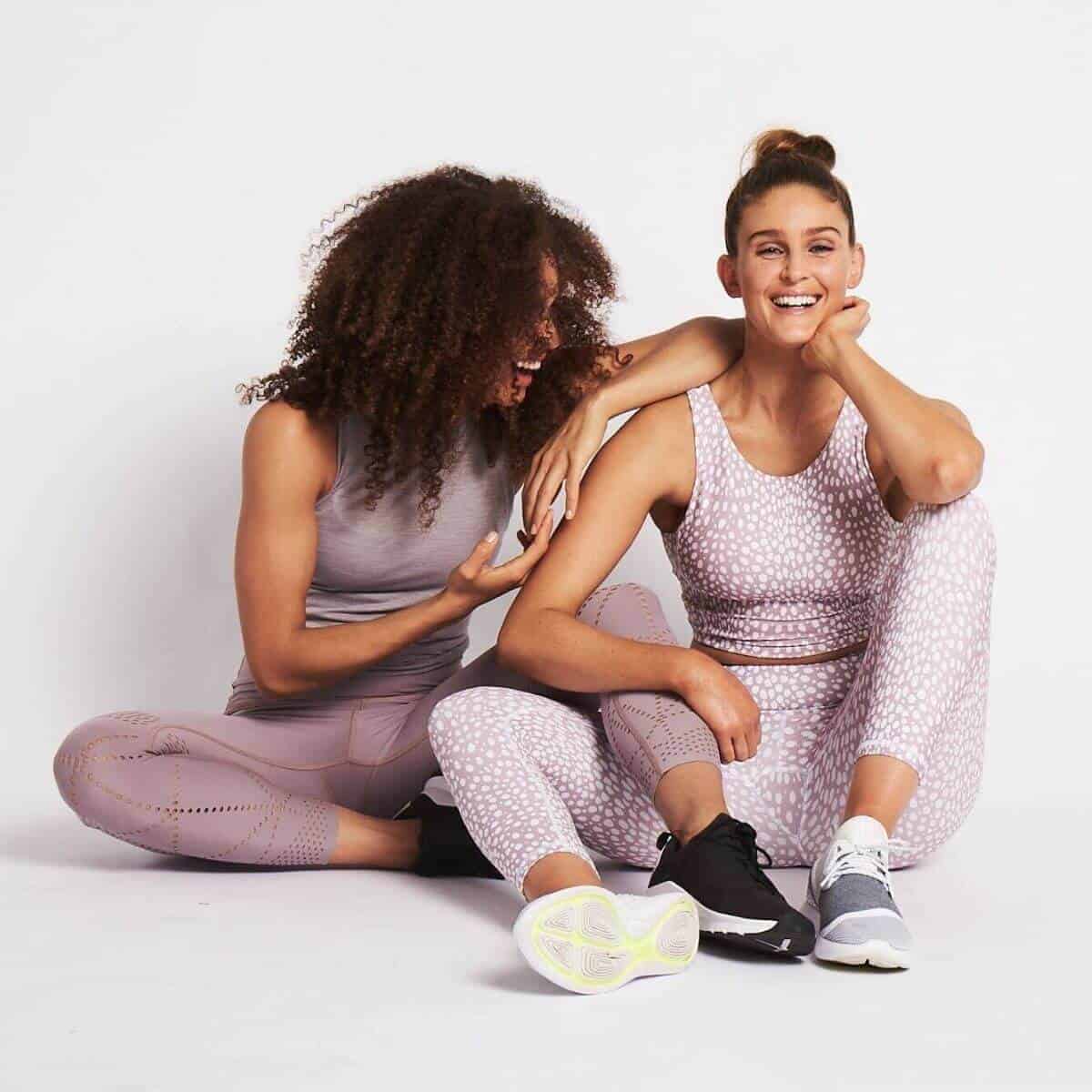 About Nimble
For ladies looking for ethical leggings, look no further than Nimble. They make a huge selection of leggings in all sorts of lengths, high waisted yoga pants, and moisture-wicking ethical tights for running. Plus, they're so stylish you won't even need to change after your workout. 
These eco friendly leggings will be your fitness best friend, just like best friends Katie and Vera who started Nimble. To complete your cozy workout ensemble, check out their crew sweatshirts, sports bras, tops, and even running hip packs.
Nimble's Ethical and Sustainability Practices
Materials:

Post-consumer recycled bottles are used to make both the COMPRESSLITE and MOVELITE series (which are the bulk of their products). One pair of leggings repurposes the equivalent of six bottles, and one sports bra repurposes two.
Supply chain & labour practices:

All Nimble garments are made ethically in Taiwan, with fabrics knitted only 80km away from the main production house. This reduces their transportation impact. Plus, they recently swapped over to compostable cornstarch-based packaging.
Inclusivity:

Nimble doesn't offer a super inclusive range of larger sizes. But they do make a special line of ethical maternity activewear. That features an elastic-free,

comfortably stretchy waist to accommodate that growing bump.
Community & charitable giving:

Nimble is a proud partner of

i = Change

and puts $1 for every purchase toward either; helping women escape situations of domestic violence or to CARE Australia's mission to provide essentials to Syrian refugees. And the choice is yours as the customer! You can even

track the impact

of your decision.
They also cultivate a community of people who love to exercise and help the environment by organizing beach cleanups, hosting a run club, and more.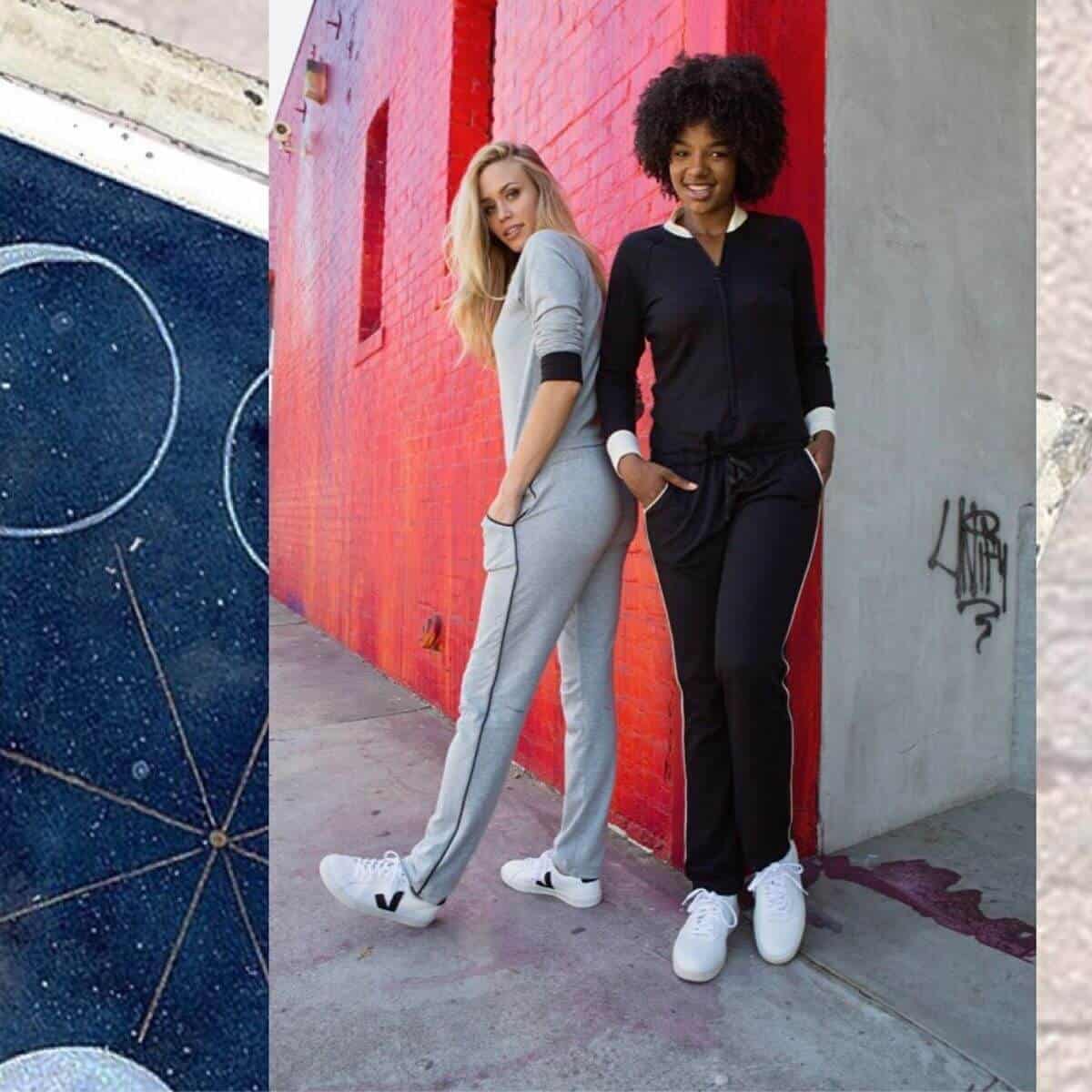 About LA Relaxed
Okay, you caught us. We totally tuned in to this company when Oprah named their jumpsuit one of her favorite things of 2018. Oprah and the cozy look of these jumpsuits aside (which we are TOTALLY on board with bringing back into style), LA Relaxed has some pretty cool things going on.
Aside from their famous jumpsuit, they also make sweatshirts, joggers, leggings, and a wide range of versatile athleisure tops.
LA Relaxed's Ethical and Sustainability Practices
Materials:

LA Relaxed uses only

plant-based fabrics that are known for better temperature regulation.  One common blend is non-GMO organic cotton with UV-resistant hemp. You'll also find linen, Tencel Lyocell, Tencel Modal and hemp among their fabrics.
Supply chain & labour practices:

Most of the LA Relaxed supply chain is located in the US.  Everything is also designed and manufactured domestically. With a few exceptions (such as their Austrian sourced Tencel Modal), they knit almost every fiber in Los Angeles. 
They're passionate about using local vendors to both create jobs, minimize their carbon footprint, and best utilize the renewable energy and materials at their disposal with as little waste as possible.  In fact, they keep a live impact counter on their website and at the time of writing, their production methods have saved 22,369 days of bulb electricity, 64,055 miles of driving emissions, and 2,287,718 days of drinking water.
And of course, they treat their employees fairly: "We strive to treat everyone from customers to employees with care and kindness."
Inclusivity:

All LA Relaxed activewear is sized

XS – XL and the famous jumpsuits are available in XXL
Community & charitable giving:

In partnership with

Safe Place for Youth

in Venice, CA, they donate clothing to homeless youth in need.  They also help raise awareness and organize initiatives to support this organization that provides meals, housing, education, health resources, and employment to youth in need.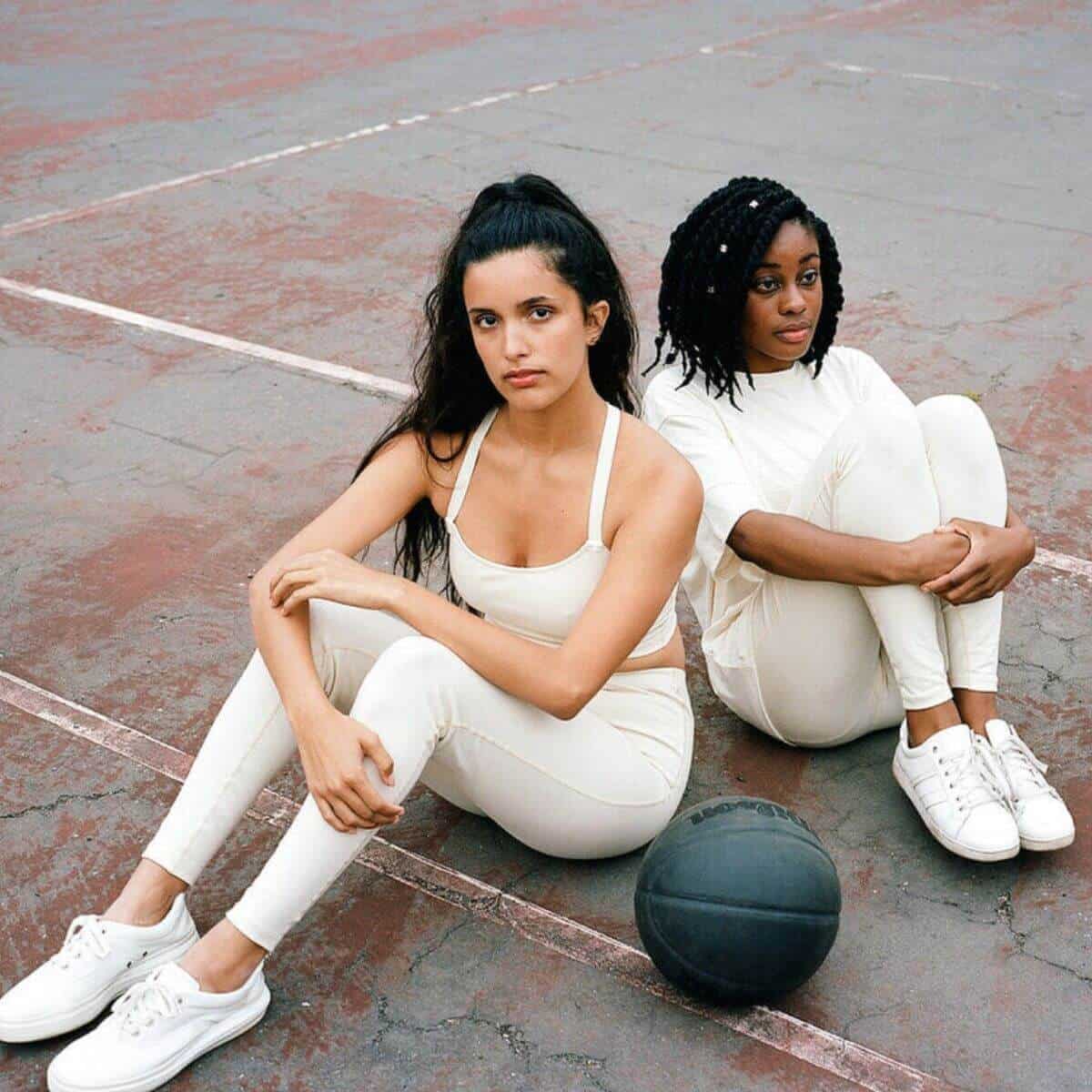 About Pansy
Pansy is  primarily an underwear company that  started in 2013 with a simple car ride where founders Laura Schoorl and Rachel Corry had a lengthy discussion about the perfect underwear. Their line of organic cotton undies was born. 
They quickly added their ethical athleticwear which, you can "feel good wearing," on more levels than one. This includes a minimalist lineup of the essentials: sport bras, leggings, and shorts.
Pansy's Ethical and Sustainability Practices
Materials:

All items are made of 90% organic cotton blended with 10% Spandex made of recycled PET plastic bottles.
Supply chain & labour practices:

Every part of the Pansy supply chain is domestically achieved in the USA. First, the cotton is grown in Texas, then milled in North Carolina before coming back to their home state of California for dying, sewing, and shipping.
Inclusivity:

Pansy demonstrate their size and shape inclusive activewear clearly by having a diverse range of models sporting each product on their website.
WHAT TO LOOK FOR IN ETHICAL ACTIVEWEAR CLOTHING
First, we look at the fabric. When it comes to the sustainability of our fabrics, we need to start sweating the small stuff (seriously, have you heard the news about microplastics?). The best fitness-ready materials are either natural compostable fibres or those that avoid virgin petroleum-based fibers (like polyester, nylon, and spandex).  These fabrics should also be grown safely and ethically without the use of chemicals, and should be vegan friendly.
Second, we look at corporate responsibility throughout the production process and business operations. This includes:
Supply chain & labour practices:  

Transparency is so important! We love companies that not only hold ethical business certifications but tell us exactly why they deserve them. This also encompasses sustainable business practices: carbon reduction/offsetting, implementing renewable energy in manufacturing, and using low waste packaging.
Inclusivity:

Companies should offer a wide range of sizes, promote diversity, and cultivate a positive body image.
Charitable endeavors:

Hopefully, companies use their profits and privileges to give back a little bit. This can be through donating money to social or environmental causes, organizing community events, or even just promoting awareness about pressing issues.
SUSTAINABLE FABRICS FOR ETHICAL ACTIVEWEAR
Nothing says "ethical fitness" like a consciously chosen fabric. Rather than choosing virgin synthetics and inorganically grown biological fibers, we look for the following sustainable fabrics.
TENCEL (Lyocell/Modal):

There are

two types of TENCEL

, both biodegradable / compostable fabrics. Both Lyocell and Modal are derived from renewable raw material wood and turned into fibres through an entirely closed-loop,solvent-spinning process, which recycles process water and reuses the solvent at a recovery rate of more than 99%. The fibres are 100% compostable (provided they have not been combined with a synthetic non-compostable material).
Organic cotton:

Cotton

grown without chemicals

is better for everyone involved, including you as the wearer! Organic cotton is more ethical as well because it is grown in safe and hygienic conditions with fair pay.  Cotton absorbs and holds moisture, rather than wicking it away like synthetics, so it is rare to see organic cotton as an activewear fabric on its own.
Organic Hemp:

Hemp is another biological plant-based fiber that's great for activewear due to its ability to temperature regulate. Growing it

requires little water and no pesticides

, and it's one of the easiest fibers to spin into thread sustainably.
Organic Linen:

Same as hemp but sourced from the flax plant.
Bamboo:

Made from the fiber of one of the fastest renewing plants on earth. Bamboo requires only natural rainfall to grow, can be harvested without killing the whole plant, and consumes more carbon dioxide than hardwood trees. It's an ideal activewear fabric because it's soft, antimicrobial, breathable, moisture-wicking, and durable.
However, how the bamboo was made matters as the processing of bamboo fibre into silky fabric (rayon) often uses harmful chemicals. To avoid this, a closed loop process should be used where these checmicals are instead re-used over and over again instead of thrown out into waterways – this can be difficult to verify so bamboo fabric is one to be careful of.
Recycled synthetics:

Made from either recycled fabrics or other plastic waste, such as disposable bottles. While you won't be able to proclaim you wear plastic free gym clothes, recycled synthetics are far superior to virgin petroleum fibers. For one, they reduce demand for more oil and put plastic waste to good use. Recycled nylon

reduces the global warming impact by 80%

compared with material made from oil
CERTIFICATIONS FOR SUSTAINABLE AND ETHICAL WORKOUT CLOTHES
The best defense against greenwashing, third party certifications help us know that a company's sustainability claims are more than just a call for attention. Like those guys at your gym who grunt excessively and throw their weights around… no one likes those.
We want to know a company is really pumping all the iron they say they are.
FINAL THOUGHTS ON ETHICALLY SUSTAINABLE ACTIVEWEAR
Are you feeling the burn? With all these exciting ethical activewear brands to choose from, we sure are. 
So go on! Get active knowing that your clothing choices aren't just helping you go fast; they're helping fashion go slow.
In trying to reduce our impact by keeping a minimalist closet, we obviously haven't tried them all personally. That's where you come in! Let us know if you have experience with any of these sustainable workout clothes. We'd love to hear your thoughts, your secret to those killer abs, or just your favorite post-workout smoothie recipe!
Other articles you might like …