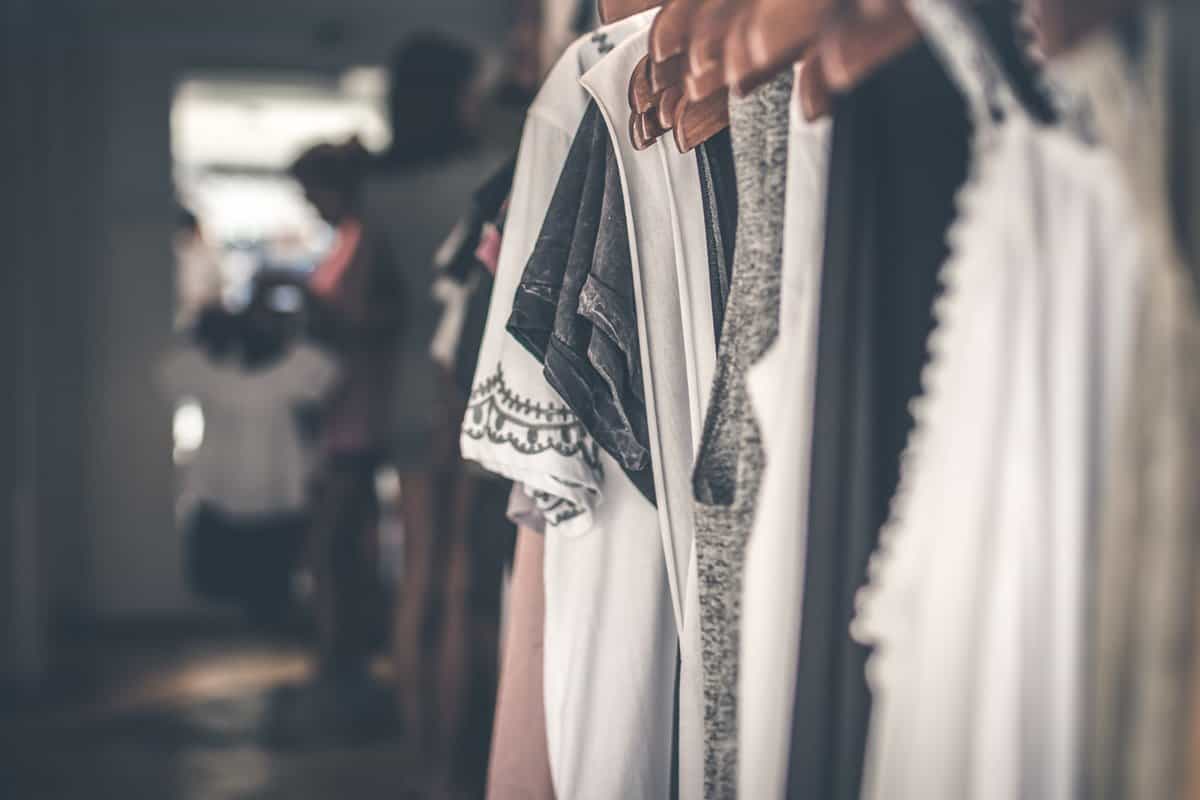 Thirfting is near the closest zero waste fashion hack you can get.
And if you're reading this article that's probably old news for you.
But if you do want to read more on why the fashion industry is a dirty business and a quick refresh of what Ethical Fashion consumption looks like, jump to the end of this article! 
ONLINE THRIFT STORES – ZERO WASTE FASHIONISTA'S FRIEND​
All the problems of the fashion industry become most unsettling for those attempting to live a zero waste lifestyle.
If this is your first walk down the Sustainable Jungle catwalk to zero waste, we'll start by reminding you that zero waste is a lifestyle guided by the ethos that asks us to reimagine how we view a product's end of life.
Instead of landfills and incinerators, zero waste aims to either reuse or compost. 
Aside from limited styles and sizes to suit your specific needs, buying used won't give the freedom to stick to any sustainable fabric criteria. For us, this means organic, vegan, naturally dyed, Fairtrade, and sustainably sourced and made.
However, thrift stores, consignment stores, or op shops DO help keep 300,000 tons of fabric from the landfill each year. 
The truth is, while not perfect, thrifting is one of the best solutions to fast fashion we have at the moment.   If every person in the world substituted just one new clothing purchase with a used one, we could collectively prevent 6 billion pounds of carbon emissions.
Thrifting is a great (and somewhat adventurous) way to get everything you need.  Well… most of it.  For the more intimate things you probably don't want to get second hand – see our article on ethical underwear here if you need a new pair of ethically comfy undies.
Old school thrifting, however, can be challenging, despite how effortless Macklemore made it sound.  
Aside from time-consuming, finding quality stuff that you want or need can be a bit like searching for a needle in a very eclectic haystack.  
To make things easier, we've compiled a list of some of the best online thrift stores that help you find beautiful pre-loved clothes much faster from the comfort of your home.
QUICK LINKS FOR BEST ONLINE THRIFT STORES
About Patagonia Worn Wear
An online thrift store for the adventurers, Worn Wear is outdoor clothing brand Patagonia's division of secondhand clothing. 
They sell all manner of gently used men, women, and children's clothes, as well as adventure gear at slashed prices.
Before we get to that further, allow us go on a tiny tangent about Patagonia, a company currently occupying the position of cutting edge of sustainable "big brand" fashion companies.  
Their dedication to corporate responsibly happily reminds us that some (albeit far fewer) brands do put their money where their mouth is.
Patagonia CEO (as well as founder of the 1% for the Planet program) Yvon Chouinard writes in his business memoir Let My People Go Surfing (an excellent read, by the way, even for the non business-savvy):
"Patagonia will never be completely socially responsible.  It will never make a totally sustainable non-damaging product.  But it is committed to trying."
From their innovative anti-growth business model to their mostly organic-cotton and recycled polyester fabric choices, Patagonia does its best to design a succinct line of staple, classic pieces that last not only in quality, but never goes out of style.  
With their Ironclad Guarantee, they will repair any item of Patagonia clothing sent to them indefinitely, no matter how old.
If it can't be repaired, they'll recycle it for you.
Or if you just want to trade up and get rid of your Patagonia items you don't wear, you can send it to Worn Wear in exchange for store credit to use on new or used items.  
Watch a short, fun video on the Worn Wear process here.
Why Worn Wear Is One of the Best Thrifting Stores
Aside from the killer steals you'll find on gently used Patagonia goods, they maintain a high level of quality control.
If you send in worn or torn articles, they'll fix it and clean for you before selling on Worn Wear.
While the site doesn't allow you to search by specific model (say you're in the market specifically for Synchilla Snap-T), you can filter by general product category. Plus, then it mimics the exploratory nature of traditional thrifting, which is half the fun of it all.
With a balance of affordability, a wide product selection, and the knowledge that you're supporting a company that cares, Patagonia's Worn Wear is pretty Patagucci from any perspective.
Budget: $
Shop Here:  Patagonia Worn Wear (only currently available in the US)
About Poshmark
Poshmark is peer-to-peer thrifting website with an even more popular iPhone/android app that makes buying and selling used clothes as simple as raiding from your older sister's closet.  
Definitely geared toward the more modern side (with a few gem retro pieces here and there), Poshmark boasts over 25 million items across well over 5,000 brands. 
For selection, Poshmark is a winner. They have everything from Prada down to Forever 21 (which, funnily enough, doesn't tend to sell well).
Poshmark also encourages bargaining.  It's true some Poshers (as sellers are called) put some pretty optimistic prices on their items, the platform encourages haggling and makes it very easy with their "offer/counter-offer" feature.  
You can also "like" items if you want to be notified about any price jobs.  You can even score extra deals by bundling several items form the same seller for discounts.  It's the basement bargain hunter's dream… and can it all be done from your basement!
Once you buy, you'll pay shipping fee included (which the seller can discount out of their profit to incentivize sales).  
If an item of yours sells, just print the prepaid label and pop it in the mail, of course being conscious about your shipping materials! 
Why Poshmark is One of the Best Thrift Stores
Poshmark's app is the core of its ease.  Just snap a picture, post, and profit!  
For a seller looking to maximize profit, Poshmark is THE best.  
Generally, depending on the brand, sellers can fetch good prices for their wares, often times upward of 50% MSRP.  The downside is the somewhat hefty 25% that Poshmark retains of each sale.  While on par with (and even better than) many traditional consignment shops, it's higher than some selling sites.
From a buyer's perspective, you can search for exactly what you want.  Looking for a Synchilla Snap T that Patagonia's Worn Wear didn't have?  Just type that into the search and have mind boggled with the number of options.  
For breadth of selection and great prices, Poshmark is understandably so popular.
Having started in the U.S., it's definitely gained the most ground there, but divisions have started for both the U.K. and A.U. 
 The Australia page currently only has a literal handful of things so we might need to be a little patient until more of the world becomes Poshers.
Budget: $-$$
Shop Here: Poshmark (U.S.)    Poshmark (U.K.)     Poshmark (A.U.)
About ThredUP
ThredUP is an online consignment store that deals in "Secondhand Clothes, Firsthand Fun".  
This San Francisco- based company launched in 2009 originally as a men's shirt swap company, though they now deal only in women's and children's clothing.  
They have over 2 million items across 35,000 brands "from Gap to Gucci".  
They probably aren't the go-to source for unique boutique vintage finds, but offers a little bit of everything else. Purchasing works like other sites, but their selling process is pretty cool.  
Unlike other sites, where you have to list everything separately, all you have to do for ThredUP is order a Clean Out Kit.  They send a giant polka dot bag for you to fill with your clothes on their accepted brands list and ship back to them for free.  
Upon receipt, they professionally photograph the items on mannequins so you can actually see how it fits when shopping. Once they sell, you earn money you can either cash out or keep as store credit. Anything not accepted will either be returned to you or be responsibly recycled.
If you don't care about turning a profit, you can also order a Donation Kit.  
The same process applies but instead of giving you a percentage of the sale earnings, they donate $5 to any charity of your choice.
Why ThredUP is One of the Best Thrift Stores 
Thred Up's bulk selling bag makes them the single best no-mess spring cleaning partner out there.
Plus, they're as thred up with fast fashion as we are!  In fact, they want to completely reframe second-hand shopping into a shopper's first choice.  When you see that they've helped resell over 65 million items, you can't help but be a little hopeful that they're succeeding.
They also support sustainable fashion movement, individuals, and organizations with their Circular Fashion Fund, a 501(c)3 non-profit  status pending organization.
In efforts to encourage thrift selling, they created UPcycle, which allows you to spend your ThredUP credit at other sustainable retailers.  Right now, only Cuyana and Reformation are partners with plans for more joiners soon.
Budget: $-$$
Shop Here: ThredUP (available in the U.S. and Canada)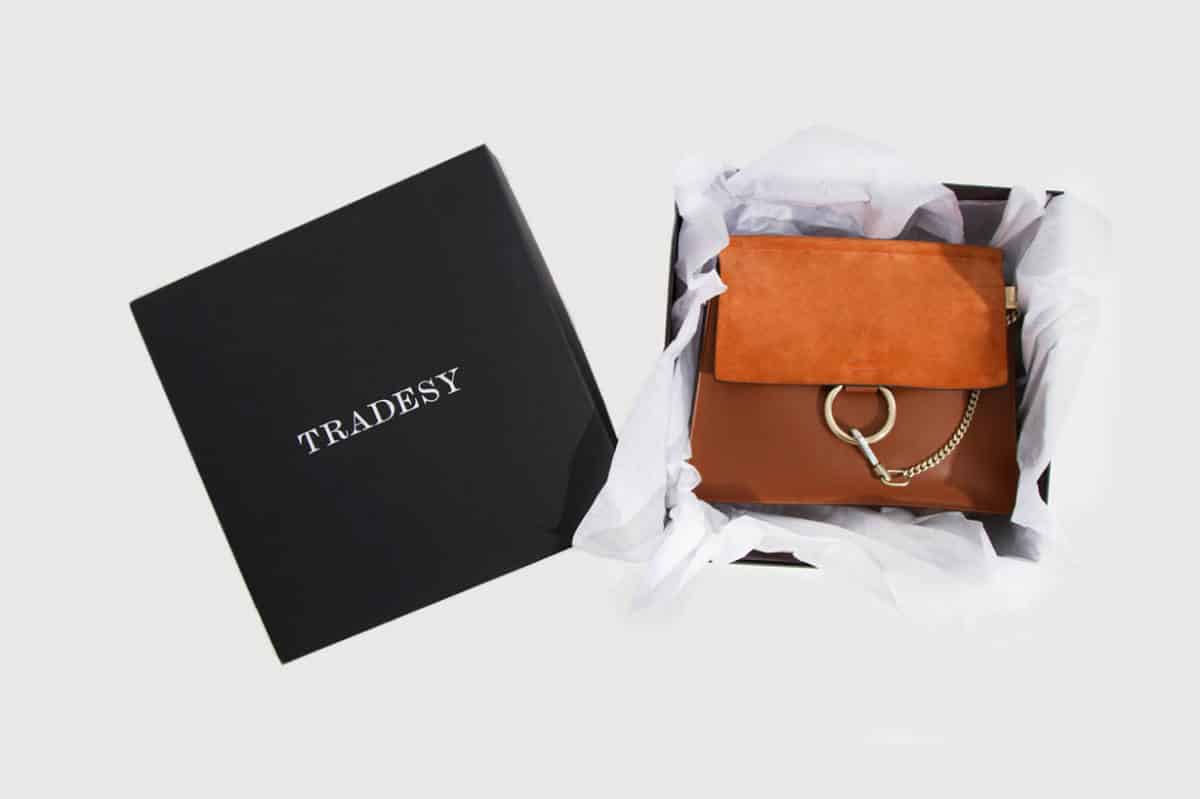 About Tradesy
Another website/app tag team, Tradesy is geared toward straight up designer brands specifically for women.
Because everything is a little higher end (with brands like Zara on the lower end of the spectrum), expect to pay a bit more on this site.
Still, there's no better place to find killer steals on these expensive pieces.
Because knock-offs start to become a real concern once you get into these labels, Tradesey also offers a 100% Authenticity promise.  If an item you buy is misrepresented in any way, they refund you entirely
For sellers, take pictures of any bags, clothes, accessories, and even shoes, and send them in.  You can even sell wedding attire here!  
The Tradesy Team will enhance the photos and post them on the site.  Once an item sells, they send a pre-addressed and prepaid shipping kit.
Why Tradesy is One of the Best Thrift Stores
Tradesy is not only the best online thrift store for modern designer clothes, but they also try to customize to your own personal taste.  
With the option to create your own "style feed", you receive suggestions based on style and previous search or purchase history.  
It takes a lot of the work out of sifting through endless pages!
Plus, a core part of Tradesy's vision is sustainable consumption.  They believe in simplifying your wardrobe, paying a little more for one really nice thing you'll treasure. In their words: 
"When it's as easy to sell as it is to buy, the massive abundance and value hidden in our closets will be revealed, and our very concept of ownership will be transformed. Our belongings will evolve as dynamically as we do when every product has five lives instead of one."
Budget: $$$
Shop Here: Tradesy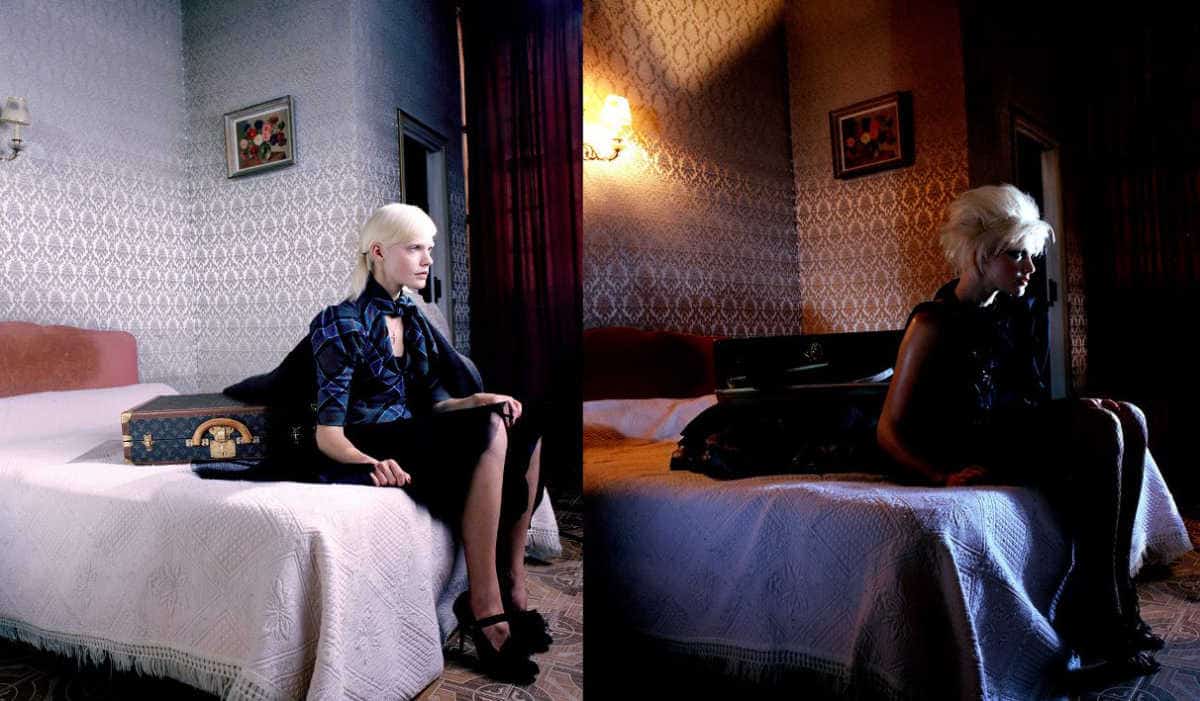 About Refashioner
This 2009-born company focuses on high quality genuine vintage articles all the way back to the 1920s and onward!  
While some of their designer vintage pieces (like those from Miu Miu and Fendi) are understandably a bit pricier, many of their vintage items are perfectly reasonable for the market.
Not only are the pieces really vintage (as opposed to that H&M "vintage" sweater), but they provide the story behind each piece, such as a fascinating tidbit about something that happened in it or a favorite memory from the person who once wore it.
Why Refashioner is One of the Best Thrift Stores
Refashioner is a complete fashion refresher.
They're one of the only online thrift stores out there dedicated to keeping vintage alive and well.
With their meticulous quality control, you simply won't get genuine vintage deals in one sweet spot like you will here.
They are also passionate about fighting the unethical sourcing of the industry and preserving the now-dying nature of vintage:  
They write about the current state of fashion, "We're creating the end of vintage: Nothing new is worth keeping (or will last) for 25 years)." 
Budget: $$$
Shop Here: ReFashioner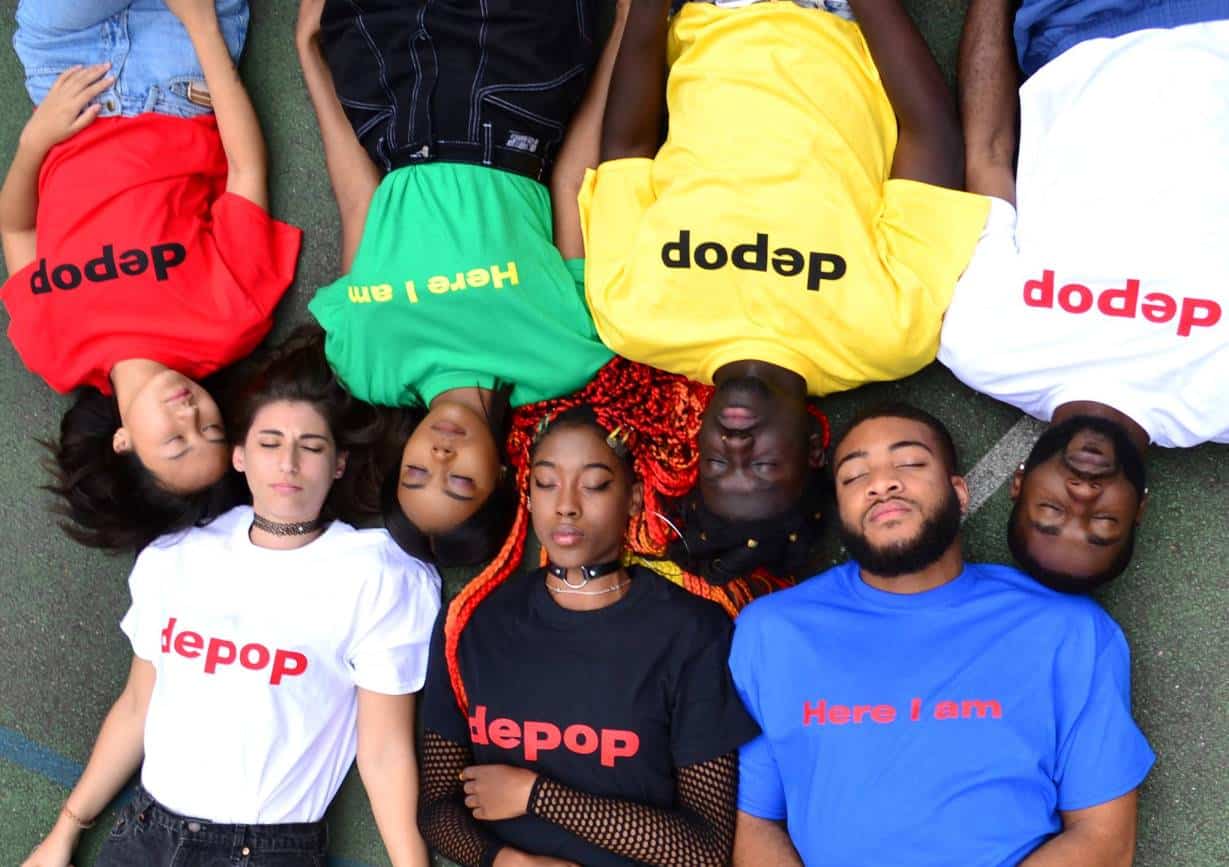 About Depop
To dip into the stranger side of online thrift shopping, next up is Depop.  Depop is "the creative community's mobile marketplace".  
Their website and app functions as a strange crossbreed between a social media platform and a global marketplace.  Wait… what?  
Basically, Depop functions like any other Poshmark-like selling app, except that it looks exactly like an Instagram feed!  Go check it out.
Like its platform, the overall aesthetic and clothing that finds itself there is definitely on the edgier side.  Some of it is downright bizarre… perfect for creatives out there! 
London-based (with offices in new York City and Milan), Depop was founded by Simon Beckerman, co-founder of PIG Magazine and RETROSUPERFUTURE sunglasses.
Depop evolved from being an offshoot of PIG Magazine where readers could purchase things seen in the 'zine.
Why Depop is One of the Best Online Thrifting Stores
Depop may not be for everyone, but for those who want to go bold and really express themselves, there's no better op shop.
Not only are the items unique, the photographs and staging are nothing if not fun to browse through. Just like Instagram!
In true social media fashion, the site is as much about actually selling and buying the items as it is broadcasting what you've bought and sold.  
It is a "global conduit of connection" not just for clothing, but for creativity, an essence that lies at the core of the company.  We love this focus on creativity, because, really, isn't that what fashion is all about.
Budget: $-$$
Shop Here: Depop (available in the U.S. and U.K.)
About ASOS Marketplace
This London-based online thrift store is an offshoot of the already popular and trendy fashion site, ASOS.  
While ASOS itself keeps pace with the quick trends of fast fashion, it's known for it quality craftsmanship (and somewhat loftier prices to match).
ASOS Marketplace, however, deals specifically in vintage clothes for both women and men.  
It's not just a run-of-the-mill seller site, either; ASOS Marketplace is essentially a meeting and posting ground of independent designers, vintage boutiques, and consignment and thrift shops.  
You can't sell there as an individual cleaning out their closet, as with other sites, but if you happen actually have a vintage thrift business, you can sign up to become a selling boutique.
Why ASOS Marketplace Is One of the Best Online Thrifting Stores
ASOS Marketplace offers unique, genuine vintage items that allow you to capture the chic and effortless look of high London fashion without ever leaving the comfort of your PJs.    
Plus, everything on the site is modeled by real women, with a whole range of diverse sizes and body types.  
We love to see inclusivity in an industry so traditionally non-exclusive.       
Budget: $-$$
Shop Here: ASOS Marketplace (available in the U.S. and U.K.)
About Etsy
A global peer-to-peer marketplace, Etsy is most known for huge assortment of handcrafted items from jewelry to beauty products and literally everything in between.
Well, little known to many so that in between lays a pretty good selection of vintage and used clothes.
Individuals can, of course, list their own clothing if they have a shop.  That really cute dress your mom passed on to you from the 60s but just doesn't fit?  List it!
More than that, Etsy is actually a go-to platform for independent thrift businesses and boutiques.  So while you may never get to visit the legendary Brooklyn thrift Vaux Vintage, you can shop in their Etsy store.
Why Etsy is One of the Best Thrift Stores
Etsy is obviously fantastic for lots of reasons; we get a lot of daily products there!  
In terms of fashion, however, it's great because the quirky "small business" nature of the platform actually maintains the fun of hands-on thrifting…. without all the headaches.  
Most clothing items you'll find here are unique and one-of-a-kind, not one of a thousand of the same jacket model being sold, too.
Because reviews are taken seriously and given freely on Etsy, you also have some assurance about the veracity and integrity of the seller.  Other peer-to-peer sites have no real detailed review process.  As a buyer, you often have no idea if the seller's definition of "like new" is going to means five holes.  
With Etsy, however, you can even look back on reviews from other items in their shop to see what sort of seller you're dealing with.
Also, not every country has as an advanced online thrift store landscape as the US and UK but Etsy is Global so you should be able to find local sellers in your area.
This helps you to both support local and reduce shipping emissions – Etsy now offsets 100% of their shipping emissions.
Budget: $-$$
Shop Here: Etsy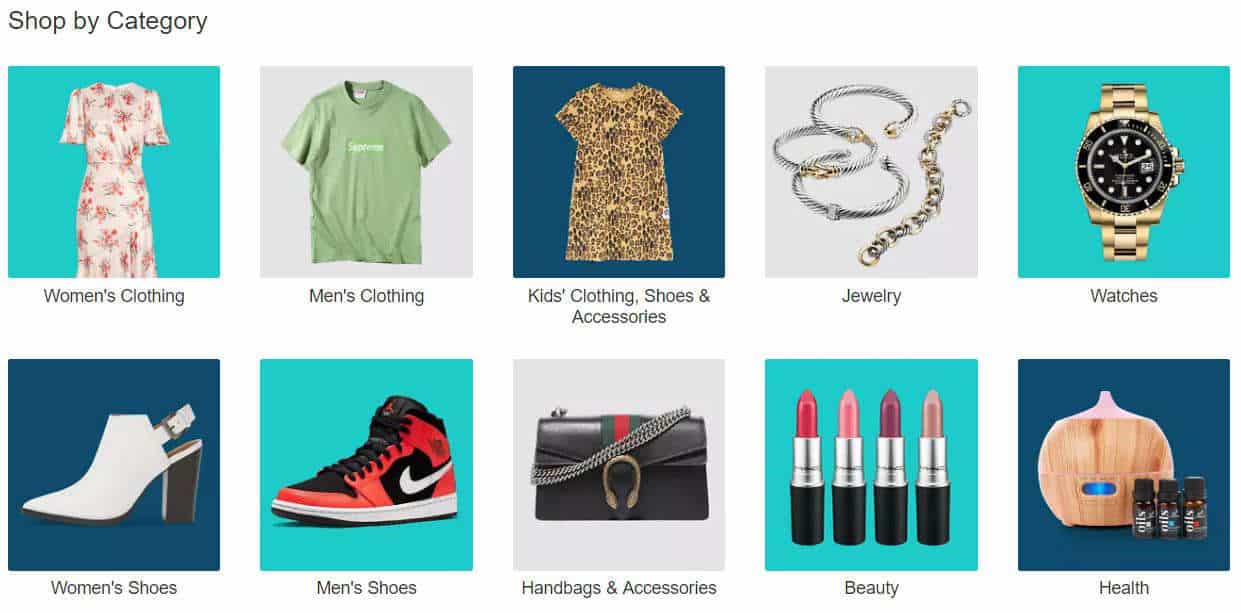 About Ebay
We've all heard of Ebay; it's been around since 1995!  Perhaps we've even cringed at the notion of buying things there.  
Ebay gets a bit of a bad rap, and it has had its fair share of scams over the decades.  However, this California-based multinational company has undeniably changed the name of the e-commerce game.  
Really, it's the company that made the rest of this list possible.
Why Ebay Makes This List
Ebay can definitely be a bit more of a crapshoot when it comes to quality control and knowing what you're getting, but nowhere will you find a wider selection from a wider variety of places.  
Many other selling sites are based in either the U.S. or U.K., two very similar cultural locales.  With Ebay, you have access to all sorts of unique second-hand clothing from many cultures around the world.
And since there are so many users, you can really narrow down your search to exactly what you're looking for, down to the color.
From a seller's perspective, Ebay trumps many of the other selling sites in its commissions, a tiny percentage with 50 free listings per month.  After that, each listing is still only $0.30.  
Unlike Etsy, which requires a listing fee, you don't pay a dime until something sells.
Budget: $-$$
Shop Here: Ebay
FAST FASHION IS A DIRTY BUSINESS
 One of the dirtiest in the world, in fact.
In terms of environmental detriment and waste, according to Eco Watch.  Right up there with Coal. It's hard to get dirtier than that!
So why are floral print dresses and plaid flannels so downright devastating?
Aside from the ethical sourcing issues that many people are at least vaguely aware of (like child labor and sweat shops), clothing production is riddled with environmental faux pas:
Harmful chemicals: From insecticides and pesticides (fashion accounts for 

25% and 10%

, respectively, of world use) to toxic dyes that leach into groundwater.
Fossil fuels: Clothing production and shipping alone account for 

10% of the world's carbon emissions

.
Water waste: A single pair of jeans made from plain (not organic) cotton, uses 

1,000 gallons of water

! Now take a look in your closet and do the math.
This isn't even to speak of the incredibly wasteful nature of it all.  
The EPA estimates that Americans alone produce 23 million tons of textile trash per year, or about 46 pounds per person! They're not alone, either.
Every ten minutes in Australia, 6,000 kilograms of clothes hit the landfill. Our textile trash is out of control.
Yet we just keep producing more.  
According to Greenpeace, clothing production doubled between 2000 and 2014, a trend attributed both to population increase and to a rise in "fast fashion".  
This refers to inexpensively produced (meaning someone's getting screwed somewhere in the production line) clothing, designed to wear out fast and need replacing regularly.  Fast Fashion producers typically produce a new "season" every week (so 52 seasons in year) as a way of enticing their customers to buy more, so as to keep up with the latest trends in real time.
For examples, look to stores like Forever 21 and H&M (yes, even despite their recent "Look good, do good, feel good" slogan, which some would say is an example of greenwashing).
Fast fashion is CHEAP, in every way except the one that matters; it's costing our planet a whole lot (watch: The True Cost Documentary for more on this). Fortunately, there are lots of counter movements starting, which we've gone more into detail about here.
WHAT DOES ETHICAL FASHION CONSUMPTION LOOK LIKE
This ethical conundrum is particularly tricky for those who love fashion.  
As individuals, we can help by either becoming nudists or (perhaps more preferable to most) by attempting to extend the life of our clothing.  
Stop. Buying. Cheap. Trust us, it'll actually save you money (not to mention the planet) in the long run!  For those three Forever 21 blouses that split at the armpit upon first wear, you could have bought a better made and lasting one for the same cost that actually made another person's life better somewhere down the production line.
Extend the life of your clothes.  This means you might need to stop mindlessly spending on things you don't need. Try wearing the things you already own!  Have you ever done that minimizing trick where you turn around every hanger in your closet and only right it once you wear it?  See how many things go untouched over the course of six months.

  

Really focus on wearing what you have.

  

If we all kept clothing in use just nine more months, we could 

reduce carbon emissions and water waste by 20-30%

!
Don't throw away perfectly functional clothes. Here's a shocking statistic, courtesy of The Atlantic: Americans only 

donate or recycle 15% of their clothing

.  That means 85% is just being trashed, thrown out before worn out. It's okay if you don't want something anymore, but if at all possible, give it a second life by either selling it , giving it to a friend or at least donating it.  
Donation centers are present in almost every community (even smaller ones) and all it requires is dropping a bag in a bin.  While not everything that gets donated finds a second home, the unsold stuff from organizations like Salvation Army and Goodwill typically go to for-profit clothes recyclingcenters, such as Viltex.  It's not ideal, but it's better than the landfill.
Skip the new and start thrifting.  Instead of spending more money on new clothes, spend a fraction of the amount on perfectly functional and even fashionable pre-loved clothing.
FINAL THOUGHTS ON ONLINE THRIFTING
It's high time we give the fashion industry a makeover and remind ourselves that, just like us, clothes don't need to be young to be beautiful.  
If this hasn't been enough to inspire you, we encourage you to watch the True Cost documentary.  It was life changing in terms of our own approach to creating a conscious closet.  Second hand clothes can mean a second chance for the planet.  
Aside from thrifting, look into other options to reduce your cloth consumption, such as clothes swaps (which function online much like these) and community sharing programs.
Fashion renting has even begun trending in various places across the U.S. and Australia. These are essentially subscription programs where you borrow clothes like you do book from a library.  It's a pretty neat way to save money, cut your fashion footprint, and have a constantly fresh look.
We'll end with a term we use a lot here: conscious consumerism. Every time we pull out our wallets, we either cast a vote for the dirty designers or one for a cleaner future. Let's make the vote count.
We hope this has been a helpful resource for all your sustainable shopping needs.
Feel free to reach out in the comments or messages with any other favorite thrift sites or even just your favorite thrift store!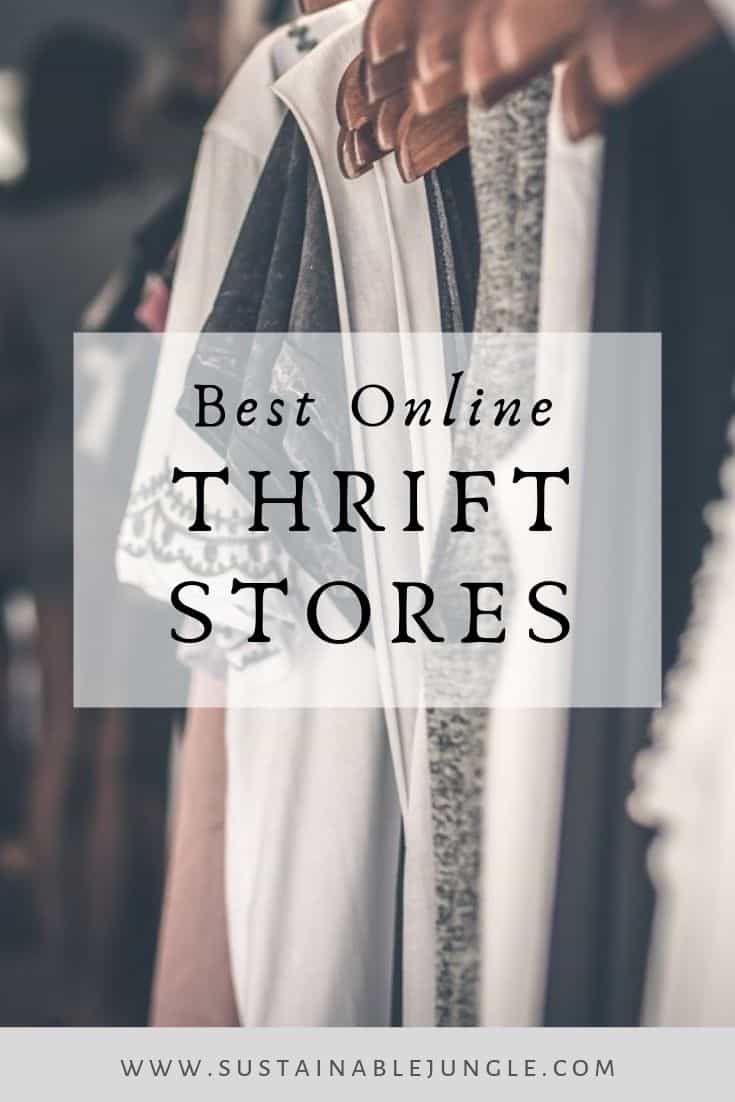 Other articles you might like …