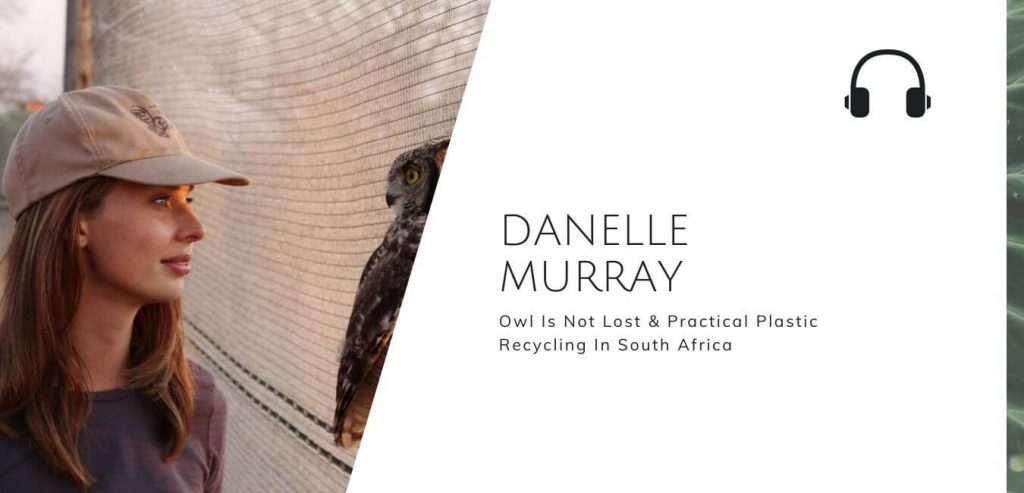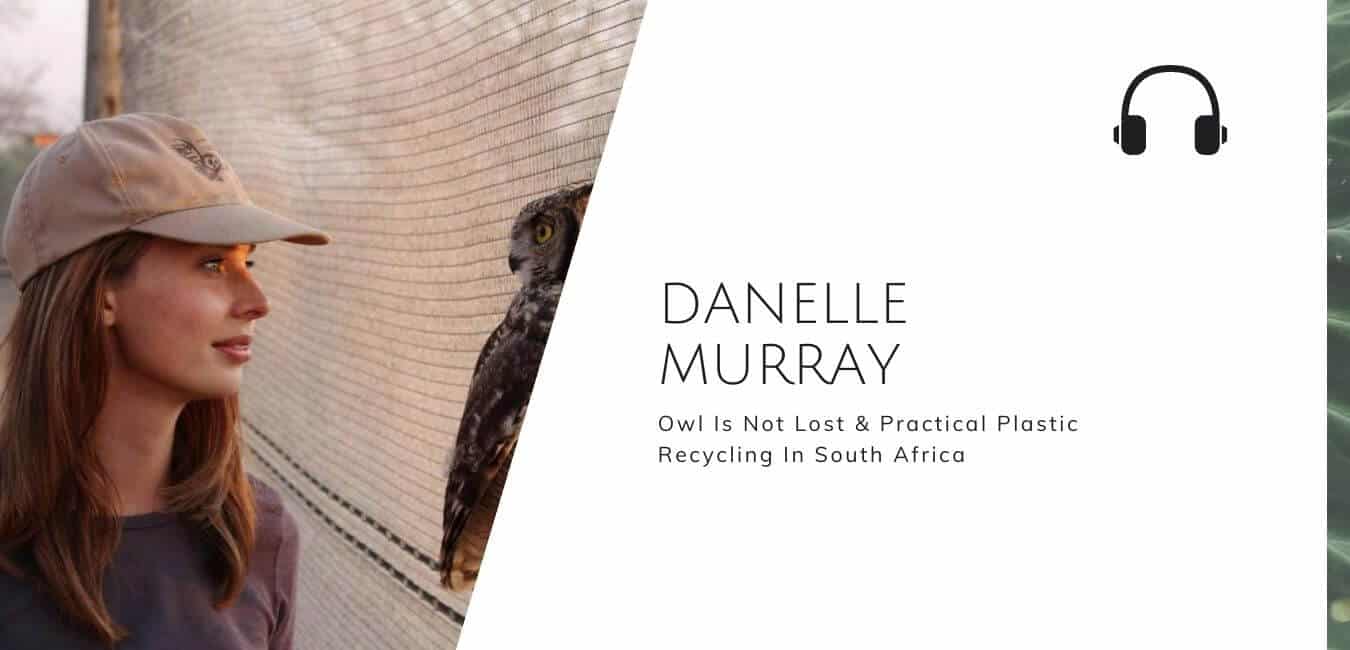 Podcast #19 · Danelle Murray · Owl Is Not Lost & Practical Plastic Recycling In South Africa
"When you put up an owl house in your garden, and your neighbour sees the owl house, they realise that we share our habitat with the owls so it just changes their behaviour a little bit, they think twice before putting out poison…"

Danelle Murray
Danelle Murray, together with her husband Brendan, her two kids and her team, runs the Owl Rescue Centre and Sanctuary in Hartbeespoort, South Africa. "The Centre takes in hundreds of owls every year through their rescue efforts. The owls are rehabilitated and when they can survive on their own in the wild, are released in The Sanctuary – a farm which is located within a twelve thousand hectare protected conservancy." Danelle and Brendan are also working hard on a number of other projects including a plastic recycling program and a master plan to save the world with a giant ship. These guys are practical, hard-working legends that are out there making it happen.
We visited the Owl Rescue Centre in Hartbeespoort, about 1 hour outside of Johannesburg. Danelle very kindly showed us around, introduced us to some feathery and rather vocal owls and chatted to us about the following:
Danelle's background, growing up on a plot in Johannesburg and being exposed to the outdoors and how her university studies have helped her study and save owls (~01:10)
How Danelle has been using classical conditioning to help release rehabilitated owls into the wild (~02:40)
Why Danelle and Brendan focus their attention on saving owls in South Africa and their first experience saving an owl (~04:00)
Danelle's first memory of an owl when she was 8 years old after a traumatic event in her life (~07:40)
An overview of the Owl Rescue Centre and the Owl Sanctuary (~10:45)
Danelle's thoughts on the next generation of carers, Danelle's kids' passion for the wild and saving animals and the importance of education (~12:45)
Issues facing owls in South Africa today and avoiding ALL rat poison (~16:30)
The Owl Rescue Centre's owl (and rat) friendly rat trap (~19:30)
Saving live owls from Muti markets in South Africa (~21:00)
Rescue, Rehabilitation and Release process at the Owl Rescue Centre (~23:00)
Other initiatives at the Owl Rescue Centre including their plastic recycling program to make owl house, bat houses and beehives (~24:35)
Why Danelle feels it's everyone's responsibility to deal with the plastic waste problem and how the Owl Rescue Centre's program helps raise awareness (~27:00)
The plastic recycling program process and how it got started using an oven to melt the plastic (~29:00)
The plastic recycling program goal and what they need to drive this program forward (MORE PLASTIC COLLECTIONS IN JOBURG) (~30:30)
They're buying a ship! The dream of the plastic collecting ship which the Owl Rescue Centre is fundraising for (~31:45)
What needs to happen to get the Owl Rescue Centre Ship out on the water, collecting plastic (~34:00)
Danelle's book, "My Dark Country", about living in rural South Africa, running an Owl Rescue Centre and traumatic challenges they're had to work through (~36:10)
A memorable moment in nature with one determined and curious owl (~38:45)
Why people should not try to save and raise owls by themselves. Involve the pros! (~43:00)
Advice / lesson for people wanting to live a more purposeful life (~44:00)
How to support the Owl Rescue Centre's various projects including the owls themselves, Danelle's book and the plastic recycling project (~47:10)
"I believe education has to be focused on kids, if you can make it a habit for kids to recycle, by the time they get to adulthood, it's part of who they are, it's ingrained in their whole makeup."

Danelle Murray
---
Notable Links
Owl Rescue Center
Buy Danelle's Book
Help Make the Ship a Reality, donate or buy merchandise here.
How to join the plastic recycling program in Johannesburg here.
If you are in South Africa and suspect an owl is injured and need of the Owl Rescue Centre's help please phone them on +27 82 719 5463. The Centre is open 24 hours to receive patients.
---