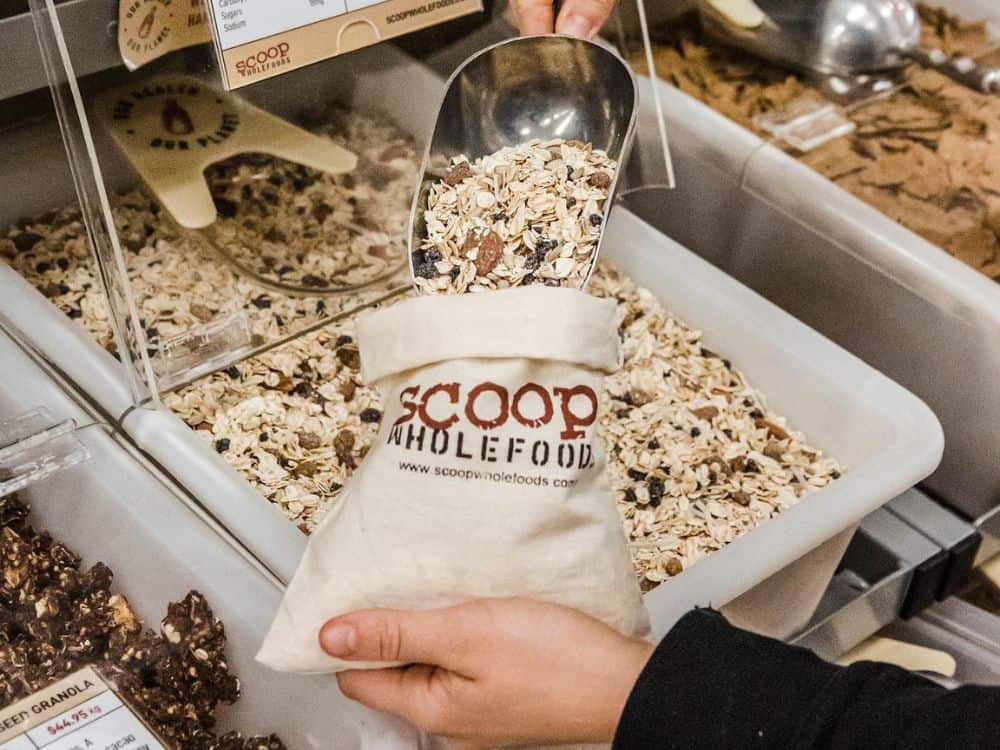 11 Zero Waste Shops in Bristol Putting Brizzle on the Sustainable Map
Bristol is one of the UK's most vibrant cities, known for its green rolling hills and equally green initiatives.
In 2015, it was a European Green Capital and is an official Gold Sustainable Food City.
From the Bristol Bike Project to the Bristol Fair Trade Network, Bristolians are tackling their collective carbon footprint head-on.
And there to help them on their stroll toward more low waste living are some of the best zero waste shops Bristol offers.
The city boasts one of the highest numbers of zero waste shops in the UK, a close second to the number of zero waste shops in London.
So whether you've been 'zero waste' for years or the Bristol World newspaper's Plastic Free July collab last year introduced you to the plastic problem, these no plastic shops in Bristol can help you kick your plastic habit clear across the Clifton Suspension Bridge.
The Full List Of Zero Waste Stores Bristol Offers
---
1. Scoop Wholefoods
About Scoop
Launched in 2019, Scoop Wholefoods is one of the newer zero waste stops Bristol has. The owners are a husband and wife team, and they have two defined missions: to improve people's health and well-being and safeguard the planet for future generations.
They strive to offer Bristolites a convenient, one-stop-shop stocked with locally sourced products from independent suppliers. If local is not possible, wholefoods are imported from the world's best and most ethical suppliers.
Scoop only stocks products in reusable or compostable packaging.
As well as shopping in person at their no-plastic shops in Bristol and Bath, you can also shop online. Orders can be collected from the store the next day or delivered to your home.
What You Can Find
In this zero waste store in Bristol, you'll find a massive range of items available in bulk such as nuts, flour, muesli, herbs, pasta, rice, sugar, tea, coffee, and dried fruit—like antioxidant berry mix to fuel your upcoming weekend walk on the Forest of Dean Sculpture Trail.
You'll also find refillable oils, vinegars, pickles, and nut butters, and plastic-free bathroom and household essentials.
Location: Clifton
---
2. Preserve
About Preserve
Preserve is one of the largest plastic-free shops in Bristol.
This family-owned small business has sites dotted across the city, from Gloucester Road and Westbury Hill to Church Road and East Street.
No matter which location is more convenient to you, you can browse the expansive shelves, filling reusable containers and paper bags as you go, or take advantage of the shop's click-and-collect system.
All dried goods come packed in recyclable brown paper bags. For liquid purchases, you can choose a new prefilled glass bottle, or purchase a refill.
What You Can Find
Preserve's waste free shops in Bristol offer organic snacks and affordable food that supports sustainable food systems.
Tiriel (the owner) has a wide range of products. from baking ingredients, herbs and spices, nuts, fruit, and seeds, to pasta, oils and vinegars, pulses, tea, coffee, toiletries, and more.
Location: Multiple
---
3. Smaller Footprints
About Smaller Footprints
Grant is the name behind this zero waste shop in Bristol. Smaller Footprints' ethos is simple: to avoid single-use packaging to leave smaller footprints on our earth.
How does it work?
You simply take along your clean and empty containers, weigh them, fill them, weigh them again, and pay for the difference.
What You Can Find
The product range includes rice, pasta, cereals, beans, nuts, chocolate, herbs, spices, loose teas, coffee beans, honey, cooking oils, flour, sugar, zero waste cleaning products, and a range of non-food personal care items.
You can even grind your own nut butter and coffee, sourced from fair trade, Rainforest Alliance, and Soil Association organic certified sources like Wogan Coffee.
Location: Clifton
---
4. Zero Green
About Zero Green
Zero Green was one of the first zero waste stores to delight Briz Vegas residents. The shop cordially invites you to join the Refill Revolution.
Their mission is to empower customers to "live an Earth-friendly, plastic free, and zero waste lifestyle….to help minimise the use of packaging that is polluting this beautiful planet".
Hear, hear! We couldn't have put it better ourselves.
You can drop off your containers at their zero waste store in Bristol in the morning and pick up your order later the same day.
What You Can Find
Zero Green's charming rustic interior boasts all kinds of zero waste foodstuffs, like baking ingredients, cereals, dried fruits, condiments and sauces, nut butter and jam, nuts and seeds, oils and vinegar, pasta and grains, pulses and beans, tea, coffee, ethical chocolate, and more.
But that's the start for this plastic-free shop. Bristol residents can also find refillable personal care liquids (like Grapefruit + Aloe body wash refills from Miniml and shampoo and conditioner bars and more from Bristol-based maker Wild Grove) or shop for package-free solid alternatives and everyday reusable products.
Don't forget to top your eco-friendly water bottles and reusable coffee cups to fill at their small coffee shop. If you do forget (don't worry, we all do once in a while) their takeaway cups are made of edible biscuits (!) designed to complement your coffee experience.
Location: Southville
---
5. Scoopaway
About Scoopaway
Owned by husband and wife team Tim and Sam, Scoopaway is an independent health food and low waste shop located in the heart of Bristol.
This natural and organic wholefoods retailer deals only with ethical suppliers who can guarantee their food is free from genetic modification.
To minimise packaging and food waste, the store's best-selling lines can be purchased loose. Drop by with your clean containers and scoop away to your heart's content.
What You Can Find
Scoopaway has over 300 "scoop" items.
Choose from a vast selection of spices, grains, pulses, cereals, rice, sugars, and dried fruit.
There's also local, freshly roasted zero waste coffee and zero waste tea for a more sustainable cuppa.
Location: Bishopston
---
6. Eqo Living
About Eqo Living
Eqo Living is more about providing zero waste options for the home rather than bulk food items. With their help, you can take your Bristol zero waste shopping journey one step further.
They operate out of Filwood Green Business Park, a building specially designed and built for local small and medium-sized businesses with an environmental ethos. No wonder Eqo Living set up plastic-free shop there.
Eqo Living aims to promote functional and beautiful products from largely local UK sellers to inspire a waste-free lifestyle.
If taking a weekend trip over to the Big Smoke, don't forget to check out their larger London location.
What You Can Find
Eqo Living has all the essential zero waste products—and then some.
From colourful eco-friendly lunch bags and boxes from brands like Ecosavvy (sure to make your boring boardroom lunches a touch more exciting) to reusable bottles and cups, reusable bags, cutlery, and straws, they carry all your basic reusable food staples.
Location: Filwood Green
---
7. Simply Green Zero Waste
About Simply Zero Waste
Simply Green Zero Waste is the baby of Bethan, a Leeds University biology graduate who has a deep understanding of the long-term effects we're having on the planet. The idea of a zero waste store for the locals in Nailsea came to her while travelling around Australia.
Simply Green began life as a zero waste market stall, but the response was so exciting that Bethan decided to lease a shop to cater to her growing customer base.
Customers have the option of buying products in her waste free shop in Bristol or shopping online. With the option to buy as much or as little as you need, the cost and food waste can be kept to a minimum.
There is the option of bringing your clean containers or using paper bags and jars, which are provided.
What You Can Find
Simply Green stocks a massive range of loose food items such as cereals, baking ingredients, sustainable snacks, grains, herbs, nuts and seeds, oils and vinegars, spices, pulses, tea, and coffee.
In addition, you can choose from a range of non-food, cleaning, and reusable organic menstrual pads—all with minimal, reusable, or compostable packaging.
We love the looks of their Sesi Spirit Vinegar for cleaning. Made from fermented beet and cereal, it can do everything from basic counter cleanup to full descaling of your bathroom.
Location: Nailsea
---
8. Zero Waste Pantry
About Zero Waste Pantry
Zero Waste Pantry is a packaging-free shop in Bristol you can visit with clean, dry containers you've brought from home.
Goods are displayed in gravity bins, scoop bins, or jars. You take your containers, jars, cloth bags, or whatever you feel happy refilling.
As Zero Waste Pantry kindly reminds us, zero waste food shopping isn't a hippy, new-age way of shopping. It was the way things were done long before large supermarkets started defining our shopping habits.
What You Can Find
You can shop online using the Zero Waste Pantry website.
However, if you want to see and feel what you're buying, head to the shop. You'll find a good range of basic cupboard goods such as rice, flour, lentils, pulses, dried fruit, and nuts, along with a range of herbs and spices, and various types of loose tea.
There's even hard-to-find zero waste products for the fridge and freezer, like local vegan cheeses and refill options for tomato ketchup and frozen fruits.
Location: Wrington
---
9. Good & Proper Zero
About Good & Proper Zero
Clare is the founder of Good and Proper Zero, an online shop that provides a sustainable subscription service for people seeking convenient package-free shops (Bristol and beyond) and want climate-kind products delivered directly to their door.
Home for this zero waste shop is not Bristol, but it's a mere stones-throw away on the Bristol Channel coast in Weston-super-Mare.
The original idea for the shop was for customers to bring their containers and fill them with items they wanted. However, Covid19 and the rising cost of living took its toll. Not to be disheartened, Clare decided to concentrate her efforts on developing an online shop instead.
What You Can Find
You can find a wide range of products at this plastic-free online shop. You'll have no problems embracing zero waste living throughout your home.
Sustainable skincare, haircare, bathroom, and eco-friendly cleaning products are all available in reusable or recyclable containers rather than plastic.
In the household category, there are laundry and dishwasher products, candles, diffusers, stationery, wheat bags, and fun pet supplies that include a "paw-licking" carrot cake dog treat baking mix in a reusable bottle.
Location: Online
---
10. Southville Deli Zero Waste
About Southville Deli Zero Waste
Southville Deli Zero Waste is a champion of local produce that provides Bristolians with an opportunity to shop plastic-free.
While not a strictly no-plastic shop in Bristol, Southville Deli boasts a range of compostable or reusable packaged cupboard staples, in addition to those customers can purchase in their own containers.
What You Can Find
As well as plenty of local produce, such as bread and pastries from Bristol's very own Hernbert's Bakery and local goats or sheep's cheeses from Somerset Cheese Co, you'll find a range of sustainably sourced, minimally packaged items.
Their bulk range includes pasta, rice, flour, dried fruit, and nuts, to be filled in customers' own containers or via store-provided recycled and recyclable paper bags.
If you love waking up to a cup of piping hot coffee as you look out over the sea, you'll love their wide range of various roasts.
Location: Southville
---
11. Nom Wholefoods
About Nom Wholefoods
The idea for Nom Wholefoods came about following a Bristol couple's realisation that local friends wanted easy access to food without single-use packaging just like them.
This Bristol waste-free shop's initial location is Nikki and Matt's home, however, it wasn't long before they needed to expand operations. They found the right premises in Staple Hill and opened a shop for the convenience of customers.
In October 2020, Nom was awarded the Plastic Free Champion award from Surfers Against Sewage plastic-free communities.
If you visit the Nom website before you place your order online or trot to the shop, there's a handy packaging page that discusses the environmental impact of different packaging options.
What You Can Find
Shoppers can choose packaging on 80% of Nom's product range which includes beans and pulses, cereals and breakfasts, dried fruit, nuts, seeds, herbs and spices, flour and baking ingredients, pasta, rice, grains, and more.
They also carry hard-to-find items in low waste packaging, like oat milk and other sustainable milk alternatives in glass bottles, which can be returned and refilled.
A major supplier in the store is the vegetarian and vegan wholefoods brand, Essential. They are one of the largest worker co-operatives in the UK and a wholefood market pioneer. Essential specialities include ethically produced, organic, Fairtrade, and 'Free From' food sourced from all over the world, and never by air freight.
Liquid refills are also available for laundry liquid, washing-up liquid, bathroom products, cleaning vinegar, and olive oil.
Location: Staple Hill
---
Did you know we Have a Newsletter?
We cover the latest in sustainable living, fashion, zero waste, beauty, travel, finance and more…
Final Thoughts On Zero Waste Stores In Bristol
This list is a small selection of the available zero waste shops in Bristol, but it's not going to be too long before more are needed.
In today's world, the importance of zero waste packaging cannot be overstated. As a society, we must take responsibility for our impact on the environment and reduce our consumption of single-use plastics.
Zero waste packaging solutions not only help to minimise the amount of waste that ends up in landfills and oceans, but they also promote a more sustainable and circular economy.
And with these no plastic shops, Bristol proves they want to be part of the solution, not the problem.
By choosing to support local businesses that prioritise zero waste packaging (or if you absolutely can't make it to one of these, online zero waste stores), you can play a part in making the world a cleaner and healthier place for the generations of Bristolians to come.
Pin these: