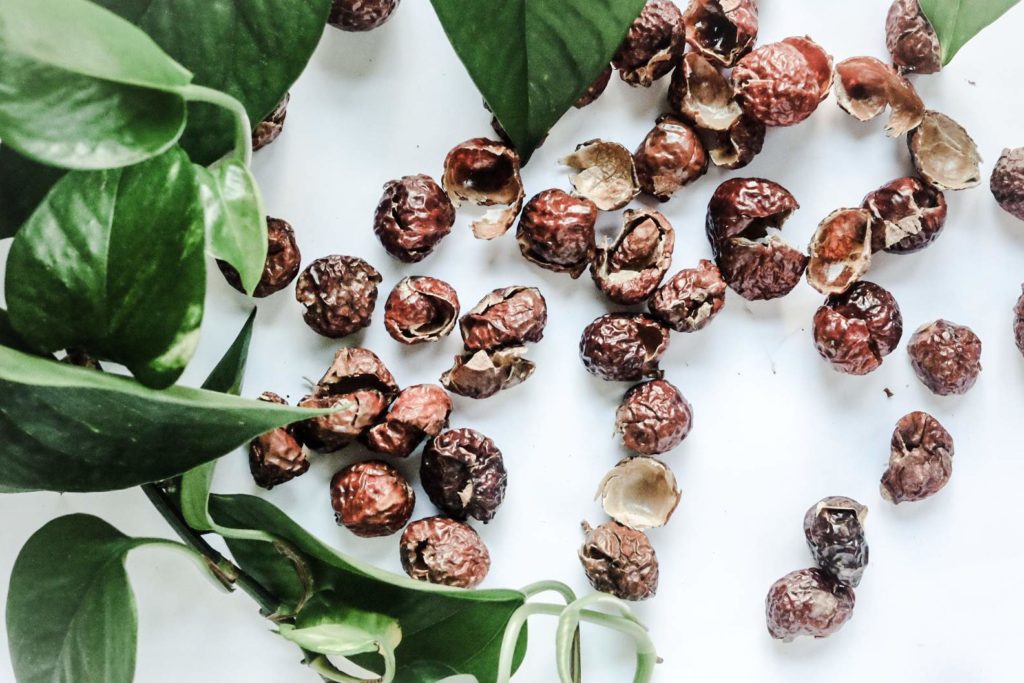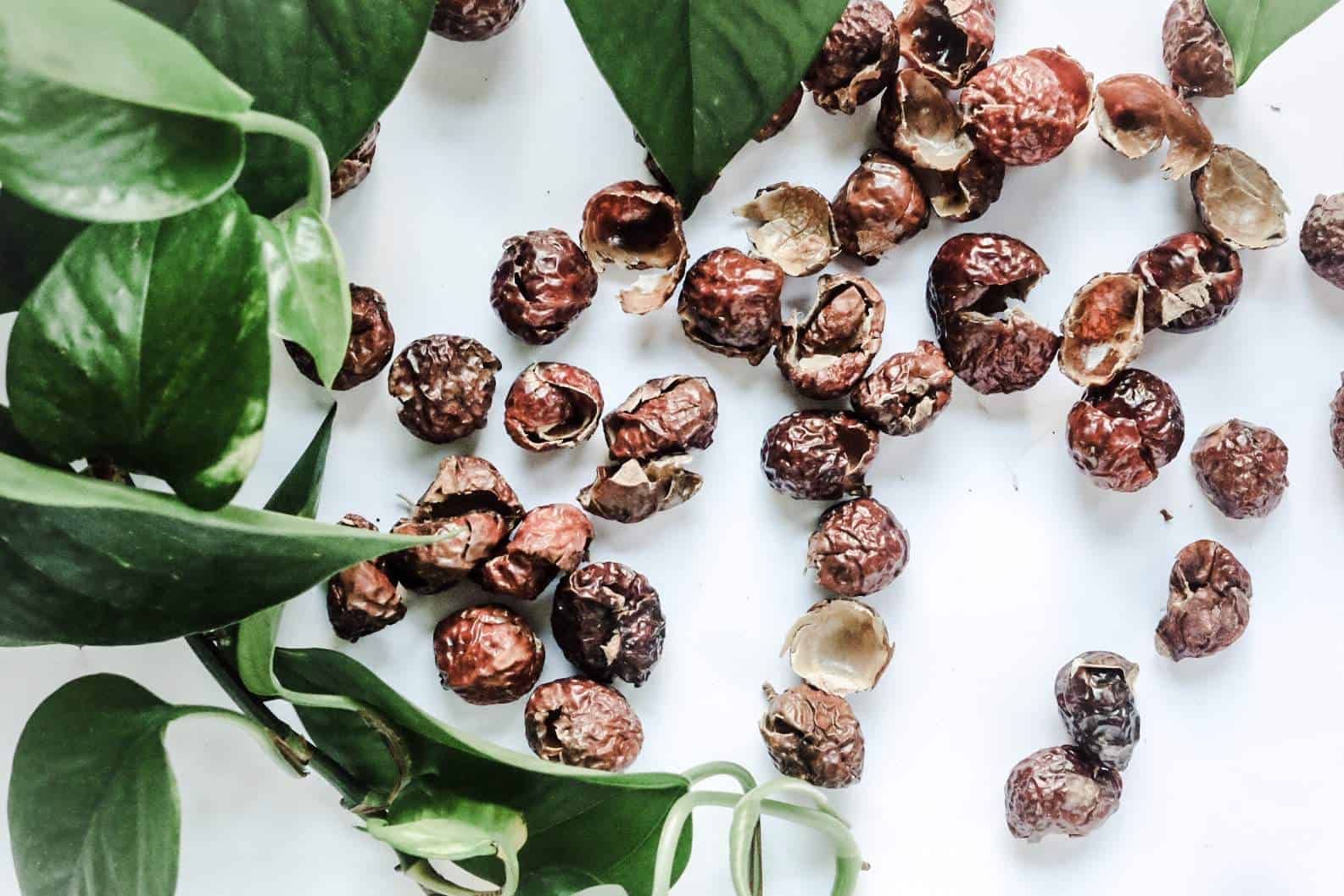 Life Without Plastic And Waste: How We're Winning (And Losing) A Year And A Half Later
Two years ago, we wrote an article on Zero Waste.
It listed a LOT of scary stats that convinced us that the Zero Waste movement is real (and necessary, now even the law-makers are taking it seriously).
So, we decided to start our own hyper aware journey to a life without plastic and generally lower waste.
Some folks might call this going zero waste. We had grand ambitions, having been inspired by folks like Kate Arnell, Lauren Singer and Bea Johnson.
Since then we wrote a bunch more articles on the subject. For our own benefit and to give others some inspiration. Here's the ever-growing list!
As you can tell we have a fair bit to say on the subject. But what's really great is that once you start the zero waste journey you realize that you can adjust (with very little effort) most if not all facets of your lifestyle to cut down waste.
Which includes many types of plastic!
So how did we do?
This article serves as a check in for us. To pat ourselves on the back for our progress, for staying the course and to top up our enthusiasm in areas where we've totally failed!
QUICK LINKS FOR OUR PLASTIC FREE JOURNEY
---
#WINNING AT A LIFE WITHOUT PLASTIC
Here's a list of the things we did to smash our waste generation (and plastic generation) by at least 70% with really, very little additional effort or impact on our lives:
1. WE STARTED COMPOSTING / RECYCLING FOOD WASTE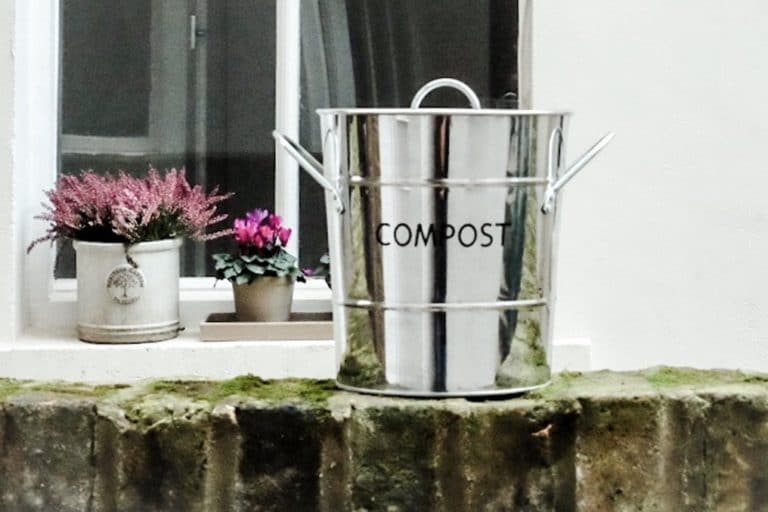 Composting essentially means to convert food scraps / waste into soil again (the circle of life :)).
For us, this has absolutely been the number one (and easiest) hack to reduce the sheer volume of trash we throw out every week (and the plastic bags that come with that trash).
We've previously dabbled in composting but because we've been somewhat nomadic over the last 10 years, we struggled to get into a proper composting routine.
We eat A LOT of fresh fruit and veg so the peels, ends, bits and bobs all ended up in the rubbish. Which is bad because in a landfill food waste releases methane, which as we know, contributes significantly to global warming.
To avoid some of this food waste this learn how to keep produce fresh and preserve food at home.
In the beginning of our zero waste journey (when we were living in London), we were super lucky in that our local council collected and composted our food waste for us. Every. Single. Week. All we had to do is separately collect the food scraps in a compostable liner and popped it out on the street for collection.
Since then, we've moved back to Melbourne and now are 'composting pros'. At least in our own eyes! We have a bunch of outdoor and indoor compost bins including:
two bokashi bins (which we rotate)
a bunch containers for extra food waste
a mini worm farm.
All in our (sort of) zero waste kitchen and little balcony. Apartment winning with zero plastic!
Any excess food waste that are worms can't eat we take to a local compost collection point.
New to Composting?
If you're new to composting, here are some resources we've been devising to help you get started.
We're aware that not everyone has the space or luxury to do this but here are some other options that might work for you:
Some councils offer communal collections (a big bin in your neighbourhood)
Check out your local interwebs for information on how to find these (for example, Recycle Now in the UK has a recycle locator)
Some farmers' markets accept food waste scraps
---
2. WE BUY OUR FRESH PRODUCE FROM THE FARMER'S MARKET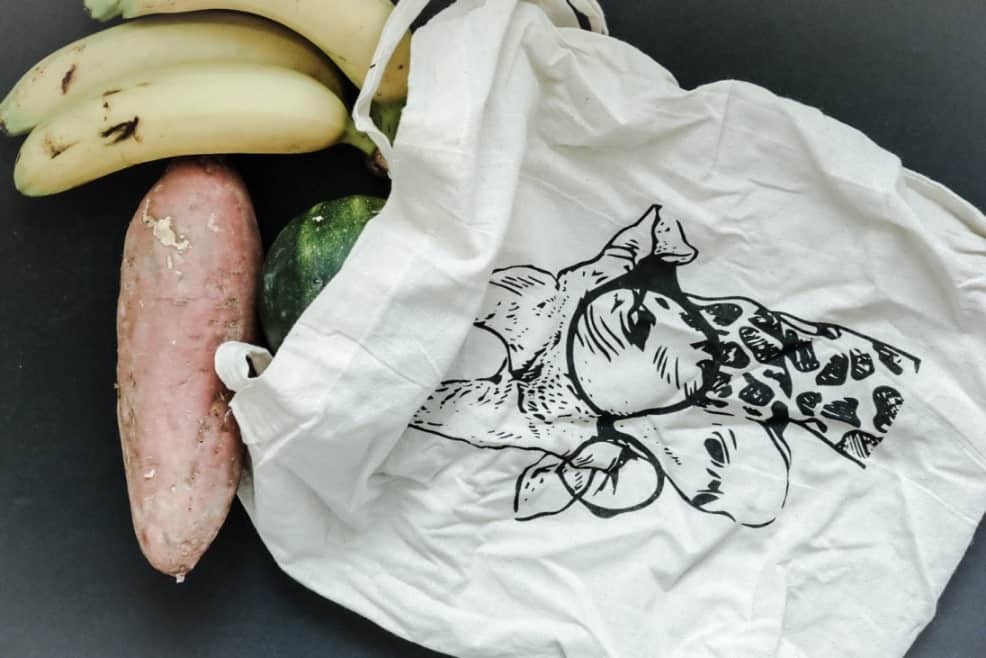 Here's our more detailed account of why we LOVE farmers' markets and the many reasons why you should visit yours.
In a nutshell, here's how it contributed to our winning the 'life without plastic and waste' game:
First, farmers bring their delicious goods direct from the farm. This means we're buying healthy local produce and minimizing all that commercial waste generated through a "normal" supply chain.
Secondly, the farmers and stall holders are willing to package up their raw goods straight into our produce bags and containers without plastic packaging. For those that can't, we just reuse their own packaging each week and it works perfectly well for the most part.
Now that we're back in Australia, we order our weekly supply of fresh fruit and veg from a organic and local growers through Ceres.
The social enterprise that supports Victorian farmers, employs asylum seekers, uses compostable and returnable boxes (i.e. zero plastic) and who use their profits to teach adults and kids about how to take care of our planet!
---
3. WE USE SHOPPING TOTES AND REUSE PLASTIC BAGS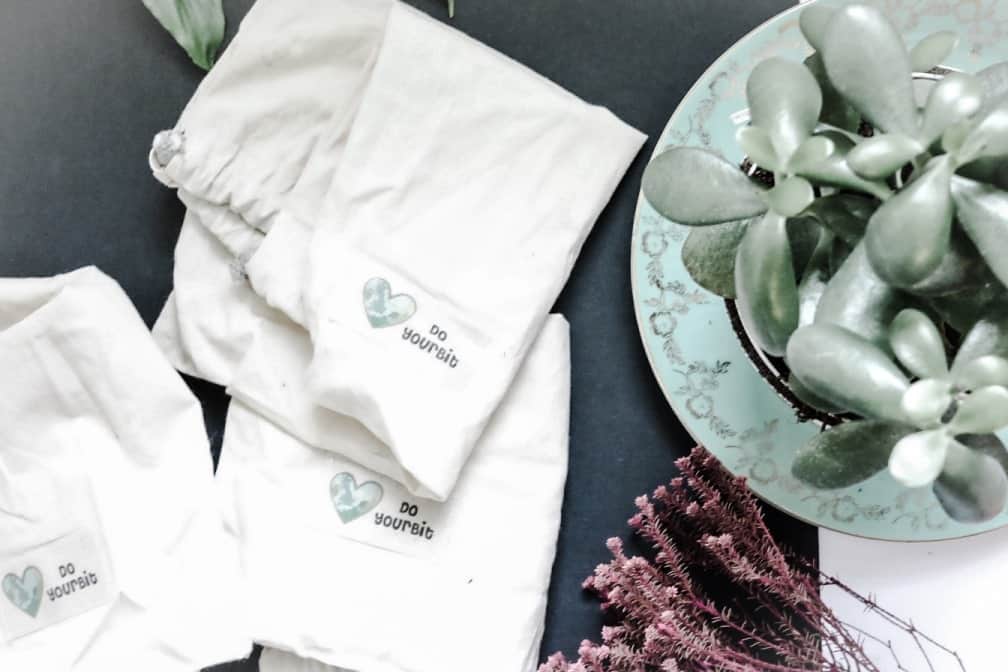 I've already alluded to this above, we've been using calico shopping and produce bags for grocery shopping. They're easy to find online and you can typically buy them at a good supermarket.
I found our cute little numbers on Etsy: produce bags
We also re-use the plastic bags we've accumulated, over and over again before recycling them (luckily our local council can recycle them).
Annoyingly, we haven't always got all this right (see the "losing" section below) so plenty of room for improvement. It's all about changing your habits!
---
4. WE CARRY RE-USABLE (STYLISH) WATER BOTTLES AND COFFEE CUPS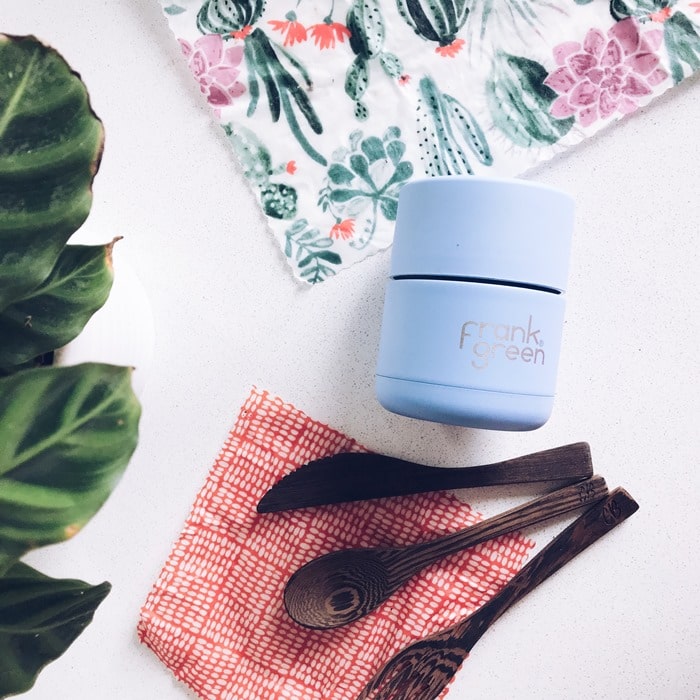 This is probably the most recommended zero waste tip around. It's also one of the easiest habits to adopt. And the impact of opting for a re-usable cup cannot be understated. The sheer volume of waste created by single-use plastic bottles and coffee cups is, as you know, enormous.
We carry our little eco friendly water bottles with us whenever there's a chance we might end up having to buy something (e.g. traveling, exercise). We do tend to leave it behind for day to day life as we typically have access to glasses / cafes etc.
We are coffee nuts. So, addressing coffee re-usables has been important to us. While we don't get take away coffees all that often, now that we're uber aware we just take our own cup OR sit down, smell the roses (or coffee) and enjoy!
This strategy has worked for the most part. We found that buying a really nice re-usable cup, like a Hydroflask goes a long way to making this change as easy (and enticing) as possible.
---
5. I'VE STARTED USING THE MOONCUP
I've done it! I was actually rather nervous of this one (for obvious reasons)… I've known for a long time time that menstrual cups are key pieces in moving toward a zero waste bathroom. Lots of women vouch for them, too, but the nerves were still there.
But I finally did it and it's totally fine. In fact, it's much better and has made life a lot more simple – I literally need to carry only the Mooncup with me which is a godsend when I travel.
I honestly can't believe I never got into this earlier. I would encourage my female friends out there to give it a go!
If you still need convincing, this video from Kate Arnell convinced me it was a good idea and I'm glad I listened. From what I've read on the interwebs there are a ton of different "cup" options (shapes and sizes) out there.
If you're thinking of trying it, I went for the Mooncup given the aforementioned video but it's worth trying different brands if a cup doesn't immediately gel with you. Make sure you also read the guidance and get the right size.,
---
6. WE'VE SWITCHED TO ZERO WASTE SHAMPOO, CONDITIONER, TOOTHPASTE AND COMPOSTABLE FLOSS
As mentioned above, our 'Zero Waste Shampoos and Conditioners' and ''Zero Waste Toothpastes' articles have some great options. Tube free 'poos, conditioners, and toothpastes are the new black.
Then there's zero waste floss…
For a long time, floss was tricky business.
There used to be only a scant amount of okay options. Still, something had to be done; many of us animal lovers have seen the horrendous image of a seal with some nylon floss wrapped around its neck – haunting!
We've read so many articles about it; this one from Wasteland Rebel was the most informative. And we've tried so many brands!
Now we're using georganics silk floss.
Admittedly, it's not cheap, but considering the alternative, we think it's worth it. The silk is only taken from discarded cocoons and the floss comes in a small glass jar. Refills come in compostable packaging.
Until KMH Touches recent release of FlossPot Gold, a truly compostable vegan dental floss, georganics was the best zero waste flossing option out there.
We might be experimenting soon. We've recently been picking up a bunch of other great zero waste floss options, which we've gone into detail about here.
---
7. WE USE SOAP NUTS TO WASH OUR LAUNDRY
These are such interesting little guys.
They're dried fruit shells which contain real natural soap. It's quite incredible how well they work. We pop them into the little bag they come with, add some essential oils to make them smell good and throw them in the machine with the laundry.
They're also super handy for travel, you don't have to carry bulky liquid or powder – 6 little nuts should get you through 1-2 weeks (depending on your household washing needs). The nuts are also reusable – you can mulch them up and use them as a household / pet cleaner. After that, they're compostable.
A zero waste cleaning alternative! We've been using Dropps and they work great.
However, we've also recently discovered some zero waste dish soaps that can double as laundry detergent to minimize your waste and consumption.
---
#LOSING AT A LIFE WITHOUT PLASTIC (AND LEARNING)
Sounds like we're on a roll, right? Right!? Sort of…
We've come a long way from our former consumeristic ways! But despite our significant improvements we've failed in other areas for various reasons:
1. WE'RE TRYING, BUT FAILING…
Even with our uber anti-plastic focus, we've been caught out several times, for example:
Sitting in the cafe to drink our coffee and assuming it will be served in a glass cup or mug. Starbucks is a good example. It almost always comes out in a takeaway coffee cup – this has happened a number of times, always when we're in a rush and don't think to check! We are getting better!
Similarly, ordering a smoothie at a cafe and realising too late that it comes in a plastic container with a straw.
Forgetting to ask for no *bleeping* straw!! Or asking for no straw while awkwardly trying to explain why, ultimately confusing the person and ending up with a straw! Though, restaurants and coffee shops are becoming more aware of this with some even have a 'no-straw' policy or offering steel straws.
Being handed packaged goods on planes and taking them, without thinking!
---
2. WE HAVEN'T DONE ENOUGH PLANNING
There's been a number of completely avoidable situations where we've ended up consuming plastic including:
Forgetting our reusable bags / backpack when heading to the supermarket. This doesn't happen often these days, especially since we order our food to a central delivery location. But we're still not perfect and have been caught out!
Knowing that we'll have to eat on the go and not taking food / water / snacks with us – thus ending up buying food on the go, which always comes in plastic or styrofoam.
---
3. WE HAVEN'T YET DONE ANYTHING ABOUT IT:
Some things come to mind as obvious fixes. Many we haven't addressed yet because we either haven't developed the right habits or because we haven't figured out alternatives:
Takeaways
In the beginning we had a terrible habit of Friday night takeaways (read: copious amounts of plastic) + Netflix documentaries.
Now, if we're getting takeaways, it'll be pizza in a compostable pizza box. Or we'll just head out to the restaurant instead (and then watch Netflix)
Dress ups
This was a big issue with a lot of dress up parties that seemed to be part of our work culture. You would either use a single use outfit, renting an expensive costume or make something (if you're super organized, unlike us). I'd love to say we've done the latter but we've ended up with some annoying costumes that will probably never see the light of day again.
Having said that, we have visited the thrift store for some options which is a much better solution. In fact, we've recently discovered a bunch of awesome online thrift stores that are perfect not just for dress-ups, but making your whole closet more sustainable!
Then again, the idea of online thrift stores does tie into our next impact conundrum…
Online shopping
We lead such busy lives and ordering online is so convenient and easy. Amazon has some sustainability initiatives as do many other retailers, but it's still not ideal or nearly as good as buying locally from bulk providers. I'm not sure yet how to solve this one but we're definitely buying much more in bulk from zero waste stores to reduce the amount of plastic.
We are, of course, also being careful about who we buy from (as is evident by what we do here at Sustainable Jungle) to minimize impact as much as possible.
---
FINAL THOUGHTS ON OUR LESS THAN PERFECT PLASTIC FREE JOURNEY (SO FAR…)
Looking back, reducing our plastic and waste feels really good. Like soulful good. We've achieved a lot. And we're proud to say that. It would be so interesting to know how much plastic (and other waste) we've saved in that time.
Of course, this is a journey and there's many other areas that we're excited to explore. We have so much more to achieve in our quest for a life without plastic and waste.
Importantly, we know there's no such thing as perfection. We're on the scale somewhere, along with everyone else. The trick is, it's about taking the first step, and then another and then another and suddenly you're a year and a half down and you're lifestyle has done a 180 hand break turn for the better.
We're going to continue to experiment and improve through positive habits that reduce our waste as much as possible. If you have any thoughts / comments / ideas that you'd like to share please do.
We always love a good zero waste story!
---