11 Eco Friendly Sunglasses Giving You Sustainable Shade
My puppy chewed my old Ray Ban Wayfarers to bits a few months ago.
So?
So…it's a legitimate reason to buy a new pair of eco friendly sunglasses (obviously)!
And at the same time, a perfect opportunity to shed some light on sustainable shades.
Despite the eyewear industry being (almost) totally monopolized by big brands, we've seen a ton of progress in the last few years.
There are now many small sustainable sunglasses brands stepping up.
But let's cut to the chase, if you're looking for a quick filter, be sure to check out the following sustainable eyewear brands: Proof makes their sunnies from recycled skateboards.
Sunski uses plastic saved from landfill and ensures your frames will live on, no matter what happens to the lenses.
And Warby Parker has the most impressive variety of sustainable sunglasses.
If you want an in-depth explanation of how we decided which eco friendly sunglasses materials made the cut, look towards the end of the brand list.
And we must caution you: Do not look directly into the sustainability!
*This post contains affiliate links
QUICK LINKS FOR THE BEST ECO FRIENDLY SUNGLASSES
---
1. SUNSKI
Sunski's Sunglasses
Sunski's sustainable sunnies (try saying that three times fast) are made of SuperLight recycled plastic frames.
The plastic used to produce the frames is locally sourced from US landfills and made in the US, too. They're so confident in the durability of the frames that they come with a lifetime warranty!
Sunski recognizes that sometimes stuff happens to lenses.
Rather than see you throw away a pair of perfectly good sunglasses because of a scratched or broken lens, they offer a lens replacement service for all their frames.
All sunglasses are shipped glue and plastic-free, in folded paperboard origami boxes.
About Sunski
Sunski is a shiny new sunglasses company, but they're already members of 1% for the Planet. T
hey go above and beyond the 1% call and donate 12% of profits to various environmental initiatives (without charging their customers an arm and a leg).
To date, they've given hundreds of thousands of dollars.
They also purchase carbon offsets for their operating procedures and hope to be fully Certified Carbon Neutral soon.
Available: Sunski
---
2. PROOF
Proof Eyewear's Ethical Sunglasses
Proof Eyewear offer an impressive range of womens and mens eco friendly sunglasses.
They use a variety of biodegradable materials, like recycled skateboards decks, recycled aluminum, FSC-certified sustainably-sourced wood (including bamboo, lacewood, ebony, and mahogany), and biodegradable cotton-based acetate for their ECO line (short for Environmentally Conscious Optics).
Each pair is designed for disassembly so you can recycle or compost with ease.
And they're all handmade and finished with stainless steel hinges, polycarbonate lenses, and come with an eco friendly sunglasses case, too, made of sustainably sourced wood.
About Proof Eyewear
Proof Eyewear was founded by 3 brothers in Boise, Idaho.
They now have global suppliers, who they visit twice a year to ensure ethical standards are up to snuff (especially their acetate supplier in China).
They invite you to read all about their Supplier Responsibility.
As much as being a sustainable business, Proof aims to be a positive global entity.
Over the years, they've donated 12% of their profits to various global aid projects.
For every pair purchased, $10 gets donated to a different charity:
Wood collection: health and vision projects (cataract screenings and cleft palate surgeries)
ECO collection: empowerment projects (microloans to minority business ventures and safe houses for women)
Skateboard collection: environmental projects (reforestation with the National Conservancy)
Aluminum collection: education initiatives
Available: Proof
---
3. WARBY PARKER
Warby Parker's Sustainable Sunglasses
Warby Parker creates stylish designs for Fortune-500s and fashionistas alike, all the while at an affordable price tag.
They've even teamed up with Jimmy Fallon to make the world's first "spinnies", aka sustainable spinning sunglasses (the adult version of eco-friendly fidget spinners?!)
Most frames are made using Italian plant cellulose acetate. For thinner frames, they use ultralight easily recyclable titanium, stainless steel, or bronze.
They are then fitted with polycarbonate impact-resistant lenses.
They also offer a "home try-on" where you can try on five styles at home and send back what you don't want. While it's a good option to avoid buying something you won't wear it does add shipping emissions.
About Warby Parker
Warby Parker is New York City-based but has global operations. Founders Dave Gilboa and Neil Blumenthal consider product quality and supply chain ethics as a top company priority.
They regularly third-party audit their suppliers and factories.
A few years back, they started calculating their carbon footprint. Now they purchase offsets for all company operations (which even includes employee travel and commuting).
You can read more in their Global Reporting Initiative impact report.
Their static charitable initiative is the "Buy a Pair, Give a Pair" program, through which they have donated over four million pairs of glasses in over 50 countries through non-profits like VisionSpring, Ver Bien, and Aravind.
Other charity partnerships change periodically and by collection. For example, proceeds from the Haskell currently go to social equality organizations, The Trevor Project and Lambda Legal.
Available: Warby Parker
---
4. SHWOOD
Shwood's Sunglasses
Shwood makes sunglasses out of Grade A hardwoods sourced from Pacific Northwest forests, recyclable metals, and high-density Mazzucchelli acetate.
They also have specialty lines where they experiment with unusual materials, like pinecones, slate stone, and seashell resin sunglasses. Beautiful and unique, these luxury sustainable sunglasses are on the expensive end of the spectrum.
Either way, you shwood totally check them out.
Most of their line features CR39 polarized plastic lenses.
They're also experimenting with new Triacetate Cellulose (TAC) polarized lens technology to try to find a plant-based lens solution.
About Shwood
"From the limb of a Madrone tree, a rusty pair of cabinet hinges, and lenses from the corner store."
The beauty of nature inspires everything Shwood makes at their home base in Portland.
They carry a unique vibe, and offer both classic and non-traditional styles to suit alternative ways of life.
Check out their ambassador stories for some travel inspiration and to see all the crazy places Shwood has seen.
Available: The Drop
---
5. ZONI WEAR
Zoni Wear's Sunglasses
Zoni Wear creates affordable wooden sunglasses "built for the adventurer".
With colorful polarized UV400 lenses and flex hinges, they're designed to be durable and sport-ready.
A great addition to any ethical activewear for sweaty fun in the sun.
Zoni combines recycled wood temples (made from either Grade-A reclaimed bamboo, ebony wood, zebrawood, or skateboard decks) with a tortoise acetate lens frame.
With an option to get something laser engraved on the temple, these are great custom eco friendly sunglasses.
You can also pair them with a personalized wooden case.
As the #1 Best Quality Sunglasses on Etsy (with thousands of 5-star reviews), buyers love this brand, for not just being easy on the planet but also on your sustainable wallet.
About Zoni Wear
Founder Corey Shore started Zoni Wear out of a college dorm room in Spain. The company now bases itself out of Portsmouth, New Hampshire to make a mainly wooden collection of sunglasses, hats, watches, and cufflinks.
Everything is designed and handmade in the USA, though they source most of the reclaimed wood from the high-quality Driftwood Studio in London.
5% from each purchase is donated, and the buyer gets to choose exactly where from a list of environmental organizations, including American Forests, Ocean Conservancy, Coral Reef Alliance, Sierra Club, and American Rivers.
Available: Zoni Wear
---
6. NORTON POINT
Norton Point's Sunglasses
Another company with its sights set on cleaner oceans, Norton Point wants the world to #SeaPlasticDifferently.
They use high-density polyethylene (HDPE) plastic recovered from the oceans near Haiti (with expansion plans to start working with various other cleanup organizations in southeast Asia).
These plastics are all certified recycled by OceanMade.
They strengthen the frame by using injected plant-based cellulose acetate temple tips and finished off with CR39 polarized lenses. Choose between four minimalist, unisex, and versatile designs that will never go out of style.
About Norton Point
Norton Point started in Martha's Vineyard, Massachusetts, but they now have a second major operation base in L.A. The guiding belief is that we have "One love. One ocean. Once chance to make things right."
Aside from using recovered ocean plastics in their product, they donate 5% of their net profits to further ocean cleanup and ecosystem remediation.
For every pair purchased, they pledge to remove one pound of plastic.
They recently started dabbling in eco-friendly swimwear by offering board shorts made of the same recycled plastic.
Available: Amazon
---
7. WOODZEE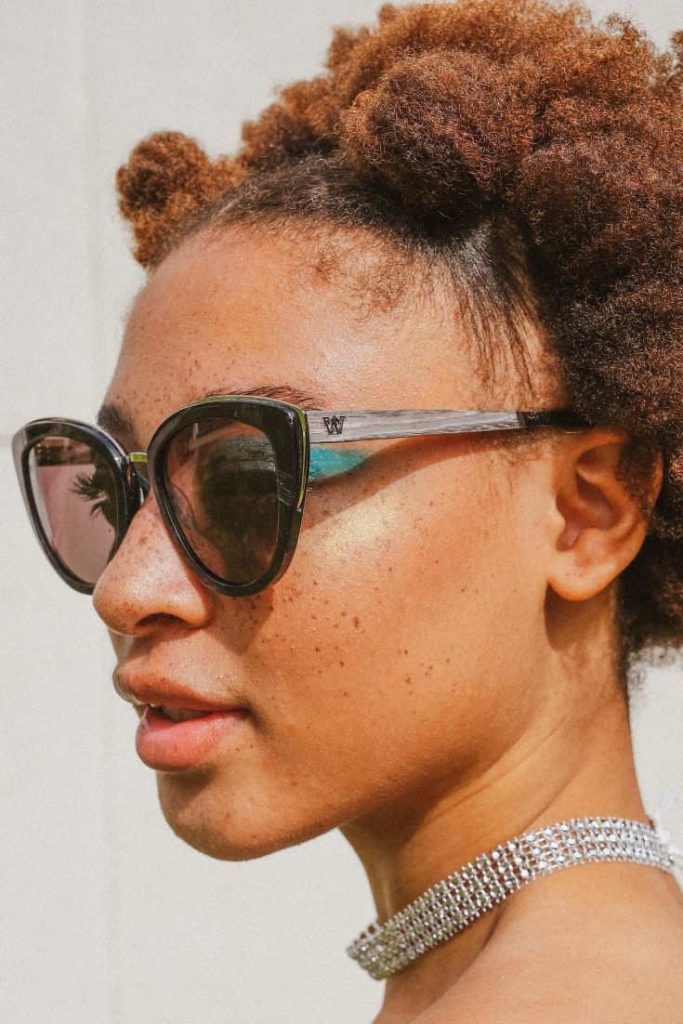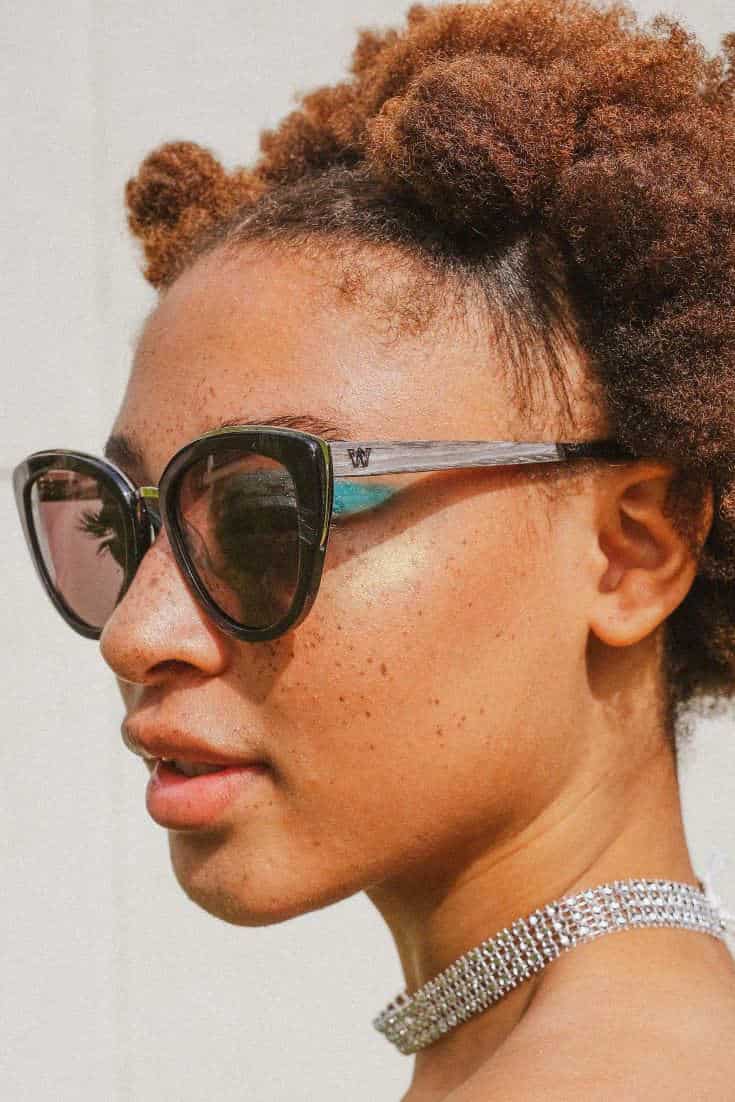 Woodzee's Sunglasses
Woodzee specializes in eco friendly wooden sunglasses that come in a wide range of styles with prices for every budget.
They make everything from wooden wayfarer sunglasses to glamorous cat-eyes using either bamboo or recycled wood from skateboards.
What are recycled skateboard sunglasses?
They're simply sunglasses made from the wood of old skateboard decks. The fun colors are derived from a light wax coating.
To compost, just pop out the polycarbonate or CR-39 polarized lenses and unscrew the stainless steel spring-loaded hinges.
For more color and design choices, they have Italian acetate sunglasses, though because they have just as many excellent wooden ones, we recommend shopping those first.
Each pair comes with a recycled paper case. You can also order fully wooden or leather cases too (though we recommend against the latter, as leather isn't the most sustainable fabric).
About Woodzee
This USA recycled skateboard sunglasses brand comes from the woodsy orchard fields of Chico, California, and derives inspiration from their local beautiful redwood forests and Joshua tree deserts.
Sustainable forestry is near and dear to them, hence the focus on wood, for both their sunglasses and watches.
They offer a sunglasses recycling program too, so customers can return their worn out or unwanted Woodzee shades and receive 50% off their next pair.
Available: Woodzee
---
8. PEEP EYEWEAR
Peep Eyewear
Take a peep at the unique eco friendly sunglasses brand from the UK.
Peep Eyewear sells upcycled vintage sunglasses with newly replaced UVA/UVB protective lenses and fully refurbished frames, complete with cleaning cloths made of 100% recycled PET plastic bottles.
They select standout designs and provide a one-of-a-kind product that diverts landfill waste by giving a second life to unwanted sunglasses.
This is especially great since secondhand is one of the best ways to reduce waste.
Not looking to buy new sunglasses?
Peep is still worth looking into: "To help our customers turn away from fast fashion and support the slow fashion movement we offer a reglazing [for changed prescriptions] and refurbishing service".
Through their Peep Polish restoration service, they'll remove scratches and wear marks from any brand of sunglasses or prescription glasses.
About Peep Eyewear
Peep is a family run business that's "big on detail, small on mundane".
Their studio in Quorn, England is built entirely from salvaged windows, doors, and thrift furniture. It's powered by a renewable energy supplier (though they're hoping to go self-sufficient solar soon).
Their boxes and shipping filler are made of FSC-certified recycled paperboard and recycled paper tape (with only a little tetra recycled plastic tape if necessary).
They go further to protect trees and partner with Trees for Cities to plant a tree for every pair of glasses sold.
Available: Peep Eyewear
---
9. SWELL VISION
Swell Vision's Environmentally Friendly Sunglasses
Swell Vision sees bamboo as the most sustainable material out there, so naturally they specialize in eco friendly bamboo sunglasses.
They also use it for their eco friendly sunglasses cases.
While some frames are 100% sustainably-sourced bamboo, some styles use acetate accents at the temples.
The lenses are taking a step toward sustainability too, made of TAC (triacetate cellulose) with a CR39 polarized resin finished. They're not compostable, but they are getting closer to the plant polarized ideal.
About Swell Vision
Talk about setting your sights high. Swell Vision was founded by a student… in high school! Founder Mitchell Saum is a true visionary. He makes not just sunglasses but bamboo watches and apparel, too, like bamboo boxers.
They're based in South Carolina but give globally through their partner, Green School, where they help underprivileged Balinese children attend school tuition-free. Every pair sold funds two weeks of schooling.
The Green School is a pretty swell concept too. It's a non-profit specifically designed to create leaders in the green movement, and the curriculum is largely sustainability-driven.
Watch what they're about here.
Available: Swell Vision
---
10. SOLO EYEWEAR
SOLO Eyewear's Environmentally Friendly Sunglasses
SOLO Eyewear makes three different collections with different materials.
Repurposed bamboo: Their original line of recycled bamboo sunglasses. Many of these designs are hybrid designs with bamboo temples and acetate fronts.
Repurposed wood: Made of a variety of sustainably reclaimed woods like cork, zebrawood, walnut, and blackwood. A couple of the designs feature a stainless steel frame component, too. These come in a wooden case.
Cellulose Acetate sourced from an ethical Italian manufacturer.
All lenses are prescription friendly and polarized with 100% UV protection. Every pair is under $100 which makes them one of the more affordable sustainable sunglasses.
They're all handmade, even the accessory cases and glasses keepers, which they source from female artists in Panajachel, Guatemala.
About SOLO Eyewear
This is another company with student roots.
SOLO Eyewear started as a San Diego State University class project for Jenny Amaraneni and Dana Holliday. Now, these visionary ladies have been featured in Forbes, Time, and Good Morning America.
The inspiration behind the company was learning that 80% of blindness is preventable, and 1 billion people lack access to vision care.
SOLO comes in to #LiveandGive by donating 10% of all profits to Aravind Eye Care System and Restoring Vision.
So far, the vision of over 15,000 people in 32 countries has been restored.
Every design is named after a country to which the proceeds from that sale are donated.
While materials are sourced globally, they use an American auditing company to ensure every part of the supply chain maintains workplace health and safety practices (particularly important when acetate is involved!).
Pair these with some new-to-you clothing from one of the best thrifts stores in San Diego and you'll be repping Cali-Chic style pronto.
Available: SOLO Eyewear
---
11. WATERHAUL
Waterhaul's Sunglasses
Waterhaul may just be one of the best eco friendly sunglasses brand.
They use recycled plastic sourced entirely from discarded ocean plastics and fishing nets, aka "ghost nets" (just like a lot of ethical swimwear).
They partner with local fishermen and a variety of NGOs to recover these nets locally in Europe. The nets are washed, shredded, turned into pellets and molded at an ethical factory in Italy.
Waterfront also joins the small ranks of companies to offer non-polycarbonate zero waste lenses. Rather than plastic, they're made of all recycled mineral glass made by the Italian company Barberini.
In addition to including a lifetime warranty with every pair sold, they offer a lifetime buyback program for sunglasses that are no longer worn or wanted.
They then recycle them so as to strive for a fully zero waste sunglasses economy.
About Waterhaul
Based in Cornwall, UK, these eco-friendly sunglasses are the brainchild of a marine biologist and surfer who had to do something when he learned that about 640,000 tons of fishing nets are left in the ocean each year.
Aside from actively recycling these fishing nets into their product, they have created 'net amnesty programs' to reduce net discards in the first place.
Waterhaul ensures they aren't part of the problem by packaging plastic-free and regularly auditing their supply chain.
Available: Waterhaul
---
HOW WE CHOSE THESE SUSTAINABLE SUNGLASSES BRANDS
First things first: what are eco-friendly sunglasses made of?
Well, ideally, sustainable sunglasses materials include compostable (or at the very least recyclable) frames. Bonus points if they used recycled materials to begin with, rather than virgin-sourced.
Still, we need a bit more of a framework for what we consider to be eco-friendly sunglasses. Eco friendly sunglasses can be made of all sorts of materials, either organic-based or recycled synthetics.
On the organic side, we have fully compostable materials like:
bamboo: It's no secret we love bamboo and it's so versatile! It's one of the fastest-growing plants on earth, not to mention it makes sunglasses that are compostable, ultra strong, moisture resistant, lightweight, and they'll even float.
cork fabric: Harvested by shaving cork trees rather than cutting them down. This process can be repeated every 9 years for about 300 years total.
recycled skateboards
upcycled denim
reclaimed wood
On the recycled side, we have primarily recycled plastics.
While these may not be biodegradable like the items above, we still consider them eco-friendly (if they're 100% recycled materials and have sustainable sourcing and manufacturing practices, of course) because they do not rely on virgin petroleum.
They're using plastics already in existence and usually recovered from the ocean where they are harming marine life and destroying ecosystems. Better on our face than wrapped around some poor turtle.
We also shouldn't discount metal frames that are made of stainless steel, aluminum, and titanium either, because these materials are fully recyclable.
Then we have bioplastics which lie somewhere in the middle. The most notable bioplastic used in sunglasses frames is cellulose acetate, which is a little more eco-convoluted than it sounds.
What is cellulose acetate and is it eco-friendly?
Acetate is a glossy, transparent petroleum polymer (very similar to rayon viscose). Cellulose acetate mimics its plastic counterpart but is made from natural cotton fibers or wood pulp. It's totally renewable and theoretically biodegradable.
Cellulose acetate is ideal for glasses from a practical perspective because it's easy to color, lightweight, and molds with heat (to fit your face).
So what's the downside?
Well, we don't know much about it, frankly. We know it requires a chemical process to turn the plant pulp into the polymer. Three chemicals are involved: acetic acid, acetic anhydride, and sulfuric acid.
All are dangerous and corrosive if not handled and disposed of properly, so a poorly managed manufacturing plant could cause pollution and expose workers to a harmful environment.
Some manufacturers add phthalate-laden plasticizers to it, which ruins any eco-friendly qualities of the material. And we don't want that on our faces.
Lastly, there's no ideal solution for the proper end of life disposal.
While it's theoretically biodegradable, how long it takes is unclear, but this report suggests it's too long to be certified biodegradable. It really depends on the exact makeup of that particular acetate.
Technically it can also be recycled with wood fibers (if there aren't any added plasticizers), but if you toss it in with your curbside recycling, chances are it'll get mistaken as plastic and sorted out.
It seems the best solution is to either donate cellulose acetate sunglasses for reuse or recycle them with the eyewear company if possible so they can remake them into more frames.
All in all, cellulose acetate CAN be eco-friendly but should be treated with caution.
We look for a few things:
It's made with organic cotton or sustainably harvested tree pulp.
It's 100% bio-based, so no added plasticizers (Italy's Mazzucchelli doesn't add any, FYI)
It's made by a reputable manufacturer with workplace safety and proper chemical disposal systems in place. Italian cellulose acetate is widely considered the trusted eco gold standard, mostly due to Europe's strict REACH chemical standards. If a sunglasses company doesn't specify their acetate source, that's a big red flag.
Essentially we should treat acetate as better than any plastic, but less ideal than wood-like frames. For more on acetate, this article thoroughly examines the whole picture.
Let's Talk Lenses
Unfortunately, most environmentally friendly sunglasses are not fully compostable yet because sustainable lens technology doesn't quite have the same framework.
Most are made of polycarbonate, a type of plastic that is recyclable but requires a specialized facility.
Lenses are the last true barrier to fully eco-friendly sunglasses, though some experimental options (namely TAC – or triacetate cellulose) are starting to be used.
Most lenses these days are made of either polycarbonate or CR39 polarized plastic resin.
That's why you always need to remove the lenses before disposing of the frame. Bamboo frame you want to compost? Pop those lenses out first.
Then what?
Neither of these materials is recyclable curbside and require special municipal facilities. They're classified as "difficult to recycle". Some of the best sustainable eyewear companies will offer lens recycling services (or better yet, whole glasses recycling services).
The best option is to put the good old "glass" in "sunglasses".
Glass has gone out of style because it's more fragile and heavier, but it's also the most sustainable lens material out there, being fully recyclable.
Thankfully, a few companies are bringing glass back from the past.
---
FINAL THOUGHTS ON SUSTAINABLE SUNGLASSES
Well, if one thing's crystal clear after writing this list, it's that I'm going to have a hard time choosing just one pair of sunnies!
If you're facing the same problem as me, see if you can repair your old ones first (I can't – they're chewed to bits).
There's also vintage or used sunglasses which are always worth a look – just be sure to check the lenses for scratches.
And if you can't find any good secondhand sunnies, then consider supporting one of these eco friendly brands who are changing the sunglasses game for the better.
If we missed any shades which you think should make the cut, let us know in the comments and be sure to share this article with your sun-loving loved ones… or ones with a particularly chew happy dog!
---