Zero Waste Toothpaste: 11 Plastic Free Products To Sink Your Teeth Into
The whole idea of zero waste makes us smile, so we thought we'd take a moment to talk zero waste toothpaste.
As you know, the goal of zero waste (in a nutshell) is to send no trash to landfills or incinerators, and instead minimize our impact on the planet by relying on biodegradable, compostable, or reusable products.
Each year, 1 billion plastic toothpaste tubes end up in landfills, taking a very very long time to biodegrade and causing all sorts of pollution.
To avoid adding to that statistic, you can go tube-free by making your own DIY style or, if you're short on time, try some of the sustainable toothpaste brands on this list.
They're taking a huge bite out of plastic waste! 
Of the brands this list, we especially love Etee's chewpaste – you can get refills in completely compostable pouches. Georganics is another that almost ticks all of our criteria, just be sure to get the toothpaste, not the tooth soap, which has palm oil.
And despite the name, The Dirt will clean up those chompers with their super gentle and palm-oil free powered toothpaste formula. 
Do scroll to the end of the article if you want to know more on how we created this list and why we've decided to break it up between options with and without fluoride.
Also, please don't consider this article as medical advice (you may need fluoride for example, many people do), please check in with your dentist.
*This post contains affilate links
QUICK LINKS FOR ZERO WASTE TOOTHPASTE BRANDS
---
ZERO WASTE TOOTHPASTE WITHOUT FLUORIDE
1. ETEE ZERO WASTE CHEWPASTE
About Etee Zero Waste Toothpaste
Etee creates their own house made chew paste which comes in a minty vanilla flavor.
Etee's plastic free toothpaste is formulated with ingredients like Canadian glacial clay, kaolin clay, xylitol, sodium bicarb, citric acid, dicclcim phosphate (polishing agent), plant based magnesium stearate and sodium laurel sulfoacetate (note this is sans sulphates like traditional SLSs).
Since they developed their own chew paste formula they ensure it's completely vegan friendly and cruelty free. Though it does contain a small amount of palm oil – Etee are currently looking into alternatives.
The product comes in a glass jar with a steel lid and when you need a refill, they'll send it to you in compostable pouches which are also shipped in a cardboard box!
They'll also be selling a version of their zero waste toothpaste with fluoride in January 2021!
About Etee
Etee stocks a range of zero waste home and personal care essentials.
What we love about them is that they make every product they sell. From the zero waste dish pods to the chew paste! Because of this, they have complete control of their supply chain. Every Etee product that is delivered to your house is 100% plastic-free.
The only exception are their mask filters. But each time you buy a face mask they'll donate one to those who can't afford them.
As for other charitable endeavors, they're also putting together a program for marginalized communities – more info to follow.
Their factory is powered by renewable energy and since their launch just a few years ago, they estimate their customers' buying habits have together saved more than 100 million pieces of single use plastic ending up in a landfill!
If you want to learn more about Etee, have a read here. It's an honest account of the trials and tribulations of managing life while trying to build an ethical business. Someones got to do it!
Available: Etee 
---
2. BUTTER ME UP ORGANICS TOOTHPASTES AND POWDERS
*Note: Butter Me Up Organics Toothpaste is vegan however not all their products are vegan
About Butter Me Up's Toothpaste
Butter Me Up Organics makes 2 toothpastes (whitening and organic activated charcoal) and 1 remineralizing powder.
The ingredients, like baking soda, sea salt, coconut oil and essential oils, are designed to promote overall mouth health and are completely organic, non-GMO, cruelty-free, and fluoride-free.
While Butter Me Up Organics' toothpaste is vegan, they also stock a handful of non-vegan products. Oh, and they're all made with love! One small 2 oz. glass jar is designed to last 3 months!
About Butter Me Up Organics
Jillian started Butter Me Up Organics in 2008 after looking at a $25 tin of organic body butter and thinking to herself, "I can make this." 
She spent 3 years perfecting recipes, ingredients, and sources until she found the perfect therapeutic and sustainable products, all of which she still makes by hand then packages in glass, tin, or paper.
She follows a zero waste approach, using glass containers with a recyclable lid, recycled paper, upcycled packing materials, and soy inks. She even writes her thank you cards onwildflower seed paper.
All ingredients used are 100% cruelty free and free of synthetics and palm oil. Most of Butter Me Up Organics' products are vegan except for their salves, moisturizers, lotion/balms, organic milk soaks and a goats milk bath bomb.
Jill also sets aside an annual amount for charitable donations which goes to various charities and causes (like the Californian wildfires, Leukemia and Animal charities).
Available: Etsy 
---
3. BATTLE GREEN REMINERALISING TOOTH POWDER
About Battle Green Remineralizing Tooth Powder
With hundreds of good reviews on Etsy, we simply had to take a closer look at Battle Green's fresh, small-batch toothpowder, which comes in glass jars and compostable refill packets.
These contain a base of bentonite clay, which Battle Green say binds to the impurities and toxins around your teeth and gums and promotes an alkaline balance to counteract the damaging effect of acidic food and drink.
Other ethically sourced ingredients include calcium carbonate, sodium bicarbonate, xylitol, cinnamon, cassia bark extract, salvia officinalis leaf extract, peppermint oil, pink Himalayan salt, and sage (which was used in the Middle Ages as an anti-inflammatory oral care agent). 
All in all, these not only remineralise teeth, but polish and whiten them, balance the mouth's pH, and soothe gums.
These powders are PETA certified vegan and cruelty free, and free from SLS, palm oil, paraban and glycerin. As part of their PETA certification, they can only source from suppliers who also do not test on animals.
To really drive home how important it is to be cruelty free, they refuse to sell their products into China due to Chinese regulations mandating animal testing for cosmetics.
About Battle Green
Battle Green comes to us from the beautiful Snowdonia range of northern Wales. 
There they make every product in small batches by hand.
Aside from oral care products, they also sell a huge range of zero waste bath and beauty products, and reusable zero waste essentials to help you build new zero waste habits.
Everything they make is vegan, cruelty free, and minimally packaged in recycled cardboard without any platic whatsoever.
They're also members of the Surfers Against Sewage 250 club, through which they volunteer and sponsor beach clean-ups. They additionally donate to One Tree Planted, Binti, and Freshfields Animal Rescue.
Available: Etsy
---
4. THE DIRT TRACE MINERAL TOOTHBRUSHING POWDER
*Note: Not all products are vegan, however the toothpowders are vegan
About The Dirt's Powdered Toothpaste
The Dirt's toothbrushing powders, available in delicious sweet spice orange or super mint are completely vegan and paleo, and don't contain fluoride, glycerin, or GMO-derived Xylitol.
The 6 month supply come in glass mini mason jars that are so cute you'll definitely want to reuse them in your zero-waste household.
They use benzonite clay powders, ranking only a 1 or 2 on the Moh's scale of harshness.
Note that their toothpastes contain beeswax so if you are vegan/plant-based, be sure to go for the toothpowders… the toothpastes also come in a plastic tube (one of the many types of plastic to be aware of), another reason to stick with the powders!
About The Dirt
The Dirt, a locally produced company based in Los Angeles, focuses on "super natural personal care" and started because founder Shannon Drake was dissatisfied with the green-washing of supposedly "natural" products.
Green-washing is another way of making something look natural but it's actually not.
The Dirt aims to make only products we could also eat, so they're free of soy, corn, or gluten. The Dirt's products are all cruelty-free, many are vegan and The Dirt uses organic ingredients wherever possible. We can't find any palm oil derivatives in their ingredients list and all their products are USA made.
---
5. GEORGANICS NATURAL MINERAL-RICH TOOTHPASTE
*Note: Georganics toothpaste is palm oil free however, their tooth soap contains palm oil
About Georganics toothpaste
Georganic toothpaste uses calcium carbonate and sodium bicarbonate bases, which are said to be rich in enamel-strengthening minerals that reduce tooth sensitivity.
The product contains no fluoride, SLS, or glycerin on the ingredient list.
All pastes come in reusable glass jars with a bamboo spatula for application and are shipped in compostable craft paper boxes with biodegradable vegetable ink labeling.
Choose between ginger, red mandarin, tea tree, English peppermint, spearmint, and pure flavors. You can also buy sets of toothpaste and oil-pulling mouthwash…. and compostable zero waste floss (which we love).
About Georganics
U.K. based, Georganics specializes in vegan, organic, zero waste dental care.
They make not only toothpastes, but oil pulling mouthwashes, bamboo floss, dental supplement vitamins, and super handy mouthwash tabs, which are GREAT on the go.
All products come in biodegradable or reusable packaging and are made to order, so they're not sitting on the shelf for months before you get them.
If you're in the UK, you can also return any Georganics products and components at not cost as part of their "Zero To Landfill scheme".
Georganics tooth soap contain Sodium Palm Kernelate, "derived from sustainable and organic RSPO kernel oil" (i.e. palm oil) so if you're anti-palm oil, stick to the "toothpaste".
Their products are all cruelty free and vegan (except, strictly speaking, for their silk floss which is "obtained only once the worms have hatched and cocoons are vacant. Made in a way that is more humane to silkworms than many traditional methods".
This is also compostable). Their products are manufactured in England and most of their ingredients are sourced locally. They also support The Ocean Cleanup.
---
6. DIRTY HIPPIE REMINERALISING AND WHITENING TOOTH POWDER
About Dirty Hippie Toothpowder
Dirty Hippie offers a "a fresh alternative to toothpaste", with their range of toothpowders. Currently there are 3 flavours: Peppermint, Peppermint Rose and Cinnamon Bun.
All of which are free of fluoride, SLS/SLEs, Parabens, Chemicals/fillers, flavouring or preservatives.
Instead these zero waste tooth powders are made from detoxifying clays, whitening bicarbonate soda, remineralising calcium carbonate, Western Australian salt and Stevia powder.
Their toothpowders are cruelty-free and vegan and come initially in a nice looking glass jar, following which you can buy refills, sent in 100% post-consumer recycled paper envelopes.
These guys are definitely tops when it comes to zero waste goals!
About Dirty Hippie
Hailing from Bywong, Australia, Dirty Hippie Cosmetics are one of the most sustainable brands we've had the pleasure of covering. They create handmade, organic and clearly top quality products (based on hundreds of super reviews).
They're a 100% cruelty-free and vegan friendly brand.
Historically, they have been palm oil free but their supplier of Cetearyl olivate and Sorbitan olivate (palm oil derivatives) can no longer be guaranteed to be palm free so Dirty Hippie is in the process of looking for another supplier. Note that their tooth powder is still palm oil free. 
For sourcing ingredients, they purchase through fair trade channels, buy local or grow their own raw ingredients.
Their lip balms, sunscreens, deodorants and small and large eco tubs are made using compostable recycled paper, otherwise they use tins and glass bottles which can be reused.
Their labels are printed with refillable veg-ink and their operations (which currently have a 50% carbon offset) will be powered with solar when they move into their new HQ.
They operate a number of charitable initiatives and projects from raising awareness for suicide prevention to animal rescue to support for cancer sufferers.
Available: Etsy 
---
7. SCENT CERAE TOOTH NIBS
About Scent Cerae Tooth Nibs
Scent Cerae vegan tooth nibs are made of a natural and nourishing blend of simple ingredients: bentonite clay, white kaolin clay, illite sea clay, sodium bicarbonate, natural soap nuts, and organic xylitol.
Some potentially harmful things you WON'T find in these zero waste toothpaste tablets include: fluoride, titanium dioxide, glycerine, SLS, artificial flavors, dyes, and triclosan.
To better protect tooth enamel, there are also no abrasive ingredients.  Sodium bicarbonate is the closest thing to abrasive and even that falls very low on the Moh's hardness scale.
These tooth nibs are also totally biodegradable and safe to enter earth's waterways.
Each jar comes with 80 nibs and a choice between four delicious-sounding flavors: Cinnamon Roll, Mint Chocolate Chip, Matcha Mint, and Strawberry Champagne. 
How's that for an incentive to brush your teeth?! These flavors are derived from purely natural ingredients like organic essential oils, matcha leaf powder, organic cacao nibs, and freeze-dried strawberry powder.
Your first order will come in a compact and convenient waterproof tin while refill orders come in compostable kraft paper envelopes.
Scent Cerae
Scent Cerae is owned, operated, and partially named after a woman with a passion for sustainability and travel. Sherae started the company while living in Asia for 7 years as an expat. There were just no products available to meet her sensitive skin's needs, so she started making her own!
Now, she makes a full line of natural skincare, haircare, eco travel products, and other personal care items in a zero waste lab, which operated plastic-free all the way through shipping.
Aside from selling them online, she hosts pop ups shops as she travels. Some of her products are even offered in certain hair salons and dental offices (so you know they get the dentist deal of approval!).
Ethical ingredient sourcing is also a huge focus for Sherae. In her words, it "consumes most of our time because we do source ethically and try to stay as local as we can for sustainability."
Lastly, Scent Cerae regularly donates to Kiva and Hope Projects, a fact which they humbly don't advertise. 
They also participate in monthly plastic clean ups along the river of their local Audubon.  This "keeps us mindful to why we are doing what we do and makes a difference without spending cash to do so."
Available: Etsy 
---
8. NELSON NATURALS
About Nelson Naturals Brush & Brush Toothpaste Tablets and Pastes
Nelson Naturals makes two types of zero waste toothpaste.
Their Crush Brush tablets and their traditional glass-jarred pastes.  
The Crush Brush tablets are their newest product and they're not only more portable but a little more gentle on tooth enamel, especially great if you have sensitive teeth. 
Available in either mind or mint charcoal flavors, ingredients include calcium carbonate, sodium bicarbonate, xylitol, potassium bitartrate (cream of tartar), certified organic spearmint and peppermint, gum arabic, (sea salt), menthol, magnesium stearate, and silica. 
For toothpastes, they offer an assortment of flavors that includes peppermint, fennel, citrus spice, cinnamon, activated charcoal, and Moringa Forest Fresh mineral toothpaste. These pastes contain a base of calcium carbonate, sodium bicarbonate, xylitol, sea salt, colloidal silver, castile soap, trace mineral concentrate, and various essential oil.
For those concerned by "liquid mineral concentrate", they explain that this is an ionic desalinated combination of 72 naturally occurring minerals sourced from the Great Salt Lake in the US.
Neither formulas contain any palm oil, sodium Fluoride, SLS, glycerin, gluten or animal byproducts. Magnesium Stearate can be palm oil derivative but after reaching out they directly confirmed their products contain no palm oil or derivatives.
About Nelson Naturals
Nelson Naturals is another Canadian toothpaste company, with all operations and manufacturing based in Nelson B.C. If you live in Canada, check and see if you're near any one of their partnered refill stations.
They were inspired to start the company back in 2012 (long before we had even half so many zero waste toothpaste options on the market). 
Motivated by both plastic tube plastic statistics and the chemicals in traditional toothpastes, they dreamt of something better:
"The average person will spend close to 1500 hours of their life brushing their teeth. Two minutes, twice a day really does add up! Most people who use conventional toothpastes don't even realize what they are putting into their bodies. There are a plethora of ingredients in store brand toothpastes that have nothing to do with your oral health, and everything to do with cutting costs."
When it comes to sourcing, they vet their suppliers are work with very reputable manufacturers, as well as making a point to purchase North American made whenever possible.
As well as offering zero waste packaging for their products, they stock bulk refills stores across a variety of zero waste stores across North America. They use plastic-free shipping materials and "ask that our distribution partners ship plastic-free whenever they can."
They also give back 5% of all profits to animal charities. Their current giving parters are Rat Terrier Rescue Canada and the Happy Animals Club.
---
ZERO WASTE TOOTHPASTE WITH FLUORIDE
9. UNPASTE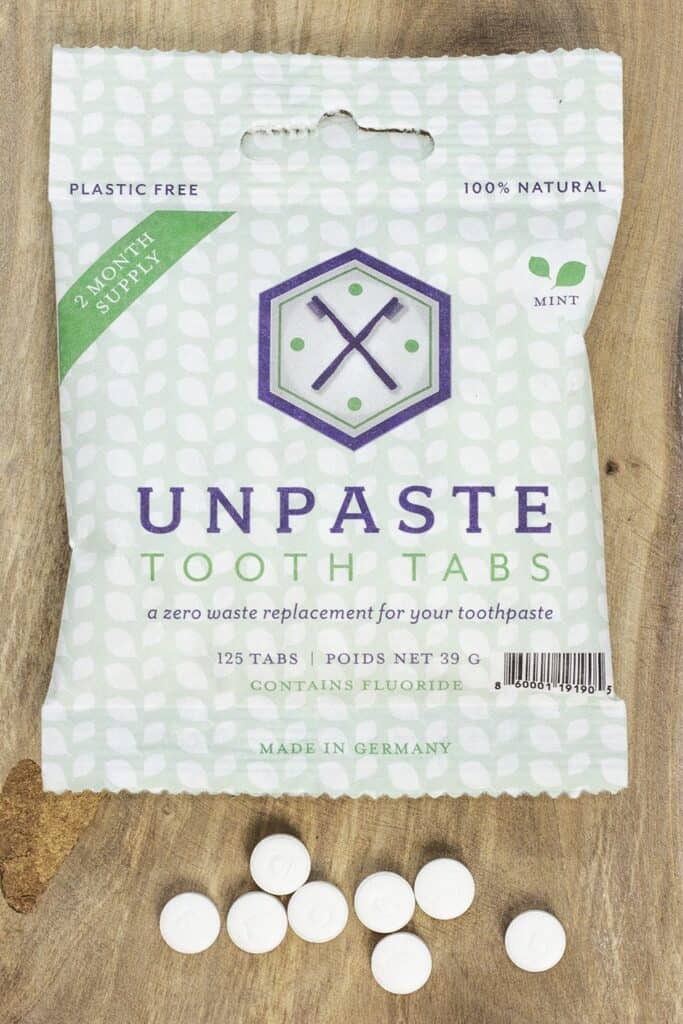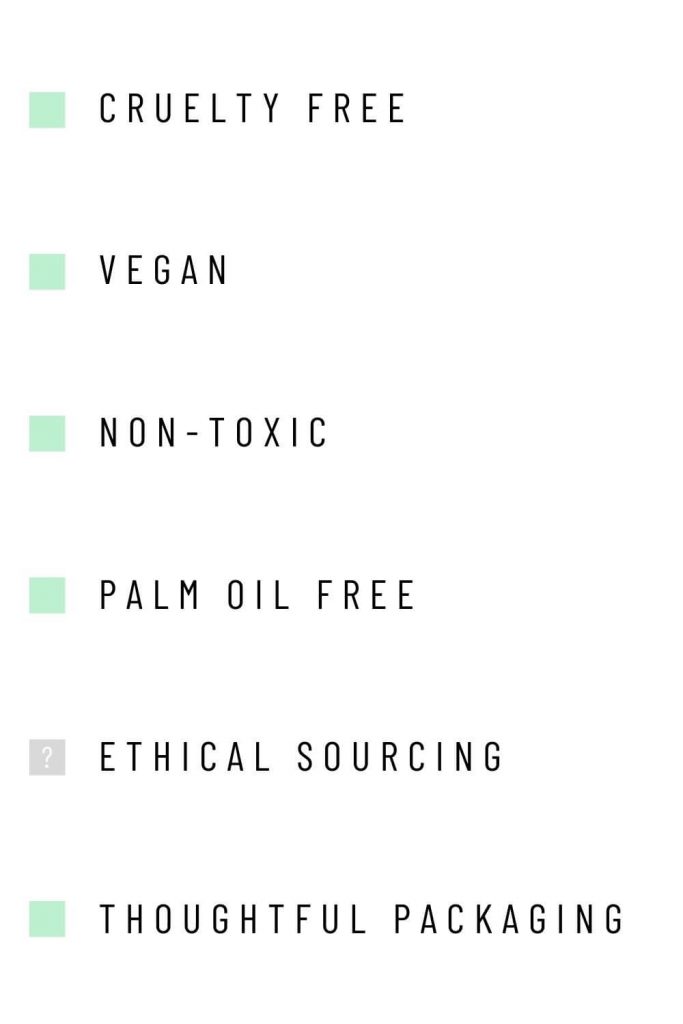 *Note: We are confirming policies directly with this brand.
About Unpaste Zero Waste Toothpaste
Unpaste dares you to "replace your paste" with these convenient and highly portable zero waste toothpaste tablets.
Just bite, wet your toothbrush, and brush the bacteria away.
These tabs contain no preservatives, GMOs, gluten, dyes, palm oil, aluminum or nanoparticles, foaming agents, SLS, paraffin, or other petroleum based products.
Instead you'll find a vegan and cruelty free formula made of microfine cellulose, baking soda, and silica. The cellulose is what packs the punch, polishing your teeth to a "smooth post-dentist feeling".
While the original version does contain fluoride, they also have a fluoride free version. Both are available in a mildly minty flavor.
There are 125 tabs (enough for a 2 month supply) in each pack and they come in a compostable non-GMO corn starch bag printed with organic ink.
About Unpaste
Unpaste's goal is "to provide best possible dental care using the least amount of chemical ingredients possible, with no waste."
They only make tooth tabs, but they've been wildly successful at doing just that.
You can now find Unpaste in tons of sustainable online retailers, as well as in lots of natural or zero waste brick-and-mortar shops around the U.S.
While they're most commonly found in the States, these tabs are made entirely in Germany and certified by all German organizations, including Aktion-zahnfreundlich e.V. as safe and effective and BDIH as all-natural.
Germany's certifiers are arguably stricter than US organizations like the USDA and FDA. In other words, you know you're getting gute sachen.
---
10. NAKED COMPANY'S DENTAL CRUSH TOOTHPASTE TABS
About Naked Company Dental Crush Toothpaste Tablets
Naked Company is another new toothpaste company that offers an enamel reinforcing fluoride toothpaste, in a compact,mess-free tablet form.
No foaming and stabilizing agents, like Carrageenan, Propylene Glycol, Triclosan, SLS and DEA.  Read why they refuse these ingredients here.
100% cruelty-free and vegan, all ingredients are purchased from UK or EU suppliers.
These toothpaste tabs instead consist of Microcrystalline Cellulose, Sodium Bicarbonate, Silica, Sodium Lauroyl Glutamate, Magnesium Stearate, Aroma, Menthol, Xanthan Gum, Stevioside, Citric Acid, Sodium Fluoride, and Eugenol.
For allergy sufferers, note that Eugenol, derived from cloves, has been labelled by the European Commission as a potential allergen.  
Microcrystalline Cellulose, Sodium Lauroyl Glutamate and Magnesium Stearate are derived from palm oil however the Naked Company sources these ingredients from sustainable sources.
These toothpaste tabs are not 100% zero waste as they use kraft paper styled packaging with an aluminium lining. The packaging only weighs 4 g, for a 2 month's supply (based on brushing twice daily). Once the pouch is empty, the packet can be pulled apart and the aluminium layer recycled from the kraft paper.
Naked Company decided not to use glass as they have found that a lot of glass manufacturers use heavy metals in the manufacturing process.  Also, glass is harder to transport, requiring packaging fillers and outer boxes to safely arrive at the end user.
They post their Dental Crush in a paper envelope..
About Naked Company
Elizabeth, owner of Naked Company, states, "At Naked Company, we set out to solve two problems; packaging waste and a healthier alternative to toothpaste whilst maintaining good dental hygiene."
Hence the fluoride version of the toothpaste tab. In addition to these, they also sell reusable cotton swabs, bamboo toothbrushes, and other zero waste personal care products.
For every purchase made, they plant a tree through One Tree Planted. Specifically, their trees get planted as part of the Amazon reforestation project in the Madre de Dios region. This region is home to over 10% of the world's bird species. We can't help but notice the two clearly placed toucans in their logo!
Available: Etsy
---
11. DENTTABS TOOTHBRUSH TABLETS
*Note: We have attempted to confirm policies directly with this brand but have not received any response to date
About Denttabs Tooth Tablets
Much like the other dental tablets on this list, Denttabs work by combining a bit of chewing with saliva and wham, toothpaste!
These tabs are now sold in fully compostable bags, made from corn starch and "carry the official compost certificate"
These tabs are cruelty-free and vegan. They're also free of preservatives, germ-inhibiting substances, binders and contain neither aluminum nor nanoparticles.
While non-toxic, this product does contain sodium fluoride which some people prefer not to include in their toothpaste. They are however certified by COSMOS as a natural cosmetic. Unfortunately, they are not palm oil free as they also contain Sodium Lauroyl Glutamate and magnesium stearate, both common palm oil derivatives.
About Denttabs
Denttabs is a German company, founded by doctors who are very much focused on reducing the resource impact of their products (water used, packaging etc.).
Their products are all vegan and cruelty-free. Their tabs are available in large quantities, in compostable packaging so if zero waste is your thing and you need toothpaste with fluoride, these tabs are a good option.
---
HOMEMADE ZERO WASTE TOOTHPASTE
If you have the time and motivation, try your hand at homemade zero waste toothpaste! It's surprisingly fast, easy, and super satisfying, not to mention the more pure form of zero waste you can get.
Common Ingredients:
Baking soda
Coconut
Essential oils
Sweet spices
Charcoal powder
Bentonite clay
Method:
The DIY version typically involves gently melting the coconut oil and mix your ingredients together, adjusting amounts slightly to get the texture and consistency you want. That's it! It gets a little more complicated (but not much!) if you're making powder instead of paste.
To learn more about the different recipes, check out some of our favorite fellow sustainable living bloggers:
Whether you're buying zero waste or diving in D.I.Y., zero waste toothpaste (and cleaning in general) is good for the planet! 
So show off those healthy pearly whites knowing one less tube of plastic will sit in a landfill because of you. We definitely think that's something to smile about.
---
HOW TO FIND PLASTIC FREE TOOTHPASTE
If this is your first time visiting, our approach to sustainable beauty is to look for brands and products that are:
palm oil free
have ethical ingredient sourcing policies and
use thoughtful, (ideally) zero-waste packaging (meaning it either has no waste at all, or waste that is compostable or reusable).
Just a quick note: some of these eco friendly toothpaste products are not always available in every country (especially the fluoride options which seem to be in limited supply). We'll continue to research and add other sustainable toothpastes for our zero waste community.
WASTE FREE TOOTHPASTE: WITH OR WITHOUT FLUORIDE
Ah the great debate about toothpaste… are natural options good or bad for you ultimately? Should your toothpaste contain fluoride or not?
The answer is deeply personal based on your teeth, your health and your background.
Our friends at Reusable Nation wrote an article which covers each of these points and the benefits (or lack thereof) of each of the ingredients typically found in all-natural toothpastes/powders/soap.
Also, never a bad idea to discuss this with your dentist. Our dentist, for example, recently told us both (in no uncertain terms), that it's time to get more fluoride onto our teeth… so for us the options are a little more limited… for you it may be very different!
---
FINAL THOUGHTS ON ECO FRIENDLY TOOTHPASTE
Eco friendly toothpaste hasn't always been this easy to find.
In fact, for a long time there were no sustainable options around. While other products, like those in the beauty space were readily available.
Thankfully, you can now find zero waste tooth tabs, toothpowder and paste with a quick search.
The trick is trying to find options that are not only good for you but better for the environment. With that said, we hope you've found a few great products in this list to try.
---