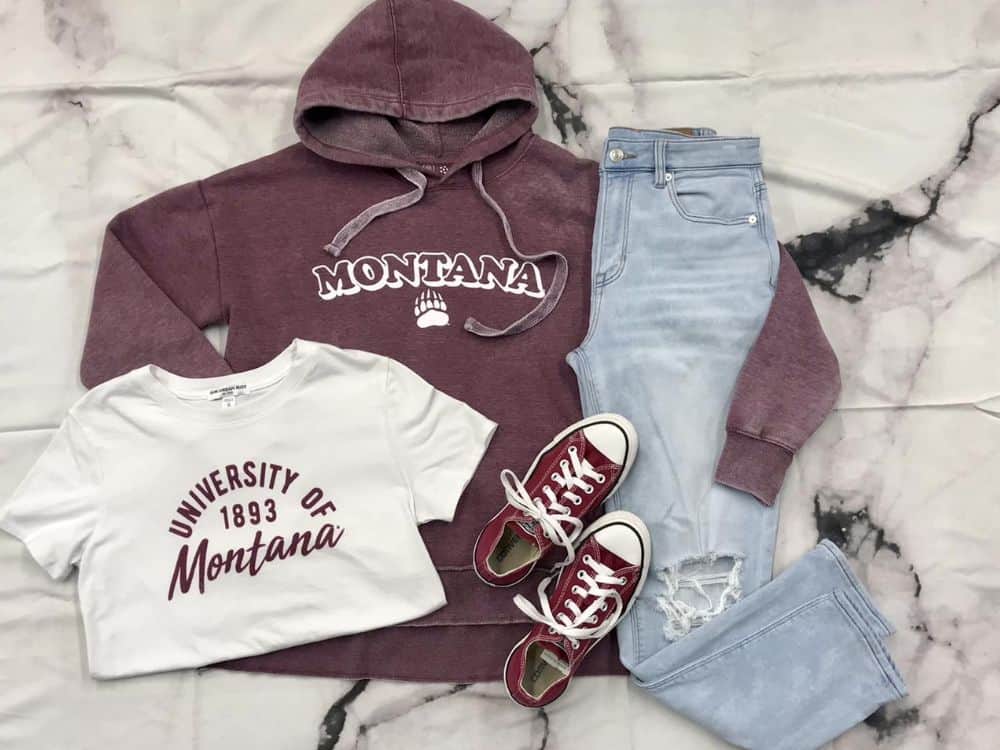 9 Missoula Thrift Stores For Big Bargains In The Big Sky State
Thrifting is sort of like hunting for treasure—and what better place to do that than in the Treasure State?
More specifically, there's no Montana city better suited for seeking the best secondhand goodies than Missoula.
Why?
Because thrift shopping is all about finding the weird and wacky, and Missoula embodies that to an (M)T.
Plus, opting for secondhand over new goods helps save the natural world and, given the Garden City is situated right at the heart of the Bitterroot Mountains and confluence of the Bitterroot and Clark Fork rivers, there's a lot for Missoulians to want to protect.
We want to make sure you go prepared—they call it Zoo Town for a reason, after all—so we've gathered a list of some top-tier thrift stores Missoula offers to help.
Pull up a copy of our thrift shopping tips and get ready to check out the best Missoula thrift stores in the Last Best Place.
1. ReStyle Clothing Exchange
About ReStyle Clothing Exchange Thrift Store Missoula
Price Range: $-$$
Just like Missoula is an eclectic mix of all the cultures this state has to offer, this Missoula, Montana thrift store offers a little bit of everything.
From outdoor gear from the likes of Patagonia and The North Face to designer handbags, ReStyle Clothing Exchange probably has it in stock.
If you're looking to kill some time before going to catch a Griz game, stop by for their huge selection of secondhand Griz garb to represent Montana's favorite team (sorry, Bobcats!).
Don't forget to say hi to shop dogs Reggie and Greaser!
Location: Rose Park
---
2. Donation Warehouse
About Donation Warehouse Used Furniture Missoula MT
Price Range: $-$$$
Donation Warehouse Missoula started as a garage sale fundraiser and blossomed into the best second hand furniture Missoula offers.
It's a literal warehouse stocked full of used furniture, appliances, fitness equipment, yard gear, vehicle parts, and more.
Anything they sell is either in good working condition, or will be repaired, refurbished, and cleaned by them until it is—so you can rest easy knowing your new-to-you eco-friendly appliance will actually work once you haul it home.
Thanks to their free local donation pickup, they make it easy to ensure your unwanted goods have a chance at a second life.
Profits go to toward their mission to fighting child abuse, accomplished through collaboration with their non-profit community partners The Parenting Place and Missoula Exchange Club.
Location: Franklin to the Fort
---
3. The Sports Exchange
About The Sports Exchange Second Hand Store Missoula
Price Range: $-$$$$
Heading out to ski Discovery but realize you need some new waterproof bibs for that waist deep pow day?
The Sports Exchange specializes in pre-loved and demo version outdoor gear.
That includes everything from technical outdoor clothing and footwear to eco camping gear, water sport gear, and much more.
If you just upgraded your skis, pass your old ones along using their consignment options.
Location: Riverfront
---
4. TC Resale & Donation Thrift Store
About TC Resale & Donation Thrift Store Missoula
Price Range: $-$$
TC Resale & Donation Thrift Store is a go-to all around thrift store for this western Montana town.
Shoppers can find essentials like clothing, furniture, and kitchenware in gently-used condition at highly affordable prices.
An arm of the Pacific Northwest Adult & Teen Challenge, each purchase helps provide vocational training, financial support, and recovery services to folks overcoming "life-controlling problems".
Location: Westside
---
5. Leftover Vintage
About Leftover Vintage Missoula Vintage Store
Price Range: $$-$$$
If you're a University of Montana student on a budget, Leftover Vintage is your nearby hub for affordable and unique duds.
They offer buy, sell, and trade options across their small but curated collection of vintage graphic t-shirts, denim jackets, and more, including the odd finds like salvaged skateboards.
From fans of retro cartoons to Garth Brooks, there's a vintage find here for almost anyone.
Location: University District
---
6. Missoula Used Furniture
About Missoula Used Furniture
Price Range: $$-$$$$
Looking for the best Missoula thrift stores for furniture?
If the name doesn't say it, we don't know what would!?
Missoula Used Furniture has something for every home decor taste—from Victorian-style velvet chaise lounges to hand carved room dividers.
Not to mention, it's all displayed in a stunning showroom that will make you question whether it's really secondhand.
Location: Downtown
---
7. Home ReSource
About Home ReSource Used Furnishings Store Missoula
Price Range: $-$$
Home ReSource isn't your average Missoula thrift store; It's a nonprofit community sustainability and reuse center.
That means they not only sell the means to build and upgrade things yourself using materials that already exist, but provide the know-how to do so through the Zero Waste Ambassadors Program (ZWAP!) youth program, reuse skills, workshops, job training, and public Fix-It clinics.
While you won't find used furniture, Missoula residents will find just about anything else to build a house, including building materials, lumber, sinks, carpet, holiday decoration, and much more.
Location: River Road
---
8. Magpies Chic Consignment Boutique
About Magpies Chic Consignment Store Missoula MT
Price Range: $$-$$$
Magpies Chic Consignment Boutique is an upscale but accessible secondhand store dealing in clothing and select housewares and decor.
You won't find cheap garments from big box stores like Walmart and Target, but you will find just about anything else.
If the chaotic, hodgepodge feel of some secondhand shops overwhelms you, you'll love their tidy, beautiful displays
Location: Rose Park
---
9. Runway Fashion Exchange
About Runway Fashion Exchange Missoula MT Thrift Store
Price Range: $-$$
Part of a larger chain of fashion resale boutiques, Runway Fashion Exchange offers the latest styles from popular brands like Vans, lululemon, Levis, and Carhartt (a Montana staple, of course).
If your closet is already bursting, start working toward that minimalist wardrobe with their same-day cash buying process.
Location: Southgate Triangle
---
Did you know we Have a Newsletter?
We cover the latest in sustainable living, fashion, zero waste, beauty, travel, finance and more…
Why Shop At Thrift Stores In Missoula, Montana?
You've probably gone fishing in the Clark Fork River, but have you gone fishing for bargains in Missoula?
If not, you should, because all that furniture and textile waste is otherwise contributing to the city's 91,000–122,000 tons of annual landfilled trash (per 2018 estimates).
With over 20 miles of bike paths and a surfing wave right in the heart of downtown, it's clear Missoula residents are stoked on taking part in the natural world around them. Thrift shopping is just one way to ensure they can continue to do so for years to come.
By opting for secondhand clothing and used furniture, Missoula residents can avoid fast fashion and other over-consumptive practices.
That's a critical step toward vying for a zero waste economy, of which Missoula already has its sights set on with its Zero By Fifty goal.
This framework for going zero waste by 2050 is ambitious and absolutely unprecedented among western cities. It's also necessary, and we'd love to see more cities following suit.
---
Final Thoughts On Thrift Stores Missoula
Whether we're talking trash or people, Montana is full—and so are its thrift stores.
Help lighten the load on them and the planet by choosing one of the best Missoula thrift stores for furniture, clothing, appliances, and whatever else you need.
Your beautiful state will thank you.
If you're reading from afar or can't make it to one of these in person, you can still support a circular economy, either through local second hand shops of your own or online thrift stores.
You can also support by passing this article along to the other Missoulians in your life.
Pin these: