Sustainable Spring Cleaning Tips & Tricks To Go Green In Your Home
Spring has sprung, warmer weather is here, and with it comes the urge to clean, organize, declutter, and do some sustainable spring cleaning on our homes.
Wait, do people still do spring cleaning?
They sure do! Spring is a season of rebirth and after being cooped up inside over the long winter, it's natural to feel the urge to reinvigorate your stale living space with a breath of fresh air—literally.
A clean house means fewer pollutants (such as dust, pet hair, and mold), reducing risk of respiratory issues and supporting a healthy immune system—provided we're using eco-friendly cleaning products that won't pollute the air with VOCs and toxic chemicals.
Decluttering is another component to spring cleaning and research also suggests a cluttered space can lead to depression and stress.
While decluttering is necessary and healthy, be careful not to go too overboard. Keep in the back of your spring-fevered mind that the most sustainable choice is to use something up if you can before replacing it altogether.
So put on your favorite cleaning playlist, grab an eco-friendly sponge, and let's learn how to declutter sustainably in a way that makes our planet sparkle as much as our home.
The Full List Of Green Spring Cleaning Tips
---
1. Cleaning Out The Closet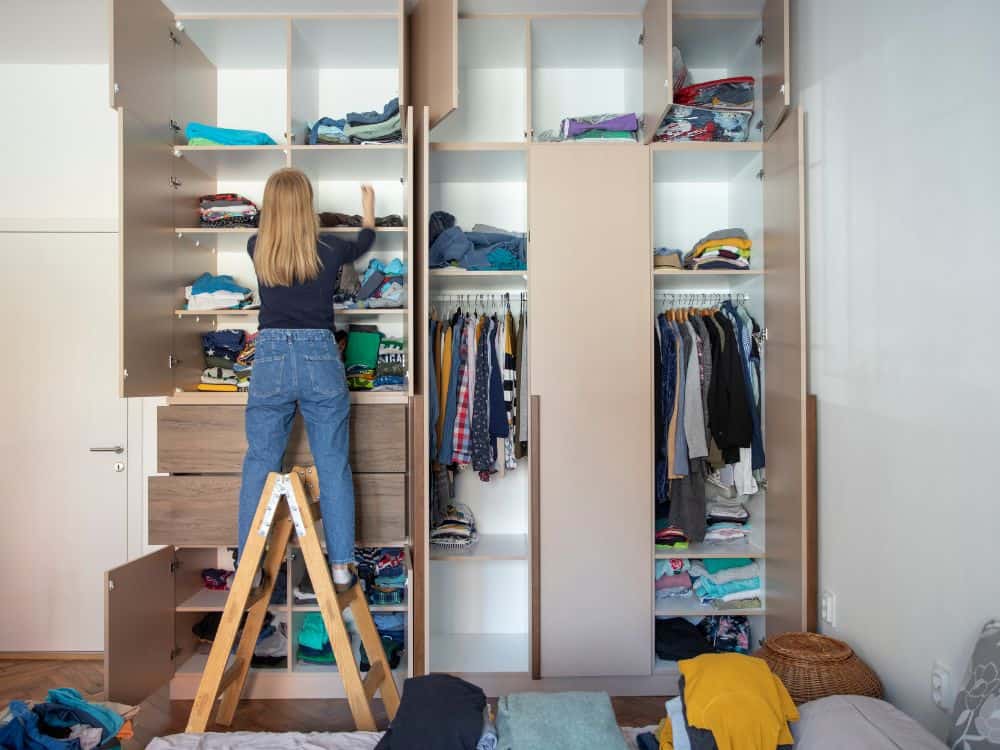 Cleaning the old clothes in your closet is always a good place to start your de-junking journey. Why?
Because if you're like the average American, you haven't worn 82% of the things in there in the last year, perhaps the most shocking of all spring cleaning facts.
But before you start bagging up all your damaged, too-small, or unwanted stuff and get ready to drop them off at a local thrift store, think again.
Only about 10% of donated clothes find a new home. The other 90% ends up in landfills anyway or getting shipped off to different countries. Why should our trash become someone else's problem?
If you're not sure what to do with old clothes beside donating, consider the following tips and tricks for sustainably spring cleaning clothes:
Make an inventory of what you have because there are bound to be some long-forgotten items hiding away in the nooks and crannies of your closet. There's nothing more sustainable than using what you've already got rather than buying new.
You might find some items that need repairing. It might require a new button, a repair to a seam, or a patch attached to the worn spots. It doesn't require the skills of a seamstress to tackle such basic repair jobs.
For items beyond repair, try some upcycled clothing ideas to put them to second use, either to wear or around the home. Even old socks and old underwear can have their second uses.
Consider organizing a clothing swap with some of your friends. You might be a little tired of wearing the same old jeans, but one of your mates might be able to do something with them.
For old clothes still in good shape that you just don't want any more, use platforms to sell clothes online to turn that closet clutter into cash.
---
2. Spruce Up The Bathroom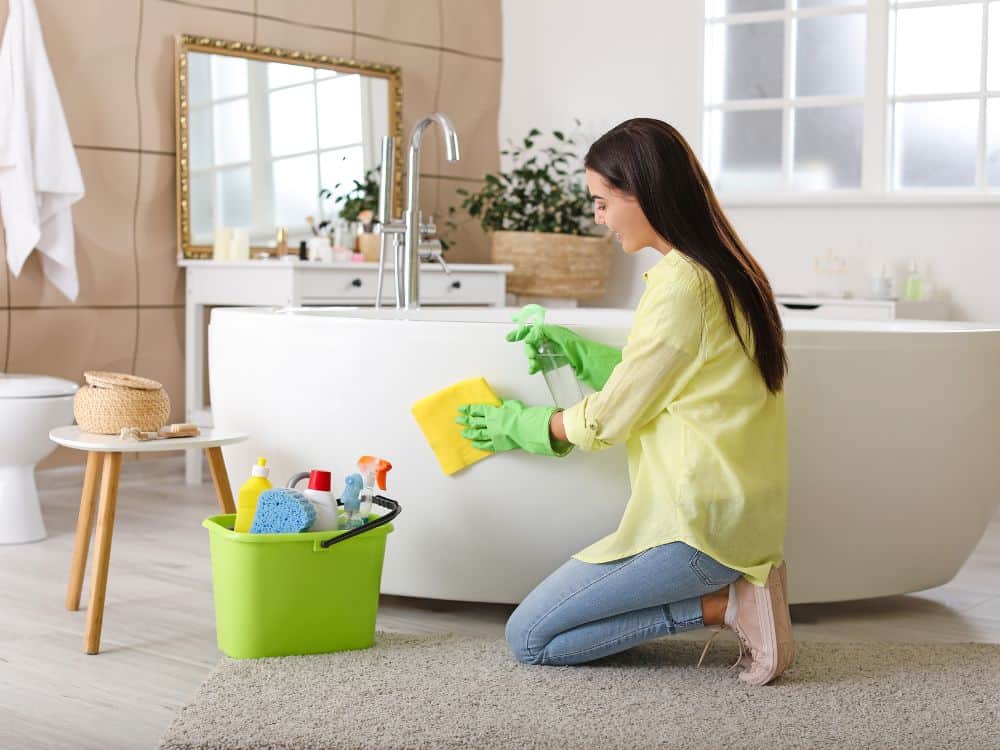 Spring is the perfect time for revisiting and revitalizing all the hidey-holes in your bathroom—mold in the shower glass trim, anyone?
However, don't be tempted to blitz your bathroom using one of the many noxious chemicals lining the shelves of your local store.
What is a green cleaning method you can use instead?
Aside from DIY spring green cleaning options using common household ingredients like vinegar and baking soda, there are plenty of zero waste cleaning brands for a safer scrub.
Meliora sells plant-based home cleaning sprays that come in a refillable glass bottle you can refill for reuse for many spring clean sessions to come.
EarthHero will have you jumping for joy when it comes to eco-friendly spring cleaning time. Its range includes all manner of bathroom cleaning products from only the best brands.
Once you have your cleaners and reusable cloths and brushes at the ready, work your way around the bathroom, getting at the grout, scrubbing away the soap scum and hard water stains, and going at the floor with an eco-friendly mop.
If you haven't yet switched to a zero waste bathroom, finish by mucking through the cabinets and purging all those half-empty plastic bottles of toxic products you haven't used in years. Empty the contents and recycle the bottles if possible.
---
3. Degrease The Kitchen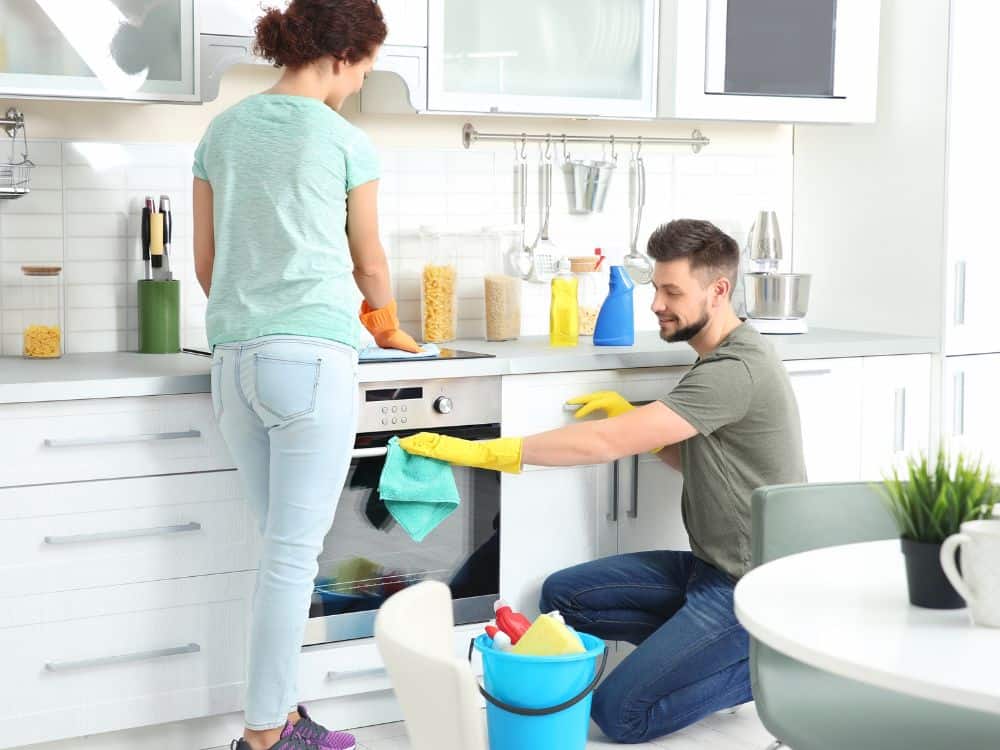 There are countless kitchen cleaning products you can use to banish the grease and remove dirt, stains, and all the rest of your kitchen detritus. Unfortunately, many of them contain harmful chemicals.
Luckily, there are plenty of eco-friendly alternatives for keeping your kitchen and your conscience clean.
If you want to go green with spring cleaning without the assistance of chemical cleaners, the humble lemon makes a great all-purpose green cleaner. Fill a spray bottle half full with lemon peels and mix in equal parts white vinegar and water. Leave it for a couple of weeks for the citrus to infuse. Strain the peels and then pop the solution back into your reusable spray bottle.
You can also wipe your kitchen surfaces directly with lemon juice and cleaning rags or recycled paper towels.
Baking soda is another staple with which you can make your own cleaning products with a little more scrubbing power. As well as keeping your kitchen clean, you'll save money too.
Coffee grounds make a good scrubbing medium for getting rid of dried-on food scraps. Spring them on your countertops and scrub the scraps with recycled paper towels or cloth rags instead of disposable cleaning wipes or virgin paper towels.
Don't forget to clean behind all your eco-friendly appliances. You'll be surprised what you find there.
Part of your spring cleaning schedule should include cleaning out your dishwasher catcher and vacuuming your fridge coils, where a surprising amount of dust and hair can accumulate and reduce your fridge's cooling efficiency by about 30%.
Spring cleaning doesn't have to be just making surfaces shiny and decluttering—it can also help you conserve energy at home.
If part of your kitchen clean-out includes purging all those stained and lidless food storage containers you no longer use, study up on what to do with old tupperware to see if it can find a more sustainable second use than the landfill.
---
4. Defluff The Laundry Room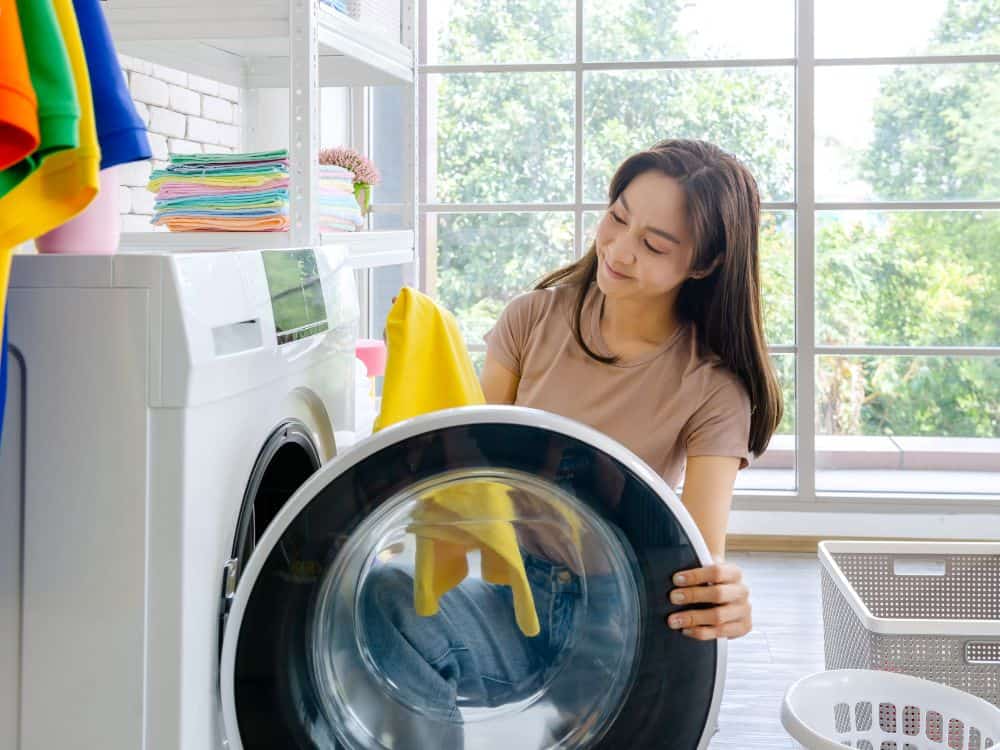 Sustainable spring cleaning tips and tricks people usually forget tend to feature the laundry room.
Your laundry room works hard for you all year. It's where your clothes and linens go dirty and leave spotless, thanks to your eco-friendly washing machine and natural laundry detergent.
Your washing machine and dryer are very efficient but they need a little help when it comes to the remnants that build up in the filters, ducts, and gaskets.
Show your laundry room workhorses a little TLC by decluttering all the odds and ends or things that don't belong there, returning them to their rightful home.
Start by de-gunking your front-load washer. You can minimize mold by running an empty load on the hottest setting with a cup of vinegar. When the cycle has finished, wipe away any moisture on the rubber gasket and inside the door.
The drain pump filter of your front-load washing machine is a trap for lint, hair, and all manner of small objects including hairpins and coins. If the filter becomes clogged, the machine doesn't drain properly. In some cases, the machine might not spin properly, vibrate excessively, or become noisy.
Deep-clean your dryer lint trap to ensure the air keeps flowing freely, too. If it gets blocked, the dryer has to work harder and run longer, which adds to the appliance wear and decreases energy efficiency—which defeats the point of reusable dryer balls reducing drying time.
Your dryer vent system should also be treated to a clean at least once a year. Disconnect it from the power source, or turn off the gas valve. Slide it away from the wall, disconnect the duct, and vacuum thoroughly.
---
5. Straighten Up The Home Office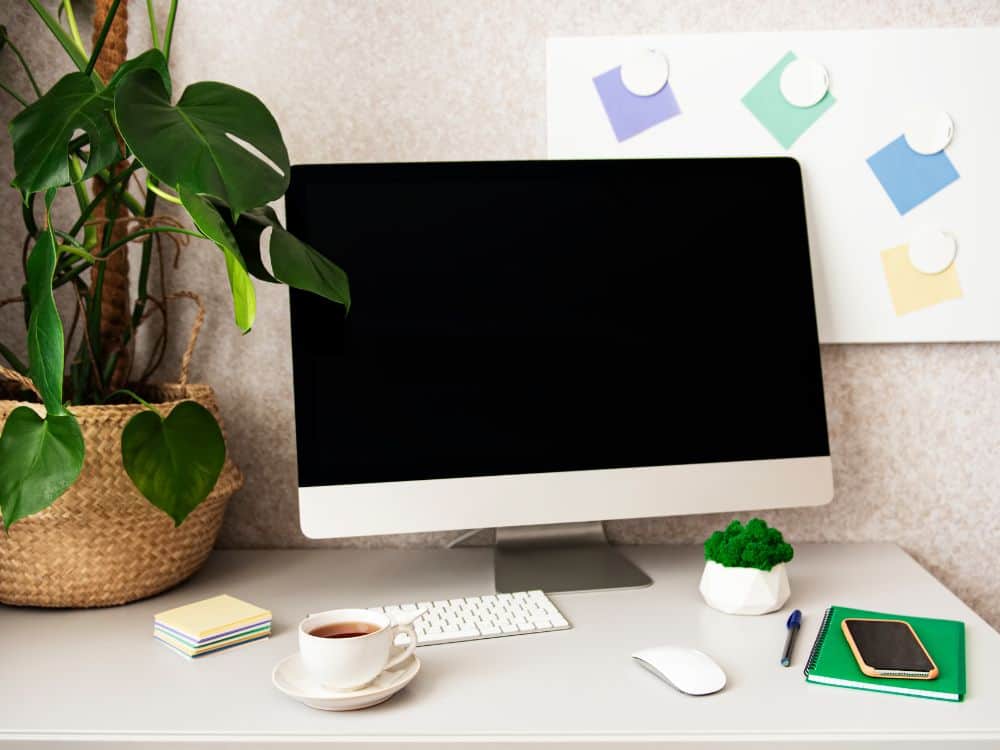 When you have endless work deadlines looming, it can be hard to find time for keeping your workspace neat and tidy, which makes your annual sustainable spring cleaning all the more important.
You likely spend most of your office time sitting at your workstation, so take some time to declutter your eco-friendly desk. A clutter-free desk allows you to refocus on your priorities, reinvigorate your workday, and clear your mind.
Get yourself a desktop organizer for storing loose eco-friendly pens and eco-friendly notebooks.
Sort through that pile of paper that's been gathering dust on your desk for months. Some of it might be compostable, but beware of any toxic inks or coatings on some that might mean it's not.
Moving forward, try to incorporate zero waste office tips and supplies into your daily work-from-home routine to make next year's office purge easier.
---
6. Prep Your Yard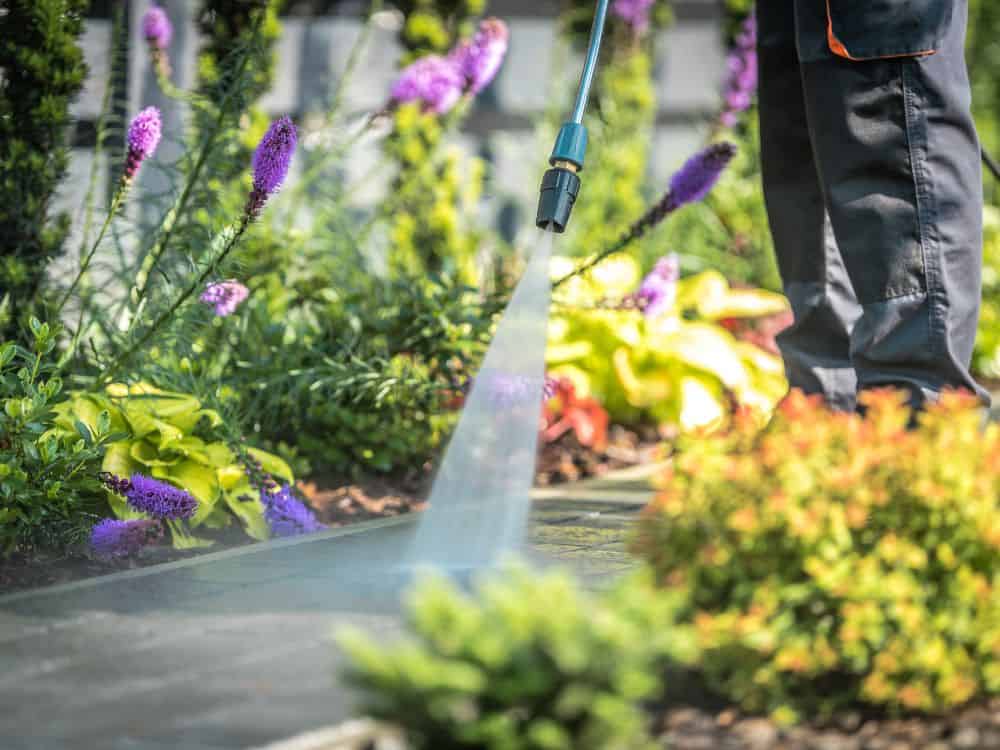 Spring is the time of year when so many things in your ecological garden are bursting into life. Don't let those spring shoots and buds lie hidden beneath all the winter debris.
You can rake your garden beds and lawn and set up your composter for the year–unless you've been using an indoor compost bin all winter, in which case, good for you!
There are lots of things you shouldn't compost, but lawn clippings and leaves aren't included in the list.
Other jobs on your green spring cleaning checklist might include emptying potted plants that didn't make it through the winter, giving your shrubs and trees a long overdue haircut, giving your beds a makeover, cleaning your yard, and then working out how you're going to tackle any new projects you've come up with while cleaning.
Before you throw any broken pots or miscellaneous garden junk, consider whether you can give them new purpose with some garden recycling ideas.
---
7. De-Cobweb the Attic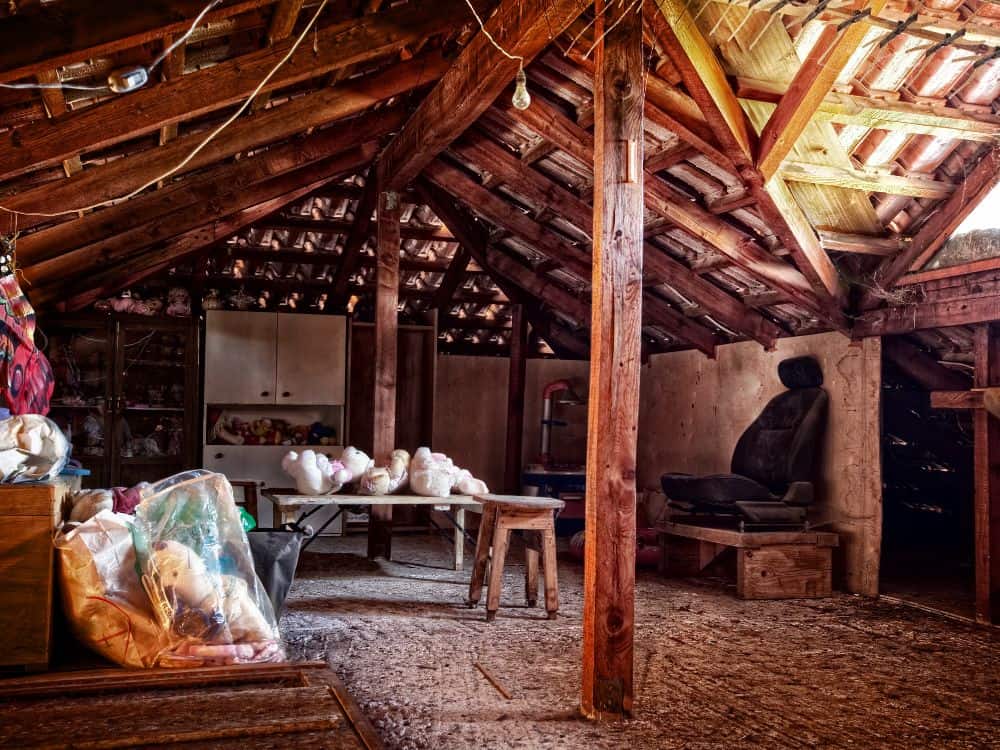 The final room in our list of sustainable spring cleaning tips and tricks is the attic.
You probably don't look in the attic often, unless you're looking for some long-lost photos or want to repurpose those shelves that have been gathering dust for years. But just because you don't visit, it doesn't mean the attic doesn't need a thorough cleaning now and again.
Before you can clean, the attic has to be cleared of everything. It might surprise you to learn what's been lurking up there in the dark for years.
When you're ready to start cleaning, use safe, non-toxic cleaning products as these will protect your belongings and your health. Breathing in stuffy, dust ridden attic air is bad enough without having it also saturated with toxic chemicals.
For a fresh scent and natural deodorizer, ditch the synthetic air freshening sprays and instead add a few drops of essential oils to a diffuser while you work.
Cleaning your attic occasionally will improve the overall air quality of your home, prevent the spread of germs and diseases, and discourage any unwelcome guests from taking up residence.
---
Did you know we Have a Newsletter?
We cover the latest in sustainable living, fashion, zero waste, beauty, travel, finance and more…
Final Thoughts On How To Clean & Declutter Sustainably
Before you start sustainable spring cleaning, the mere thought and size of the undertaking can feel overwhelming.
So how do you spring clean without getting overwhelmed?
As with all sustainability tips, the best way is to make a plan and concentrate on one room at a time. Don't feel the need to tackle everything at once.
It's called spring cleaning for a good reason. It's something you can do throughout the entire spring season—although that's not the real reason we call it that.
It's believed the term dates back more than 3,000 years to a Persian spring tradition called khaneh tekani, which means "shaking the house". It was believed that when you swept up dust and removed clutter, it prevented ill fortune in the coming year.
Now you've got some sustainable tips and tricks for spring cleaning, it's time to break out those reusable paper towels and refillable cleaning products and get scrubbing.
If you have friends you know are mucking out their living spaces, too, share these ideas with them, and you can work towards a smaller cleaning carbon footprint together.
Pin these: