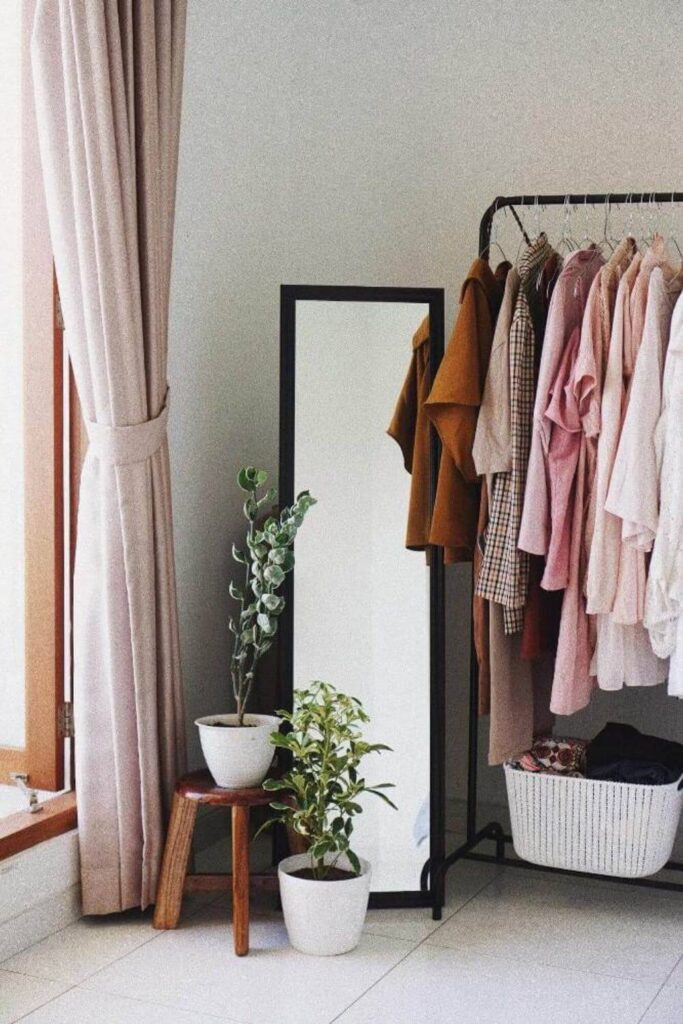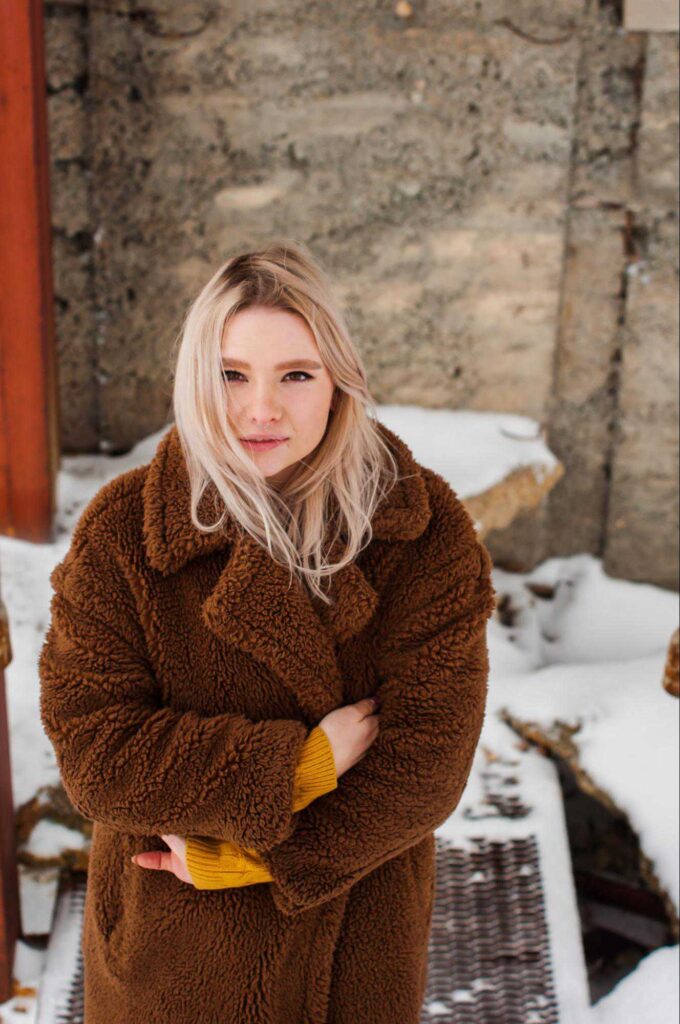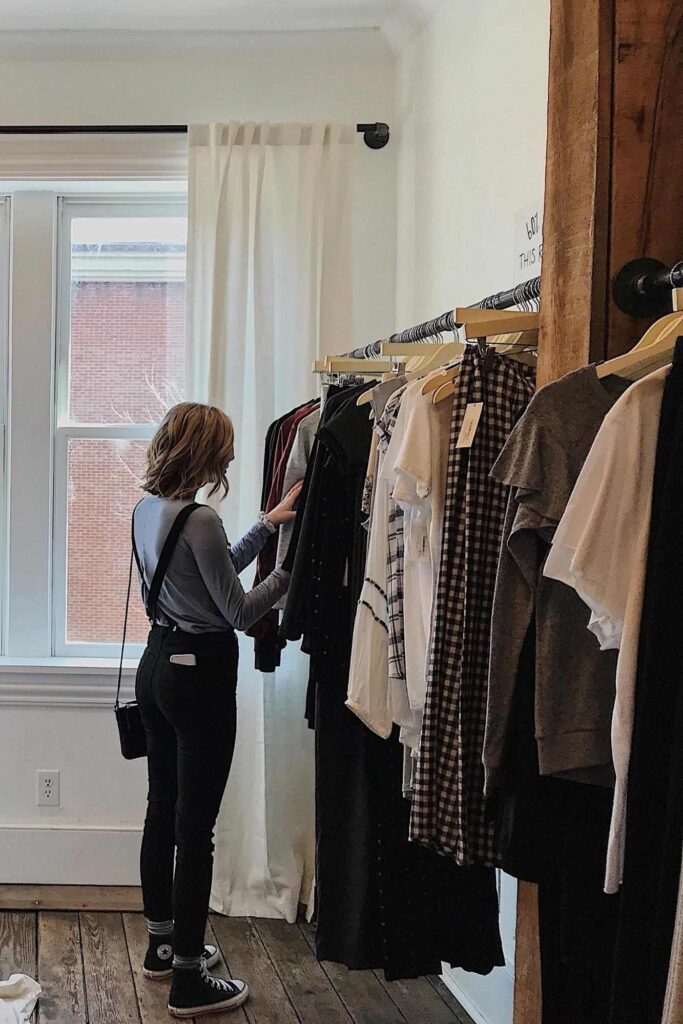 9 Thrift Shopping Tips for Saving Money and the Planet
Cue Maclemore's 2012 hit because… we're about to go thrift shopping.
Ahhh, the thrift store. The best place for all things worn and weathered and the first thing we think of when pondering what to do with old clothes.
But you yourself might become worn and weary if you head into your local thrift store without a plan.
As wonderful as they are, thrift stores can be overwhelming and under organized. Part of the magic, yes, but a challenge to making thrift shopping a sustainable first resort for needed "new" things.
To prevent buyer's remorse or going home empty-handed, we've put together some of the best thrift shopping tips and ideas.
If you're not already a thrifting convert, jump to the bottom of the article to learn more about why thrifting is the best thing since 90s fashion…
*This post contains affilate links
1. MINDSET MATTERS… IT'S A MARATHON, NOT A SPRINT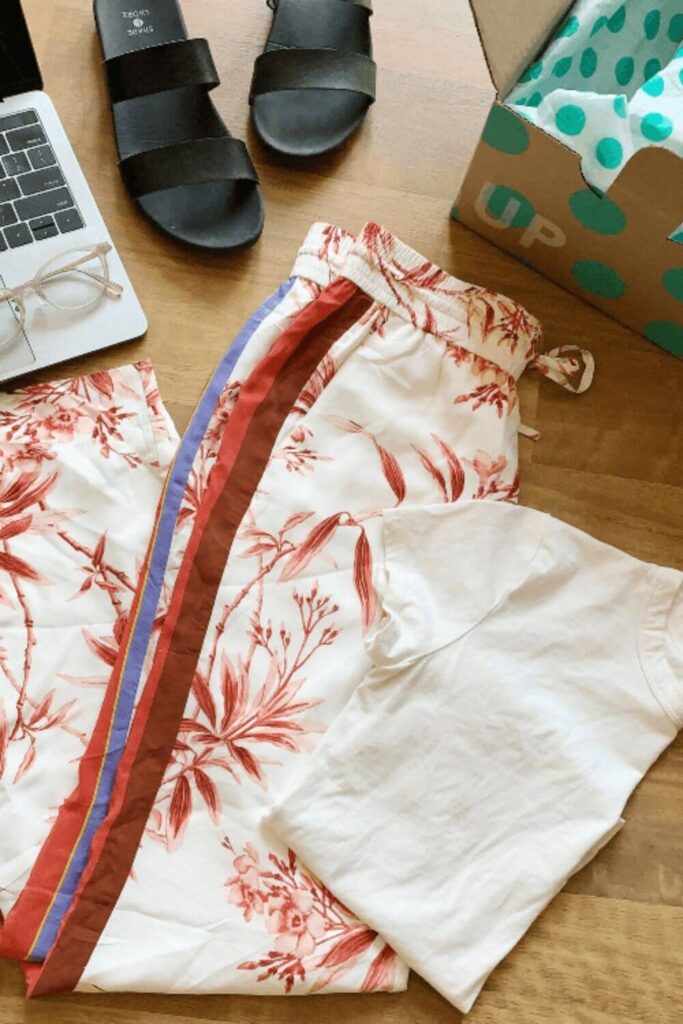 Having the right mindset is best practice for any shopping. And it's an especially important thrift shopping tip.
A thrift store can be either a wondrous treasure trove or a place where you can accumulate more junk than you know what to do with, so it's important not to use it as a coping mechanism.
Here's some top tips for getting into the right head-space for thrifting (and maintaining your energy):
Get into a state of zen when you walk through the doors. Pop on a good playlist or podcast (we happen to know a great one… hint hint) and take your time as you search through everything. Something energized and upbeat is a good way to keep you in your prime shopping state.
It's also helpful to wear comfy shoes (you'll be standing for a while) and a couple of layers (temperatures in thrift stores seem to vary from walk in freezer to a sauna).
You might even bring some emergency supplies and rations. We normally bring an eco-friendly bottle of water (reusable, of course) and a small snack (as grocery stores prove time and again, no one can shop effectively when hangry). Hand sanitizer, tissues, and a facemask are also essentials.
It also helps to have a plan! Before you walk into the mecca of hand-me-downs (or lose yourself in the eBay vortex), take some time to think about the following:
What do you actually need? Notice we said "need." A thrift store can be a great place to spend a rainy Saturday afternoon, but if you go in without a plan, studies show you're 97% likely to leave with a bag of 80's tees and an old prom dress. Just kidding, there are no "studies" but we certainly have enough personal experience to back this up.
What is your budget? While you certainly won't be at risk for spending as much as you would at a shopping mall, you can still end up spending a lot of money during a day of thrifting. "But it's only $2!" adds up when you've said it forty times. Set a budget and stick to it.
Do you have an open mind? If you're a virgin thrifter and only expect to find gross, smelly, ripped clothes, you will. Trust us, you will. If you go in knowing you'll find a pair of black, vegan leather boots, size 7, you'll probably experience some disappointment. There will be some gross, useless stuff, but there are also rare and valuable finds. Keep an open mind and you'll be impressed with what you do find (like an unexpected pair of $275 jeans for $6!).
---
2. LEAVE NO HANGER UN-MOVED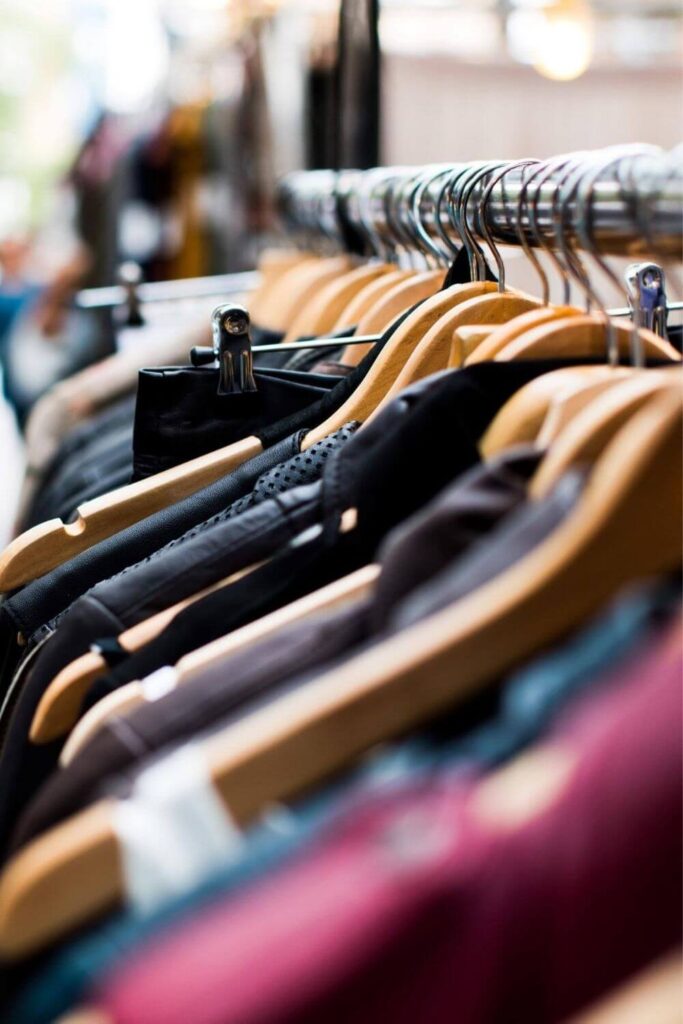 A thrift store isn't for the faint of heart. To find the good stuff, you're going to have to put in a bit of work—this means flipping through every single hanger to find the true gems.
Think of thrifting as a sport, because you can expect some competition. Everyone wants to get their hands on that vintage Ralph Lauren denim skirt, and it's a case of "finders keepers".
Carefully comb each rack, get into a good zone, and refine your sense of discernment. Remember, quality is more important than quantity.
Here are some ways you avoid notorious thrift store duds:
Inspect all angles. Keep an eye out for any pill balls, snags, tears, stains, or signs of damage. Damage isn't necessarily a deal-breaker, but know which flaws are fatal and which are fixable.
Turn the garment inside out. Check the inside of the piece to see if there are any lining tears, loose threading, missing tags, or other issues. Again, most of these can be easily fixed but be real with yourself – will you actually spend the time fixing them?
Check for all necessary hardware. Be sure that all zippers, snaps, buttons, and hook-and-eyes are there and securely attached.
Perform the good old fashioned smell test. You can generally expect older garments to smell like mothballs and musk – easily remedied with a few washes. But some garments hold far more foul odors that no amount of washing will ever entirely erase.
---
3. GET FAMILIAR WITH FABRICS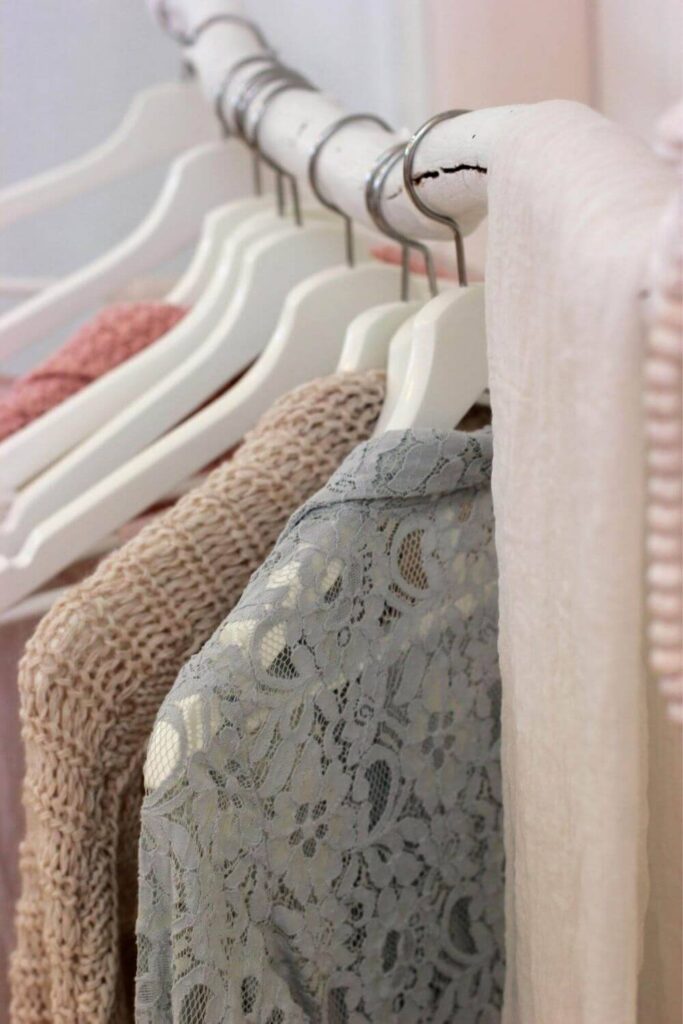 If you want to take advantage of some of the most sustainable fabrics out there—but do so for much cheaper—the thrift store is the way to go.
You'll develop a certain thrift store finesse over time, where you'll be able to simply feel the fabrics to determine if they're quality or not. For instance, jeans made out of 100% cotton have a wayyyy different feel than jeans made with 98% cotton and 2% spandex.
Before you can feel the fabrics, check out the labels. Know where to look for them on different types of garments. Not all thrift items will grace you with a tag, but a good number do.
You should also have a good understanding of what labels mean. Brush up on the difference between Lyocell and Modal and all the other fabrics out there so you know which ones are best suited to your needs and desires. Fabric comparison can work as an excellent tiebreaker if you just can't decide between those two equally adorable a-line dresses.
We'd recommend sticking with natural fabrics like cotton, hemp, linen, wool, and leather (used or upcycled or leather is obviously 10000x better than new leather which we consider decidedly unsustainable).
While buying synthetic goods is never more acceptable than at a thrift store, natural is still better if for no other reason than you can compost them if you fully wear the life out of them. They're also usually better for your body.
---
4. EARLY BIRD GETS THE WORM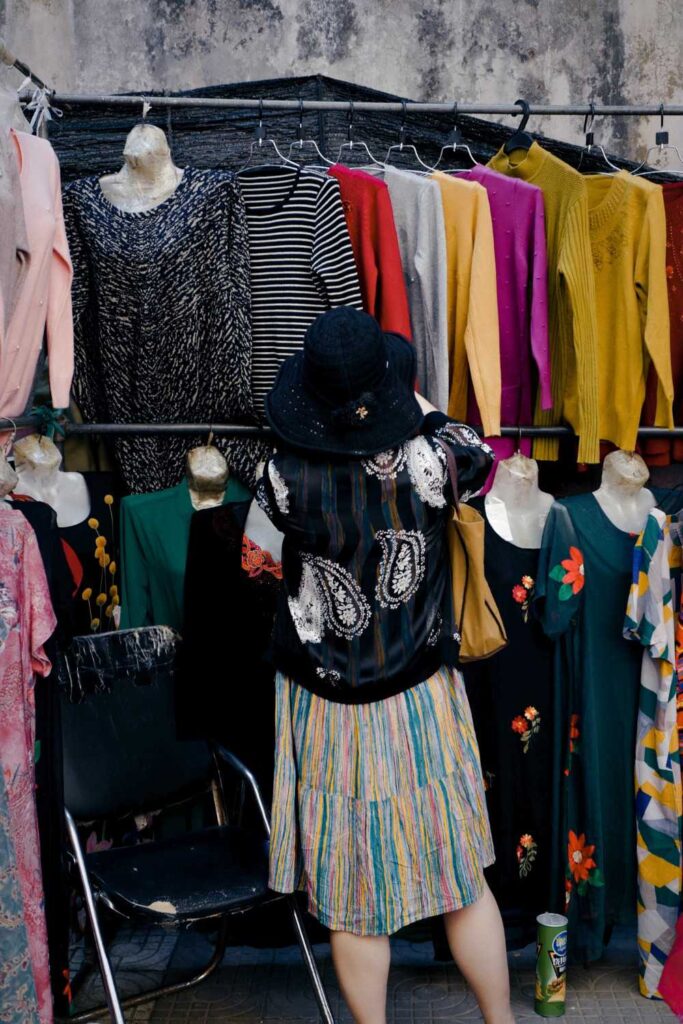 Successfully learning how to shop at thrift shops means accepting it's kind of like shopping on Black Friday. Sustainable Black Friday that is!
That said, don't be afraid to set your alarm on a weekend and start early! The thrift store pros (yes, this is a thing) will be out before anyone else to have prime access to all of the recently-donated goodies.
If you're heading to a brick and mortar thrift store, check their website or social media in advance. Many thrift stores have special sale days where garments with a certain color tag are 25%, 50%, or even 75% off. To avoid the rush, get there early.
Once there, start with the hot commodities. Normally shoes, dresses, and new arrivals get picked over first.
For in person shopping, see our comprehensive guides to brick and mortar thrift stores near you (in the US and beyond) for the best thrifting in your city.
---
5. BE CONSCIOUS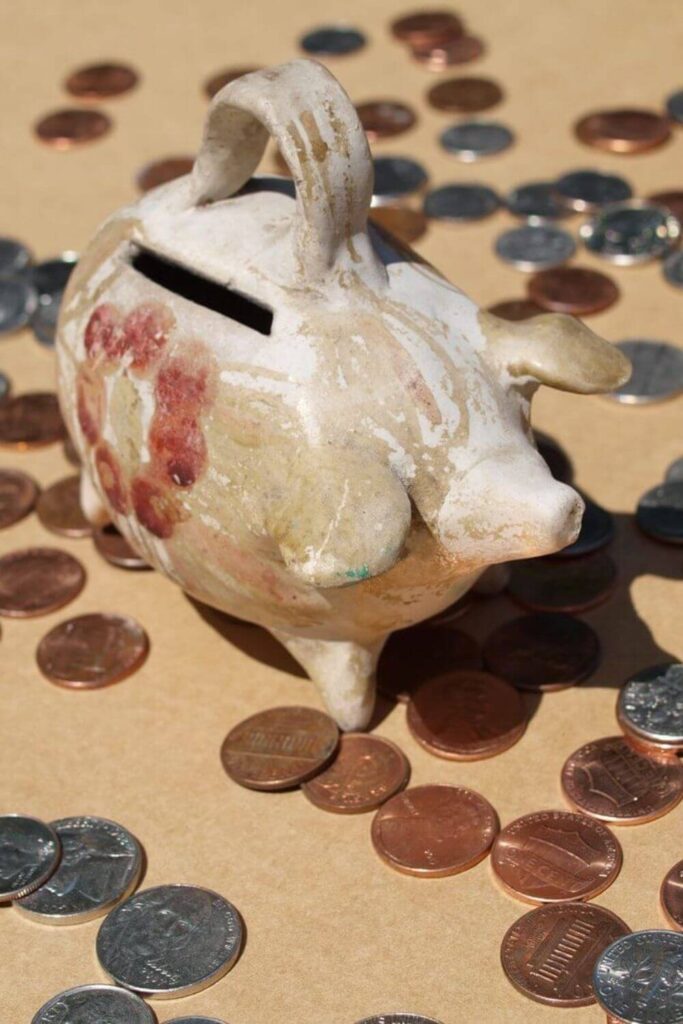 Thrifting is one of the best tools we have for making shopping sustainable and ethical. It keeps clothes (and tons of other goods) out of landfills, creates jobs, and, in many cases, provides funds to charitable organizations.
However, as thrifting has increasingly become less stigmatized and people from all walks of life are taking part, there have been some concerns about the ethics behind it.
Some of the big corporate giants in the world of thrifting (ahem, Goodwill) have been in the news recently. The CEO of Goodwill received a salary of almost $730,000 in 2018—while workers with disabilities earn less than minimum wage.
With this in mind, here are a few thrift store shopping tips to help you be practical about your thrifting experience and keep it as conscious as possible:
Only buy what you'll wear
Sometimes, our hunter and gatherer nature returns when we're waist-deep in thrift store finds. Our blood is pumping, our eyes dilated, and we're ready to go back to the pants section just one more time (for the fourth time).
But if you're only buying something that will end up sitting on the floor in your closet until you return it to the thrift store again next month, don't. Avoid the cycle of overconsumption and disposal from which thrifting still isn't exempt.
Support small and aligned with your values
There is some concern that the popularity of thrift stores is taking away clothes from those who truly need them. If this is something on your mind, try to stay away from big, super affordable thrift chains and turn to smaller, more expensive consignment or vintage stores.
If you're only buying minimally and what you need, this is still a moderately affordable option.
Similarly, if you're opting for supporting charity thrift stores, aim to support those that align with your values.
Avoid purchasing high-need items
For many people, thrift stores are a blessing. They're the only way some people are able to dress for work, clothe their quickly-growing kids, or prepare for the changing seasons. For this reason, there are some items generally in higher demand.
If you're not stretched financially, leave these items for other people who need them more: seasonal garments (i.e. winter coats and boots, swimsuits), professional clothes (i.e. interview-worthy garments, scrubs, suits), and plus size clothes.
Get creative with the discount bin items
The typical thrift store cycle means items are kept for a limited period of time before they end up in a bulk bin or sent to a thrift store outlet.
These bulk bins (where items are sold by weight or in pre-packaged $1 bags) are normally the last stop before the garments end up in landfills or sent overseas for possible recycling.
If you want to reduce the environmental impact of piles of clothes in landfill or shipping something around the world, try to transform these goodies into something new. If you're crafty, make a tote bag, sew a blanket, make a face mask, or turn scraps into a new garment.
They might not be a gem on their own, but with a little polish those diamonds in the rough hold a lot of potential.
---
6. DON'T DEPEND ON A DRESSING ROOM
Many thrift stores don't have dressing rooms. Many thrift stores also have clothes from decades ago, when sizing was much different. Not that today's size consistency (especially among ladies clothes) is any better.
In order to prevent a sizing disaster, you might have to try things on in front of other shoppers.
Fortunately, no one needs to see you in your birthday suit. You'll just need to prepare by:
Dressing in layers. Leggings are easy for trying on pants and a tight camisole underneath a jacket is great for trying on dresses or blouses.
Wear bike shorts and a tank top. If it's warm enough, go with minimal clothes. The less the better for trying things on.
Own a catsuit? This is your chance to wear it. You won't even be the weird thing in the store for doing so.
Have a friend handy. No mirrors? Have a friend close by to snap a photo. Or don't be embarrassed to take a selfie in public.
Always, always, always have a pair of socks with you. We're assuming you don't want to try on someone's old shoes with your bare feet. And no one else wants your bare feet in shoes they might buy.
---
7. START WITH YOUR OWN WARDROBE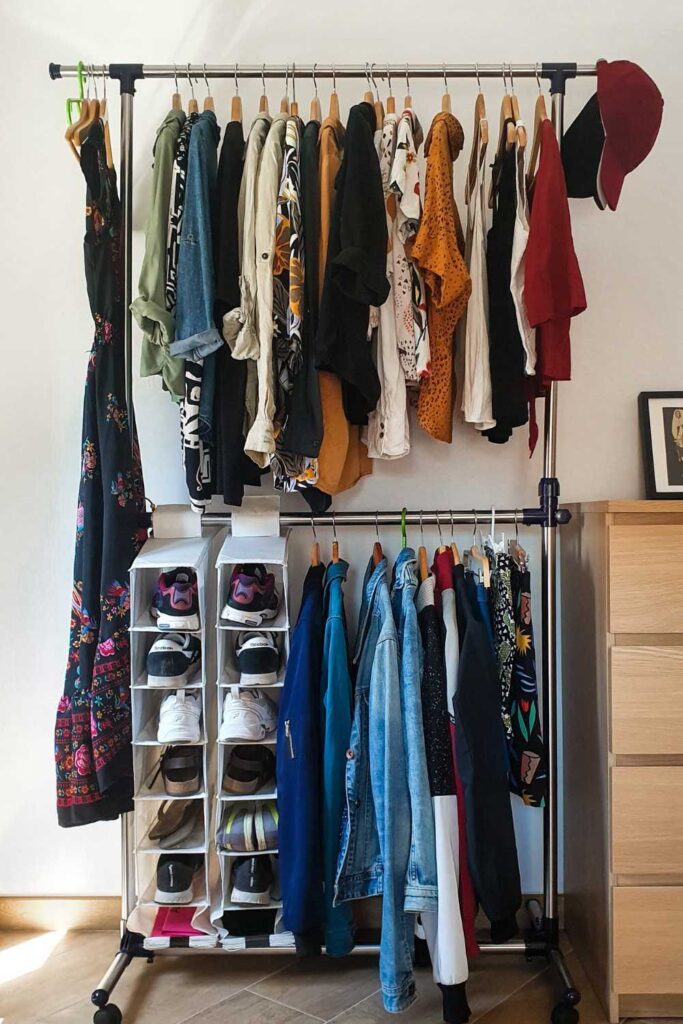 Want some good thrift shopping tips for clothes? Make your own closet the first stop.
Take inventory of what you already have. Most of us have a personal style that means we tend to wear the same types of clothes. Which means we end up purchasing duplicate items – a trap that's super easy to fall into when thrifting. Do you really need that third pair of boyfriend jeans?
Better yet, take a look at your current wardrobe and then decide on some pieces you might need for a capsule wardrobe. Minimalist fashion is becoming more popular. Try to whittle down your wardrobe to just a few solid pieces that can be worn often. Use thrifting to fill in the gaps.
And when you do your inventory, fill up a couple of bags of old clothes you no longer wear so you can donate to the store you plan to visit and keep that thrifting circle spinning.
---
8. DON'T FORGET YOUR BAGS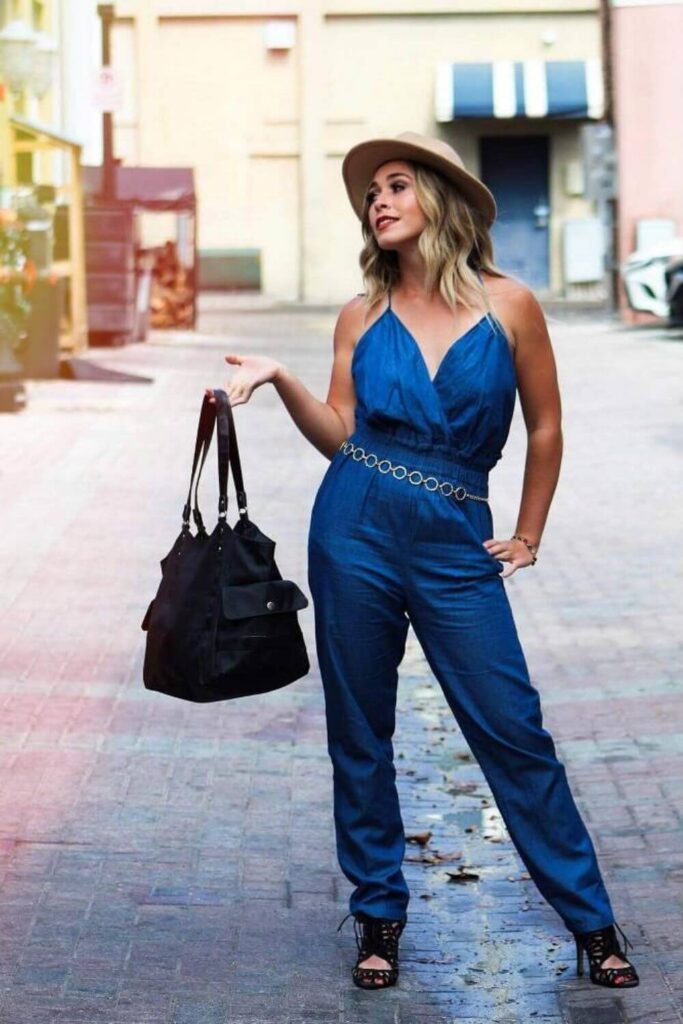 When you leave the thrift store with a massive haul, guess what they'll put it in?
A massive plastic bag. Don't let this happen. Bring your own reusable shopping bags.
---
9. GO DIGITAL THRIFTING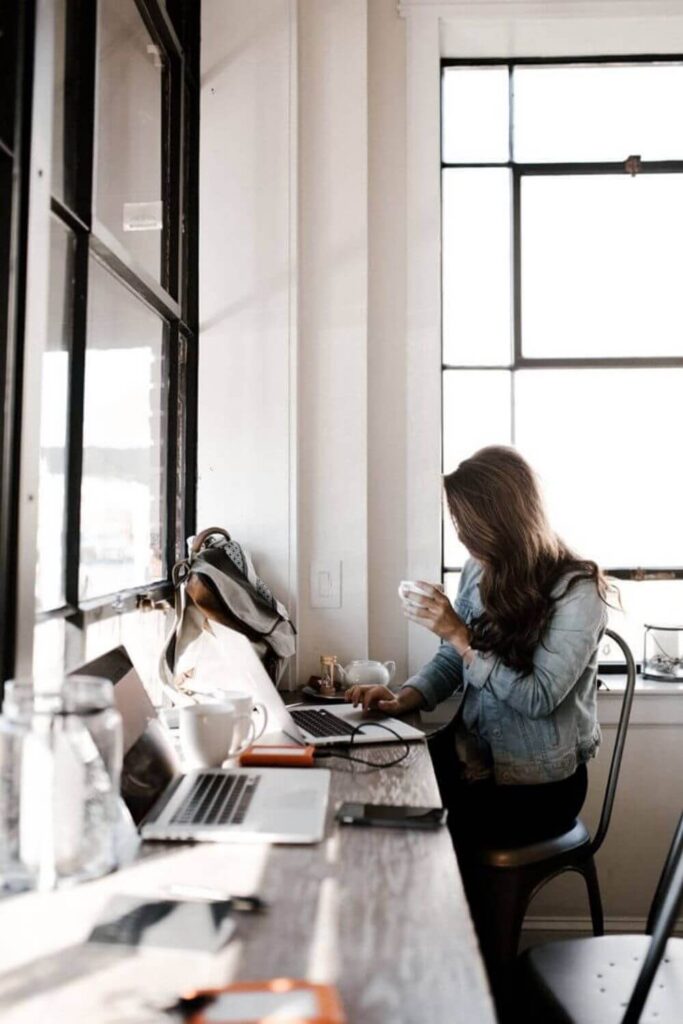 While a lot of these tips most easily apply to physical thrifting, virtual alternatives are just another part of "the new normal". You can still apply many of these rules (especially the ones about controlling your consumptive impulses) in the online thrift-scape.
Check out our full list of the best online thrift stores if you'd prefer to shop from the low-stress comfort of your sustainable couch or the local cafe.
For some quick ideas, check out Etsy (our favourite stores include Persephone Vintage and Maeven Vintage), ThredUP for everyday clothing and Patagonia Worn Wear for gently used outdoor gear.
For one final in-store top tip for thrifting, check out online reviews of thrift stores in your area. You'll quickly be able to decipher which are the best stores and may even pick up a few handy store specific tips from fellow thrifters.
---
WHY THRIFT?
Let's face it, many of us enjoy getting new things. But Mother Earth doesn't get the same euphoric rush from our spending habits.
Did you know Americans throw away a whopping 11.3 million tons of clothes each year? That's 7.7% of the entire municipal solid waste stream. And Australians throw away 6,000 kg of clothes every ten minutes.
Now here's some good news. If we were to extend the lifespan of a garment just three months, it would mean a 5-10% reduction in that item's carbon, water, and waste footprint.
One of our fave sustainability tips: stop buying new clothes. It's great for the planet and consequently ourselves (not to mention our sustainable wallet).
And what place embodies the concept of extending the lifespan of clothes more than a thrift store? With thrift stores, we can appease both parties, by getting "new" things while also helping to keep valuable garments and materials out of landfills.
Whether at your local Salvation Army, your favorite online thrift store, or a clothing or dress rental website, stepping outside the fast fashion cycle is one of the best ways to sustainably (and still fashionably) clothe ourselves.
Just how do we maximize our thrifting efforts to find the gems and make thrifting our garment to-to? With the above top tips for thrifting, that's how!
---
FINAL THOUGHTS ON THE BEST THRIFT SHOPPING TIPS
Doesn't this make you feel good about shopping again?
The many ills of fast fashion have had us feeling pretty down about a wardrobe rehaul but with some of these thrift shopping tips and the knowledge that thrift store purchases are much better for the planet, we're excited about getting something "new to us".
While nothing can stop us from humming the Thrift Shop song while we peruse the old clothes from our community, it's always a good idea to not get too carried away (yes, even with thrifting). No one needs a second closet, more shoes than fingers and toes, or a '70s polyester pantsuit that will surely be incorporated into a new, trendy outfit.
Thrifting inherently contradicts fast fashion but the rules of slow fashion still apply. Always ask yourself: will I wear this? If the answer isn't an emphatic "yes", don't add it to your cart…even if that sultry-sequined jacket has the same price as a soy latte. Oh and practice mind thrift flips if you plan on making a little extra cash from your thrifting efforts.
Any thrift store professionals out there? Feel free to share some of your top tips for thrifting!
---