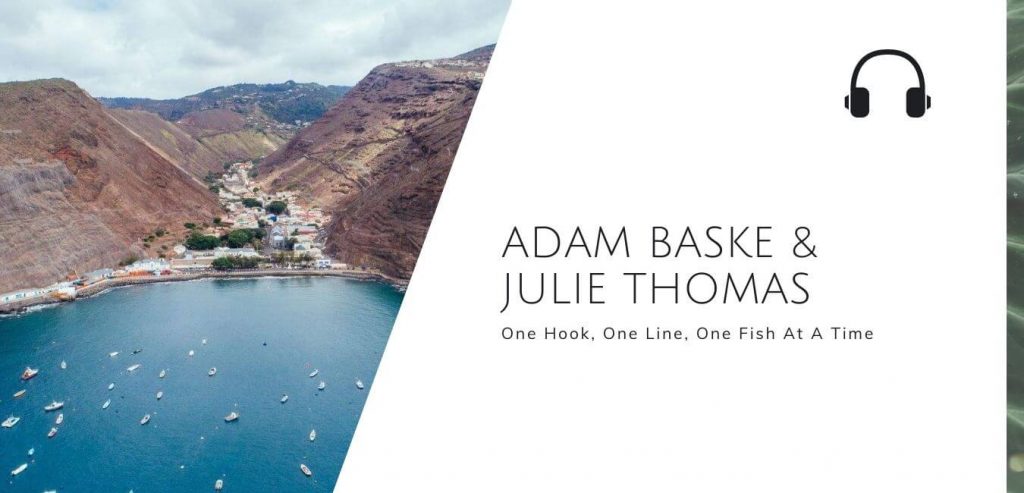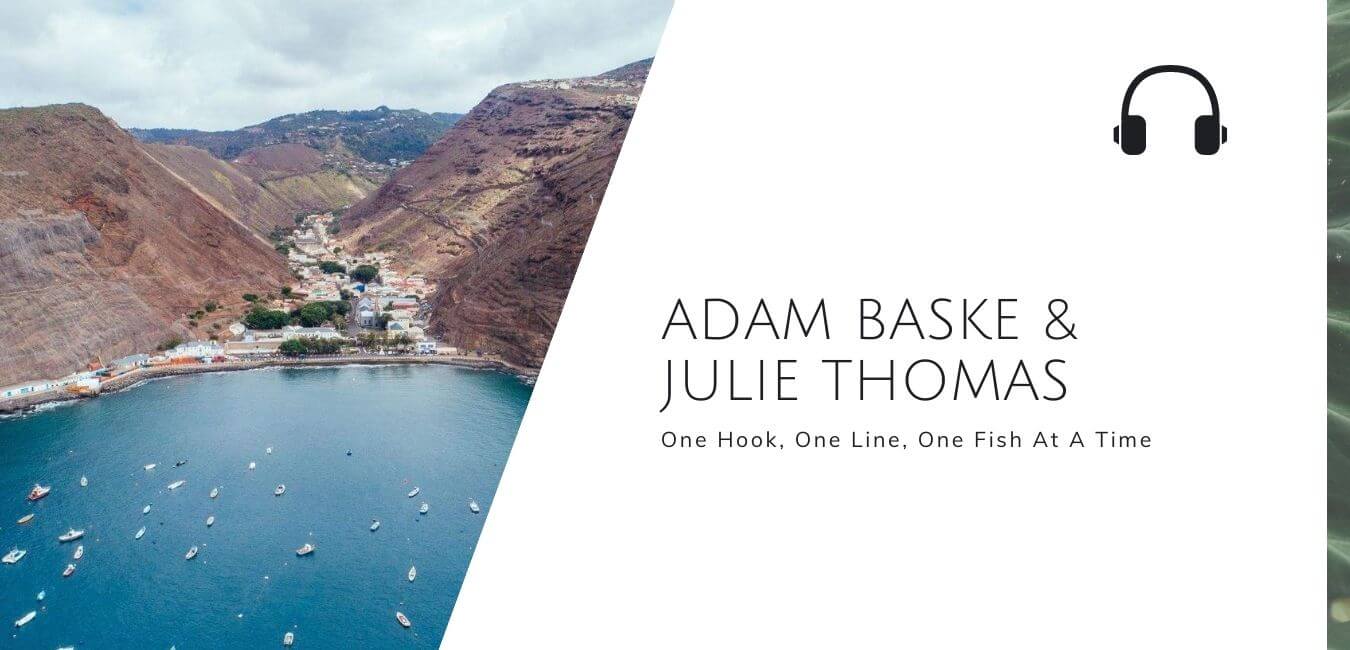 Podcast #40 · Adam Baske & Julie Thomas · One Hook, One Line, One Fish At A Time
"[At IPNLF], it's really about supporting this ecosystem of small scale, socially beneficial, environmentally sustainable tuna fisheries and building both the supply and the demand for those products."

Adam Baske
Adam Baske is the Director of Policy & Outreach at the International Pole & Line Foundation (IPNLF) and has over 15 years of ocean-related experience, with specialties in global tuna fisheries, international environmental policy bodies, and marine education. Adam has worked in diverse fields across the spectrum of marine conservation and management, including as a fisheries observer in Alaska, as an educator on-board a state-of-the-art sailing school vessel, and as a manager for an international campaign aimed at reforming the world's largest tuna fisheries.
Julie Thomas is the Project Manager on the beautiful island St Helena. As Project Manager, Julie uses her knowledge and experience to support the St Helena's tuna fishing industry to develop and expand, whilst ensuring that the island's maritime zone is sustainably managed for future generations. She has been involved in the existing commercial fishing industry on St Helena Island for over 10 years. Her exposure to the fishery includes practical and theoretical knowledge as she is an executive committee member of the St Helena Commercial Fisherman's Association (SHCFA) and also represents the fishermen and the industry as a member of the St Helena Fisheries Corporation (SHFC) Board.
The International Pole & Line Foundation (IPNLF) works to develop, support and promote socially and environmentally responsible pole-and-line and handline tuna fisheries around the world. IPNLF's ambition is to contribute to thriving coastal fisheries, including the people, communities, businesses and seas connected with them.
This was a multi-country recording with Adam and Julie dialing in from the US and St Helena respectively. While the recording is by no means perfect, we were pretty impressed that technology held out, especially from St Helena which is in the middle of the Atlantic Ocean! We enjoyed learning about one-by-one fisheries and covered the following:
Adam's background, growing up on Lake Michigan and how he became passionate about the ocean and fishing (~02:00)
The importance of fisherman to saving our oceans (~04:00)
Julie's background, growing up on St Helena, her travels and the importance of the ocean to her (~05:15)
An overview of the International Pole and Line Foundation (~07:20)
The different types of fishing methods used around the world and why industrial scale operations are environmentally destructive (~9:30)
Thoughts on the illegal fishing industry (~15:20)
Impact achieved by the IPNLF over the last 7 years since it's foundation (~19:40)
Thoughts on sustainable food movements (like veganism), why considering what is best for the environment is nuanced and needs careful consideration of broader impact (~25:30)
Thoughts on how diet choices can support positive environment and social outcomes (~29:10)
More on St Helena including a brief history and how things are changing with the addition of an airport (~30:30)
The importance of fishing and the one by one philosophy to St Helena (~33:20)
St Helena's marine protected area (~37:30)
The role of trace-ability and how technology is changing ways in which we can engage more with the supply chains that produce our food (~42:45)
What St Helena is doing already re trace-ability and their vision for the future (~45:50)
Adam's message for humans (~47:10)
How your buying decisions can support the work that the IPNLF do (~49:00)
"Our waters are teaming with beautiful marine life so even though we want to share that… we also want to make sure that it is there for future generations."

Julie Thomas